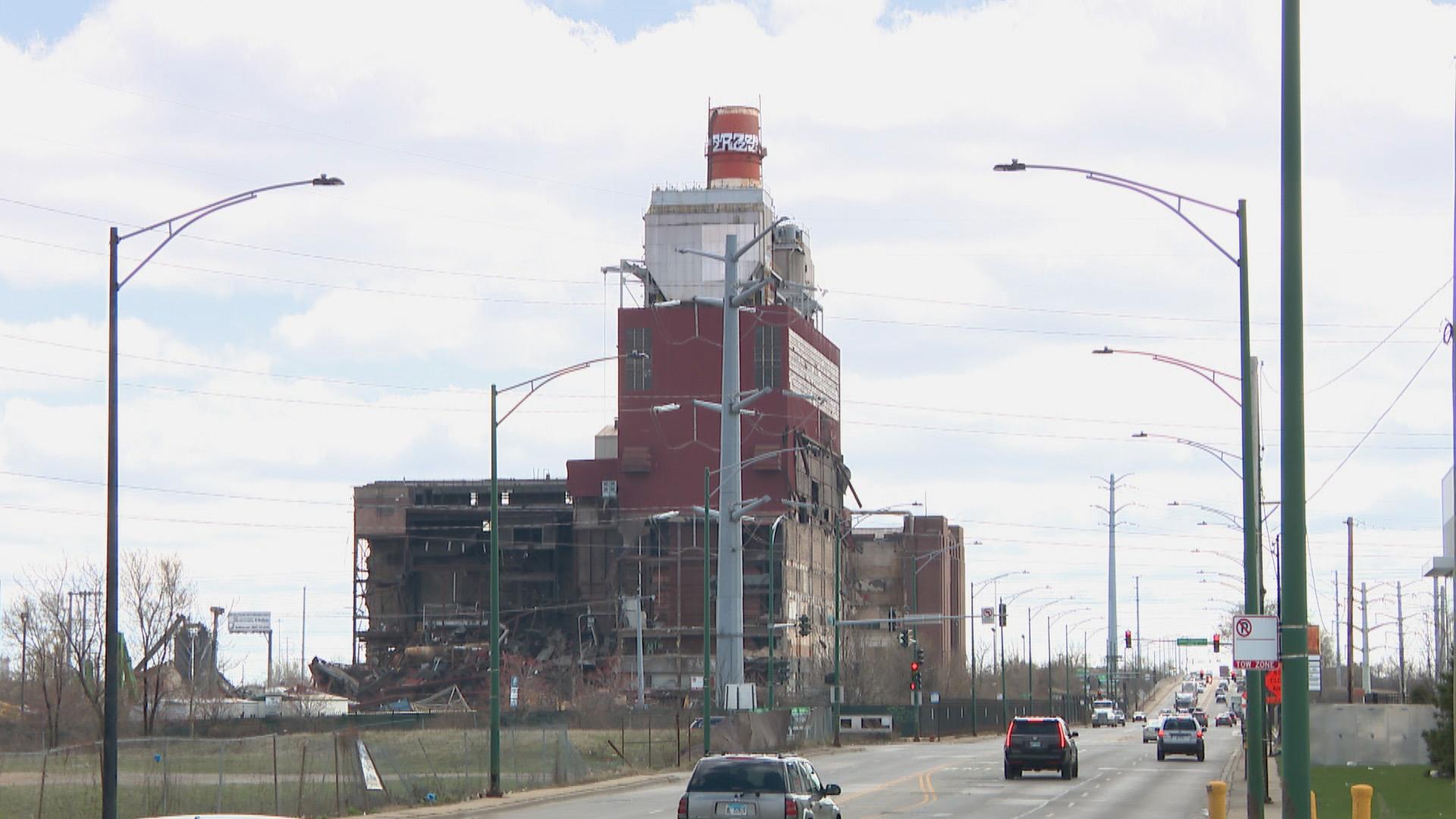 The partly demolished site of the former Crawford Power Generating Station, which was active from 1925 to 2012. (WTTW News)
A planned demolition of a building at the former Crawford Power Plant will take place June 5, after being delayed nearly three weeks after protests erupted and the local alderman objected, company officials announced Friday.
City officials and representatives of Mayor Lori Lightfoot confirmed the announcement by Hilco Global, which is working to demolish the former power plant to build a warehouse.
City officials gave Heneghan Wrecking Co. permission to demolish the former turbine building at the power plant. Inspectors determined "the small building poses a public safety hazard because the building is structurally unsound and must be dismantled."
The building will be manually demolished, and not imploded like the smokestack on April 11, starting at 6:30 a.m. June 5, officials said.
The demolition will follow all dust-control plans approved by the city's Department of Buildings and Department of Public Health.
City officials blocked off a portion of Pulaski Road to traffic, concerned that the building could tumble into the road.
Lightfoot announced May 15 that the demolition would be delayed after Little Village residents protested outside her Logan Square home, angry that another demolition was scheduled at the coal plant just weeks after the demolition of the smokestack at the former plant sent a plume of dust over six blocks of homes.
Ald. Mike Rodriguez (22nd Ward) said city officials told him a "spontaneous collapse of the turbine building would have a disastrous impact on the well-being of the community."
"This building is not safe, poses a risk to the community and needs to come down. However, I share my neighbors' anxiety around this work moving forward. Hilco has not earned our trust or demonstrated a level of professionalism that inspires our confidence."
Rodriguez said he would monitor the demolition "very closely."
City officials held a virtual town hall meeting Saturday to discuss the planned demolition and promised residents of Little Village that it would not create another plume of dust.
However, members of the Little Village Environmental Justice Organization said Friday the demolition should not take place on June 5 because that meeting did not include translation services for Spanish speakers.
Another meeting should take place, and additional documents should be provided by the city, according to the group.
Contact Heather Cherone: @HeatherCherone | (773) 569-1863 | [email protected]
---