A new virtual art gallery is starting a conversation on why the current stay-at-home order isn't ideal for everyone, as it explores race and social class issues.
"We are currently in the South Side of Chicago on Racine, in front of one house that is like many houses in this neighborhood that tells a story," said artist Maxwell Emcays.
"The visual of these abandoned homes, boarded up neglected buildings are synonymous to the struggles that the community faces. The same communities that people are surprised that have high mortality as it relates to COVID-19. So the homes for me just really tell this parallel narrative and serve as a metaphor to a larger story."
It's a story in response to the pandemic, more specifically, the stay-at-home order.
The idea of home being a safe space inspired artist Maxwell Emcays' to create a virtual exhibit called, "Let Them Stay Home."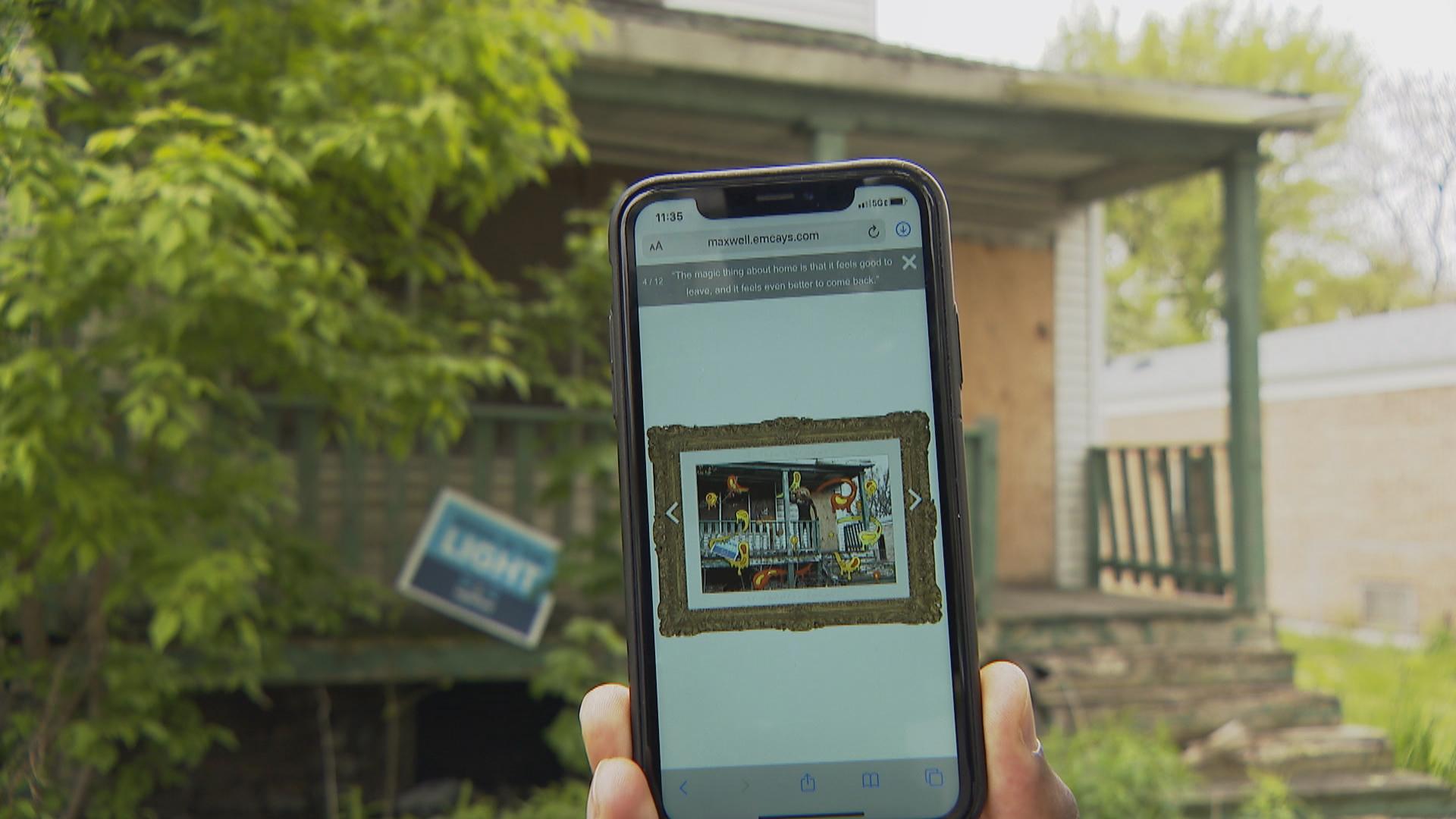 "The term home has been hit with a blanket statement. As if every single home is exactly the same and every single home has the same amenities," Emcays said. "So for me, home was a perfect opportunity to start to talk about home. And start to talk about the inequality of home.
With photos of abandoned homes taken in Englewood just a month ago, Emcays said so much has changed in that short time.
"Home isn't a beautiful place for everyone else," Emcays said. "Home isn't always a place for shelter. Home is often a place where people try to escape, where they try to get away from. I did this visual digital interactive experience that visually interacts with it and sort of showcases it as a little bit of hope, a little bit of potential."
Emcays used a teddy bear named Terrance to emphasize that potential
"Teddy bears are connected to this beautiful innocence of childhood. Whereas in neighborhoods like this, the teddy bear is contrasted to the harsh reality of what we see," he said. "So I wanted to bridge those gaps and bring those things together. This innocence every child should have and this harsh reality.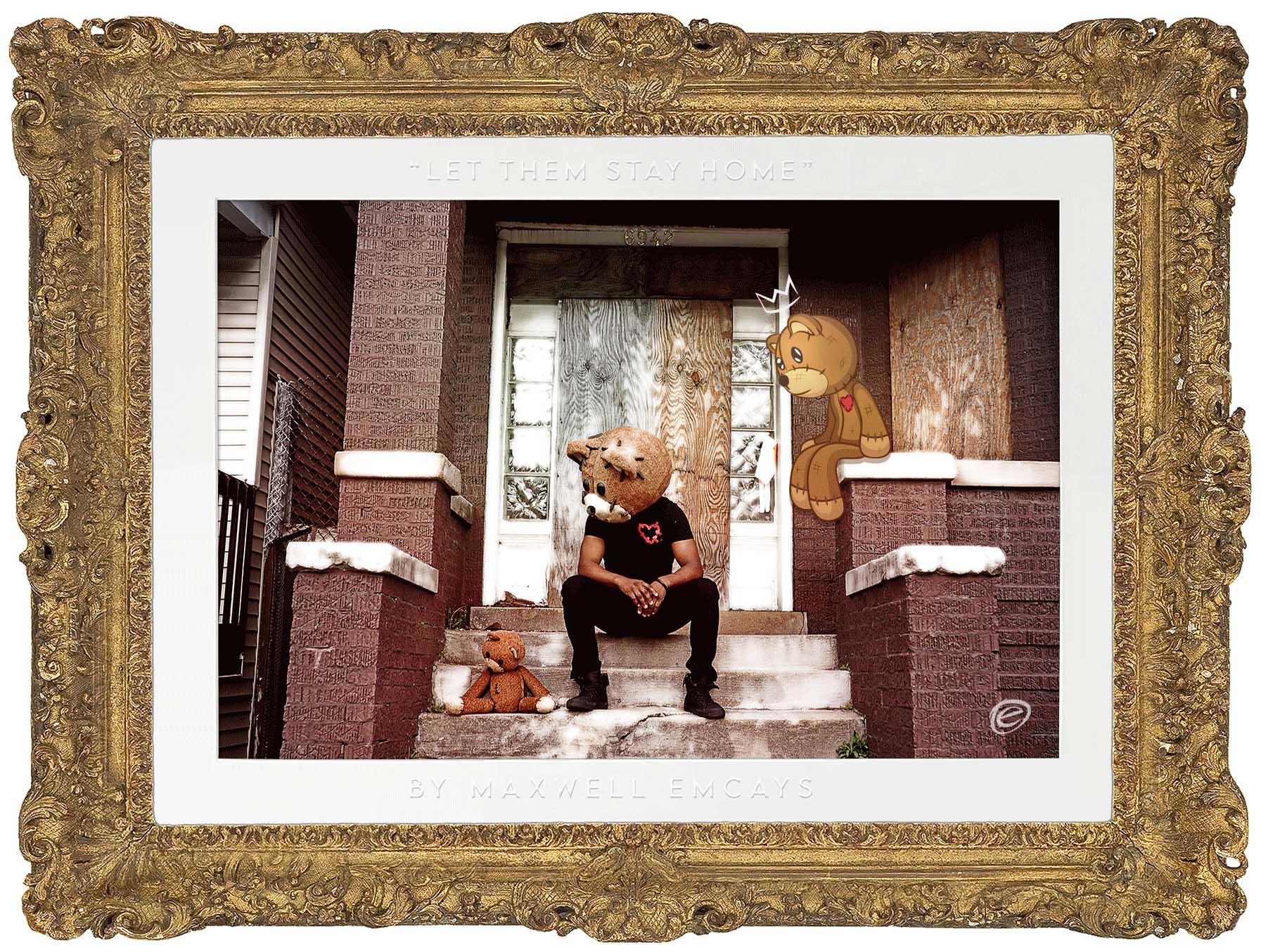 Maxwell Emcays' "Let Them Stay Home."
"The color palette represents desserts and cakes as it pays homage back to the 'Let them eat cake' (saying) originally stated by the Queen of France during the Revolution. All of the gestural, colorful things are trying to escape from within the home," Emcays said. "So that was another thing I wanted to add to it. It's done in a  very whimsical lifelike way type way where they're organically trying to maneuver their way from inside of the home outside into our world over here."
While the virtual exhibit is only online for a limited time, Emcays said he hopes the conversation surrounding what home means, is long term.
"It's super important right now to discuss home in a real way so after this pandemic, just like before this pandemic, we can actually see a change to what people call home," he said.
The virtual art gallery "Let Them Stay Home" is available online until June 1. 
Follow Angel Idowu on Twitter: @angelidowu3
Angel Idowu is the JCS Fund of the DuPage Foundation Arts Correspondent.
---