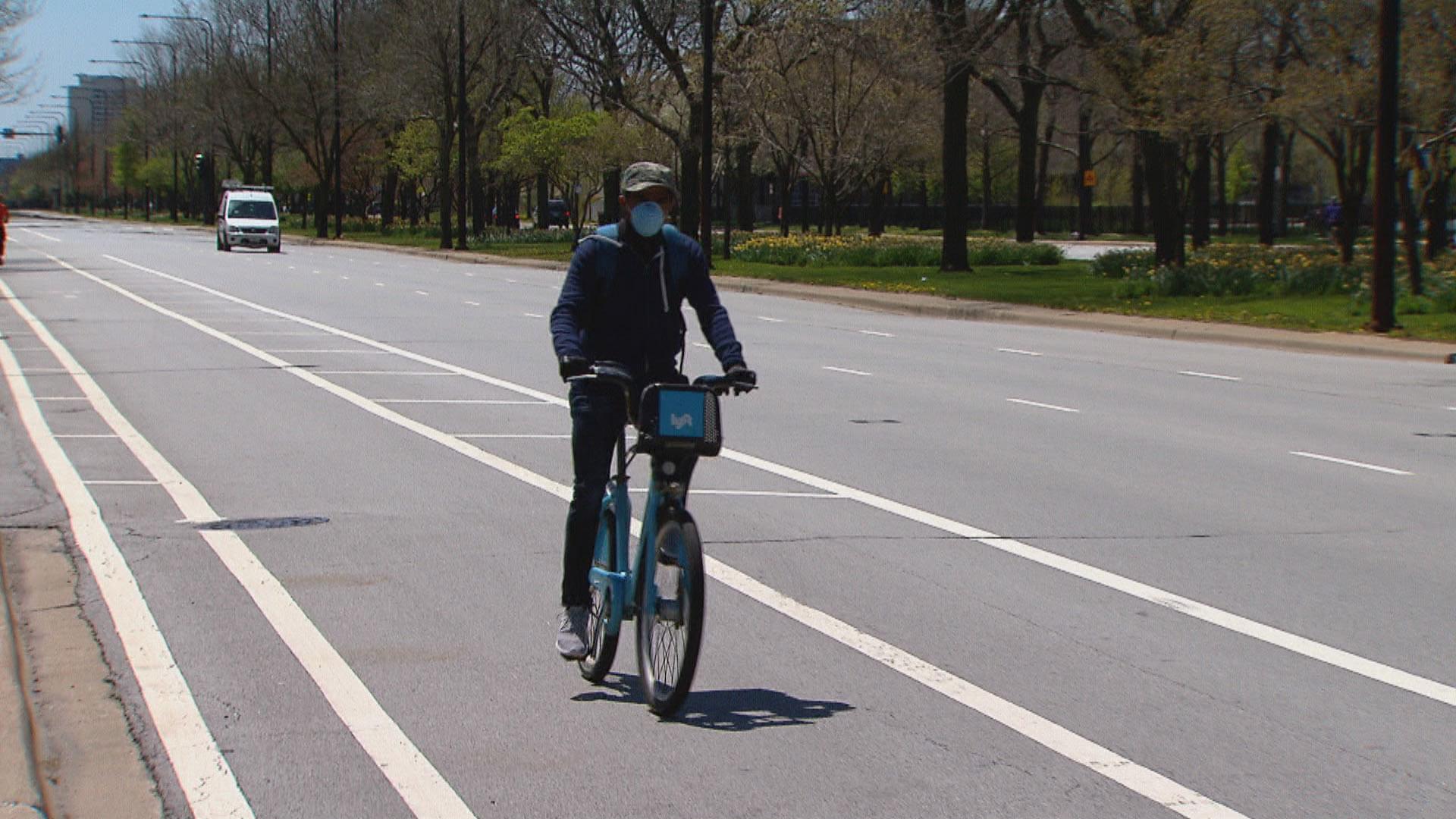 A cyclist wearing a face mask rides a Divvy bike in Chicago. (WTTW News)
For months, some Chicago residents have been clamoring for more public space to walk, run and bike while maintaining social distance. Now, the city appears poised to follow the lead of cities like New York City, Oakland and Seattle by designating miles of Chicago roadways as "shared streets for physical distancing."
The Chicago Department of Transportation plans to create at least 14 miles of shared streets on the North and Northwest sides, according to city data on the ChiStreetWork website. While there are no plans currently listed for shared streets on the West or South sides, a city official says those are in the works. 
A reader of the transportation site Streetsblog first noticed the permits over the weekend.
Exact details on rules for how people can use the streets have not been finalized yet, but in cities that have implemented these sorts of street plans, the roadways are closed off to traffic other than emergency, delivery and local resident vehicles and opened to pedestrians and bicyclists.
"As the City anticipates transitioning into a new phase of its reopening plan sometime in June, CDOT is preparing plans to equitably re-allocate street space to residents, where feasible, for various uses beyond driving a car," said CDOT spokesman Michael Claffey. "CDOT will continue working with stakeholders in all of Chicago's neighborhoods to implement effective and meaningful transportation initiatives that help increase access and mobility for all of Chicago's residents, while keeping safety at the forefront."
Transportation advocates have pushed Chicago to adopt so-called open streets for the last two months, but the city has stressed a cautious and locally driven approach.
"Whatever we do has to be meaningful, so we are not doing this just to say that we did something," Chicago transportation Commissioner Gia Biagi said earlier this month. "It has to be addressing the problem as the problem's been identified through local knowledge and local know-how."
Some advocates also warned that a push for shared streets can't come at the expense of the priorities and concerns of communities of color. "In the face of a crisis the inclination can sometimes be (that) we need to decide things quickly because it's a crisis, and we need to implement things to make sure people are safe right now," Lynda Lopez of the Active Transportation Alliance told WTTW News earlier this month. "I don't think that's always – or ever – really a good thing for equity implications."
CDOT has been getting feedback on shared streets for the last several weeks and is still inviting submissions to [email protected].
---