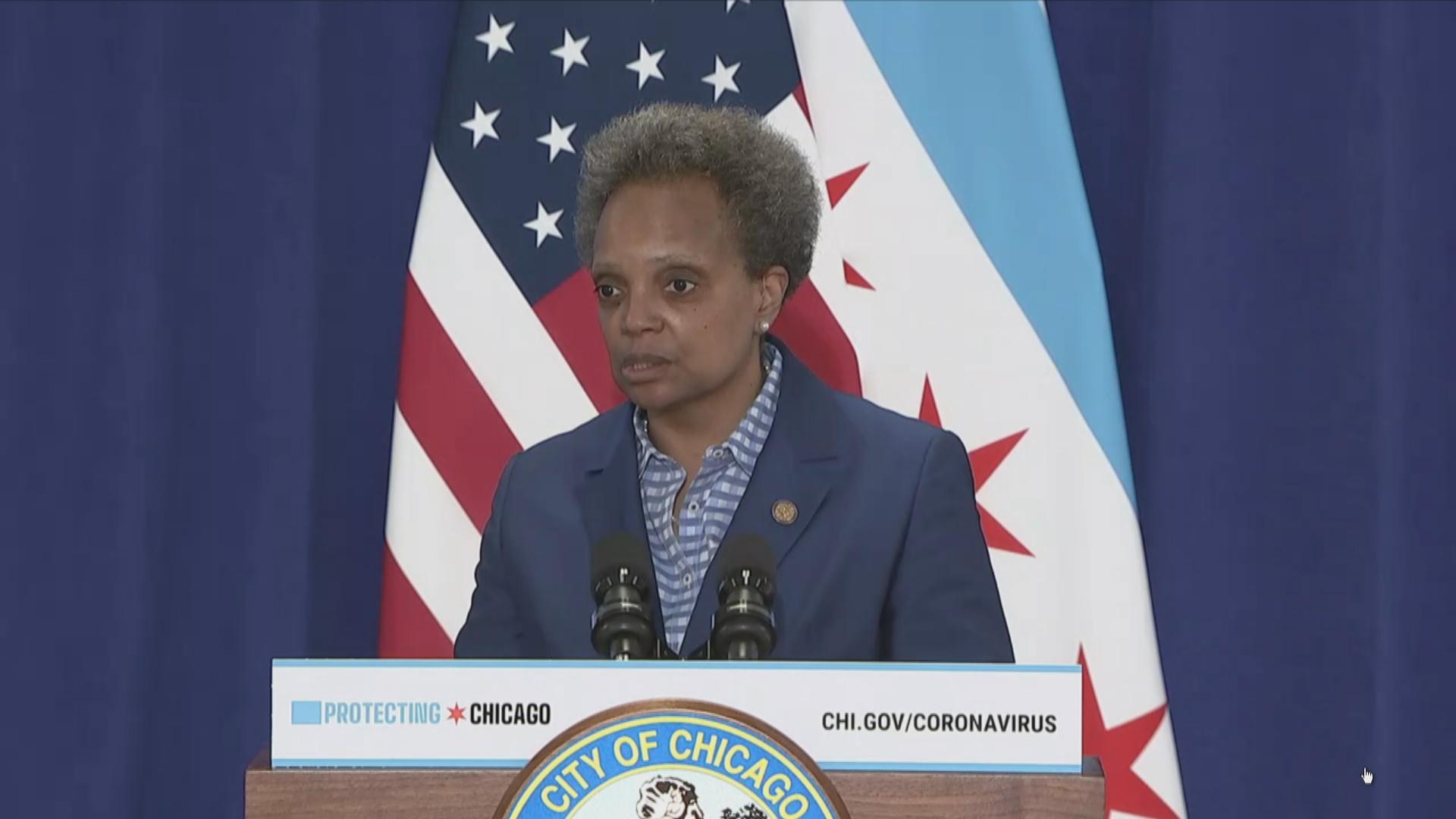 Mayor Lori Lightfoot speaks to the media following a Chicago City Council meeting Wednesday, May 20, 2020.
Mayor Lori Lightfoot proposed a new law Wednesday that would give renters 90 days' notice before they were evicted without cause, but progressive aldermen blocked the measure from advancing immediately.
Tenants can now be evicted without cause with 30 days' notice. That is not nearly enough time for a single person, let alone a family, to find a new place to live and move, Lightfoot said.
If approved by the City Council, the 90-day requirement would be among the longest in the country, Lightfoot said. Approximately 25% of tenants who are evicted in Chicago are done so without cause, which leads to physical and mental stress, the mayor said.
The measure also requires owners of buildings with more than six units who evict tenants to renovate or demolish the apartment to pay a one-time fee of $2,500 to their soon-to-be former tenant.
However, the mayor's proposal ran into a buzz saw of opposition seconds after it was introduced, with several aldermen using a procedural maneuver to send the measure to the City Council's Rules Committee, where controversial legislation often languishes indefinitely.
Ald. Carlos Ramirez-Rosa (35th Ward) said the mayor's proposal was "a watered-down version" of a proposal that had been under negotiations for months, and did not address the fundamental issues that lead to evictions for reasons other than non-payment of rent and lease violations.
However, Lightfoot told reporters after the City Council meeting she would not renegotiate the measure.
"This does not delay it one bit," Lightfoot said. "My expectation is that it will be passed in June. I can't imagine what the possible objection would be from aldermen."
However, Lightfoot acknowledged that some aldermen do not think it goes far enough.
"This measure strikes the appropriate balance," Lightfoot said. "I look forward to its passage."
Housing Commissioner Marisa Novara said the proposal was a "first step" toward fulfilling the mayor's "commitment to housing justice."
"It would be a mistake to consider this a one and done," Novara said.
The proposal also drew opposition from the Neighborhood Building Owners Alliance, which said the measure should be delayed until after the pandemic.
It is "not workable for neighborhood housing providers who are struggling to keep their buildings open and fully staffed during this pandemic," according to a statement from the group.
On Wednesday, Lightfoot also introduced an ordinance that would allow homeowners to add rental units within their houses or in backyard coach houses as a way to increase Chicago's supply of affordable housing and help property owners pay their mortgages.
In February, weeks before the coronavirus pandemic hit the city, Lightfoot vowed to work to end poverty in Chicago within a generation and said her housing policy would be designed to help those who struggle daily to find food, clothing and shelter.
"Our future as a city rests on keeping housing fair and affordable," Lightfoot said Wednesday.
The dispute sets up another clash between Lightfoot and progressive members of the City Council, who have proven to be the largest source of opposition to the mayor and her proposal.
Lightfoot marked the anniversary of her inauguration as the 56th mayor of Chicago with a speech during the City Council meeting, saying the city had become "more fair and more transparent" during her tenure.
Lightfoot paid tribute to aldermen, thanking the veterans for "their wise counsel, even when we disagree" and reading a list of what each of the 12 rookie aldermen told her office were their proudest accomplishments in office.
Contact Heather Cherone: @HeatherCherone | (773) 569-1863 | [email protected]
---