Video: Amanda Vinicky, Paris Schutz and Heather Cherone dive into this story and more in Spotlight Politics.
---
The lakefront will not reopen during the third phase of the plan to reopen Chicago, Mayor Lori Lightfoot said Wednesday during a speech to the Economic Club of Chicago. 
Lightfoot detailed the city's response to the novel coronavirus during a virtual speech to Chicago's business community, and vowed to shepherd the city through a recovery period that addresses the city's long-standing problems, including poverty and inequality.
"We need to seize this moment to move forward in a very different way," Lightfoot said.
But reopening Chicago will look more like someone turning a dimmer switch, "not flipping a light switch," Lightfoot said.
While the lakefront will not reopen anytime soon, more businesses that provide essential services, including stores, health care services, public transportation and social services, can reopen during the third phase, Lightfoot said.
Industries with built-in social distancing and experience using protective gear will also be allowed to reopen, including non-emergency medical procedures, as well as construction and manufacturing businesses.
Child and adult-care services will also reopen in order to allow employees to return to work, Lightfoot said.
Some parks will reopen and library programming will restart for youth, "with strict health protocols in place," Lightfoot said.
City officials are working to develop plans to reopen "businesses that are part of our daily lives and make us feel human — these include retail, recreation, restaurants and personal services like salons," Lightfoot said.
"We believe we can find creative ways in which we can bring some activity back in sooner rather than later," Lightfoot said. 
The city will soon publish industry guidelines on "the sequencing of reopening businesses, as well as guidance on how to reopen as safely as possible," Lightfoot said.
"These guidelines will cover everything from capacity restrictions, protective equipment, hygiene and testing," Lightfoot said. "And they'll be tailored to different types of businesses — from large retailers to small mom-and-pops in our neighborhoods."
When office workers return, they will find a different environment, Lightfoot said, one without break rooms, barriers between work stations and hand sanitizer stations — with everyone wearing a mask.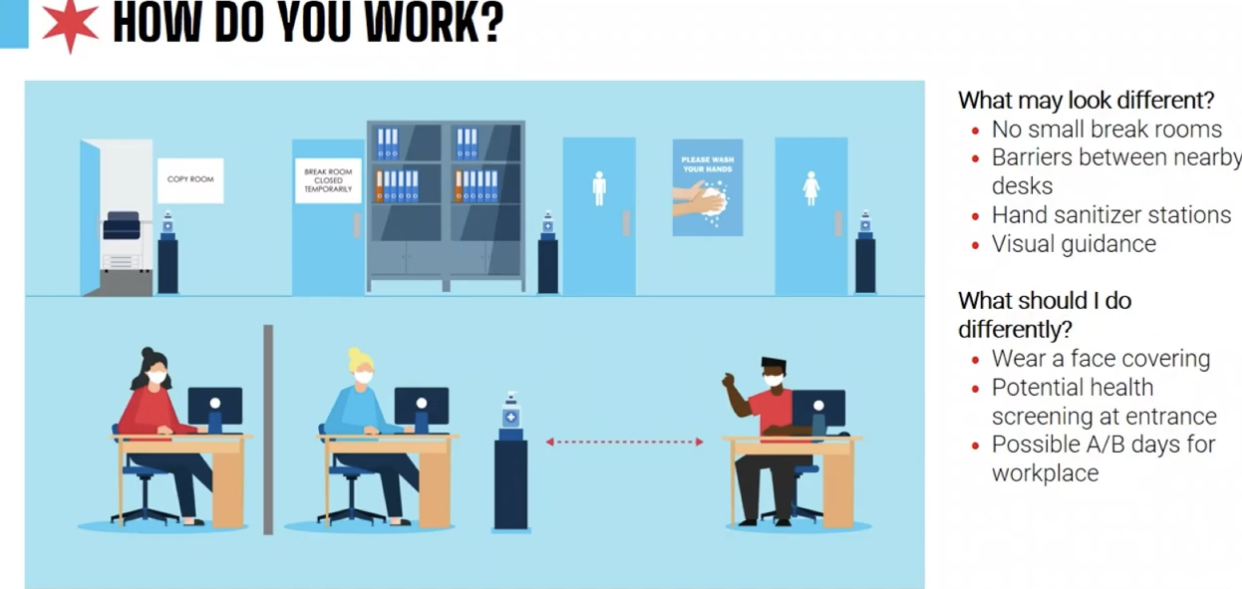 The city will transition from phase two to phase three once the rate of new confirmed cases of COVID-19 and hospitalizations begin to decrease, according to Lightfoot's plan. An average of 3,000 Chicagoans are tested each day, but that needs to increase to approximately 4,500 Chicagoans, said Dr. Allison Arwady, commissioner of the Chicago Department of Public Health.
In order to ensure there is adequate hospital capacity to handle a possible surge, city officials said there should be fewer than 1,800 Chicagoans hospitalized with the coronavirus and fewer than 600 people in intensive care and fewer than 450 coronavirus patients on ventilators, according to the plan.
In addition, city officials need to have the capacity to test 5% of the city's population, with a positivity rate of less than 15% over 14 days outside of communal housing, like nursing homes and jails, before moving to the next phase, according to the plan. The positivity rate could be 30% for those congregate settings, according to the plan.
Gov. J.B. Pritzker has called for statewide positivity rates at or below 20% and an increase in the positivity rate of no more than 10 percentage points during a 14-day period before restrictions can be lifted.
While Lightfoot's plan focuses on changes within a 14-day period — which is the time it can take for someone with the virus to show symptoms — Pritzker's plan calls for no overall increase in hospital admissions for 28 days before moving from one phase to the next.
Lightfoot's plan does not include specific benchmarks to move from phase three to phase four, dubbed "gradually resume," and phase five, which is dubbed "protect."
State law prohibits the city from opening up sooner than the governor allows.
Contact Heather Cherone: @HeatherCherone | (773) 569-1863 | [email protected]
---