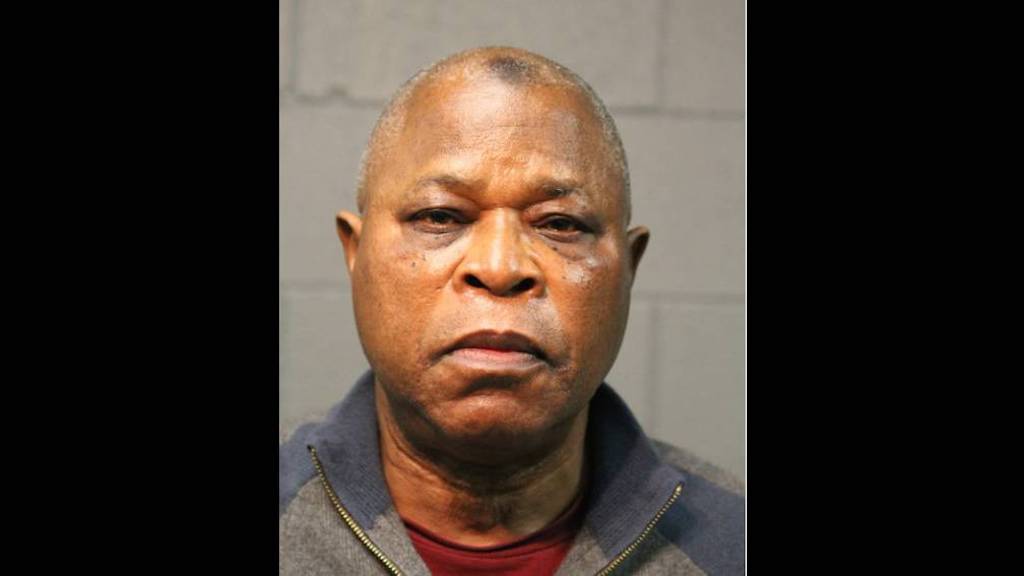 Razak Brimah (Chicago Police Department)
A 71-year-old Chicago man is being held on $1 million bond after he was charged with the criminal sexual assault of his teenage stepdaughter in a Near South Side home they shared with the girl's mother, who was working in a COVID-19 clinic.
Cook County Circuit Court Judge John Fitzgerald Lyke Jr., found that Razak Brimah poses a "real and present threat" to his stepdaughter "as well as this community" and ordered the substantial bond during a court hearing Tuesday afternoon.
"All of this, it just shocks the conscious if this is true," Lyke said after hearing details of the allegation.
Brimah allegedly kissed, fondled and sexually assaulted his 17-year-old stepdaughter on Sunday evening inside their home in the 2000 block of South Michigan Avenue.
According to Cook County prosecutors, the victim had cooked dinner for Brimah when he began to rub her thigh. He then grabbed the teen, put her on his lap and continued touching her.
The teen told him to stop or she would tell her mother, and then went to her bedroom. Brimah followed her there and pinned her down as he proceeded to undress and sexually assault her, prosecutors said.
After the assault, prosecutors said the victim used her phone to record a conversation between her and Brimah in which she asked him what to do if she became pregnant.
"The defendant also asked the victim if she liked it, because he did, and said she should not tell anyone," prosecutors said during Tuesday's hearing.
The teen then contacted her mother, who prosecutors said had been working out of state as a nurse in a COVID-19 unit. The mother contacted Chicago police, and Brimah was arrested at approximately 6:40 p.m. Sunday evening.
"According to the state's proffer, if that's true, it's despicable," Lyke said.
Brimah's attorney asked for a reasonable bond amount, citing the fact her client had no previous criminal record and suffers from diabetes, which could put him at a higher risk for COVID-19 inside the Cook County Jail as it continues to face a large outbreak of the coronavirus.
As of Monday, seven detainees at the jail, two correctional officers and one court deputy had died after contracting COVID-19, while the total number of cases at the jail approaches 1,000.
"We all are trying to combat it and stay away from it," Lyke said of the disease. "In my opinion, humbly, it is not a 'get out of jail free' card at all."
Contact Matt Masterson: @ByMattMasterson | [email protected] | (773) 509-5431
---