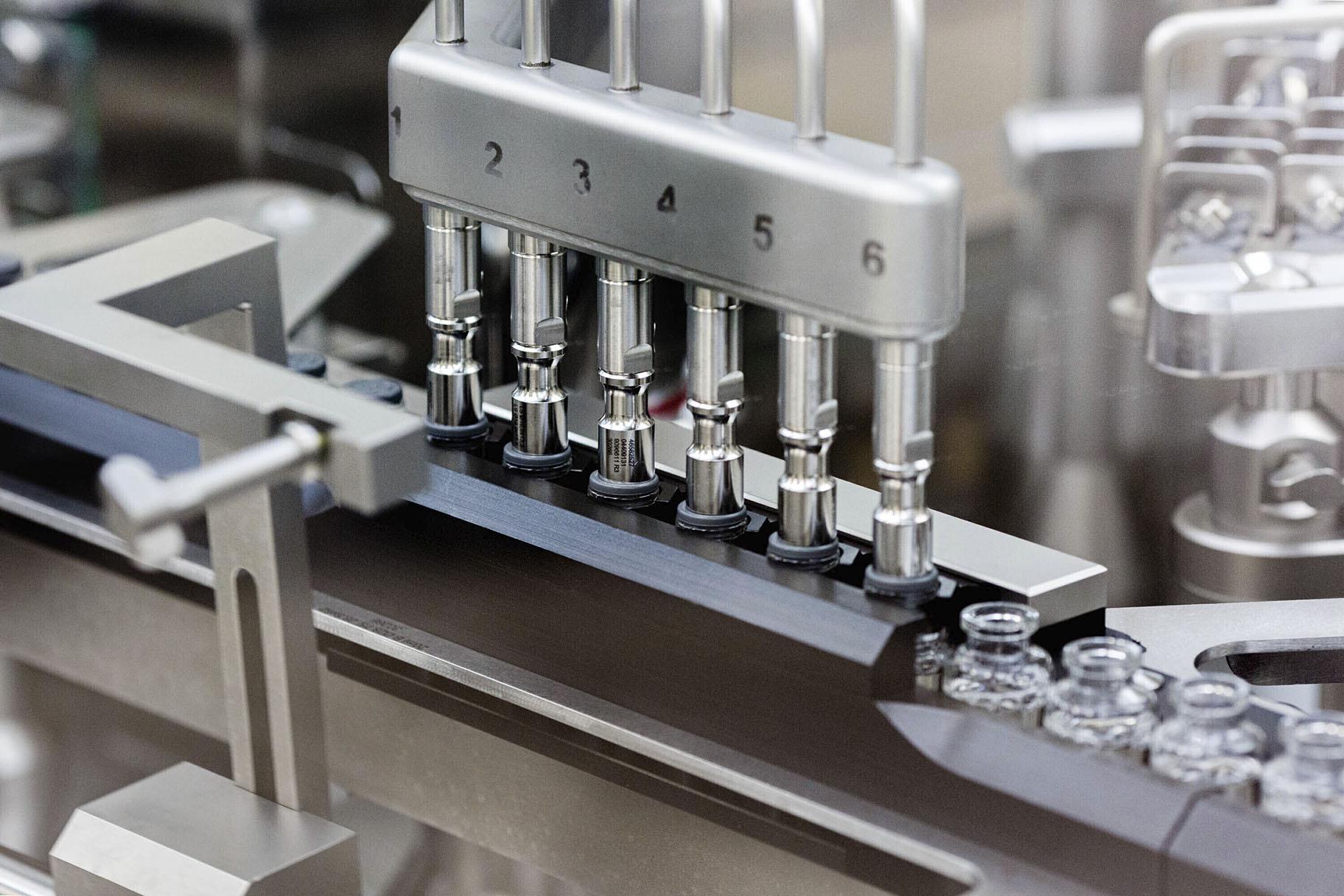 In this March 2020 photo provided by Gilead Sciences, rubber stoppers are placed onto filled vials of the investigational drug remdesivir at a Gilead manufacturing site in the United States. (Gilead Sciences via AP)
The only drug given emergency authorization by the Food and Drug Administration to treat patients with the coronavirus has arrived in Illinois, and more than 90% of it will go to patients being treated at hospitals in Cook County.
The 140 cases of remdesivir Illinois received Saturday contain enough vials to treat approximately 700 patients — about five patients per case.
But there's not enough to go around, in Illinois or elsewhere.
As of Sunday, there are 1,232 patients across Illinois in intensive care units, 709 of whom are on ventilators, with the number of cases continuing to rise.
There's been frustration at the federal level about how the antiviral drug will be allocated, given its limited supply.
It's likely that frustration will carry over in Illinois.
The state has distributed the initial 140 cases of medicine to 14 hospitals throughout the state – with 127 cases going to health care facilities in Cook County. The other 13 cases went to hospitals in O'Fallon, Peoria, Rockford and Springfield.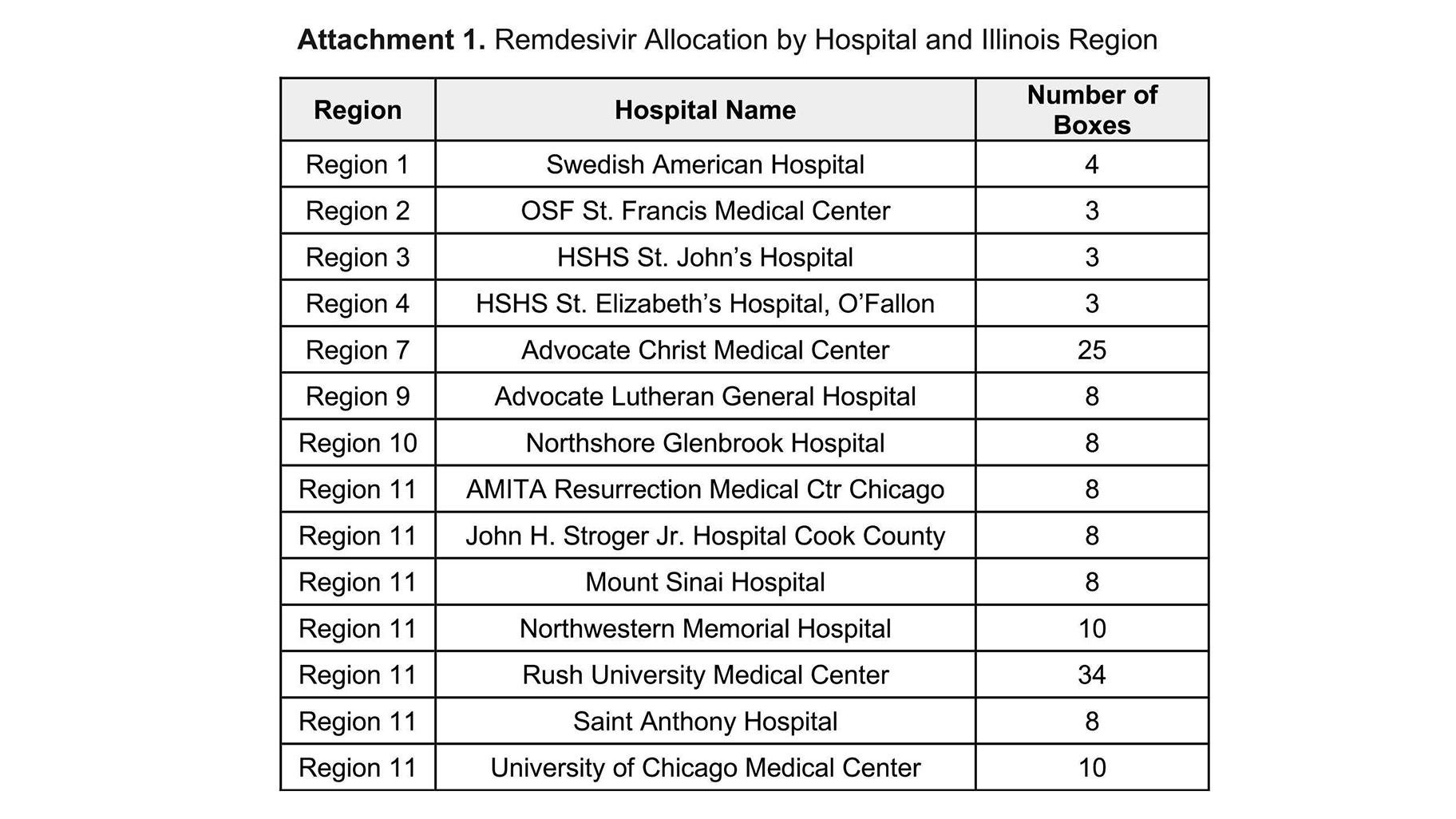 Attachment included in a letter from Illinois Department of Public Health Director Dr. Ngozi Ezike. (Click to see partially redacted letter.)
"It is impossible for every hospital in Illinois to get a case of remdesivir," Illinois Department of Public Health Director Dr. Ngozi Ezike wrote in a letter dated Saturday that's addressed to Illinois hospital chief medical officers.
Ezike said the IDPH established criteria to determine how to disperse the drug that officials "think is equitable, transparent and data-driven."
The criteria calls for prioritizing "hospitals that have seen the most critically ill COVID-19 patients and to safety net hospitals and hospitals treating large communities of color."
Illinois' black and Latino residents make up a disproportionate amount of COVID-19 cases and deaths.
Chicago's Rush University Medical Center has received the most cases, 34, followed by Advocate Christ Medical Center in Oak Lawn, which got 25 cases.
Northwestern Memorial Hospital and the University of Chicago Medical Center each received 10 cases while Advocate Lutheran General Hospital, Northshore Glenbrook Hospital, AMITA Resurrection Medical Center Chicago, John H Stroger Jr. Hospital Cook County, Mount Sinai Hospital and Saint Anthony Hospital got eight cases each.
All of those hospitals are in the area classified as the "Northeast" region in Gov. J.B. Pritzker's "Restore Illinois" framework, but they are all located in Cook County.
The plan separates the state into four regions, consolidated from 11 Emergency Management System regions.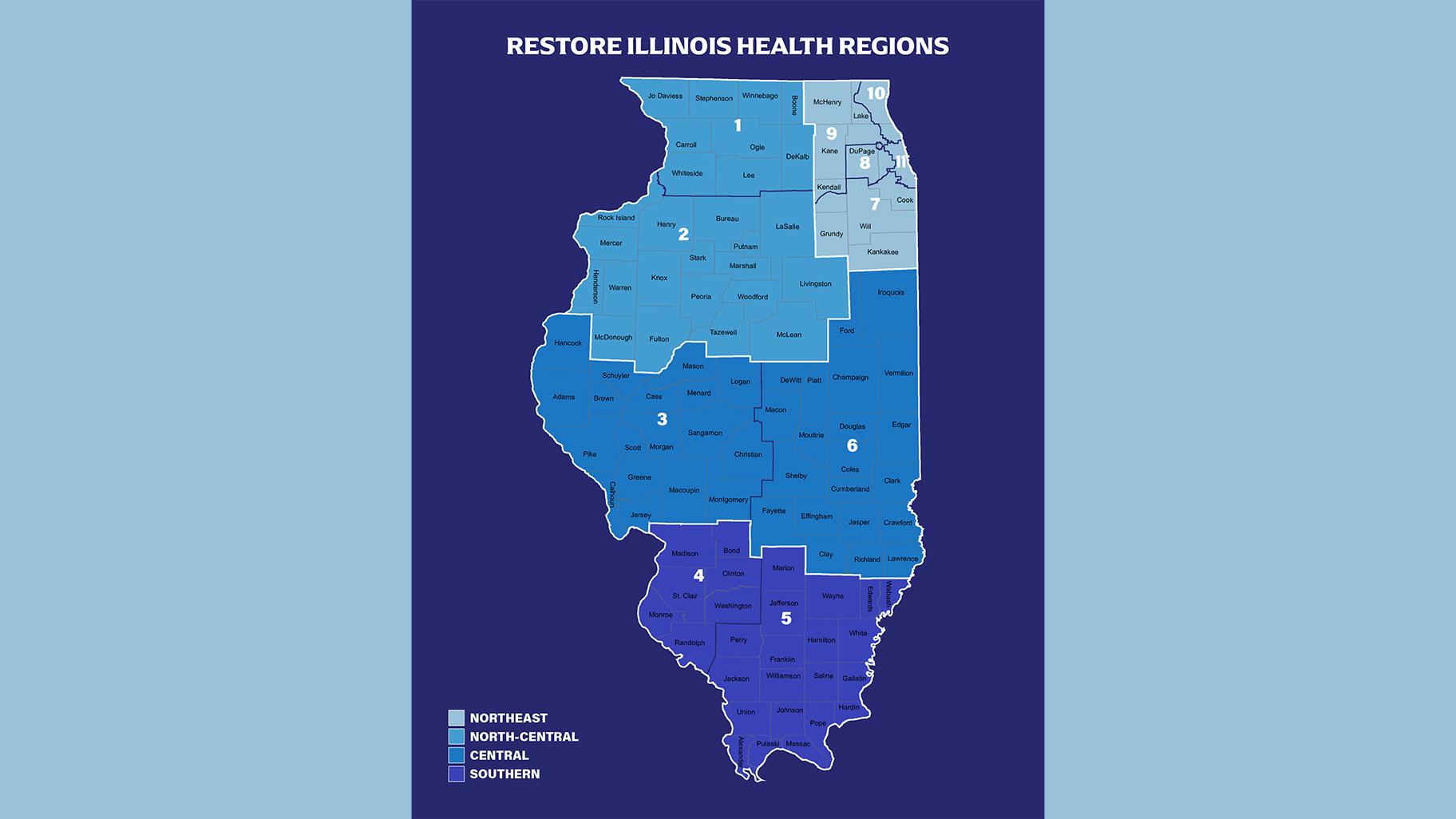 A page from Gov. J.B. Pritzker's "Restore Illinois" plan. (Click to see larger version.)
According to Ezike's letter, another 5% of the remdesivir has been sent to North Central Illinois, while the Central and Southern regions, as designated in Pritzker's reopening plan, will receive 2% each of the state's initial allotment of the drug.
While 127 cases were shipped to hospitals in Cook County, the remaining 13 cases were sent to four hospitals: Swedish American Hospital in Rockford got four cases, while OSF St. Francis Medical Center in Peoria, HSHS St. John's Hospital in Springfield, HSHS St. Elizabeth's Hospital in O'Fallon have three cases each.
The Department of Health and Human Services left it to states to determine how to decide which hospitals would receive the drug "because state and local health departments have the greatest insight into community-level needs in the COVID-19 response, including appropriate distribution of a treatment in limited supply."
Some lawmakers and residents of downstate Illinois are irked that despite low coronavirus infection totals relative to Chicago's, those areas' shops and churches must likewise leave their doors largely closed through May, and their restaurants will be tied to the same timeline of remaining closed to dine-in customers until at least the end of June.
The governor has maintained that the highly contagious virus knows no boundaries, and that downstate areas that lack Chicago's robust network of hospitals would have difficulty should there be an outbreak.
"Future shipments of Remdesivir are expected to be available and future allocation will consider the hospitals that received initial allocations," Ezike wrote in the letter.
The drugs were shipped to hospitals by the case, as advised by the Department of Health and Human Services, which warns against sending vials loose.
The FDA gave emergency use authorization for remdesivir for treatment of severe cases of COVID-19.
"While there is limited information known about the safety and effectiveness of using remdesivir to treat people in the hospital with COVID-19, the investigational drug was shown in a clinical trial to shorten the time to recovery in some patients," a FDA press release reads. "It is reasonable to believe that remdesivir may be effective in treating COVID-19, and that, given there are no adequate, approved, or available alternative treatments, the known and potential benefits to treat this serious or life-threatening virus currently outweigh the known and potential risks of the drug's use."
It will now be left to hospitals to determine which patients are the best fit for the treatment.
Remdesivir is administered through an IV, and is meant to help treat severe cases of COVID-19, defined by the FDA as patients with low blood oxygen levels, including patients who require ventilators.
Gilead Sciences, which manufactures remdesivir, has committed to donating 607,000 vials of the drug, to be distributed by the federal government.
Follow Amanda Vinicky on Twitter: @AmandaVinicky
---