Video: John Rogers of Northwestern University discusses how his team developed the monitor on "Chicago Tonight." A startup cofounded by Rogers just won an award from the science journal Nature for its development of wireless sensors for monitoring premature babies. 
---
Fever, cough and shortness of breath are all symptoms of the highly contagious novel coronavirus.
To help health care workers better understand the virus, researchers at Northwestern University and the Shirley Ryan AbilityLab have developed a wearable sensor and created algorithms to detect early signs and symptoms of COVID-19, as well as monitor patients as the illness progresses.
The soft, flexible sensor is applied just below the suprasternal notch – the visible dip at the base of throat – and measures coughing intensity and patterns, chest wall movements, respiratory sounds, heart rate and temperature, according to researchers.
While patients are always asked about their symptoms, they're currently not being measured in a quantifiable way, says John A. Rogers, a Northwestern University professor who led the technology development.
"Nobody is counting coughs or whether it's a dry cough or a wet cough, or whether a patient is having a coughing fit or if it's a more distributed pattern of coughing, or if people are coughing more at night or during the day," Rogers said.
The sensor fills that data gap as it continuously measures and interprets coughing and respiratory activity in ways that aren't possible with traditional monitoring systems. But researchers say the sensor is designed to complement — rather than replace — traditional measurements and assessments.  
Researchers hope the device can be used for early detection of the virus, especially among health care workers. "The value there is clear. A fever is not specific to COVID-19. But for front-line workers COVID-19 is the issue," Rogers said. So, if a front-line worker has a fever, it's likely COVID-19 related. "We want to pick up on symptoms and act on them at the earliest possible time," he said.
Rogers acknowledges the sensor is "not a silver bullet" because it does not address asymptomatic carriers of the virus.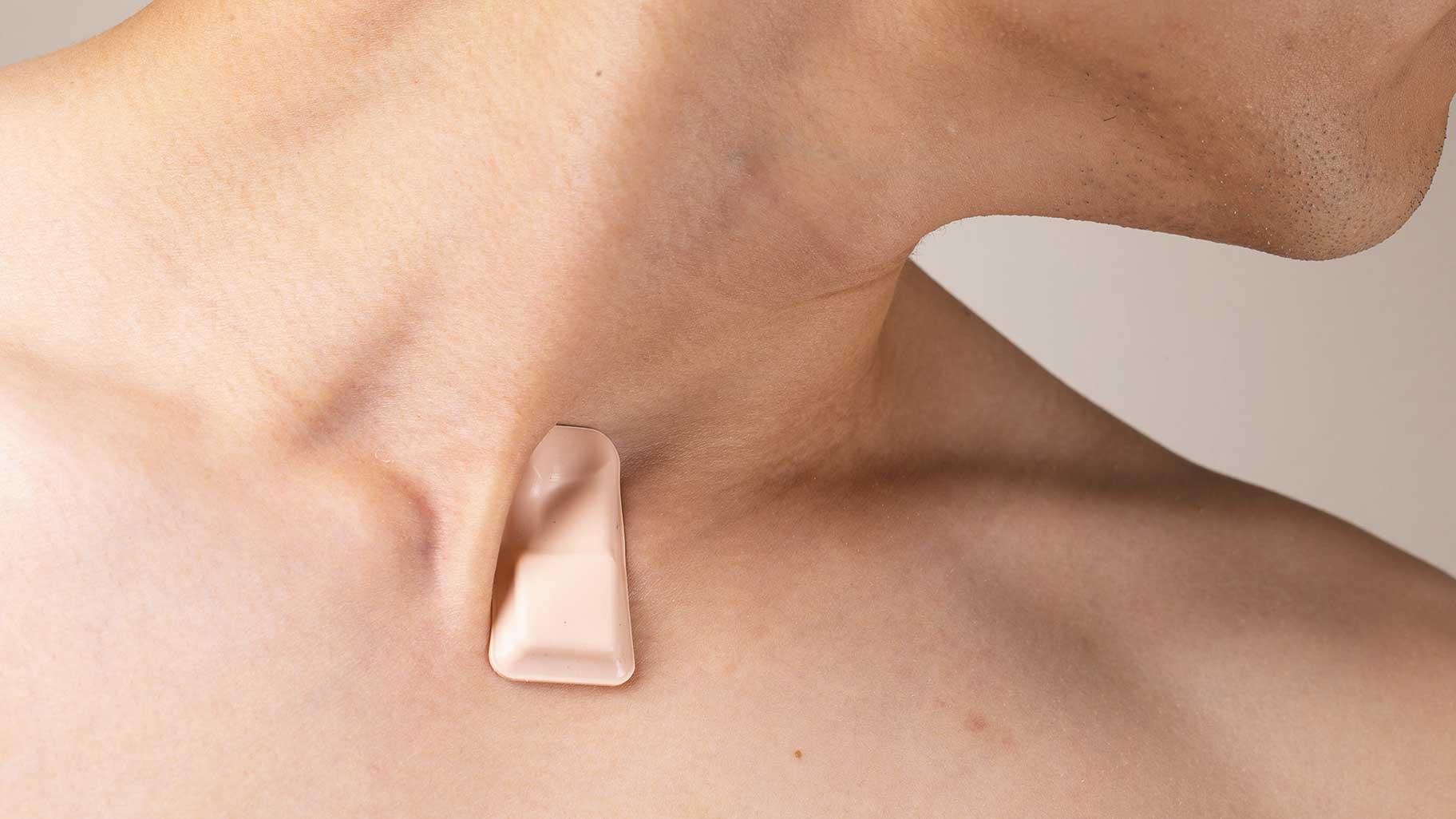 Researchers at Northwestern University and the Shirley Ryan AbilityLab have developed a wearable sensor to monitor and interpret key symptoms of the novel coronavirus. (Credit: Northwestern University)
But sensors can also be used to track a patient's symptoms as the illness progresses, including whether a patient is getting better or worse, and when a patient is discharged from the hospital, according to Rogers.
"When a patient recovers to a certain stage and is released from the hospital, in many instances they go home and rapidly deteriorate," Rogers said. The sensor can quickly detect that and clinicians can begin follow-up care as needed remotely, allowing patients to shelter in place, he added.
Rogers also sees potential for the sensor to be used to evaluate the effectiveness of possible COVID-19 therapies.
Sensors are currently being tested on 25 individuals: 10 front-line heath care workers and 15 COVID-19 patients, with about half of those patients receiving treatment in the hospital and the others at home, according to Rogers. About 2,500 cumulative hours of information has been collected and more than one terabyte of data of generated in the roughly two weeks the sensors have been tested. Researchers plan to expand monitoring to an additional 25 individuals.
Data collected from the sensors is wirelessly transmitted to a HIPAA-protected cloud, which produces graphical summaries tailored to facilitate rapid and remote monitoring, according to researchers.
"These are the frontier of wearables in a sense," Rogers said. "An Apple watch doesn't strap in a friendly way to the neck. This pandemic in a sense may be a strong driver of medical grade wearables (capable of) tracking ICU quality data streams outside a hospital.
"This (sensor) is just an example of what's possible and maybe creates a broader awareness of where the technology is going and how to think of health care in the future and the remote care of patients without sacrificing quality."
NOTE: This story was originally published May 6, 2020.
Contact Kristen Thometz: @kristenthometz | (773) 509-5452 |  [email protected]
---