53rd Street, the commercial heart of Hyde Park, felt almost normal on a brisk but clear Wednesday night.
The sidewalks were busy with residents shopping for essential items and picking up food at local restaurants. 
Hyde Parkers pride themselves on how integrated and resilient the neighborhood is, so there is a sense that this community is well equipped to come back from the pandemic and shutdown. 
Interactive: More from our series, COVID-19 Across Chicago.
Hyde Park is an anchor community for many on the South Side, surrounded by neighborhoods including Kenwood, Woodlawn, Jackson Park and Washington Park.
Hyde Park itself sits in two zip codes that have seen more than 600 positive cases of COVID-19, but it's the communities around it that have been hit the hardest. And a lot of those communities have to rely on the resources of Hyde Park to survive.
There is no bigger resource here than the University of Chicago and its health care system, which has been treating COVID 19 patients across the South Side. Beyond that, the university's Office of Community Engagement says it has provided hundreds of thousands of dollars in grants to local organizations and small businesses.
It has also shifted the function of its commissary, from preparing food for students to preparing meals to distribute to 24 food banks throughout the South Side. The university says its ultimate goal is to prepare 200,000 meals by June; it's pumping out 3,000 meals per day.
Commissary chef Florentino Gonzalez led a staff Wednesday in preparing chicken with vegetables and rice. He says they change the menu every day.
Derek Douglas, University of Chicago's chief of community engagement, says the school wants to dispel the perception that it is a universe unto itself, and instead be seen as a resource for the entire South Side.
"We're part of the South Side, we try to break down this notion of 'us versus them,' and view ourselves as one in the same," Douglas said. "A lot of what we're doing is building on a foundation of work the university's been doing the last 10-15 years, to address the most critical needs facing our community."
Beyond the university is a unique neighborhood with a thriving commercial corridor along 53rd Street. Wallace Goode, president of the Hyde Park Chamber of Commerce, admits some businesses are simply not going to make it through the shutdown.
But Goode says the community has to come together to picture what the climate will be after the pandemic.
"It's really hard to say who will survive this, and who will be victims," Goode said. "But we keep talking about Hyde Park's reboot, and that's critical. What do we need next in order to flourish again? Hyde Park is an incredibly successful, resilient community. I'm not worried about Hyde Park surviving. I do think we'll lose smaller businesses, but the vast majority will realize there are strategies for rebooting Hyde Park."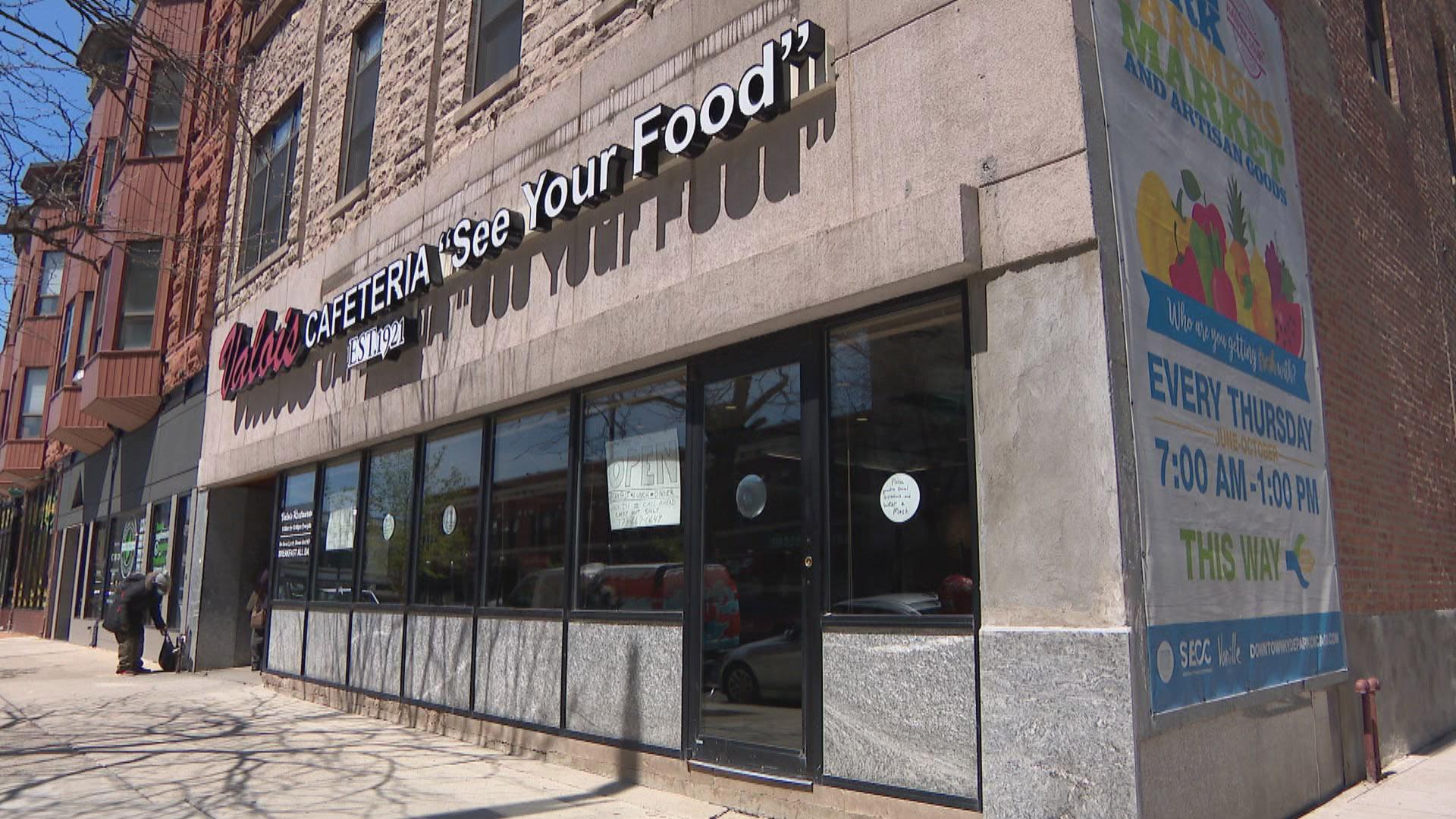 Valois Cafeteria is an iconic local business that chose to stay open during the shutdown, even though manager Gianni Colamussi says the restaurant is losing significant money by staying open. But Colamussi says he feels an obligation to long-time customers — one of whom is former President Barack Obama who has said it is his favorite eatery in the city. 
Colamussi says he believes there are more important things than the bottom line right now.
"We've been in Hyde Park for many years, almost 100. Everyone that's been here is like a family," Colamussi said. "We basically try to pay it back. They've been there for us over the years, but it's time to be there for them. People need us, so we're here."
Hyde Park residents have echoed concerns that are felt all over the city, as many worry whether or not they will be able to continue to afford rent. The neighborhood is full of mid-rise, multi-unit apartments and townhomes.
Ali Ammoura, a member of the Hyde Park-Kenwood Community Conference, says the organization has held COVID-19 Zoom meetings with residents, and rent issues have dominated the discussions.
"We heard from a number of people, some were single living at home by themselves, others had roommates, others small children," Ammoura said. "So I don't think it's demographic-specific, and it's fairly widespread throughout the community."
Follow Paris Schutz on Twitter: @paschutz
---
Community Reporting Series
"Chicago Tonight" is expanding its community reporting. We're hitting the streets to speak with your neighbors, local businesses, agencies and leaders about COVID-19, the economy, racial justice, education and more. See where we've been and what we've learned by using the map below. Or select a community using the drop-down menu. Points in red represent our series COVID-19 Across Chicago; blue marks our series "Chicago Tonight" in Your Neighborhood.
---