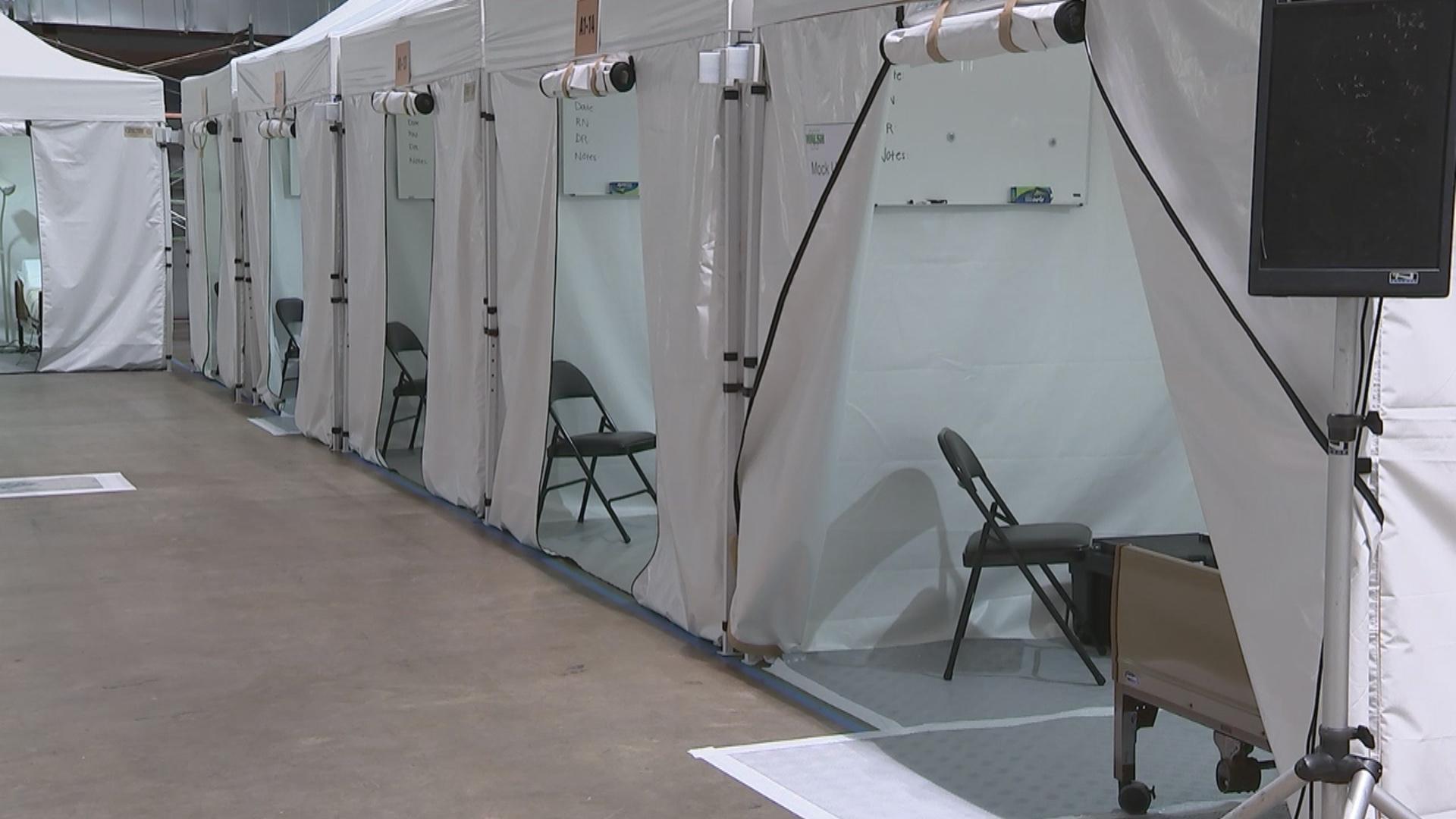 Inside the McCormick Place alternate care facility for COVID-19 patients on April 17, 2020. (WTTW News)
Chicago Mayor Lori Lightfoot and Gov. J.B. Pritzker announced Friday that the field hospital at McCormick Place will close, having treated less than three dozen patients.
"Today, we are pleased to report that the curve is flattening, and our local hospitals and health care systems continue to operate with capacity," Lightfoot and Pritzker said in a joint statement.
Patients who are being treated at McCormick Place will remain there until they are discharged, and the negative pressure tents — used to treat infectious patients while limiting the spread of the disease — will remain in case they are needed as hospitals resume elective surgery, officials said.
When Pritzker ordered Chicagoans to stay home in an effort to stop the spread of the virus starting March 21, the number of confirmed cases was more than doubling every three days in Chicago, setting the city on a catastrophic course.
That could have resulted in 40,000 people hospitalized, which would have overwhelmed Chicago's hospitals and health care system, according to officials.
"An abundance of caution" prompted city, state and federal officials to start transforming McCormick Place into a field hospital, equipped to care for patients sick with COVID-19, the illness caused by the virus, at the end of March. The first 500 beds were available in five days.
However, McCormick Place has treated just 29 patients — and plans to expand the facility to 3,000 beds were scaled back.
Through April 16, the city has spent $64.8 million on the McCormick Place field hospital, according to city records.
Working to expand hospital capacity around Chicago was "absolutely the right thing to do," especially since it was not clear how effective the governor's stay-at-home order and social distancing recommendations would be in stopping the transmission of the virus, said Dr. Allison Arwady, the commissioner of the Chicago Department of Public Health.
Speaking to reporters Thursday, Arwady said she "felt very anxious" about the number of ventilators available at Chicago hospitals for several weeks.
When Pritzker announced that the convention center — which lost dozens of trade shows and conventions as the pandemic spread — would be transformed into a field hospital, he said the best case scenario would be if it was not needed.
On April 3, Pritzker said he was "praying" that McCormick Place never treats a single patient because that would mean Illinois has flattened the curve, and fewer people than feared got sick.
"From your lips to God's ears," Pritzker told a reporter who questioned whether the field hospital would be needed.
McCormick Place was at one point the largest field hospital in the nation.
But Pritzker and Lightfoot warned that the pandemic sweeping Illinois and Chicago has not yet abated.
"While this marks a critical moment and a large step forward in our collective fight against COVID-19, we must stay the course until data shows further progress in a reduction of new cases and as widespread testing comes online," the mayor and governor said in a joint statement.
Contact Heather Cherone: @HeatherCherone | (773) 569-1863 | [email protected]
---