What are high school students really learning during this time of stay-at-home orders and remote learning? Maybe more than lesson plans intended.
For one, there's the discovery about just how different online classrooms are from physical ones, where there are opportunities to follow along, ask questions and make contributions. Not every student has the same quality of internet access — or even access to a computer.
George Westinghouse College Prep senior Amari Roberts was writing essays on her iPhone until the school provided her with a Chromebook. That took about two weeks. And then there was the question of what her younger sister would do. 
"We still have to share the laptop because her school is behind getting out Chromebooks because she is in second grade. We came up with a schedule, but at first it was really hectic because we were sharing," Roberts said.
Jesus Hidalgo, a senior at Mansueto High School, has worked with fellow members of Chi Student Pandemic Response on a petition calling on Chicago's mayor, Illinois' governor, and Chicago Public Schools CEO Janice Jackson to make sure every student has a Chromebook. They're also calling for a policy of extra help for younger students and students with IEPs, or Individual Educational Plans. 
"When my little brother started doing his homework he needed extra help because normally kids in elementary school need more help," Hidalgo said. "There are parents that are working on the front lines, they don't see their kids until the end of the day, and they don't have anyone to help them with online learning. I found it really unfair." Hidalgo feels a shift in policy would help a lot.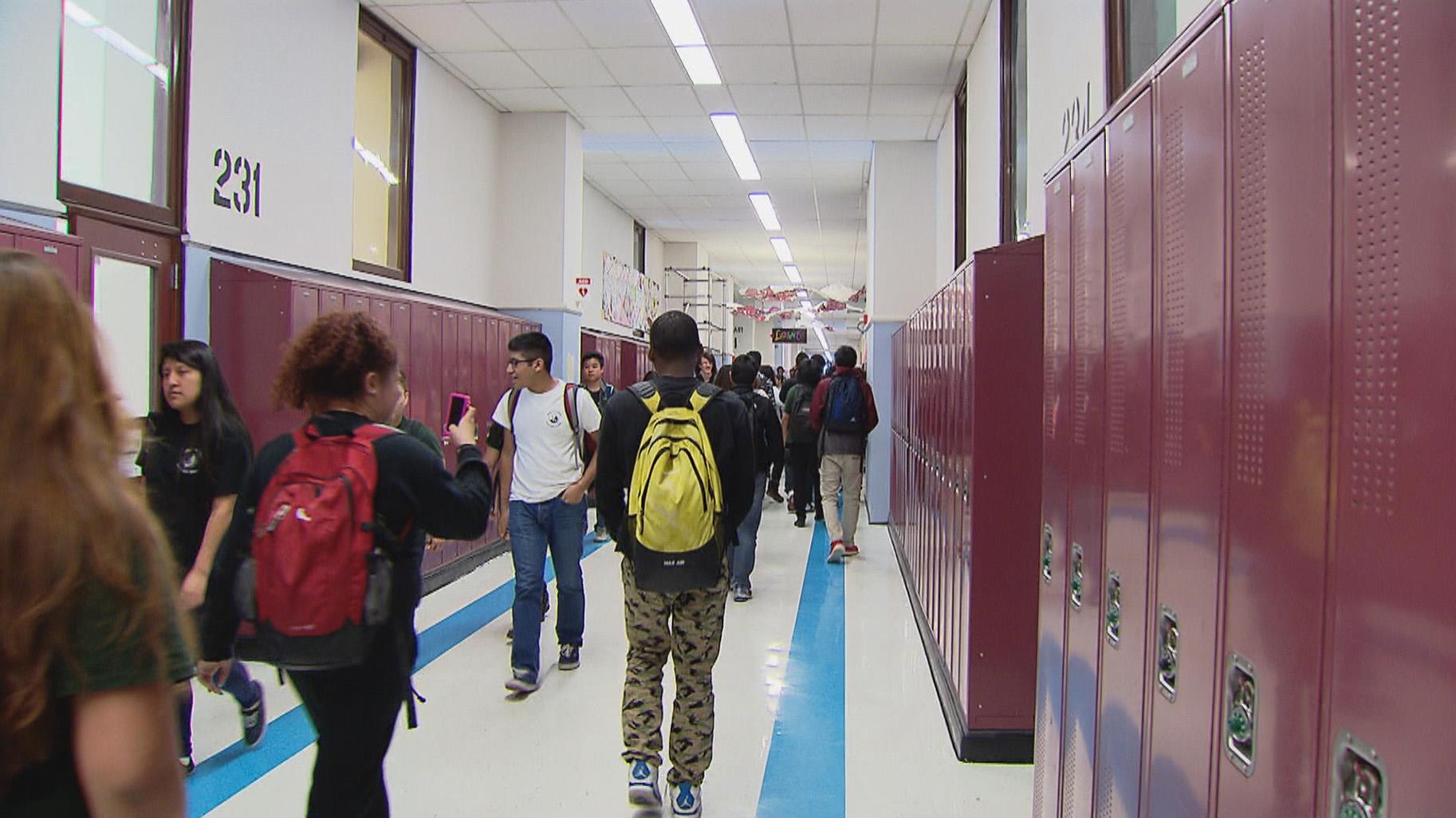 Crowded hallways are a thing of the past in the era of remote learning. (WTTW News)
Missing the energy and motivation of the classroom was on Anthony Sanchez's mind. The junior at Morton West High School is both socially and academically busy. For one, he's a leader in the school's National Honor Society Chapter. 
"That one-to-one communication with teachers and students? It's super valuable when you go to school," he said. "When you're in the classroom environment you're surrounded by people who are learning, by people who want to learn. And you don't get that same feeling at home when you're in front of the computer." 
And the students tune out. "They have their cameras off, they have their audio off, they're just listening. They're probably sleeping," he said.
Sanchez's three Advanced Placement (AP) classes continue, but the AP tests that would get the students college credit for their work through the year has been delayed and simplified. 
"Usually we had a multiple-choice section and a free response writing section. It has been cut down from three hours to 45 minutes with only the free response section. And we have to take the test at home, and we have to find a way to do these tests fast enough, upload them and hopefully have no internet problem. All this so that our college credits are now set and they're good," he said. 
His college entrance exam, the SAT, has been pushed back to the fall of his senior year.
Charlotte Manier, senior at Jones College Prep who is headed to the University of Chicago in the fall, is a teaching assistant for the school's junior-level AP Biology class. 
"My heart breaks for those kids. I know how smart they are and how so many of them love the class. The simplified AP test isn't going to be an accurate reflection of all they've learned," she said. "I am concerned about their college credit, and about them thinking less of themselves because of that."
They're also learning things about their families. 
For Cristina Solano, a freshman at Thomas Kelly College Prep in Brighton Park, the stay-at-home order interrupted a grueling routine. Solano would rise daily at 6 a.m., head to school, get home after dance team practice nightly by 6 pm, then do homework and help around the house until hitting the sack at 10 p.m., just to do it all again the next day. 
"Now I can get up by 10 a.m. and be done with my classwork by 2 p.m. and have more free time," she said. While the dance team is shut down, Solano has time to reflect on the stress on families like hers, immigrants who work long hours at jobs that are currently potentially dangerous. 
"My mom works three jobs, my dad works overtime, 12-hour days, driving a forklift at a food distribution company, and we are fortunate. We have enough. We get by fine. But I have friends who parents can't work, can't make money. I don't know how they make that work," Solano said.
Dayanna Sanchez, a senior at Morton West High School in Berwyn, is one of those students whose father had to stop working. The construction jobs he counted on aren't happening. It has Sanchez taking a closer look at her own home and family, and the impending economic stress. 
"Home life is actually going really well," she said. "We're bonding in a way we usually didn't have time for. We have dinner together instead of eating in our own corners whenever, and we're communicating more." It helps with the fear, she said.
Beyond their school lessons, they're learning how to handle the unpredictable nature of a pandemic. 
"I just go with the flow," said Destiny Williams, a senior at Wendell Phillips Academy High School in Bronzeville. 
"I have been coping really well with this whole thing. It's hard to not to see friends, it's not the same being on social media as it is seeing real faces, but the five of us living here, me, my sister, my mother, my grandmother and my cousin, we are all getting along," she said. "Usually we don't. It's good to be together."
---