On the city's Southwest Side, a troubling situation has gotten worse as the coronavirus pandemic has intensified.
Because many residents of Brighton Park and surrounding areas such as Gage Park, West Lawn and Archer Heights subsist on low-wage jobs, the pandemic has exacerbated existing problems. 
Interactive: More from our series, COVID-19 Across Chicago.
Brighton Park also lies within a zip code that has seen one of the highest rates of coronavirus cases in the city. The health crisis is compounded by the fact that children are home from school with parents either out of work or working for minimum wage. 
The area has also struggled with gang violence which has led to trauma and depression among many young adults.
The Esperanza Center, a community health provider in the heart of the neighborhood, has ramped up its COVID-19 testing in recent weeks. It reports nearly 470 positive test results since the crisis began. In fact, Esperanza CEO Dan Fulwiler says the Brighton Park site tested 70 people on Monday and 50 of those tests came back positive.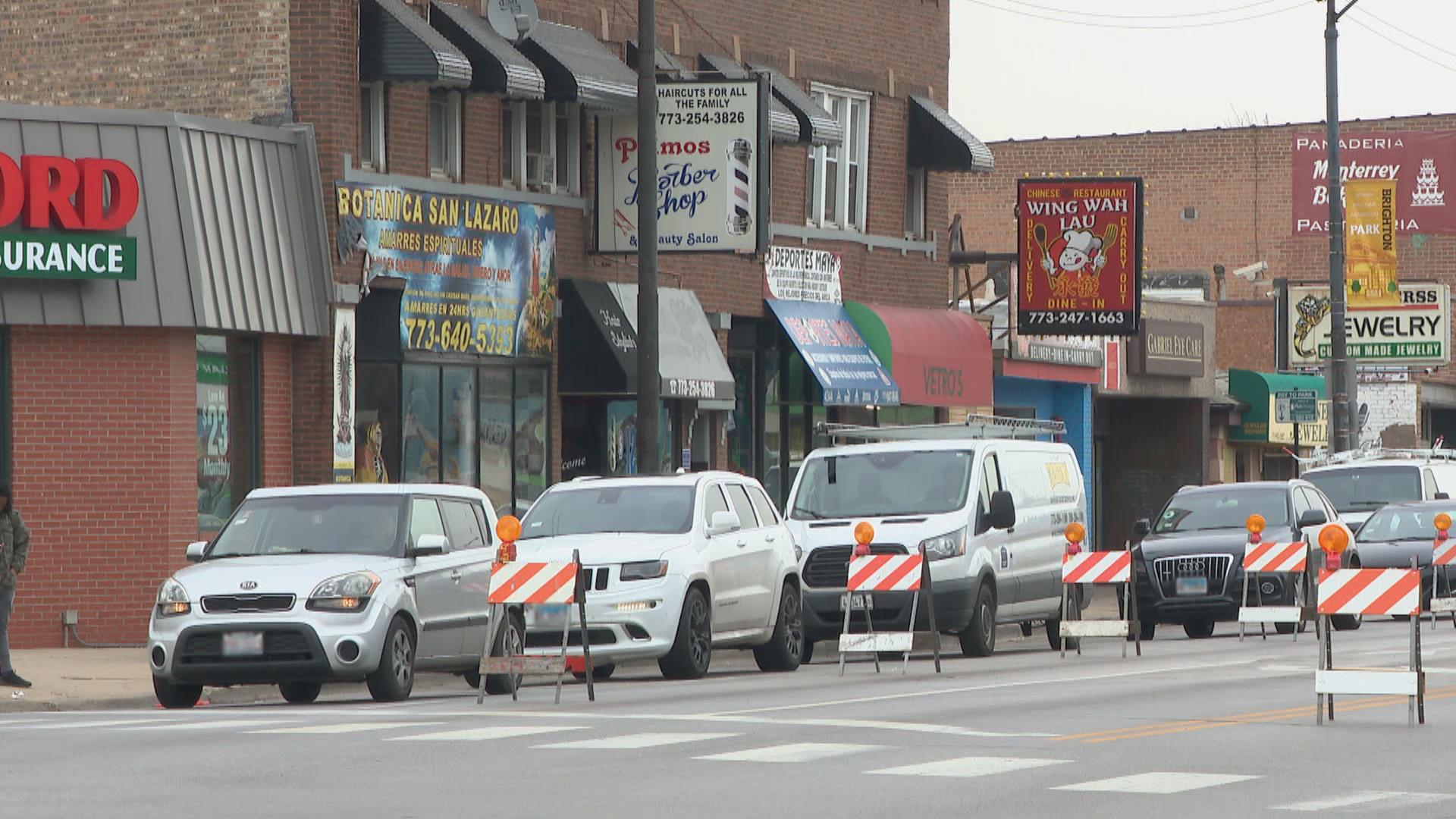 Esperanza has instituted a drive-up process for testing. Medical workers walk up to people in their cars to conduct swab tests and take people's vitals and temperature before sending it off to a lab called labcore. Fulwiler says Hispanic and Latino communities like Brighton Park are getting hit harder by the pandemic because of complicating factors like diabetes and heart disease, but also because many people are still going to work. He says several cultural factors are also at play.
"People are afraid to go to the hospital because they're afraid of the bills," Fulwiler said. "They also tend to live in crowded, multi-generational households, with the abuelito staying with them, lots of kids, and maybe a single bathroom. So they have an extremely difficult time with social distancing."
Other community groups like the Southwest Collective were founded to lift the area up. The group's president, Jamie Groth Searl, says it has its hands full lifting the community up in better times; now the work is that much harder.
"We got to a point where folks can't afford necessities like clothes, shoes," Groth Searl said. "Someone reached out to me asking for a car seat. So we're at that level. So to have to do this on a normal basis, and then have the pandemic, it affects this neighborhood disproportionately because people here work at restaurants and stores and small businesses which have been forced to close. So, not only are small businesses affected, but so are neighbors. Nobody has any money or anything."
Illustrating that point was a line we saw stretching for blocks with people waiting to participate in a food drive at the Immaculate Conception church on 44th Street and California Avenue.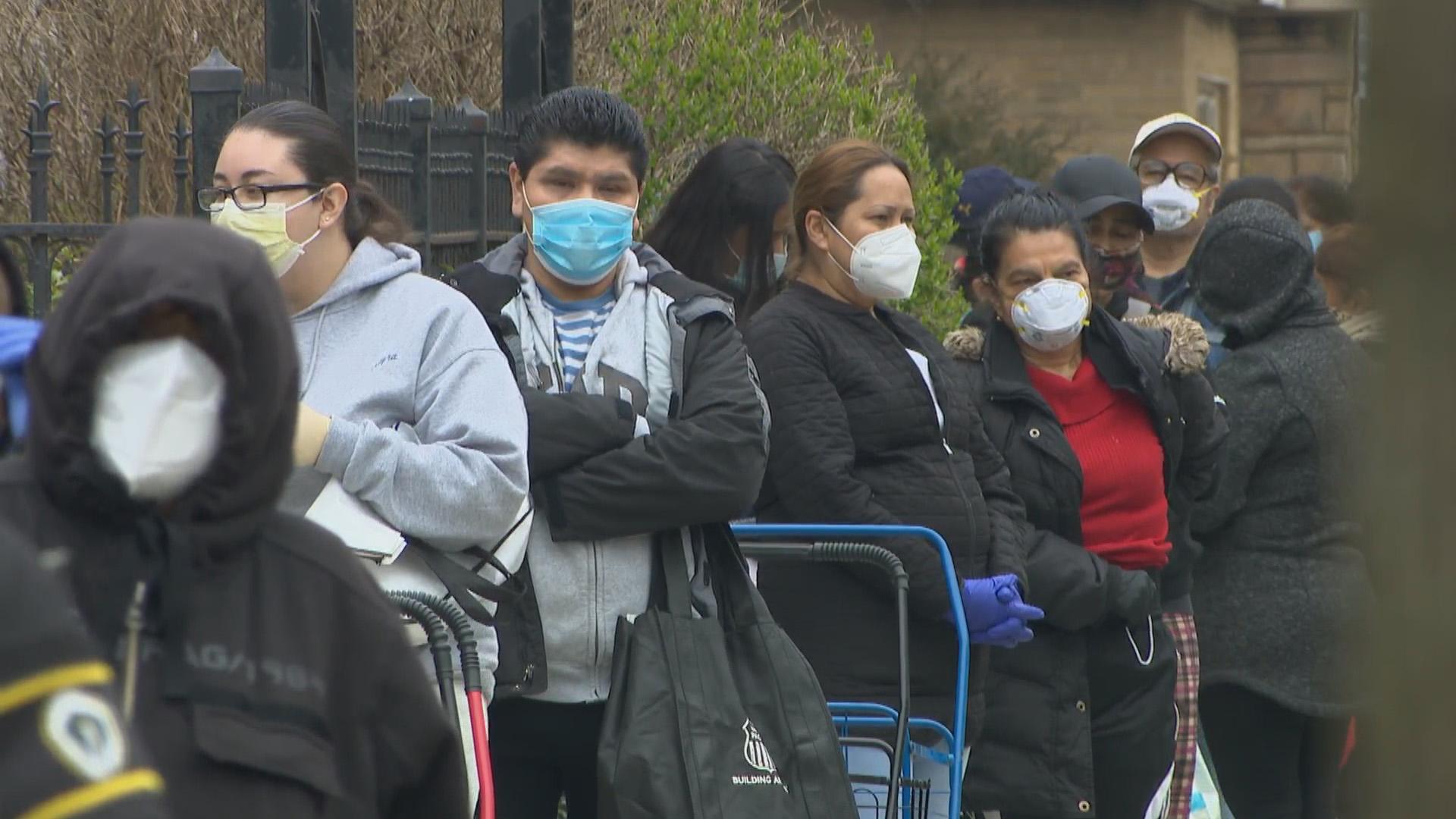 The drive happens once a month, but the organizer says they are prepared for about 100 more folks than normal. People had lined up as early as 7 a.m. though the church doesn't open its doors until 4 p.m. to give out essential food items.
"Produce, rice, beans, stuff that lasts a long time and will hold you over to the next month," said resident Alexis Valdez, who says she got in line around 9 a.m.
The surrounding area is characterized by a lot of heavy industry, meat processing plants, manufacturing companies and intermodal transportation facilities. Small business plays a role in the community, but Groth Searl says small business owners have been operating at a major disadvantage because of the proliferation of big-box retailers.
Vernica Ramiro-Bartel, an independent photographer, says that her work has dried up as parties, gatherings and celebrations have ceased.
"Everything stopped," she said. "There's a couple of deposits I had to return. It is unprecedented times. And as a family, I struggle financially, so I refunded what I could. A lot of weddings are pending, but it's been very difficult."
But Brighton Park has a strong community structure, with many examples of neighbors lifting each other up despite the collective difficulties.
"Kind of like you see free libraries, neighbors are putting tables out with toiletries and dry goods and things like that,"Groth-Searl said. "Rain or shine, we're here for you."
Follow Paris Schutz on Twitter: @paschutz
---
Community Reporting Series
"Chicago Tonight" is expanding its community reporting. We're hitting the streets to speak with your neighbors, local businesses, agencies and leaders about COVID-19, the economy, racial justice, education and more. See where we've been and what we've learned by using the map below. Or select a community using the drop-down menu. Points in red represent our series COVID-19 Across Chicago; blue marks our series "Chicago Tonight" in Your Neighborhood.