In Illinois, there are plans for rallies in both Springfield and Chicago on May 1 to protest the governor's stay-at-home order. 
One of the organizers says he's expecting more than 1,000 people to attend.
Who are the protestors, what do they want, and will they be wearing masks and following social distancing protocols during the protests?
Josh Ellis, of Naperville, is one of the organizers behind American Revolution 2.0, which is not only putting together the Illinois rallies, but rallies in each state. 
"Our goal is to have the unconstitutional governor mandate removed completely," Ellis said. "Give the responsibility for our health and safety to American citizens, where it should lie to begin with." 
Ellis says the central argument behind the movement is one of constitutionality. Ellis says Gov. J.B. Pritzker is infringing on citizens' First Amendment right to assemble because his executive order does not allow more than 10 people to gather during the pandemic.
Ellis sees that right as of primary importance despite the health risks associated with congregating. How can people get things done and question the government, he argues, if they cannot talk and gather. 
Recent protests unrelated to American Revolution 2.0 saw people ignoring guidelines for social distancing and wearing masks. In some cases, children were also in attendance.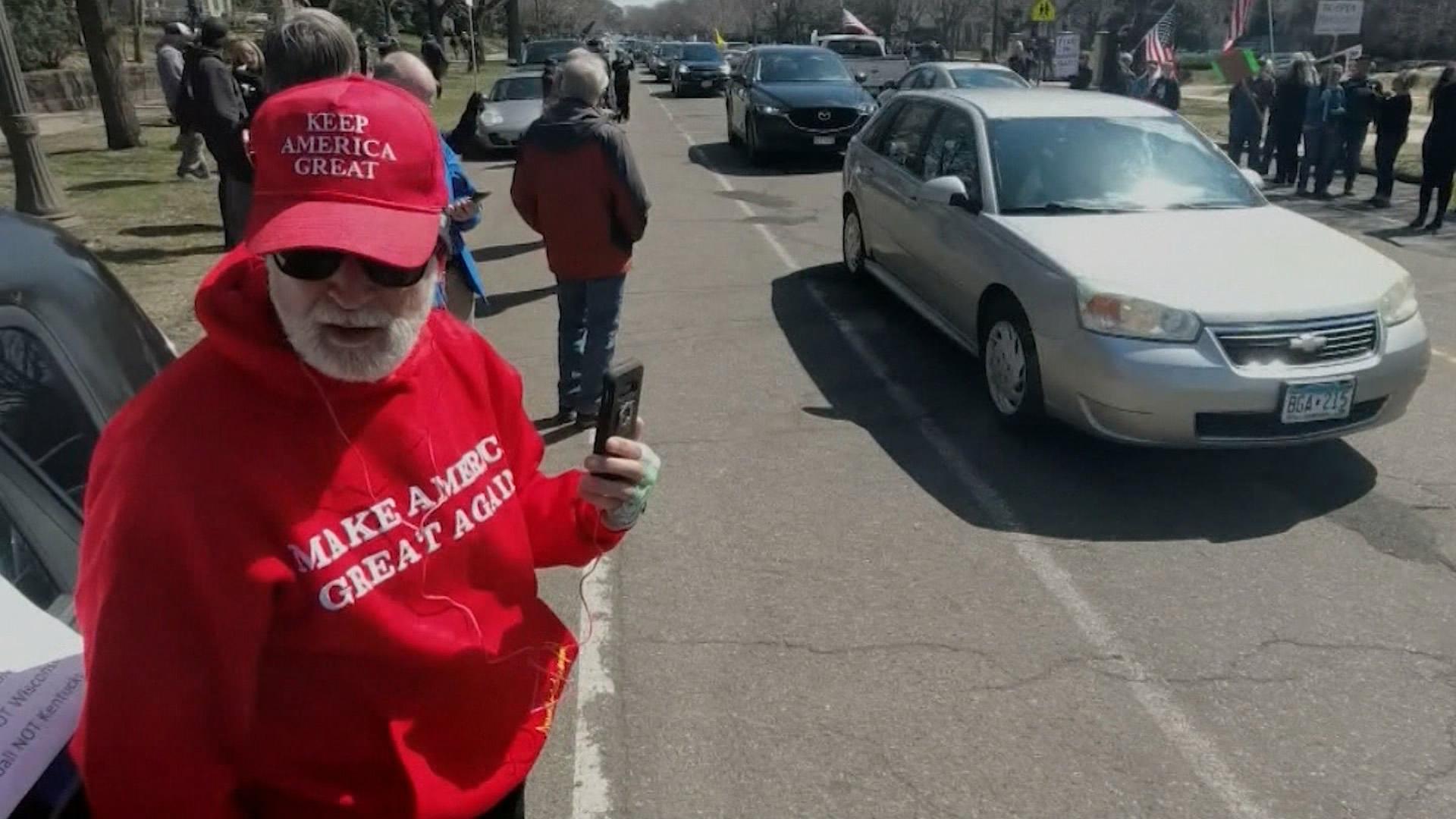 Participants in rallies in several U.S. states calling for the reopening of the economy have ignored social distancing guidelines. (WTTW News via CNN)
Within the Facebook group Re-Open Illinois, where the local events are being discussed, there have been conflicting messages regarding masks, with some organizers telling protesters to wear them and others saying that's not a requirement.
Ellis said there's been a big push for all of the protesters to following social distancing guidelines and to wear masks. 
On his personal Facebook page, his banner includes a quote from John F. Kennedy: "Those who make peaceful revolution impossible will make violent revolution inevitable." 
So might these protests get violent? 
Ellis, who referenced the 1989 Tiananmen Square demonstrations that ended in bloodshed, said that if those attending the rallies are not allowed to peacefully express themselves and they continually get "squashed," there could be violence from both sides. 
"If we don't stand up as we the people and say as a nation that is isn't OK, it sends the message that it is OK and it is never an OK situation," he said.
---