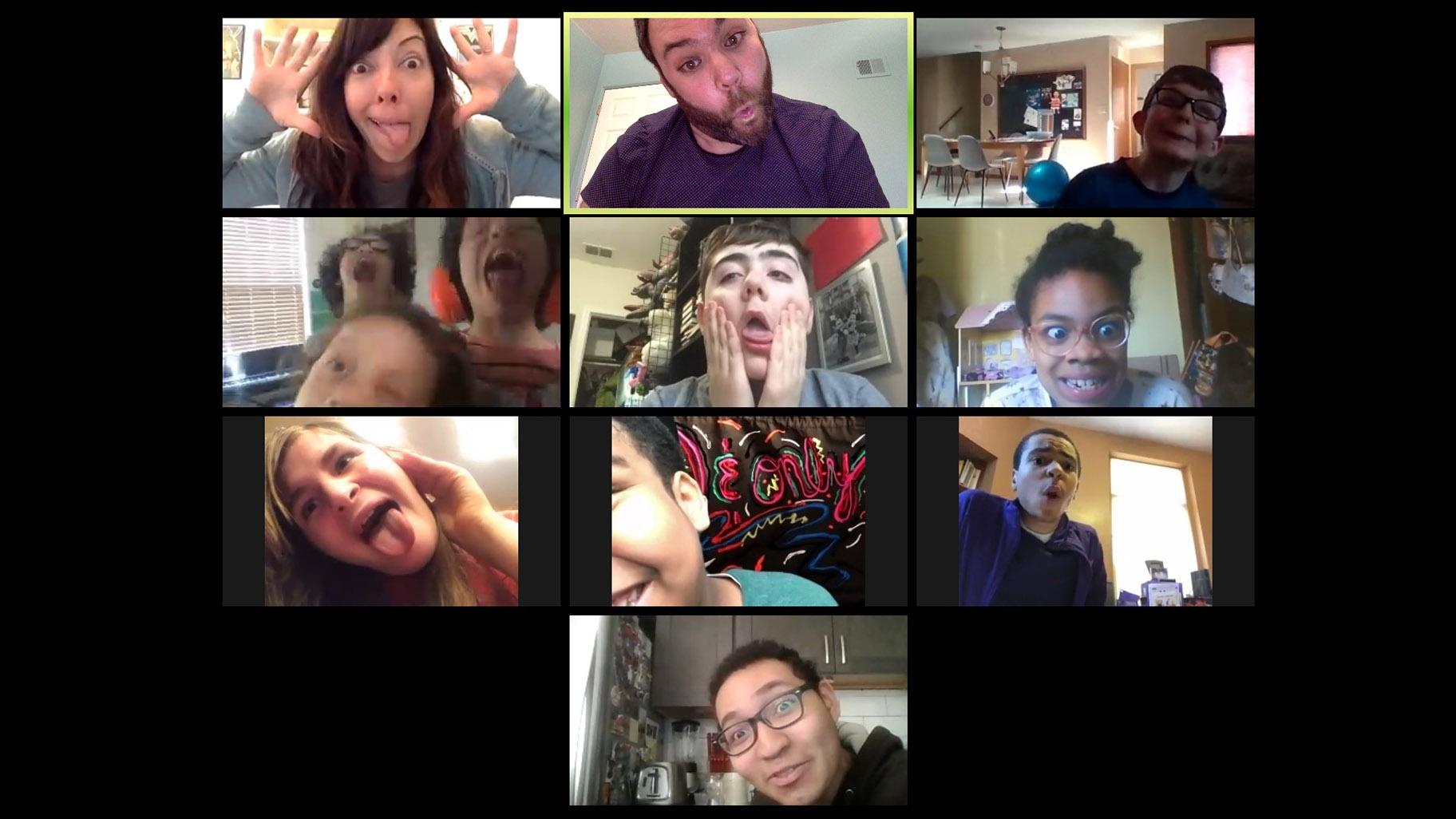 A screenshot from a Red Kite Camp meeting via Zoom. (Courtesy Chicago Children's Theatre)
As parents search for new ways to keep their children both educated and entertained during the statewide stay-at-home order, theaters across Chicago are seeking new ways to interact with the public.
The Chicago Children's Theatre is offering virtual classes and a new camp that do both.
Described as a unique learning experience with theater as the focal point, The Red Kite Project specifically works with children on the autism spectrum. The project includes virtual Spring Red Kite Fly @Home Classes and a new Spring Red Kite Camp, which provides a more extensive class structure aiming to mimic the immersive experience of being away at camp.
"We wanted to make this camp a place in their day to connect, feel a sense of camaraderie, and escape from their isolation they may be feeling," said Sara Perry of Chicago Children's Theatre Red Kite Project.  
"Zoom classes work for students that live far away that can join after school and see teachers and friends from camp they wouldn't get to see otherwise. Their faces light up, and they get so excited being in the room together," Perry said.
With classes focused on music, movement, drama and art broken down into morning and afternoon sessions at 90 minutes each, Perry says students appear to be more engaged via Zoom than they would be if they were to meet in person. 
"With Zoom, because they can see everyone, there's still a single focal point with the screen and are more focused on the activity we're doing," Perry said. "The screen creates a 'safe barrier,' if you will."
Offering the classes virtually gives educators a chance to be more accessible to the students. They're also able to record the classes for those who were not able to attend, and offer an additional hour of "teacher time" between sessions, during which students can review lessons or spend additional time on class projects. This accessibility also allows parents to be more involved in their child's learning process. 
"Because our students might need extra support, we ask caretakers to set up the Zoom and to be nearby in case the students need assistance," Perry said.
"It gives the parents an opportunity to see what we're doing in class. So if they want to do one of the games, we provide videos to the games and activities then they're able to play with their family," she said. "Aware of the amount of screen time the classes require, we want to provide another way for parents to help them that is not limited to the screen."
The Spring Camp is offered this week, Monday through Friday. Class prices are $50 per day, or $200 for the week, and financial assistance is available on a case-by-case basis. 
Follow Angel Idowu on Twitter: @angelidowu3
Angel Idowu is the JCS Fund of the DuPage Foundation Arts Correspondent.
---