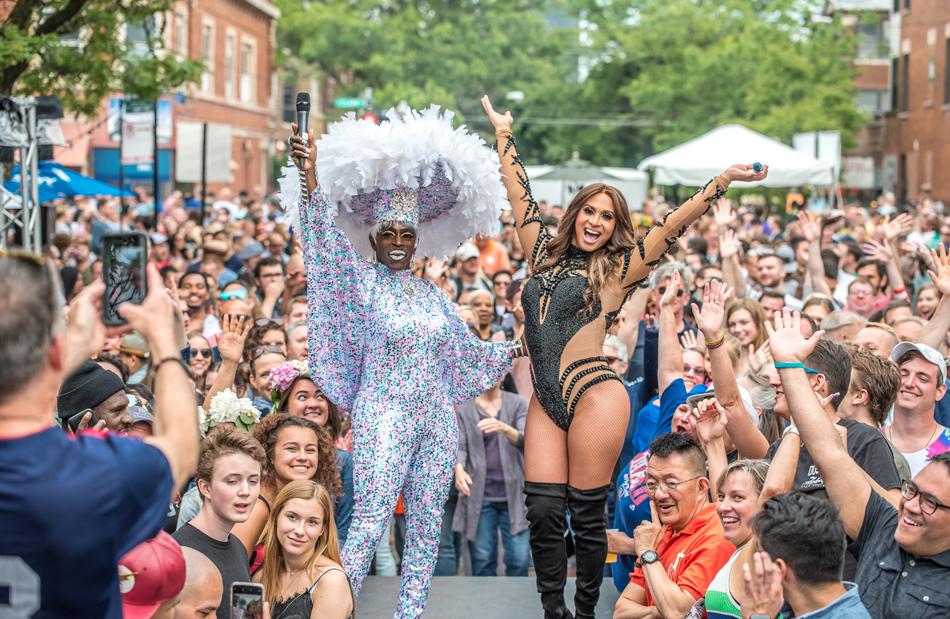 Andersonville Midsommarfest has been postponed to Aug. 21-23 from its originally scheduled date of June 12-14 because of COVID-19. (Courtesy of StarEvents)
Summer in Chicago means hundreds of neighborhood street festivals, outdoor concerts, art shows and cultural celebrations big and small across the city and suburbs.
But summer fun is not immune to the threat posed by COVID-19, which has so far sickened more than 25,000 people across the state.
Earlier this month, Gov. J.B. Pritzker urged event organizers to "think seriously" about hosting these types of events.
"From my perspective, I just don't see how we're going to have large gatherings of people," he said. "Until we have a vaccine, which is months and months away, I would not risk having large groups of people getting together anywhere."
The city's Department of Cultural Affairs and Special Events has already canceled special events through May 15, per recommendations on group gatherings from the U.S. Centers for Disease Control and Prevention and guidance from state officials. Special event permits are not being issued for any Chicago events through that time, according to a city spokesperson. That means events hosted by private companies and neighborhood groups through May 15 are also canceled.
"The health and safety of our patrons is our number one priority, which is why City of Chicago departments and sister agencies continue to follow the rules laid out by the stay-at-home order, and will continue to do so, regardless of its duration," a city spokesperson said in an emailed statement to WTTW News. "Plans for summer programming and events remain under discussion."
While festival organizers are hopeful some events can continue as planned, dozens have already been canceled, postponed and rescheduled because of the pandemic.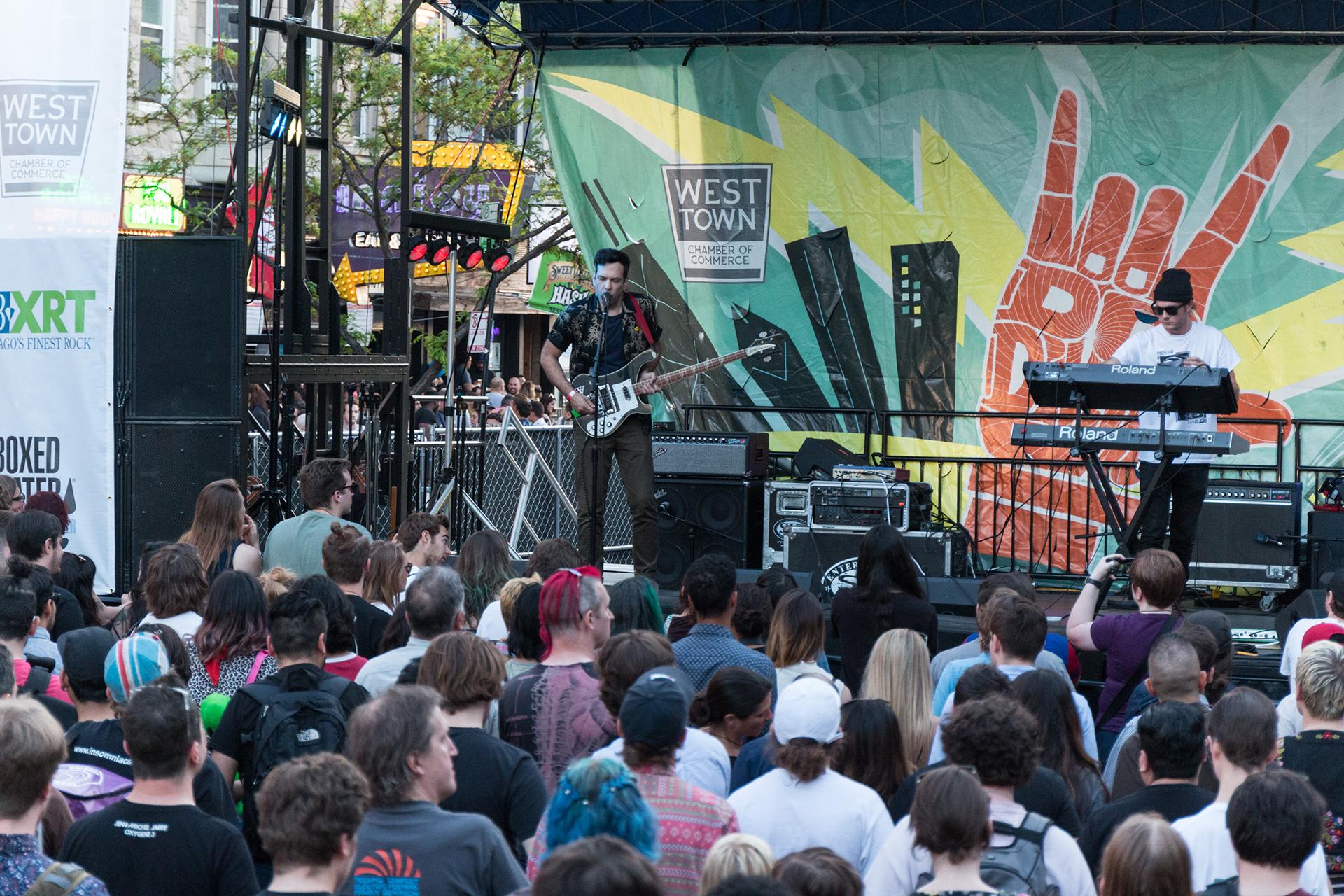 The annual Do Division Street Fest in the city's West Town neighborhood was slated for May 29-31, but has been canceled due to COVID-19 concerns. (Vital Kopy Media)
The West Town Chamber of Commerce announced Monday it was canceling its summer festivals due to COVID-19, including Do Division Street Fest, West Fest Chicago and Chicago Brewing District's Dancing in the Streets.
"The health and safety of the community, festival patrons, vendors, performers, and everyone who works to put these events together is of paramount importance to our organization. The Chamber looks forward to bringing back our summer events when it is safe to do so," the chamber said in a statement. "The 2020 fall and winter West Town Chamber events are still being planned as scheduled until future safety guidelines are released."
Amdur Productions, which organizes two dozen art festivals primarily in the Chicago area, has already rescheduled its Barrington Art Festival from Memorial Day weekend to Sept.12-13 because of the pandemic.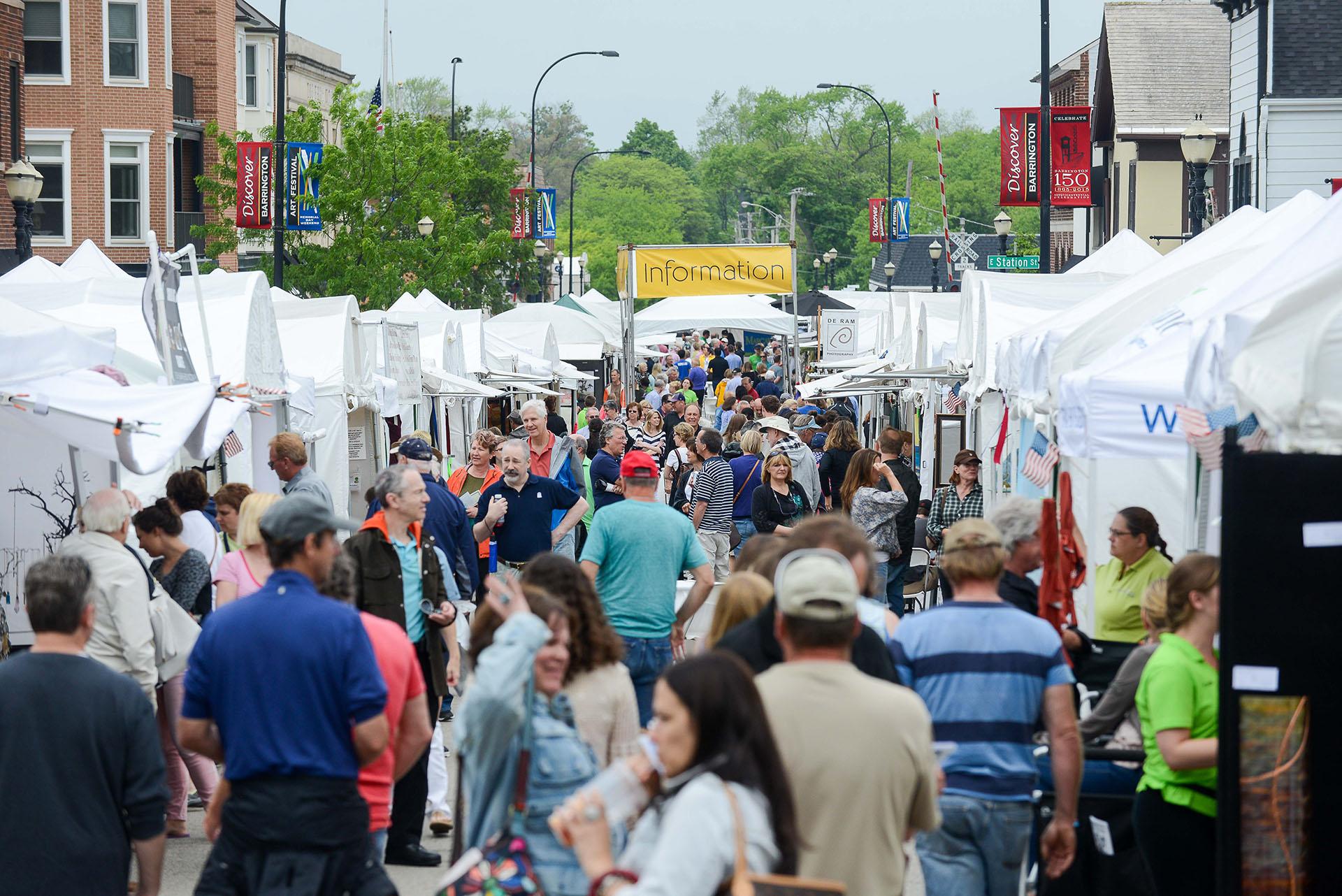 The Barrington Art Festival, originally scheduled for Memorial Day weekend, has been rescheduled because of the COVID-19 pandemic. The festivals is now slated for Sept. 12-13. (Courtesy of Amdur Productions)
"We're hoping that by moving the (Barrington Art Festival) we will have more time to get through these challenging times and then at that time we will be able to bring a great festival to that community," said Amdur Productions President and CEO Amy Amdur.
StarEvents, which produces 20 summertime events in Chicago, including the Andersonville Midsommarfest and Taste of Randolph, is also working with its clients to figure out whether to cancel or postpone fests in light of the pandemic, said StarEvents President Michelle Krage.
"Safety is our number one priority. We want to make sure that the events are safe," she said, adding events will adhere to any city protocols. "We're consulting with our clients as to best help them navigate these uncertain times."
As of Wednesday, plans were still in place for the annual Mole de Mayo festival held in Pilsen for the weekend of May 22-24, but Krage said she's waiting to hear back from organizers about possibly canceling or postponing the event.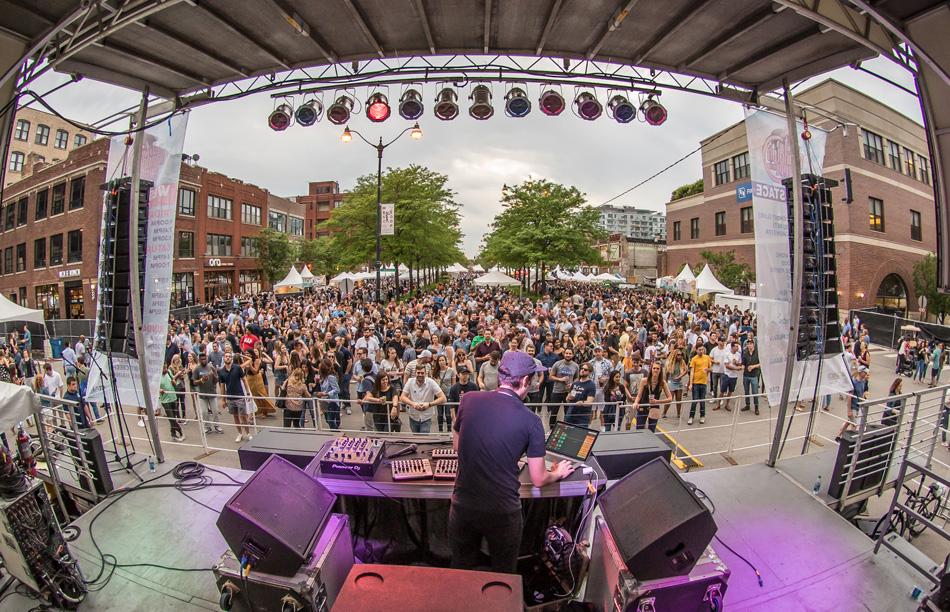 The annual Taste of Randolph, scheduled for June 12-14 in the West Loop, has been canceled amid the COVID-19 pandemic. (Courtesy of Star Events)
Andersonville Midsommarfest, originally scheduled for June 12-14, has already been postponed to Aug. 21-23, and the West Loop's Taste of Randolph, scheduled for the same June weekend, has been canceled, according to Krage.  
"We are hedging that June events are not going to happen," she said. "We are waiting to hear from the city, but we're not confident (June) events will happen, which is why Andersonville Midsommarfest has been postponed."
But postponing and rescheduling events isn't as simple as "cut and paste," Krage said. Taste of Randolph features national acts and is built on neighborhood businesses, particularly restaurants, which have been hard hit by pandemic-related closures. "Taste of Randolph is built on a lot of the restaurants in the area. We're not sure what the landscape is going to look like," she said.
Chicago Special Events Management, another big player in the festival scene, has canceled or rescheduled more than 50 of its events in Chicago and across the country, according to CEO Hank Zemola. All events in May as well as most in June have been canceled or rescheduled, he said. Among those canceled so far include the Switch On Summer event at Buckingham Fountain, Lincoln Park Greek Fest and Winnetka Music Festival – all of which were projected to attract 20,000 attendees.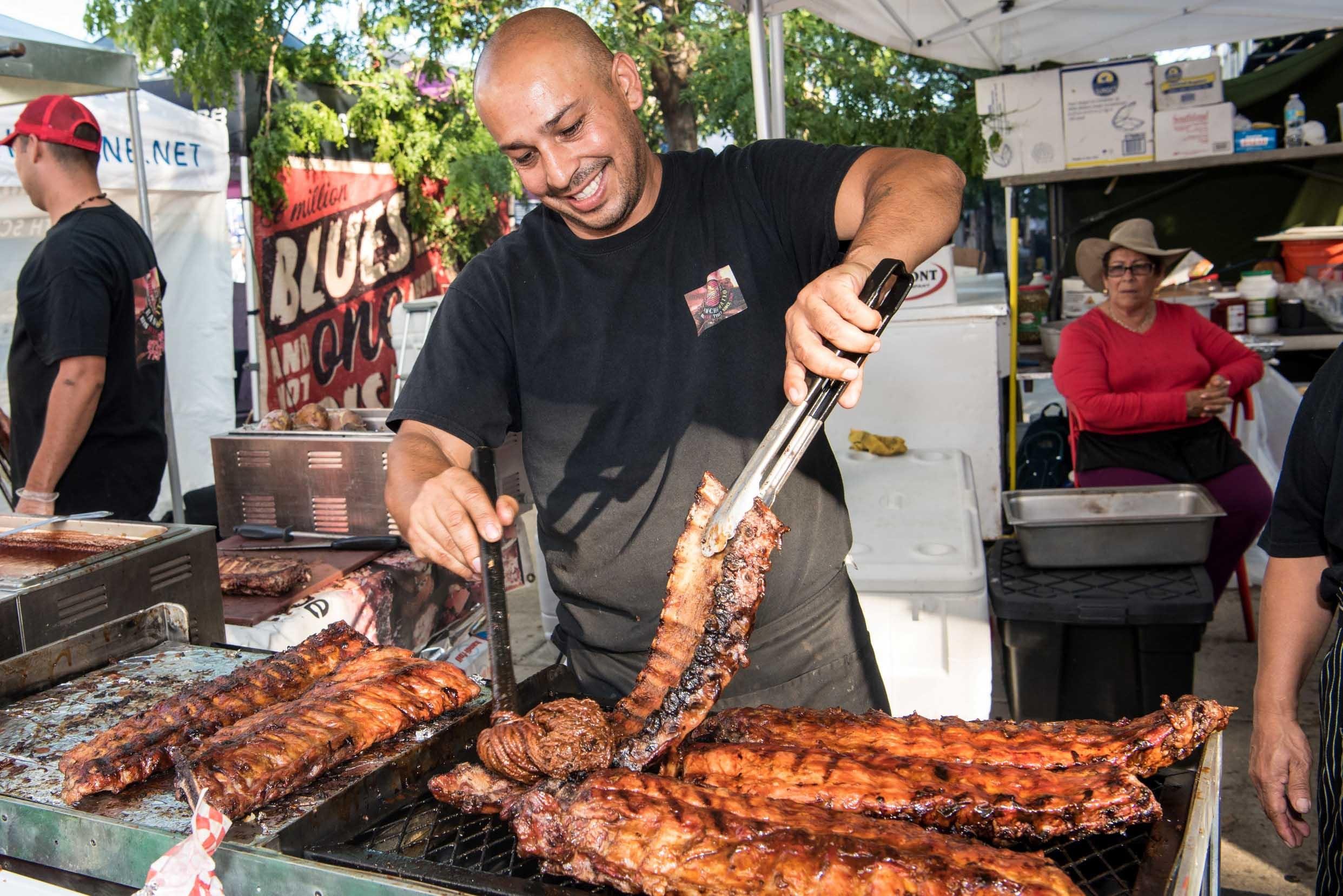 Windy City Ribfest, 2018 (Courtesy of Special Events Management)
"We understand that the guidelines and permission to hold these events will be based on municipal and CDC mandates," Zemola said. "I think everybody is kind of taking a wait-and-see approach to see how things progress. And I think everyone is watching other markets, like New York and other places around the world to see how (they're) recovering."
While July may seem light-years away, Zemola said even those events are "questionable" and some have already been rescheduled or even canceled. Both the Eyes to the Skies festival in suburban Lisle and the Uptown Rib Fest, which were projected to attract 75,000 and 50,000 attendees, respectively, have already been canceled. 
Amdur said she's also concerned with festivals scheduled for May and June, but is more hopeful about events slated for July and beyond. "There's a lot of healing time between now and then." StarEvents plans to move forward with July and August events, Krage said.
Fests produced by Amdur Productions will be "a little different this year," Amdur said. In response to the pandemic, Amdur is planning to space vendor booths farther apart, increase the width of aisles and have more hand sanitizer stations, as well as encourage artists to bring their own. The company is also considering timed reservations for people to attend the fests, according to Amdur.
"We're also looking at encouraging artists to have most of their art on the walls (of booths) to minimize high-touch surfaces instead of in a flip-through bin," she said, adding all protocols are still works in progress. "I want the public to know that safety is our goal."
Amdur Productions President and CEO Amy Amdur says she's concerned about early festivals in May and June, including the Gold Coast Art Fair, which is scheduled for June 6-7. (Courtesy of Amdur Productions)
Zemola and Krage said they have discussed implementing similar measures, as well as having people wear face masks and gloves, and devising ways for people to adhere to social distancing guidelines around stages.
While organizers are eager to keep people safe, "the reality is nobody is talking about the financial formula for (fests)," Zemola said. The Taste of Lincoln Avenue, for example, attracts about 20,000 people. If additional public safety and social distancing measures cut that number to 10,000 attendees, "financially it's not viable. It doesn't raise enough money to pay the bills," he said.
Even if a festival is financially viable with lower attendance, people may not come out for fear of contracting the virus. Or they may not have the disposable income to spend due to lost wages or jobs, Zemola said.
"I'm really hoping some technology, especially on the pharmaceutical side, catches up so people have resources if they do get COVID-19 (or) have something they can take," he said. "At least it will give people some (assurance that) if I go out and gather with large groups that I have some kind of solution."
Amdur is also hopeful festivals can be held this summer for the sake of artists. "The artists are all micro-businesses. They depend on doing these art fests to make a living," she said. "If there's a safe way we can produce a fest and give them an opportunity to make money to pay their mortgage and put food on the table, of course we want to do that. We're hopeful and determined to be able to continue (with the fests)."
"The summer fest season is one of the best things about being in Chicago and we all need something to look forward to," Krage said. Supporting local neighborhood festivals, restaurants and businesses will be needed now more than ever, she added. "I love events of all shapes and sizes, but supporting local events wherever they are that's what's needed."
But nobody knows the course COVID-19 will take in the days, weeks and months ahead. "There's a chance that there could be no special events season for Chicago or in most parts of the U.S.," Zemola said. "That's really hard, but that could be a reality, too."
Contact Kristen Thometz: @kristenthometz | (773) 509-5452 |  [email protected]
---