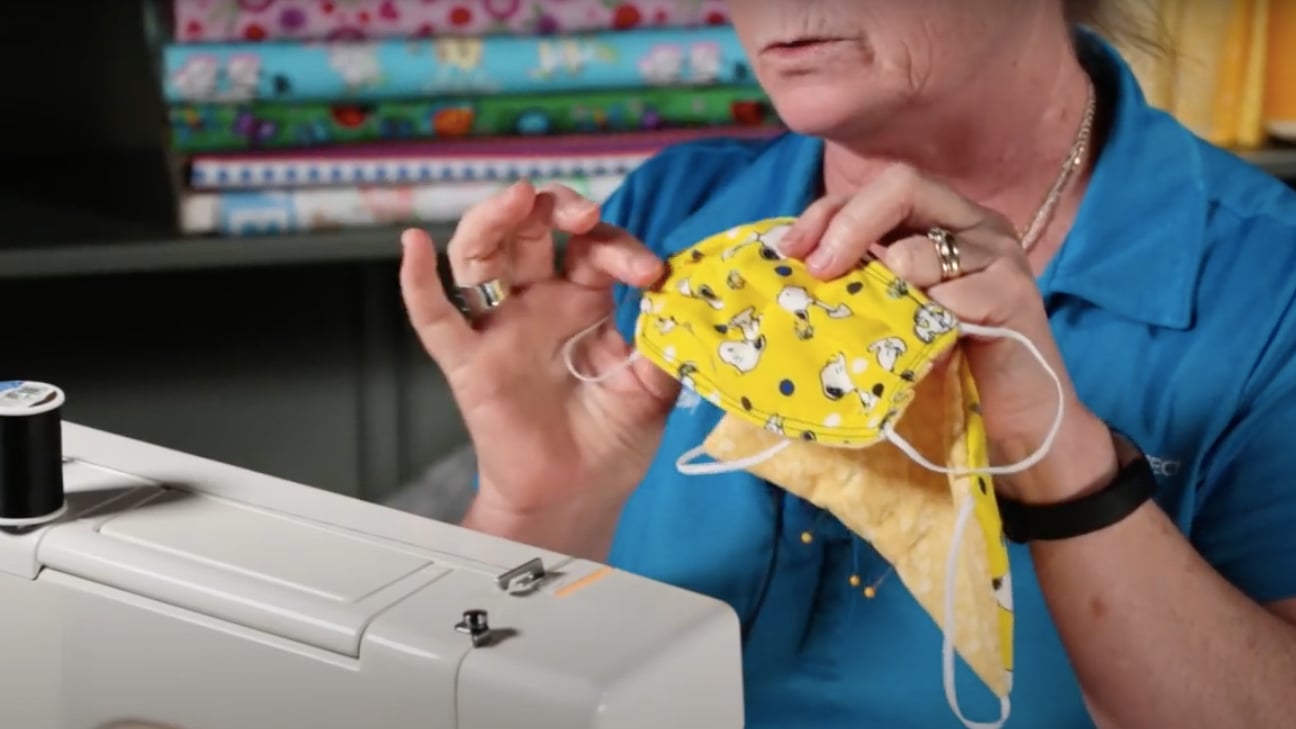 Mask sewing tutorials abound on YouTube. (Kathy Braidich / YouTube)
Let it be said that when their country needed them the most, the nation's army of sewers answered the call.
Indeed, stitchers' collective output of tens of thousands of cloth masks during the coronavirus outbreak has been nothing short of astounding, filling a gaping need for protective coverings and in the process creating a run on elastic rivaled only by the mad rush for toilet paper.
The massive mobilization has been all the more remarkable considering that a few months ago, who would've even guessed so many people were still firing up their Singers?
There was a point during the last century when a sewing machine could be found in nearly every U.S. household, and mothers could be reliably counted on to school their daughters in bobbins, buttonholes and Butterick patterns. Then along came women's lib, moms entered the workforce, home economics fell out of favor and a flood of cheap, imported mass-produced clothing sent sewing machines into mothball.
But within the past five to 10 years, the pendulum has begun to swing back in sewing's favor, said Villa Park resident Jane Plass, president of the American Sewing Guild's Chicago chapter.
Plass cited several factors that have contributed to the resurgence of garment sewing (as opposed to quilting), some of which are tied to broader cultural trends. Among them: Sewing plays into the reaction against the negative impact that disposable "fast fashion" (the aforementioned flood of cheap clothing) has had on the environment, and it's also received a boost from the body positivity movement, according to Plass.
"Sewing your own garments, the garments are fitting you, you're not trying to fit yourself into somebody else's standard sizing," she said.
Another unexpected boon for sewing has been the rise of cosplay (people dressing up like superheroes, etc.), which has brought an infusion of younger people into the sewing community. Customized character costumes aren't something you can really buy off the rack, Plass explained.
Unlike past generations, today's sewing newbies are turning less to their mothers for inspiration and instruction and instead are relying on hubs like the Sewing Guild's neighborhood groups, makers labs at libraries, and social media platforms including Instagram, Facebook and YouTube.
It is to those same online outlets that members of the sewing community have naturally gravitated during the COVID-19 crisis. This is where they first shared news of the shortage of personal protective equipment and started posting images of their own home-sewn alternatives. This is where requests for masks started filtering in; this is where sewers have come to debate fabrics, swap materials and link to patterns and tutorials.  
"It just kind of snowballed," said Plass, who's sewn a number of masks herself, but acknowledged, "I'm nowhere near a production-line quality."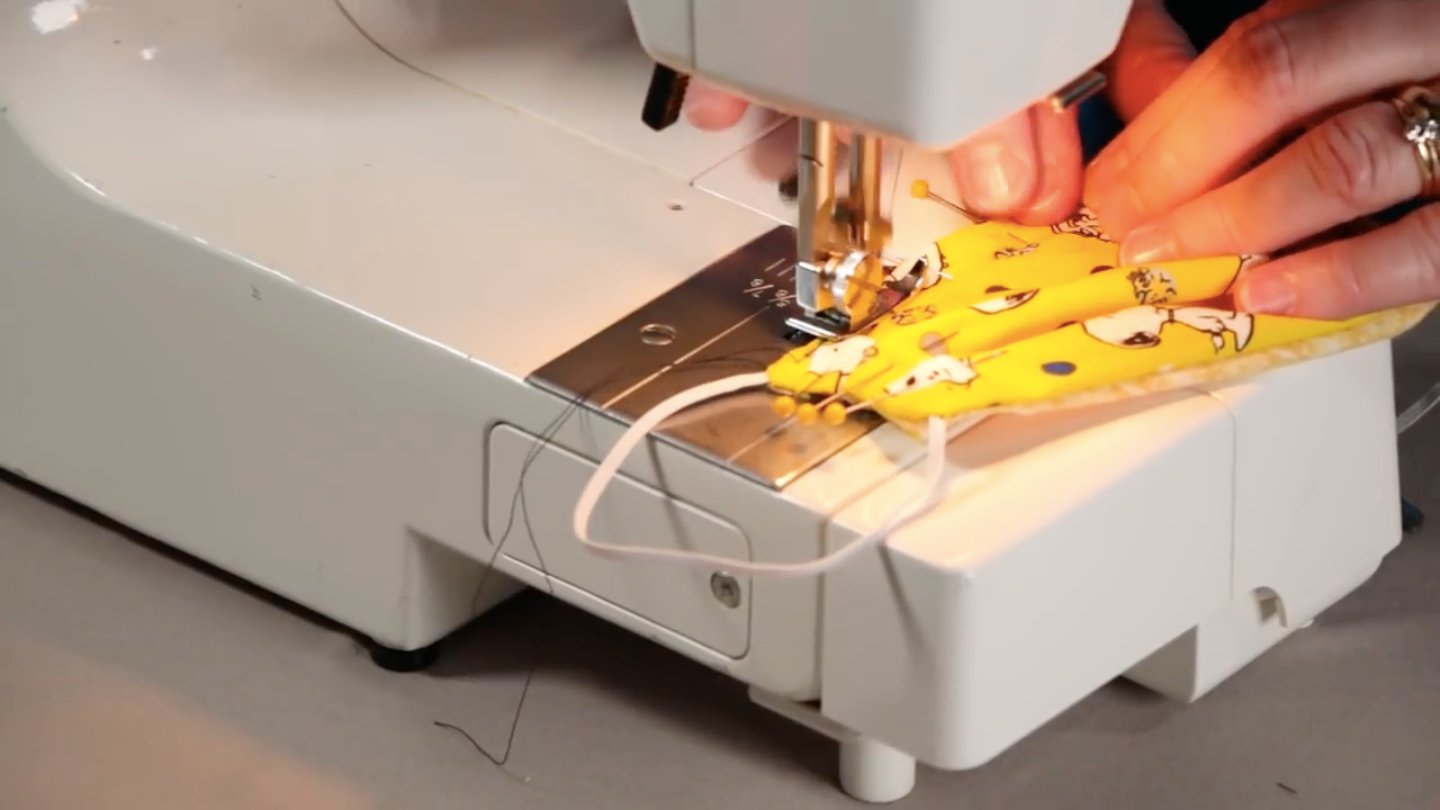 An army of sewers have responded to the need for cloth masks during the coronavirus outbreak. (Kath Braidich / YouTube)
Sewers were in fact well-positioned to muster quickly as a volunteer brigade, given that many were already part of networks stitching and donating items like head scarves for cancer patients and beanies for premature infants. In what feels like a lifetime ago, the global sewing community marshaled its forces at the beginning of 2020 to send aid to Australia, making scores of "joey pouches" to snuggle animals orphaned by that country's devastating bushfires.  
Lessons learned from that effort, in which many pouches went to waste because they were the wrong size or made from the wrong fabric, are one reason Plass urges sewers to do their homework before taking up needle and thread in the mask-making cause.
The American Sewing Guild has been pointing its members to WeNeedMasks.org, a national clearinghouse of sorts where organizations that need masks can register and specify the quantity and type of mask desired. Masks4Chicago.com is another active group, born on Facebook, that's doing yeoman's work distributing masks locally, Plass said.
With the value of sewing skills now receiving renewed attention, Plass said she suspects that the revival of the craft, already well underway, will continue to gain momentum, whether from people dusting off their machines to contribute face masks or others finally finding the time at home to make good on a resolution to learn how to sew.
Plass herself only recently returned to sewing after decades of being busy with work and other activities. The basics came back quickly, she said.
Of its many benefits, Plass said sewing is particularly well-suited to these unusual times in which we find ourselves.  
"It's an opportunity to have an outlet to do something creative with your hands," she said. "It relieves stress and gets you away from being immersed in digital life."
Contact Patty Wetli: @pattywetli | (773) 509-5623 |  [email protected]
---