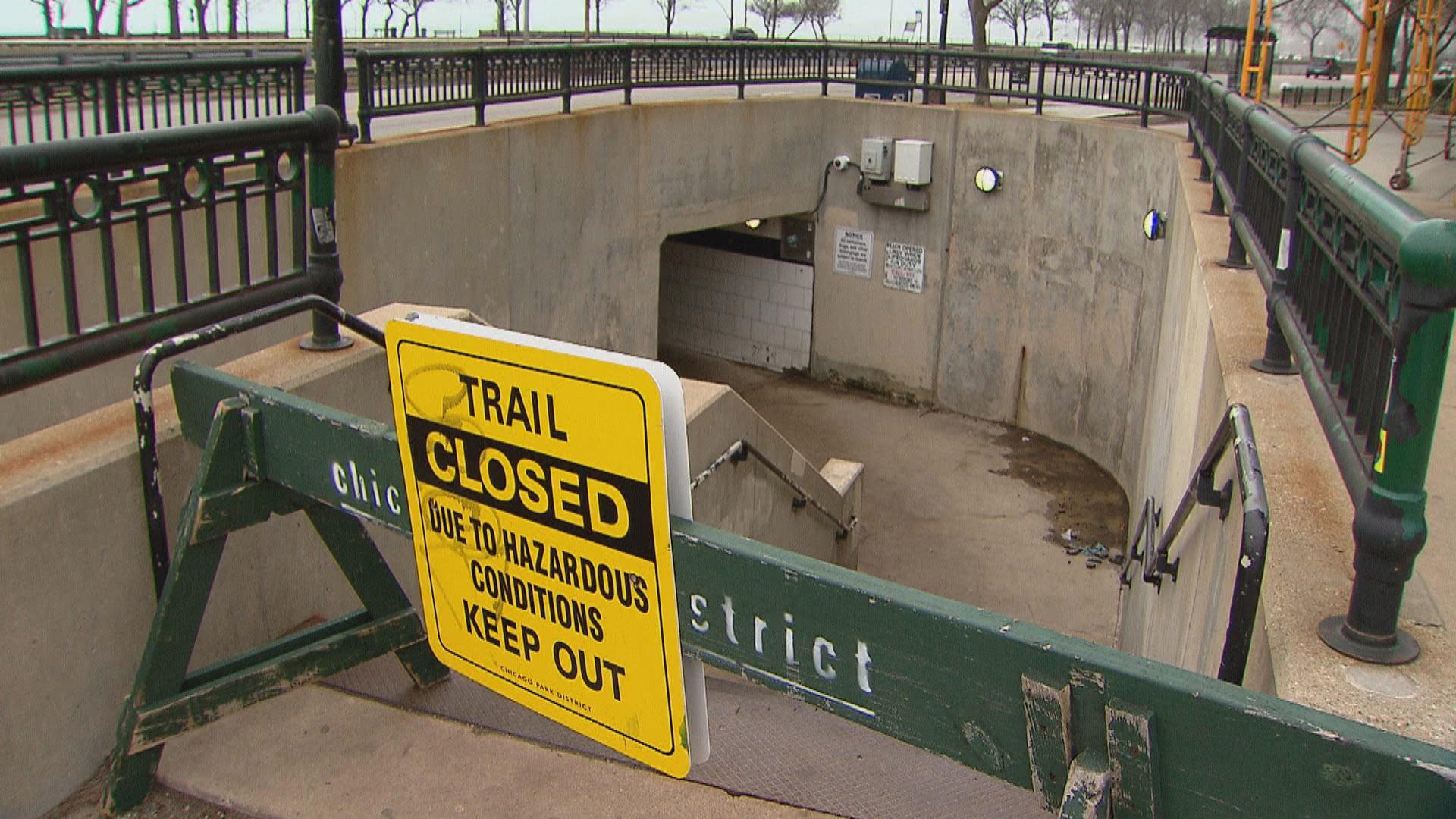 A scene along Chicago's lakefront on Thursday, March 26, 2020. (WTTW News)
That first truly warm day of spring, when seemingly all of Chicago comes out of hibernation, is usually cause for celebration. But this year, under the spectre of COVID-19, Tuesday's forecast of temperatures in the 70s is making a lot of people nervous.
Count among them Juanita Irizarry, executive director of Friends of the Parks.
"I've been really stressed out that Chicagoans are going to go nuts and we're going to lose all our parks," Irizarry said. "We're hoping people can behave themselves."
Mayor Lori Lightfoot has already blocked access to Chicago's lakefront path and adjacent parks, as well as the Bloomingdale Trail. Playgrounds and fieldhouses are closed, and basketball and tennis courts are off limits at a number of sites as well.
Lightfoot reiterated the need for people to stay home and to avoid congregating at a Tuesday morning press conference. 
"The issue isn't going outside or for a walk, or exercising. … It's congregating. That is the problem and we want people to stay distant from each other, and that's why the emphasis so much is to stay home and save lives," Lightfoot said.
But parks are still open, per Gov. J.B. Pritzker's order, a point that's often been the subject of misinformation and inconsistent enforcement, Irizarry said.
In recent days, her organization has been alerted to instances of parks being shut down by police, rather than groups being dispersed, she said, which prompted conversations with the Chicago Park District to ensure people have access to open space as long as they maintain the proper social distance.
"It's appropriate to tell people not to congregate. We understand and support the reality of not congregating," Irizarry said. "It's about finding the right balance."
The mayor, in her "appropriate concern," would likely prefer it if people never left their homes, but getting outside is important for many people's mental health and is the only form of exercise available to lots of Chicagoans, said Irizarry.
Though Friends of the Parks hasn't been in touch with the mayor's office, Irizarry said the organization does regularly consult with the Chicago Park District, and the two continue to partner on emphasizing that parks are open, but that visitors need to follow CDC guidelines, particularly when it comes to maintaining social distance.
To that end, in anticipation of the week's balmy weather, Friends of the Parks put together a list of lesser used parks, where it may be easier to avoid contact with other people. The recommendations include:
"It's a great time to discover a gem of a park you didn't know about," Irizarry said. Or, she added, perhaps it makes more sense to just walk around the block instead. "We have to care about the common good."
The parks will be there waiting when the threat posed by the coronavirus has passed.
"On the upside, I think with Chicagoans it's being reinforced how important our parks are," Irizarry said. 
---
Contact Patty Wetli: @pattywetli | (773) 509-5623 |  [email protected]
---