The impact of the COVID-19 pandemic is being felt by just about every segment of American society, but for those already facing difficult circumstances, the pain can be even sharper. 
Low-income families, people experiencing domestic violence, people with disabilities, the homeless, the elderly and undocumented immigrants are among the at-risk populations turning to social service organizations to fill in the gaps. Now, those groups are racing to keep up and figuring out new ways to get help to those who need it most right now.
Kate Walz, vice president of advocacy at the Shriver Center on Poverty Law, says that the pandemic is bringing into focus the struggles of low-income and black and brown communities. 
"Congress and the city and state are slowly figuring out that benefit programs don't provide enough, or they're too complicated, or they're not available to undocumented communities, or they're available to some immigrants but then if they take advantage of them they'll be deemed a public charge," she said. "It is teaching people that we need broad structural change because with everything the feds have put out undocumented communities are left without a financial solution and so it's left to the state and local governments to find that solution."
People experiencing domestic violence and abuse are also facing increased danger during the pandemic, says Felicia Davis, president and CEO of the Chicago Foundation for Women. 
"Some of our grantee partner organizations have seen an increase in calls, particularly for shelter, especially when the home is not a safe place. As survivors are confined to their homes, often shared with the perpetrator of abuse, it may be hard for them to find the space and time to reach out for help. However, other grantees have not seen an increase in the needs for shelter but have seen an increase in calls seeking information and additional support services, like financial relief and mental health support," she said.
Davis also points out that the majority of nurses, caregivers and health care aides are women, which puts them at additional risk of contracting the coronavirus.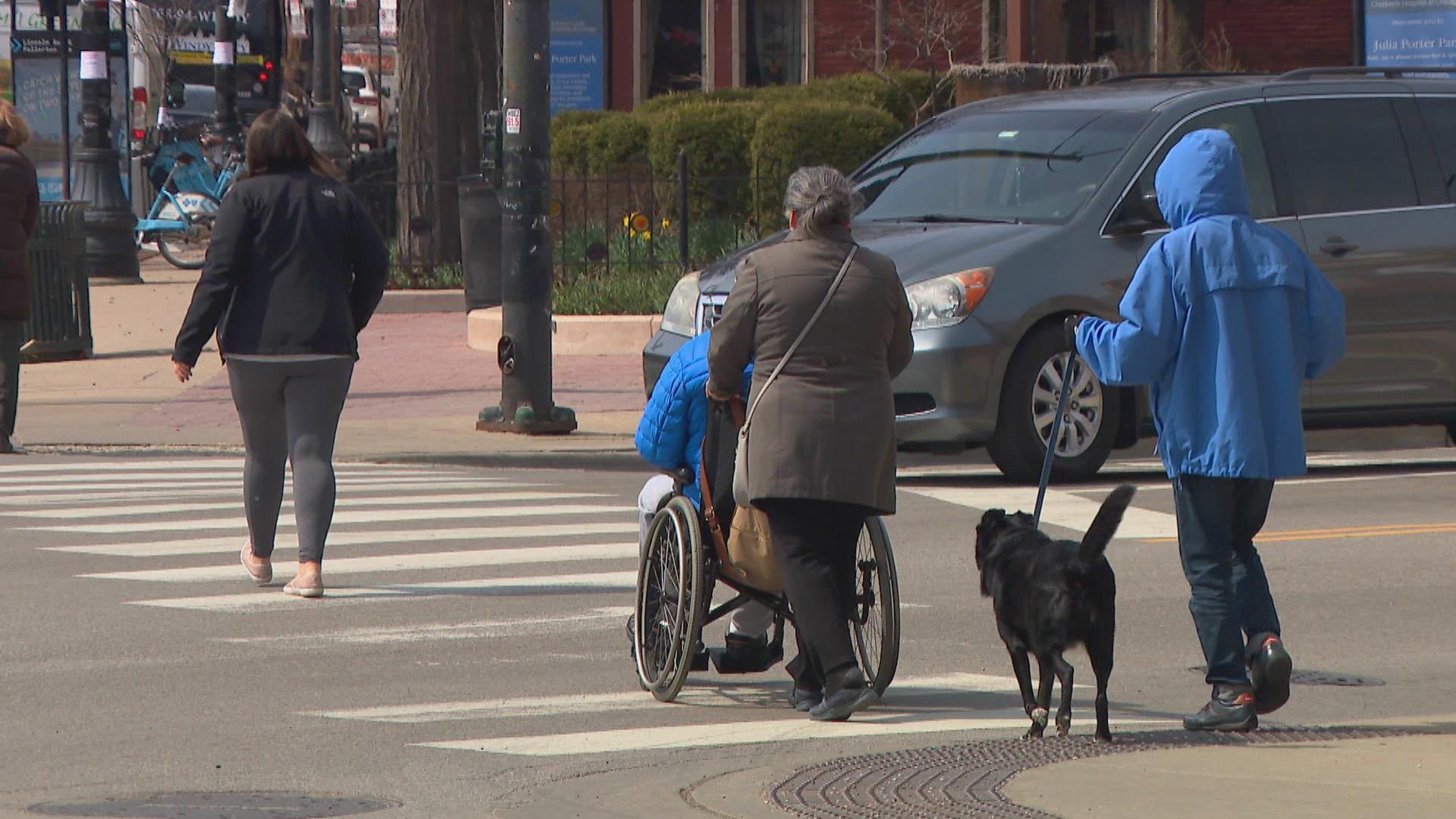 (WTTW News)
It's those home health care aides who are so necessary to the lives of many of the people that Karen Tamley, president and CEO of disability advocacy organization Access Living, serves in her work. 
"The community we serve is predominately low-income and rely on home health services or personal assistants to provide assistance like getting out of bed, meal prep, bathing," Tamley said. "One of the concerns we've been hearing is about personal assistants coming into an individual's home – there are concerns about reliability, as well as concerns about exposure from the person with the disability about someone coming to their home after being in someone else's home prior to that. On top of that, general health care appointments and other therapies are getting canceled or delayed because of priorities treating COVID and just not wanting people to come into medical facilities at this time."
Tamley says her organization is especially worried about securing protective personal equipment for home health care workers.
Walz says the Shriver Center has responded to the crisis by putting all of its resources in advocacy programs for the communities they believe to be most at risk. 
"We are deploying all of our skills in terms of what we know regarding poverty law and criminal justice to advise those groups and government of what the law is, what policies they could change or programs they could create, flexibilities they could create to get money and support people quickly to renew eligibility for certain public benefits programs, weigh certain requirements that may be stopping them from being able to shelter in place," she said. "We're trying to educate our policymakers that what we are telling you about these communities, those things have been a problem for a long time – but now we're sort of fully realizing with COVID why that's the case. Our hope is that these are not short-term solutions but long-term solutions to systemic problems."
Davis says that CFW's partner organizations are finding ways to continue providing services to domestic violence survivors remotely. 
"For example, Apna Ghar, which provides holistic services and conducts advocacy across immigrant communities to end gender-based violence, has continued to provide shelter services by working with hotels to ensure safe housing – honoring social distancing and other health precautions," Davis said. "They are connecting with participants daily or weekly to understand how their needs are changing and have provided a number to text and an email address where their staff can be reached at any time.
Davis says those seeking support for domestic violence issues can always find help at the statewide Illinois multilingual hotline, 1-877-863-6338 (Voice) and 1-877- 863-6339 (TTY) or by contacting the National Network to End Domestic Violence.
Tamley says Access Living is working hard to maintain connections with the people it serves by any means necessary. 
"We are doing well-being checks on individuals, calling by phone, checking in on a regular basis. We want people to know we're fully operational as an organization even though our building is closed," Tamley said. "We've been able to access some of the first COVID relief funds in order to provide some financial assistance for individuals that we serve in financial need – helping to pay for rent, utilities, additional expenses, even laptops for families with kids with disabilities that don't have access. A lot of our clients come to our building to look for help, that's why we're trying to be proactive and contact them and make sure if they don't have access to the internet that someone is reaching out to them who's tapped into resources that can help."
She also points to the Access Living resource list for those seeking assistance.  
Walz says that while the efforts of nonprofit organizations, corporations, and community members are certainly appreciated throughout this crisis, it also underscores the need for a better social safety net for all. 
"It's not a crisis that can be solved by community good," she said. "It's great to see those stories and heartwarming to see corporations giving back, but what this says is you need a robust public system that supports people for the long term."
---