The North Side neighborhood of Uptown is one of the most diverse communities in the country, home to large populations of immigrants from Africa, the Caribbean and Asia, as well as a sizable African American and Hispanic population. It's also economically diverse, with pockets of upper-middle income homes but also a large lower-income and homeless population. 
Uptown is home to more Section 8, affordable and single room occupancy units than anywhere else in the city. As such, it is home to a lot of social service organizations like homeless shelters and food banks, many of which are stretched thin because of the coronavirus. One of these is Voice of the People Uptown. The agency is currently reaching out to area families in subsidized housing to help them navigate the shutdown. Many have lost their jobs and are eligible for higher subsidies if they are in public housing.
"Generally speaking, rent would be 15% of income," said Colleen Heitlige, the group's outreach coordinator. "So if their income is zero and they're not collecting unemployment, then the subsidy would cover the full rent. And that's a concern too, because, while the Chicago Housing Authority has funds, if you have a large amount of people now in need for rent subsidies, how's that going to impact their funding?"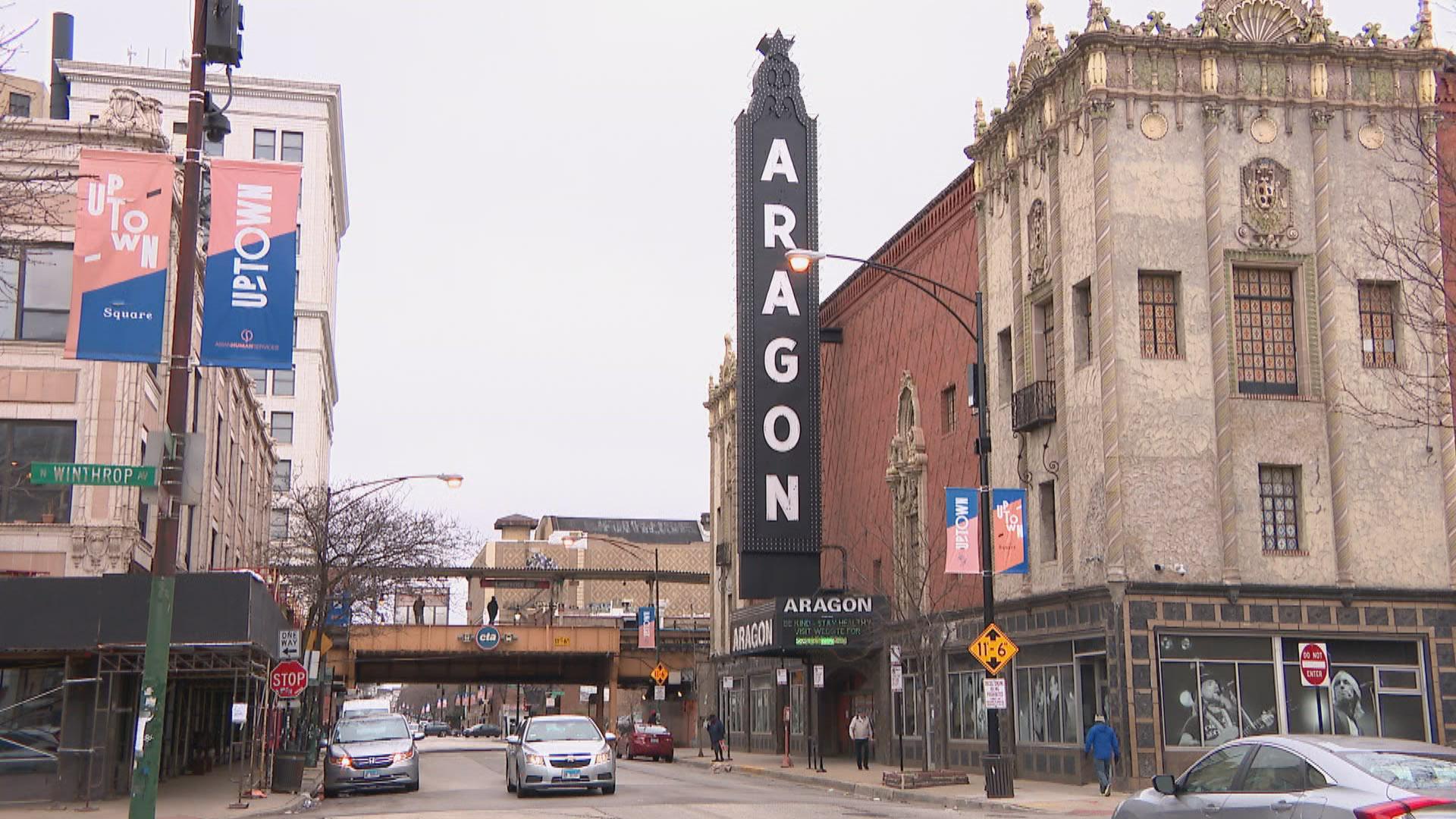 (WTTW News)
Heitlge says tenants are having trouble working through the CHA system to inquire about subsidies.
Residents are also struggling with food insecurity. The Inspiration Café is an organization that serves sit-down meals for homeless and low-income residents. On Tuesday, the group was handing out boxed lunches to folks patiently waiting in line to avoid sitting close together in the dining area. And the Lakeview Food Pantry, which serves a large Uptown population, says it has seen a 45% spike in its customers. The pantry normally operates like a grocery store as recipients pick out produce, meat and other food items. But because of an increase in demand, the pantry is making to-go boxes of essential food items for pickup and delivery. But Pantry marketing and communications director Angie Davis says that, while grocery stores are not donating as much because they themselves are strained, other organizations have stepped up to help.
"So many people have stepped up, we have monetary donations come in from individuals and corporations. We've also had a lot of restaurants that have had to close and have dropped off donations, and corporate buildings that have had to close and have nobody inside them, they've donated as well," Davis said.
And Davis says they are in need of volunteers right now, and are giving people quick online seminars to get them up to speed.
Business impact
Like every neighborhood we've visited over the past 10 days, small business is Uptown's backbone. The food options are endless, especially with Thai and Vietnamese restaurants and cafes on Argyle Street. Many of those have decided to close, although some, like Sun Wah, are offering takeout and delivery. Demera, an Ethioipan restaurant, has shifted from majority dine-in to all carryout. But Demera's owner, Tigist Reda, says her revenue is down 80%. She says she has had to lay off 29 employees, manage the restaurant and do most of the cooking while also wading through paperwork to see what city, state and federal bailout relief she is eligible for.
"One of the other worries we have in the back of our mind is, not just during the shutdown, but how are we coming back after the shutdown?" Reda said. "Are we going to be able to rehire all of our employees, will it be normal or a slow return? So all of that is weighing on us."
Reda says she has attended webinars put on by restaurant trade associations to guide owners through the relief options that are available.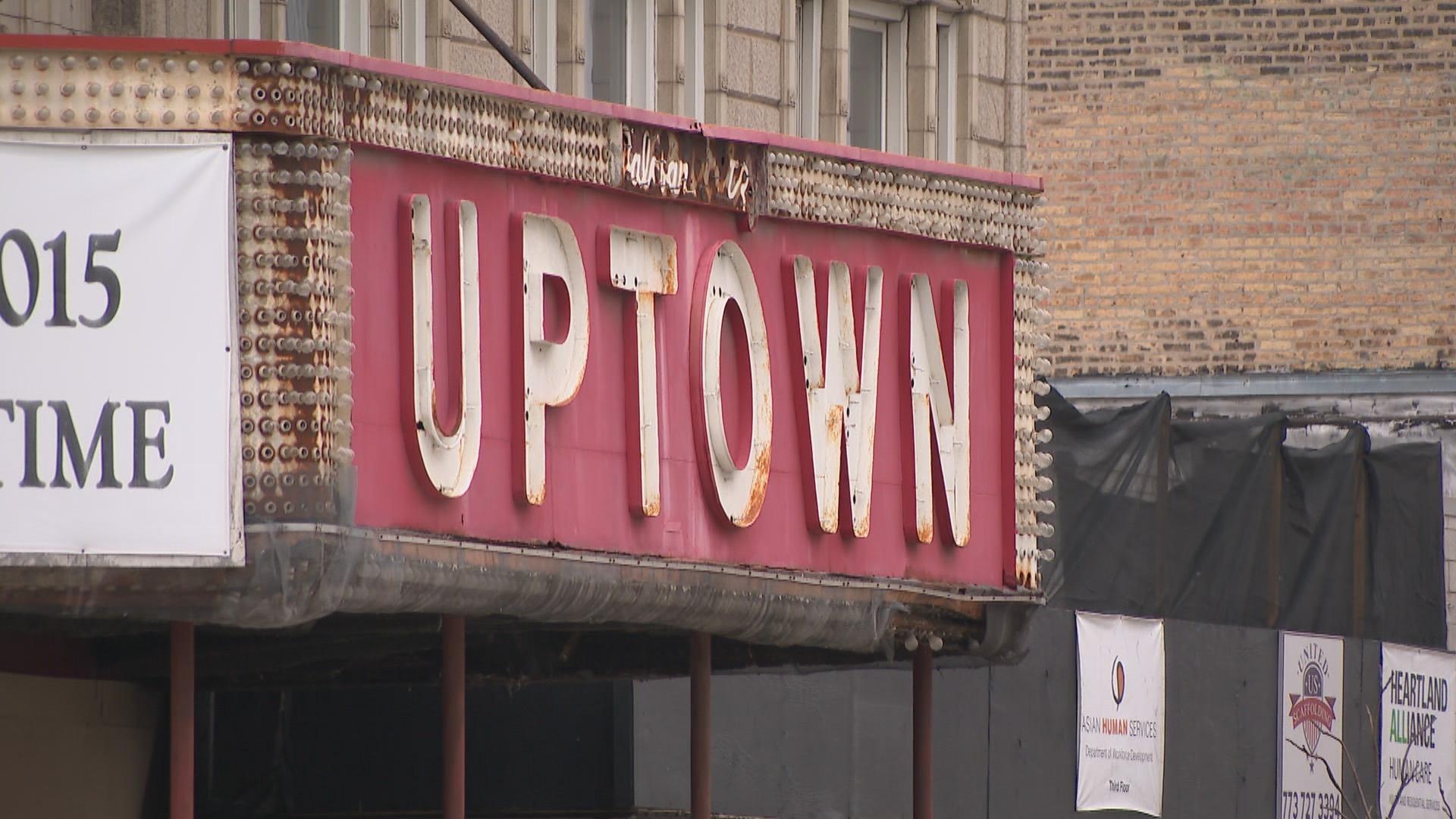 (WTTW News)
Live music is another big draw for the community. Fans from all over the region attend concerts at the Aragon, Riviera and the Green Mill.
Jerry Mickelson, the head of Jam Productions, which owns the Riviera, says that, like any venue owner, he has to pay bills while having no income. But he expressed optimism that there would be pent-up demand for live music once the shutdown ends.
"Approximately 80% of my concerts are being postponed, not canceled," Mickelson said, expressing optimism that Uptown's resurgence will resume once the shutdown is over. Jam Productions is also attempting to rehab the massive Uptown Theater, which has been shuttered since 1981. "I do not believe Uptown's growth as a cultural hub will be stalled, since projects always seem to be moving forward," he said.
The community's education anchor is Truman College – one of the City Colleges of Chicago. The system's provost says the college has had success shifting to all online courses and webinars, and that the full curriculum is still in play, as are grades.
Follow Paris Schutz on Twitter: @paschutz
---
Community Reporting Series
"Chicago Tonight" is expanding its community reporting. We're hitting the streets to speak with your neighbors, local businesses, agencies and leaders about COVID-19, the economy, racial justice, education and more. See where we've been and what we've learned by using the map below. Or select a community using the drop-down menu. Points in red represent our series COVID-19 Across Chicago; blue marks our series "Chicago Tonight" in Your Neighborhood.