The coronavirus and ensuing shutdowns have impacted daily life all across the city. 
Beverly and surrounding communities like Mount Greenwood and Morgan Park have been hit hard with business closures and worker furloughs. But the area is infused with a spirit of collaboration, especially when it comes to helping those most vulnerable to the virus.
Beverly is known for some beautiful stately mansions that sit atop a ridge off of Longwood Drive, and it's home to a lot of the city's police and fire community. A GoFundMe page was set up by the 19th Ward aldermanic office and residents have donated over 40,000 to purchase food and deliver it to hospital workers, first responders and senior citizens.
On Monday morning, a steady stream of cars lined up to take pizza from the Barraco's Pizza on 111th Street to the homes of seniors who live alone in the community. Each volunteer had a list of addresses to deliver to, paid for by the GoFundMe donations.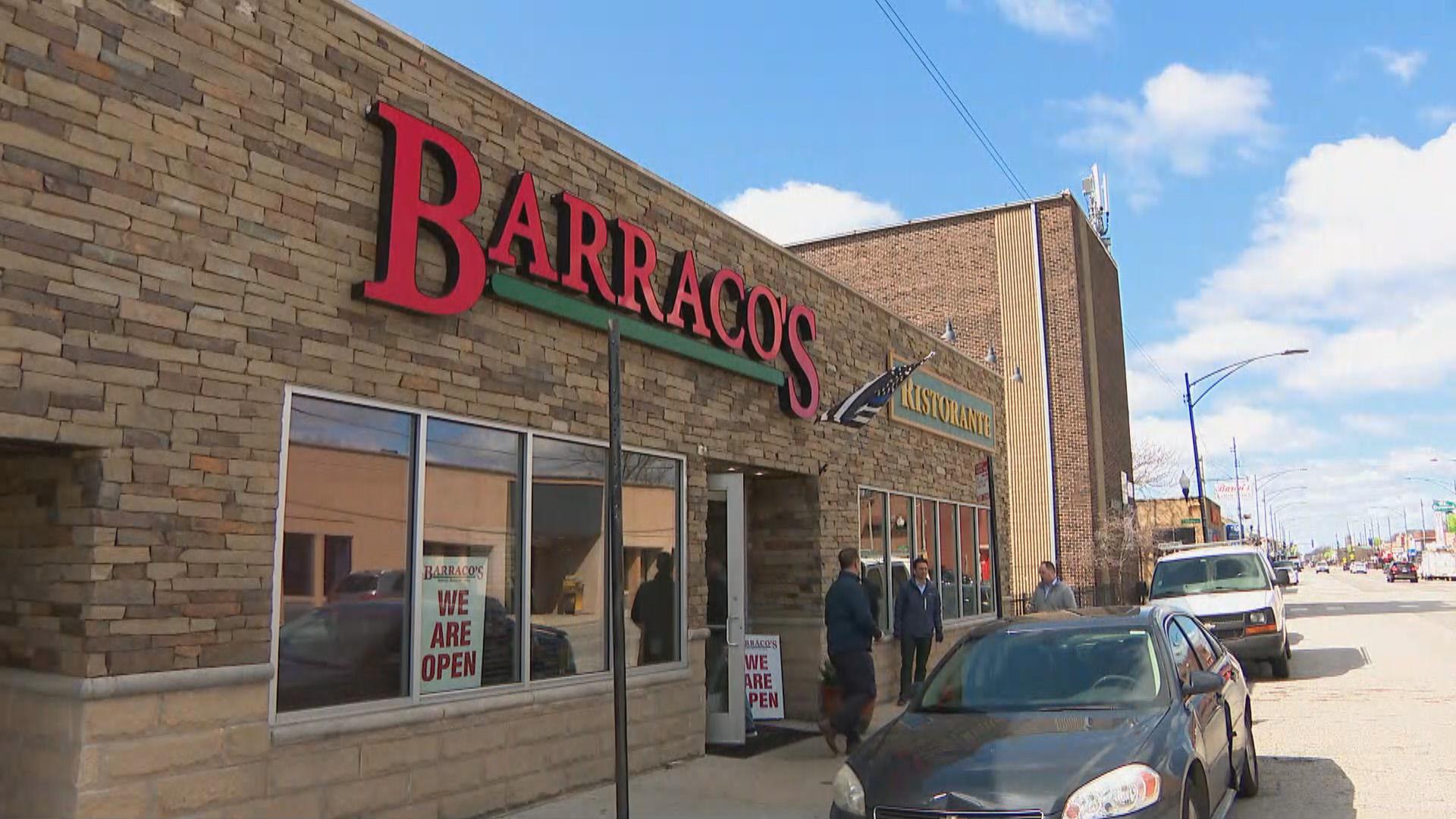 (WTTW News)
Restaurant owners say they're well equipped to handle large orders like that, but that their overall business is down about 20%. It's taken some creativity to keep all of their employees on staff, they say.
"We're gonna try and maintain as many employees as we can to keep the business running," said Chief Financial Officer Vincent Barraco. "We try to divert bartenders and servers to be delivery drivers, or answer the phone, because we're busy on that front. But this is definitely going to have longer-term effects."
Another staple Beverly is Rainbow Cone, a family owned ice cream shop that's been in businesses for almost 100 years. Rainbow's general manager Brian Feldman says they are adapting by doing more deliveries – yes, deliveries of ice cream.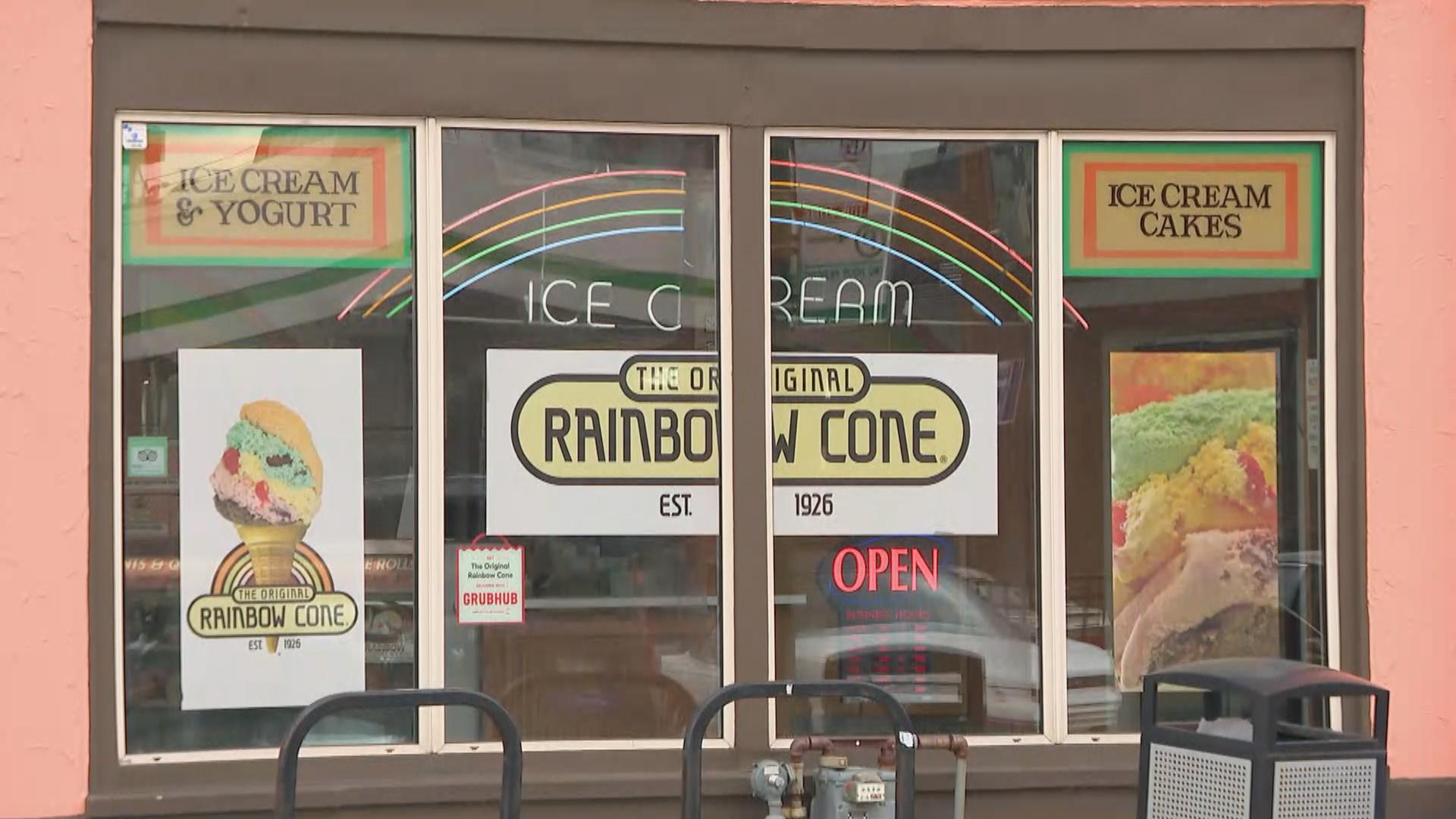 (WTTW News)
"Most of it is pre-made stuff, our quarts and our cakes," Feldman said. "And it's pretty solidly freezing. And we have a 3-mile delivery zone so it's not being delivered for a half hour, and the stuff is hard frozen so it'll last in there."
He says they typically employ high school and college students, but haven't been able to hire as many during the shutdown.
---
South Side hospitals
As local hospitals start to run thin on supplies and staff, one local community hospital said that it's benefited from being part of a larger health system. It is a small nonprofit hospital called Little Company of Mary that was recently bought by the much larger Order of St. Francis Hospital. That system has hospitals across the state and they are sending personnel and equipment to deal with COVID-19 cases and the expected increase to come in the next few weeks.
"We're part of a 14-hospital system, and because of that, all counties aren't being hit equally," said Eileen Knightly, the hospital's chief nursing officer. "In Cook County, we have more cases. Because of that, we've had partners come here from other hospitals and give us supplies to care for our community."
---
Arts impact
And another community anchor is the Beverly Arts Center. It stages professional theater and music concerts, as well as provides dance, music and acting classes for Chicago Public Schools kids. All of that has ceased during the shutdown. But some community benefactors have stepped in to keep the foundation operating. And officials are expressing confidence that they will see some relief with the federal stimulus package.
"There is funding in there to help arts organizations, so that will be passed through the National Endowment of the Arts as well as the Kennedy Center," said Andrew Lindstad, director of marketing and development. "DCASE has also said it would work with organizations throughout the city to make sure they stay vibrant and stay open. We've had private benefactors step up as well saying they'll be giving private, unrestricted grants."
Follow Paris Schutz on Twitter: @paschutz
---
Community Reporting Series
"Chicago Tonight" is expanding its community reporting. We're hitting the streets to speak with your neighbors, local businesses, agencies and leaders about COVID-19, the economy, racial justice, education and more. See where we've been and what we've learned by using the map below. Or select a community using the drop-down menu. Points in red represent our series COVID-19 Across Chicago; blue marks our series "Chicago Tonight" in Your Neighborhood.