Adler goes for a walk. (Courtesy of PAWS Chicago)
Illinois residents are spending more time at home than ever, and will be until at least April 7 – the date when Gov. J.B. Pritzker's stay-at-home order is set to potentially expire. As you hunker down at home, you may be thinking that now is the perfect time to add a furry friend to the mix. But is that even possible?
We reached out to two shelters to find out whether they're still offering adoptions during the pandemic. Good news: They are.
Like many businesses, animal shelters are going digital. That includes the city-run Chicago Animal Care and Control and PAWS Chicago, a no-kill shelter. Both facilities have temporarily suspended walk-in adoptions but are offering new, innovative ways for would-be pet owners to meet adoptable dogs and cats while adhering to social distancing guidelines: virtual adoptions.
At CACC, would-be pet owners can browse photos of adoptable pets. Find one you like? Send an email with your information and the ID of the animal (or animals — like a dating app, you might have more than one love interest). A volunteer follows up to discuss next steps, such as an appointment to meet in person. CACC's large yard makes it easy for visitors to get to know dogs while maintaining their distance from other people. Volunteers assist with cat introductions by opening cages and giving visitors treats to share with their new feline friends.
A similar operation is unfolding at PAWS Chicago, which uses an online application. There, you're asked to list three animals you're interested in, and, if you're deemed a match, the PAWS adoption team will contact you to coordinate a time and date to meet in person.
At PAWS Chicago's Lincoln Park adoption center, volunteers bring dogs outside to meet potential adopters, handing off the pooch via a clean leash. "They can walk the dog, hang out with the dog, play with the dog and then let us know if it feels like a good fit," said PAWS founder Paula Fasseas. The shelter is converting its senior cat room into a meeting area, according to Fasseas.
Beverly receives laser treatment before going to a foster home. (Courtesy of PAWS Chicago)
Both CACC and PAWS are asking anyone experiencing symptoms of the novel coronavirus, including fever and cough, to stay home.
"We do our part and we ask everyone who walks in to do their part," said CACC acting Executive Director Mamadou Diakhate. "We have hand sanitizer everywhere. We've got flyers and we have a security guard that makes sure to remind people about social distancing."
If you're not ready to adopt a pet, consider taking care of one temporarily via a fostering program. PAWS Chicago has a huge bank of volunteers, says Fasseas, but the organization is seeking emergency foster responders in case there's an increase in need. The shelter is also seeking remote volunteers to call potential foster parents and take on other tasks, according to Fasseas.
CACC is also collecting names of people interested in fostering. "We don't know what's going to happen," said Jennifer Schlueter, assistant to the CACC director and public information officer. "It's good to build them up."
You can also help by donating unopened pet food or money to the shelters. "Donations, especially at this time with what we're going through, every dollar means a lot because it's a dollar that can go right to an animal," said Fasseas. "The need hasn't changed and it will only get worse as people are having tougher times. We'll see more returns or people relinquish their animals, especially if people are losing jobs."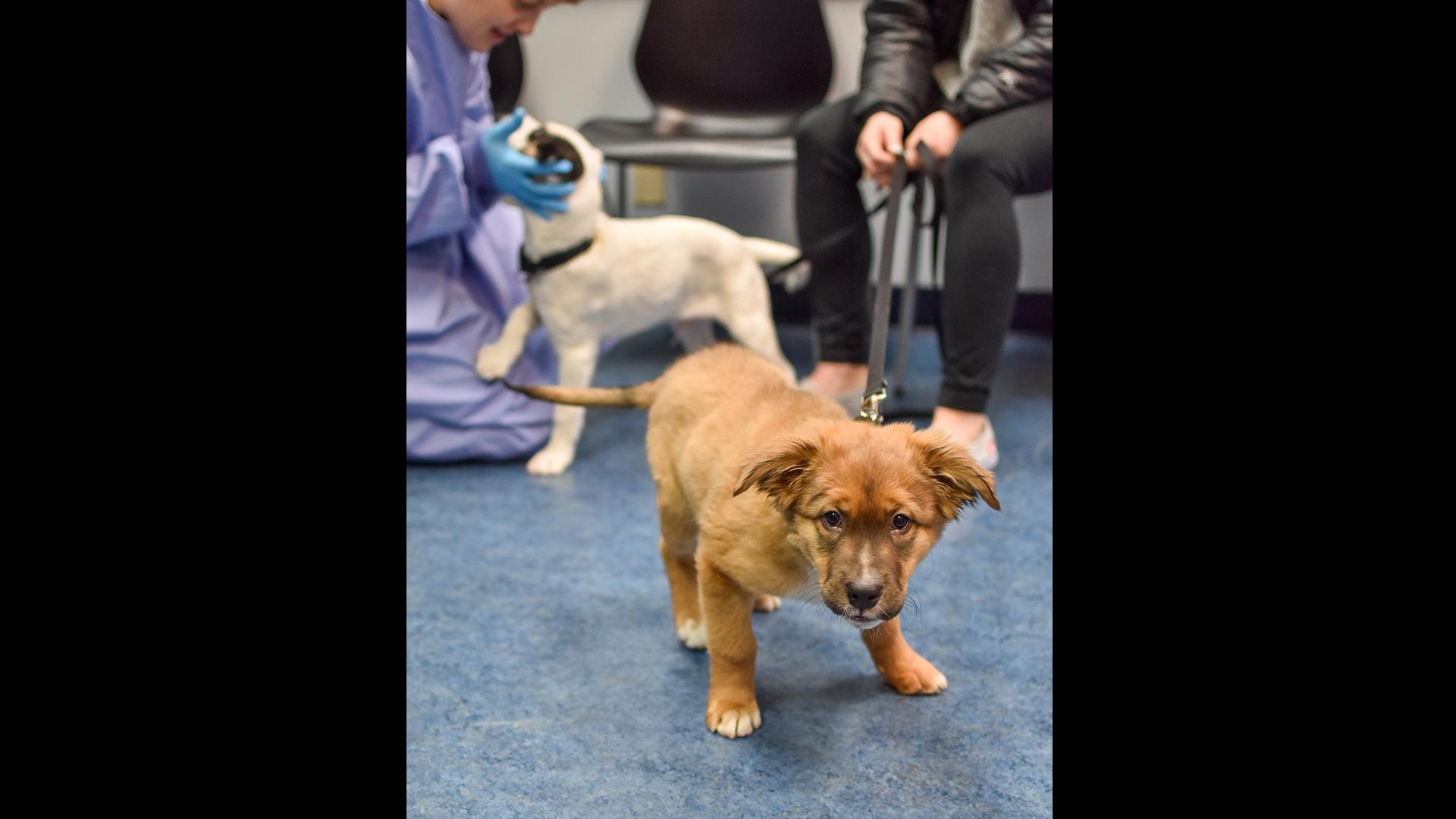 A pair of pups headed to a foster home. (Courtesy of PAWS Chicago)
Both Fasseas and Diakhate urge people to keep their pets during the health crisis. "We encourage people to stay with their pets. Don't be discouraged. This is a painful and temporary moment to live. The pet is a member of the family," Diakhate said. "We'll work with you (to help you) hold onto them. If that's not (possible), we always advise owners to rehome (their pet) with friends or family."
If you can't find a new home for your pet on your own, CACC offers a home-to-home shelter bypass through its partnership with the Anti-Cruelty Society that helps people find new homes for their pets privately while keeping them out of a shelter.
Given the rapidly changing nature of the COVID-19 pandemic, both PAWS Chicago and CACC advise checking their websites and social media pages for the latest news on their operations.
Contact Kristen Thometz: @kristenthometz | (773) 509-5452 |  [email protected]
---