The historic South Shore Cultural Center is an icon of the community in which it resides along Chicago's lakefront. But the center is closed, as are many other businesses and facilities in South Shore, as city residents stay home during the coronavirus pandemic.
South Shore is a predominantly African American neighborhood, marked by old, stately brick mansions. Like many communities, it struggles with violence and poverty.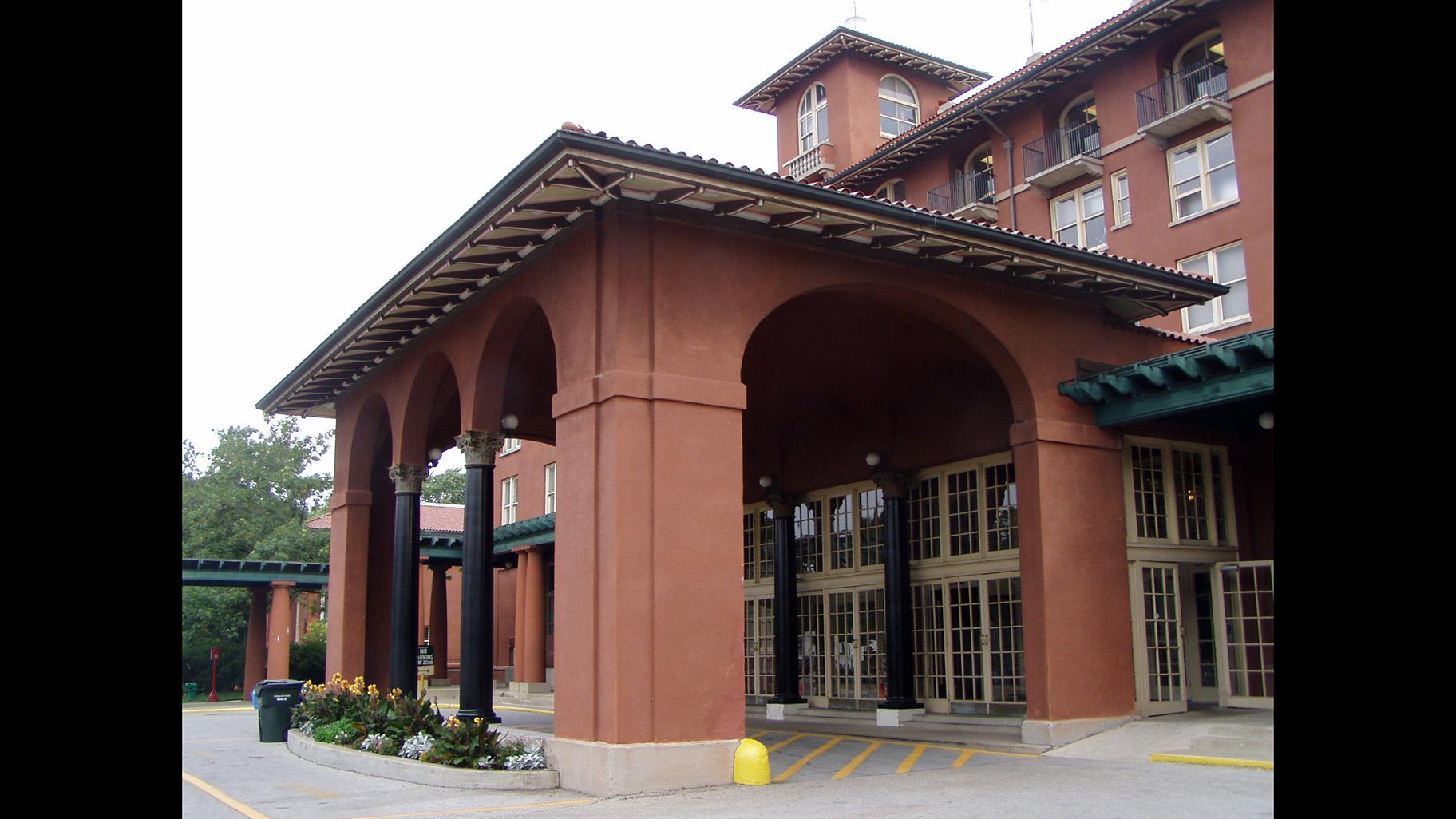 The South Shore Cultural Center (Oak Park Cycle Club / Flickr)
On Wednesday, there was a fair amount of pedestrian traffic on its main commercial district along 71st and Jeffrey. One of the community anchors – especially with an older and vulnerable population – is the South Shore Community Hospital, a small nonprofit with only a handful of emergency room beds. Hospital officials said area residents come to the facility worried about coronavirus symptoms and are asking to be tested. The hospital is limited to about a half-dozen tests per day, and the wait for results is a week.
"Seven days to get testing, it's really hard, because patients that don't meet criteria, we have to send them home and self-quarantine," said Michele Spikes-Cain, clinical manager of emergency services. "But do they really understand it? Do they know what self-quarantine means?
She says the hospital has had to realign its facilities and priorities to meet the coronavirus demand.
"It's been a big strain right now, trying to get the doctors office to reschedule appointments out two weeks, trying to cancel elective surgeries," she said.
Another anchor in the community is the Local Market grocery store. This is the store that filled a former Dominicks that closed 6 years ago and left the community a food desert for that time. It opened in December – right in time for residents to deal with an emergency situation where they need fresh food right away.
Another anchor in the community is the Local Market grocery store, which opened in December – just in time for residents to deal with an emergency situation that calls for fresh food right away. The store used to be a Dominick's, but when that closed six years ago, the community became a food desert.
"What if we weren't here, what would everybody be doing?" said store manager Eddy Roque. "We started opening first at 6 a.m., my seniors come in in tears so thankful they get to shop quietly."
(WTTW News)
Grocery stores are some of the businesses deemed essential, meaning they can stay open during the state shutdown. Restaurants can offer delivery and carryout services, but many have chosen to close. The locally owned vegan restaurant Majani has made the pivot to takeout and delivery, though the owner/chef says they've had to adjust by offering half-price food and working with a skeleton staff.
"The biggest adjustment, unfortunately, is that we've had to lay off staff," said Tsadakeeyah Emmanuel. "My wife and I have had to take on more duties. We're trying to be innovative, so we'll see. We'll hang in as long as we can."
Funeral homes are also allowed to remain open. Cage Memorial Chapel is one of several in the area, but only 10 people can attend services at a time, per restrictions on gatherings from the Centers for Disease Control and Prevention. That means big changes for memorials and visitation, and no more limos or processions. Funderal director Roland Criswell says the funeral home has had to mitigate some of the emotional stress this has caused those trying to grieve.
"We found that having multiple services works better, where you'll schedule certain people come out at a particular hour, and then another segment of the family come out at a later hour," Criswell said. "Which is not ideal, because ultimately family wants to be together at this time."
Criswell says the funeral home has waived any costs of storing remains until the shutdown ends, because many people have chosen to wait to have services.
Follow Paris Schutz on Twitter: @paschutz
---
Community Reporting Series
"Chicago Tonight" is expanding its community reporting. We're hitting the streets to speak with your neighbors, local businesses, agencies and leaders about COVID-19, the economy, racial justice, education and more. See where we've been and what we've learned by using the map below. Or select a community using the drop-down menu. Points in red represent our series COVID-19 Across Chicago; blue marks our series "Chicago Tonight" in Your Neighborhood.