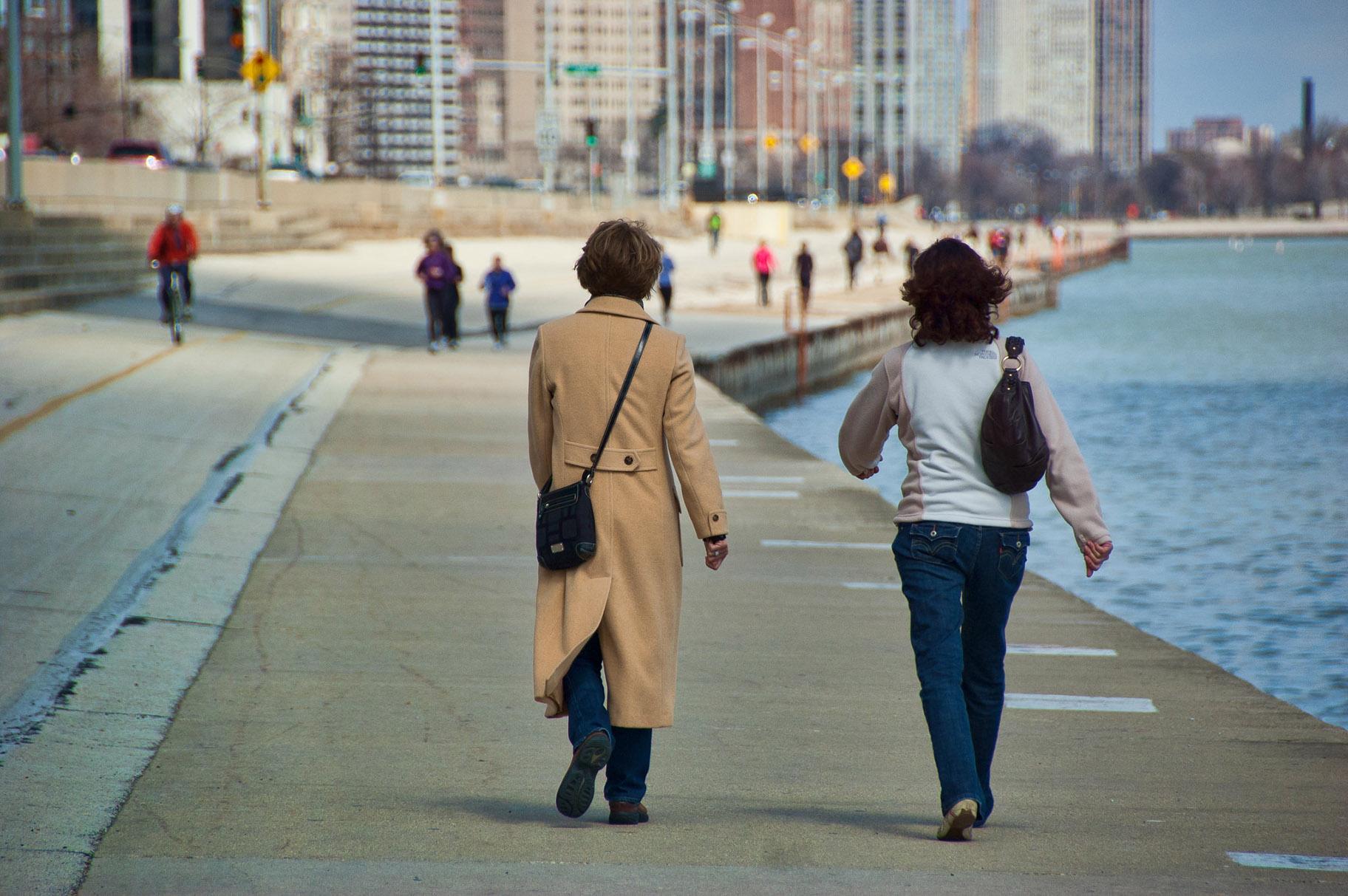 Now is not the time for a long stroll or ride along the lakefront, Mayor Lori Lightfoot said. (Eric Allix Rogers / Flickr)
Disturbed by "way too many people gathering" along the lakefront "like it's just another day," Mayor Lori Lightfoot threatened to completely shut down the city's parks, including the vast stretch along Lake Michigan, if people continue to flout Gov. J.B. Pritzker's stay-at-home order due to the spread of COVID-19.
"That's the last thing that any of us want … but I'm not going to hesitate to pull every lever at my disposal to force compliance if necessary," Lightfoot said during a press conference Wednesday. "What we're seeing is packs of people. When we have masses of people out there, it's a problem. Stay at home. Be smart, please."
People can leave their homes to go on walks and to purchase food and other essentials, but now is not the time for long rides and runs along the lakefront with hordes of other people.
"Outside is for brief respite, preferably in your neighborhood," said the mayor, and that applies to parks and playgrounds in particular, where Lightfoot said she was disturbed to see people playing basketball.
"The playgrounds, under Gov. Pritzker's orders, are shut down, folks," the mayor said.
Michael Kelly, Chicago Park District general superintendent and CEO, put what he called an "exclamation point" on Lightfoot's message.
"All of our 580 playgrounds have been shut down. And while the green space is open and it's available, let's not all rush out at the same time to the same spots," Kelly said. "We cannot stress enough the importance of maintaining social distance."
No soccer or basketball games will be permitted, he said.
Walkers and runners should be out solo or only with members of their household, said Chicago Department of Public Health Commissioner Dr. Allison Arwady.
Though fleeting contact with a passing jogger poses little risk, behavior such as people meeting up with their regular running groups is strongly discouraged, Arwady said.
The main way the virus spreads, she said, is through close contact for at least 10 minutes. 
"The goal is to not have more close contact," Arwady stressed.
That applies indoors and out, Lightfoot said.
"If we see gatherings, we will shut them down. Period," said the mayor. "This situation is deadly serious. We will lose ground that we've gained."
Chicago has recorded 750 cases of COVID-19 and five deaths, Arwady said, and the primary objective remains "bending the curve" so as not to become another Italy or New York, with an utterly overwhelmed health care system. The next two to three weeks will be absolutely critical to that effort, she said.
Interim Police Superintendent Charlie Beck stated that the governor's order is not an "advisory" but a legal mandate. 
The education phase, Beck said, "is over."
"If people do not heed the warnings to not congregate, to not stay at home, we're going to start issuing citations," he said.
Fines and even arrest are on the table for the most egregious violations, Lightfoot added.
"Today's the day to change your mindset," she said. "If you do that, we'll get through this."
Contact Patty Wetli: @pattywetli | (773) 509-5623 |  [email protected]
---