Rhine Hall Distillery in Chicago's West Fulton Market neighborhood is known for its high-end fruit brandies, which it sells to bars, restaurants and liquor stores. 
That is, it did until much of the state was effectively shut down last week to slow the spread of COVID-19. Since then, the company's bottom line has taken a big hit.
"I don't know the exact numbers, but it's essentially slashed pretty much all of our sales," said general manager Adira Hanna. "No one can order alcohol, no one's buying alcohol, we had to lay off all of our bartenders so they could receive unemployment, as well as our distiller Greg"
In normal times, you'd find Hanna in the distillery's tasting room mixing cocktails with some of Rhine Hall's staples, like apple brandy or grappa.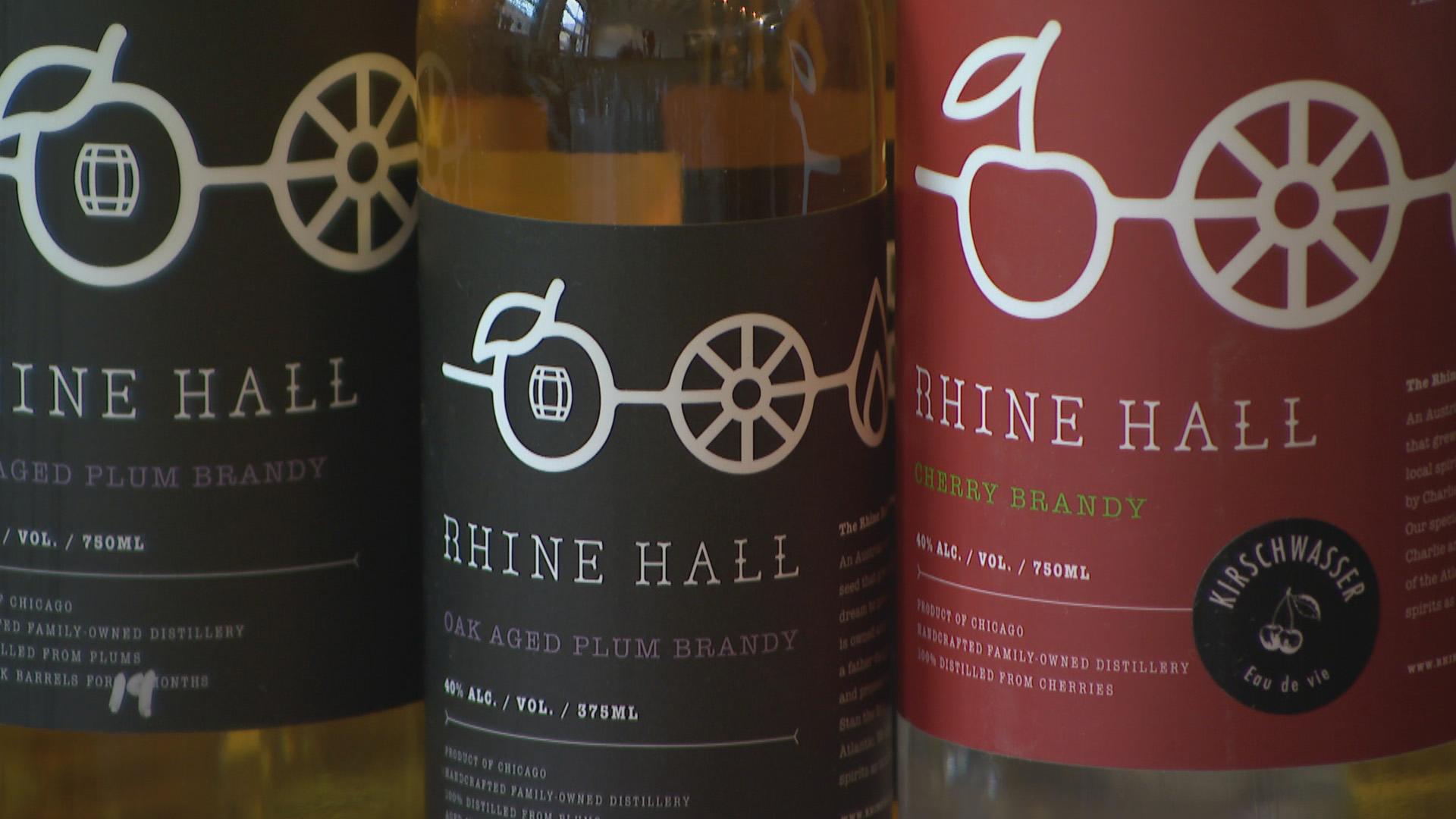 (WTTW News)
But as business stalled this month because of the coronavirus, Rhine Hall staff realized they could make a new product that's now in high demand: hand sanitizer.
"Ninety percent of our revenue comes from bars/restaurants, so we needed some way to have some sort of cash flow," Hanna said. "Demand was so high, we just started ripping and roaring, making it." 
To make the sanitizer, the distillery tapped into its supply of undiluted alcohol, left over from previous fermentations.
"We're actually using our mango brandy though, because we have an abundancy of that," Hanna said. "It smells amazing, which is great." 
The process of making hand sanitizer is pretty simple compared to distilling brandy. Distiller Peter Johnson says he's been following basic instructions provided by the World Health Organization.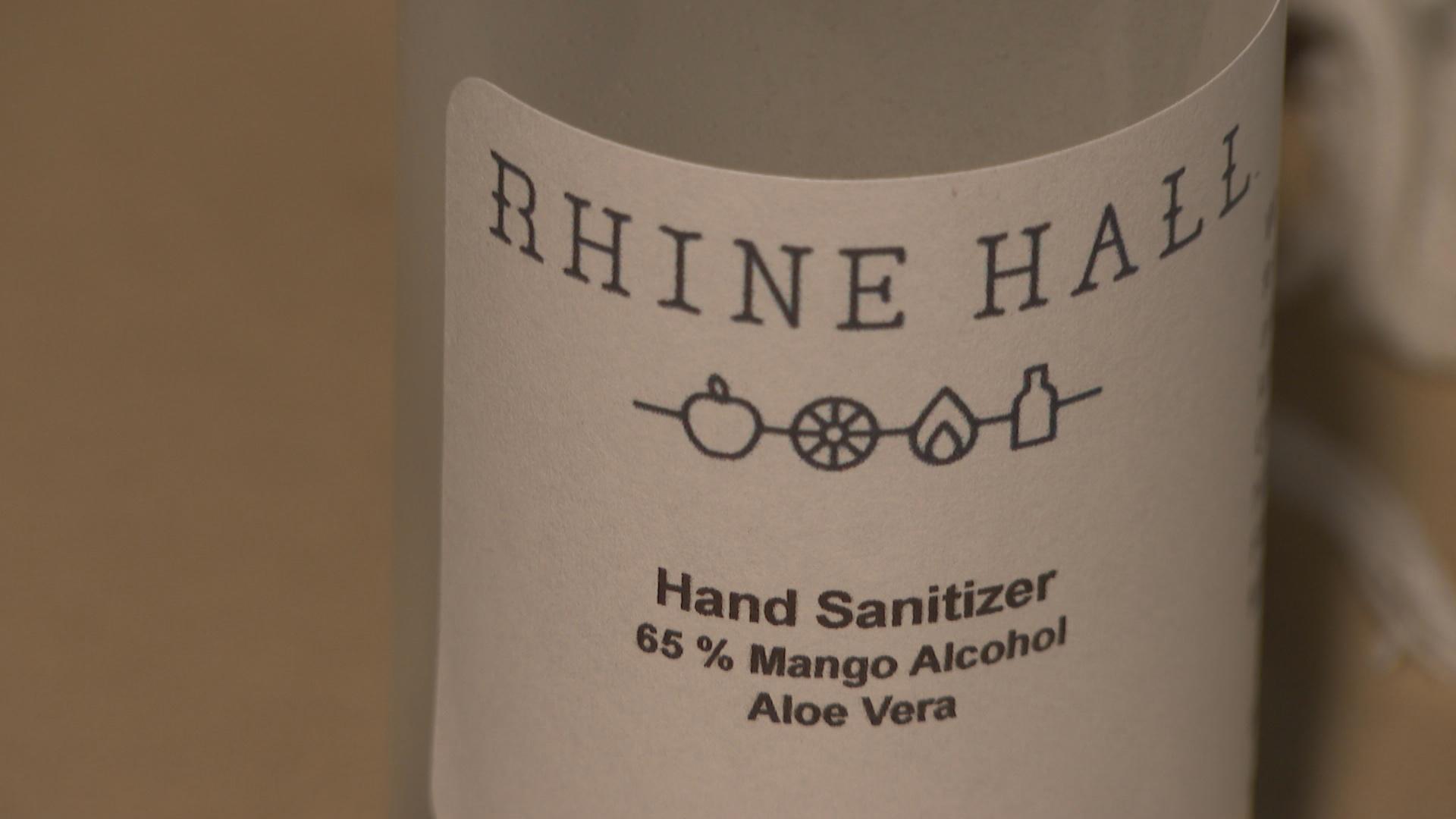 (WTTW News)
"We're using the brandy we produce here, a base of ethanol, so we're using the ethyl alcohol, as well as hydrogen peroxide, mixing those together, and then mineral oil and aloe, to create a mixture of about 65%, in line with WHO/CDC guidelines," he said. 
Going forward, Johnson says they plan to boost their recipe's alcohol content to 75%.
While the sanitizer's base is brandy, Hanna says you might want to think twice before taking a sip. To effectively kill germs, it's quite a bit more potent than your typical vodka or whiskey.
"It's too high of alcohol for you to actually enjoy … it'd be too alcoholic of a taste," she said. 
Rhine Hall's sanitizer will be available at the distillery, provided it can get certain supplies, like containers. Interested customers should check the company's website for updates before stopping by to pick some up. 
"Because we have a really difficult time finding different packaging for it, we're just trying to meet the cost of the brandy, as well as the packaging," Hanna said. "Our goal is to keep our business afloat. It's not to capitalize." 
---
More on this story
Rhine Hall Distillery is open this week for curbside pickup of its brandies, and when available, hand sanitizer. For more information, visit the distillery's website.
---