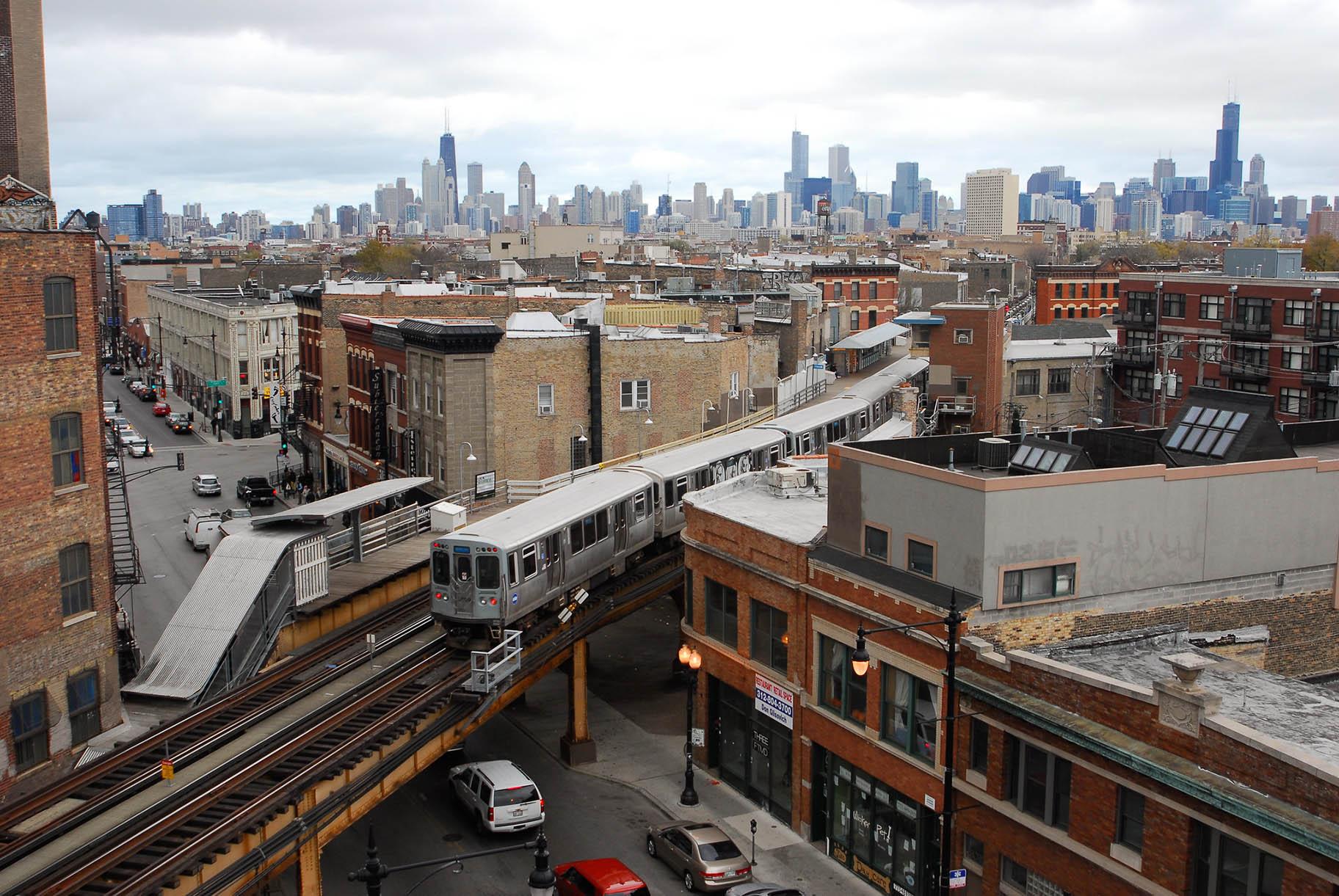 (Nitram242 / Flickr)
As we close out the first week of COVID-19 isolation efforts, Chicagoans are finding themselves with suddenly upended lives – and with Gov. J.B. Pritzker's announcement of a statewide shelter-in-place order through at least April 7, we seem to be just getting started. 
WTTW News is checking in with a few people around the city and suburbs to see how the "new normal" (for now) is affecting their everyday lives and communities, and we'll keep in touch as events progress. To date, none of the subjects in today's dispatches are reporting any symptoms or diagnoses of COVID-19. 
If you'd like to add your voice, contact us! We want to hear your stories.
---
Alice, 42, attorney, and Chris, 48, attorney | Albany Park
Chris and Alice (Photo provided to WTTW News courtesy of the family)
Alice, Chris, their two children and Alice's mother live in an Albany Park home with a "tiny backyard currently with no back fence because," Alice says, "I brilliantly scheduled our garage tear down and rebuild for spring and they tore it down and who knows when it will get rebuilt." 
The lack of a backyard fence means their big dog Mishimi is one of few reasons they're leaving the house. "We're basically locked down. We've gone to get groceries a couple times and walked the dog around the block, but otherwise we're staying home," says Chris. 
After a few days of staying home, Chris reports: "Every now and again I notice a tickle in my throat and feel a bit flush. But that brings us to the mental question! As a clinically anxious person, hypochondria is no stranger even in the best of times. This is definitely triggering that tendency. But it hasn't gotten *too* bad yet."
Alice adds, "My sister works in health care and it's a little anxiety-producing to have family directly in harm's way."
Her salve for that anxiety? "I just ordered a new pysanky kit to make Ukrainian dyed eggs. It's a very fun but tedious hobby perfect for these times."
---
Nancy, 41, administrative assistant | Ravenswood
Nancy and her husband live in a one-bedroom apartment in Ravenswood, and when it comes to outdoor space they can safely enjoy around the house, they're a bit limited. "We could sit on the back steps? And it is a courtyard building if we wanted to hang out there a little bit," Nancy says. But she says they remedy that with separate walks when the weather is nice.
For now, Nancy says she's feeling pretty good. "I expect that will continue for another week or so. And then I'll start to feel itchy about it all."
One thing she doesn't have to feel itchy about for a bit? "We were running out of toilet paper around March 1, so I bought an 18-pack of Cottonelle."
---
Jen, 52, stay-at-home mother, volunteer and part-time art studio worker | Oak Park
Jen, her husband Bob, who works in the coffee business, and their four children live in a three-bedroom home that's full and busy, she says. "My oldest is 19, a college freshman, and is totally horrified that he is stuck here with the rest of us. My daughter is 16. She is making the best of this, lots of FaceTime and TikTok "contests" with her pals. My 15-year-old son is e-learning, eating and playing basketball in the alley. My 8-year-old is lost. He is reading books, unlimited screen time(ish), doing experiments, making countless light sabers out of paper and packing tape, and planting seeds in egg cartons. Lots of hormones flying. Lots of tossing balls in alley, making muddies in yard, and sitting on stoop watching the world go by."
But before the kids start to crack, Jen is trying creative methods to keep the family occupied in close quarters. "Yesterday was Music. We watched 'Yesterday,' 'Bohemian Rhapsody' and lots of LiveAid."
As for keeping informed on the status of the crisis, Jen is avoiding the press briefings. Social media is a lifeline: "Facebook is hysterical – in every which way."
And of course, feeding four kids three times a day presents an ongoing challenge, but it's one she's ready for. "We stocked the freezer and pantry a month ago. Now we are having fun using food before it gets bad and being creative having an assortment and variety of foods. We used the last avocados last night. Today's menu revolves around the asparagus."
---
Mikal, 45, tech consulting/sales | Rogers Park
Mikal and her husband live in a house with a yard in Rogers Park with their three daughters. She says her husband is still traveling to work, where he and his colleagues practice social distancing and business has held steady. 
Beyond the necessary errands for food and medicine, Mikal reports she and her daughters are attending virtual church and staying in. "Mentally, I'm great. I pray. I do have a weird craving for mangoes, though. Like, I want to consume an entire box of them," she says. And she's clearly not alone. "The kids won't stay out of the pantry and refrigerator."
Mikal says that the news of continued school closing hit her girls hard. "We watched Mayor Lightfoot's address to the city on Thursday. When the mayor said that CPS would be closed through April 20, the girls had a collective fit." She describes the photo below: "[They] immediately grabb[ed] their phone[s] to text their friends about the extension of the CPS closure – while the mayor was still speaking."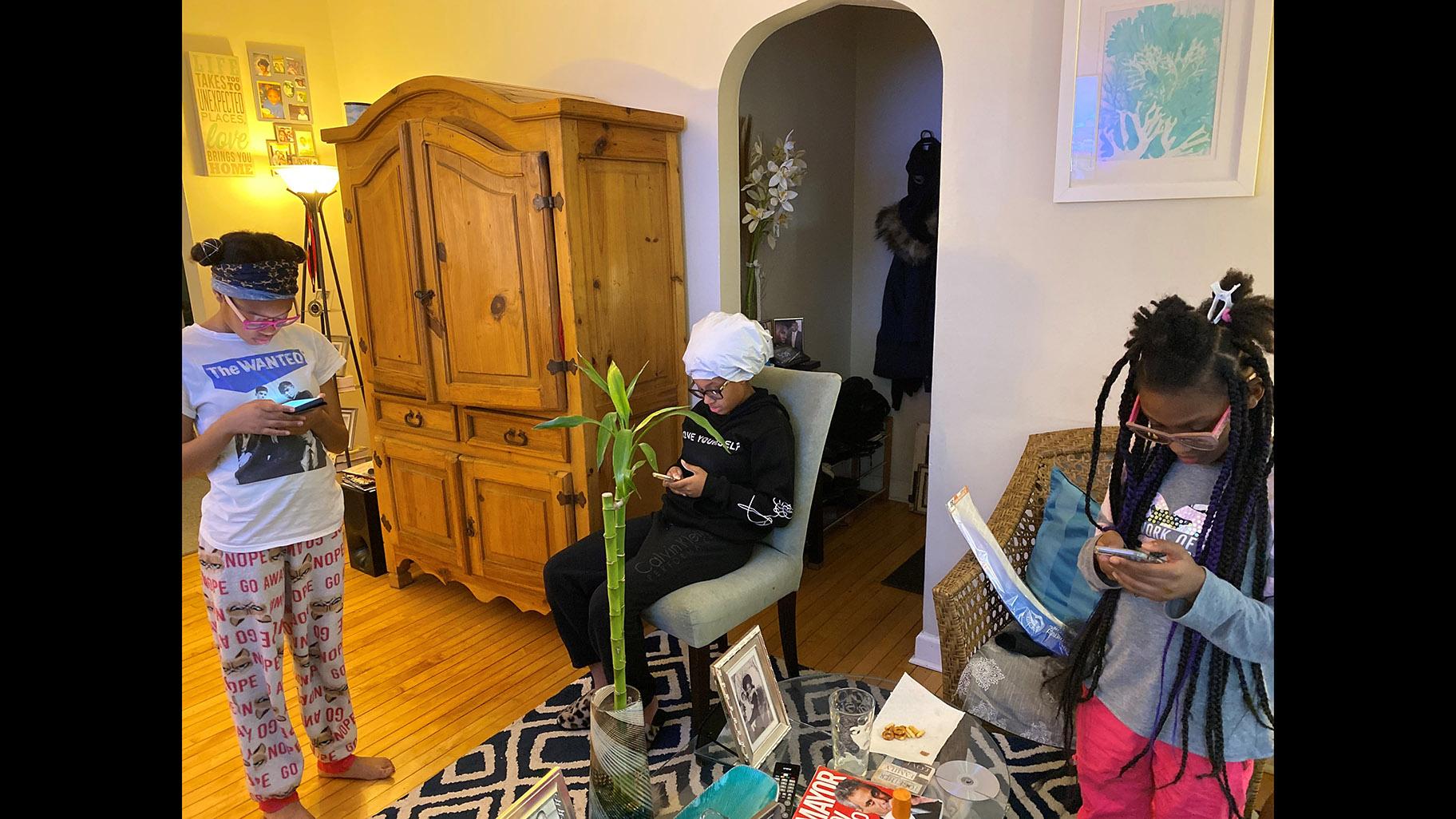 (Photo provided to WTTW News courtesy of the family)
"They mourn the interruption of school-related activities," Mikal says. "The oldest was in her first season on her H.S. lacrosse team. The middle child had written most of a script that she and her classmates would have performed in March. The youngest was readying for elementary track season, with a meet scheduled on March 27. They also complain about the amount of homeschooling that teachers, and I, have assigned. But, they also have been enjoying books and favorite TV shows, TikTok, and Netflix binging."
There are other practical matters to attend to. "In addition to everything else that I've been tasked with, I have three heads of hair to braid into protective hairstyles (no going to a stylist for awhile)," she says.
---
Chris, 37, private tutor | Irving Park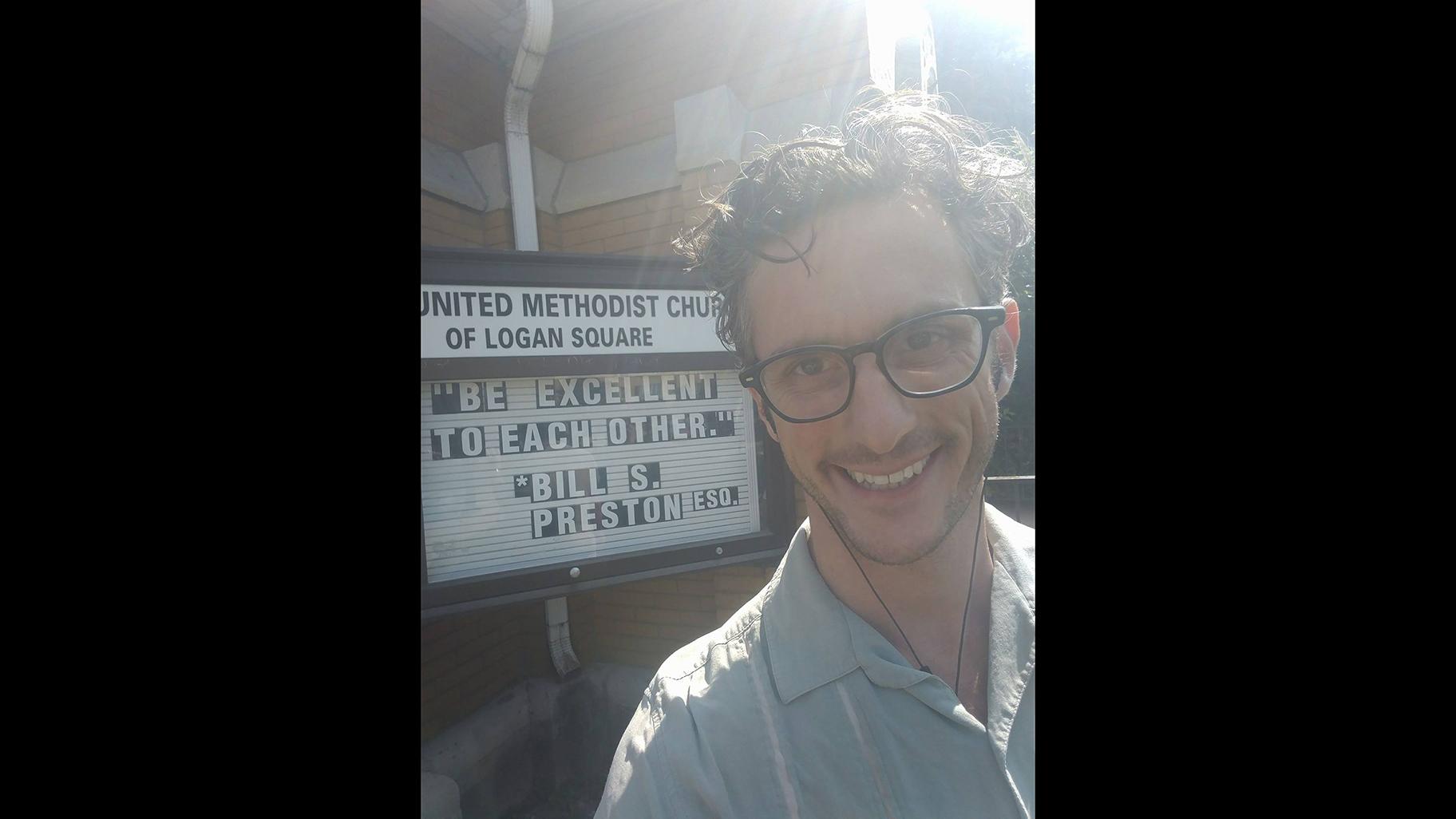 Chris (Photo provided to WTTW News courtesy of the individual)
Chris and his girlfriend live with two cats on one floor of a two-flat. "We've got a small yard and live close to Independence Park, which is big enough to wander around safely. Plus I bike a lot, so I can get some outdoor exercise."
Like a lot of folks, Chris doesn't report any physical symptoms but, "every cough or throat clear raises anxiety. I'm already pretty boring and don't get out much, so, because my girlfriend (a librarian who works in Skokie) is now around all day, I'm actually getting more face-to-face human interaction than normal."
Chris is staying informed through Twitter and podcasts (CNN and BBC) and has been watching the presidential press conferences, but like Jen, he'll probably stop because "they're just too frustrating."
One last sentiment from Chris: "Wash your damn hands, people, and, if possible, stay the fork home."
Follow Erica Gunderson on Twitter: @ekgundy
---