A day that started out with confusion and low voter turnout looks to be ending with relatively few lingering problems, and turnout numbers that approach typical primary elections. The Chicago Board of Elections announced that only six precincts would stay open an hour past closing time because they were late getting started. Those kinds of delays are in line with most elections.
As of late Tuesday afternoon, the election board anticipated that turnout in the city would approach 35%, counting early voting and mail-in ballots. That's not abnormally low for a primary, but lower than officials had anticipated before the onslaught of the coronavirus pandemic.
Older voters led the way in Chicago and suburban Cook County, despite being more susceptible to falling seriously ill from COVID-19.
"I'm 67 years old and I'm asthmatic," said Filiberto Ramirez, who voted at Piotrowski Park in Little Village. "If anybody's in danger, I am. Well, I looked at that and I said to myself, 'No, it's important to come out and vote because look who we have in the presidency right now.'"
In suburban Cook County, voters over 50 represented 60% of the turnout, according to afternoon numbers from Cook County Clerk Karen Yarbrough. In Chicago, with a larger portion of younger population, voters ages 55-64 led all voting blocs in turnout, with voters 18-24 coming in at the lowest. Those are ominous signs for the campaign of Sen. Bernie Sanders, which had counted on turning out college-aged voters and 20-somethings. 
"We are concerned that universities are closed, and that can have an impact," said Rep. Jesus "Chuy" Garcia, a top Illinois surrogate for Sanders. "And we'd like the enthusiasm of all the voters who took mail ballots and those who voted early, even though today's turnout seems to be low at the polling places. So it's kind of hard to figure out where we're at."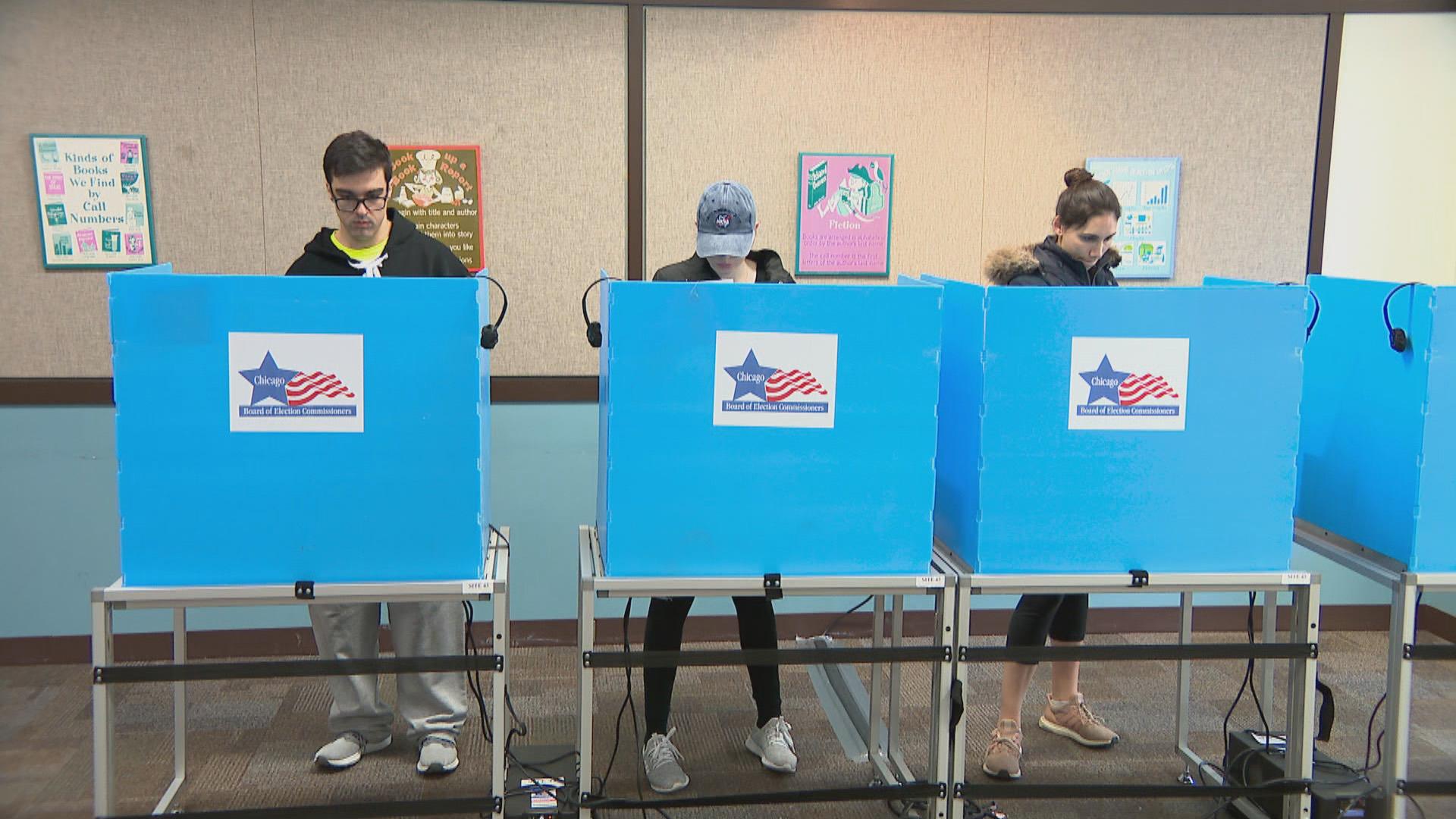 Chicago voters hit the polls on primary election day, Tuesday, March 17, 2020. (WTTW News)
Early Tuesday morning, elections board spokesman Jim Allen revealed that the board had urged the governor to postpone the election, angrily implying that, if it wasn't safe enough to have casual gatherings, it probably wasn't safe enough to vote. But Pritzker said he did not have legal authority to do so, and postponing the election was never a serious consideration.
"I will not use this moment to supersede my constitutional authority," Pritzker said this afternoon. "There are people out there today who want to say, 'Oh its a crisis, bend the rules and overstep your authority.' Let me tell you this, it is exactly in times like this when the constitutional boundaries of our democracy should be respected above all else and if people want to criticize me for that, go ahead. I wear it as a badge of honor."
Across the state, early voting and vote by mail totals could near one million, according to State Board of Elections spokesman Matt Dietrich. The campaign of former Vice President Joe Biden expressed confidence that many of those were Biden voters.
"We really pushed that along the way and were successful in that," said Sheila Nix, Chair of the Biden campaign in Illinois.
Despite the slow and chaotic start to the day, voting started to pick up at several locations, perhaps because so many people were home from work and didn't need to come early in the morning or late in the evening.
Some voters complained on social media that people were not practicing adequate social distancing measures, and that there wasn't enough hand sanitizer. But most voters we spoke with took the situation in stride.
"I've taken my own precautions," said Maureen Weiss, who voted at a precinct in Lincoln Park. "I'm a lawyer, I'm an immigrant, and I'm very happy to do this."
Follow Paris Schutz on Twitter: @paschutz
---