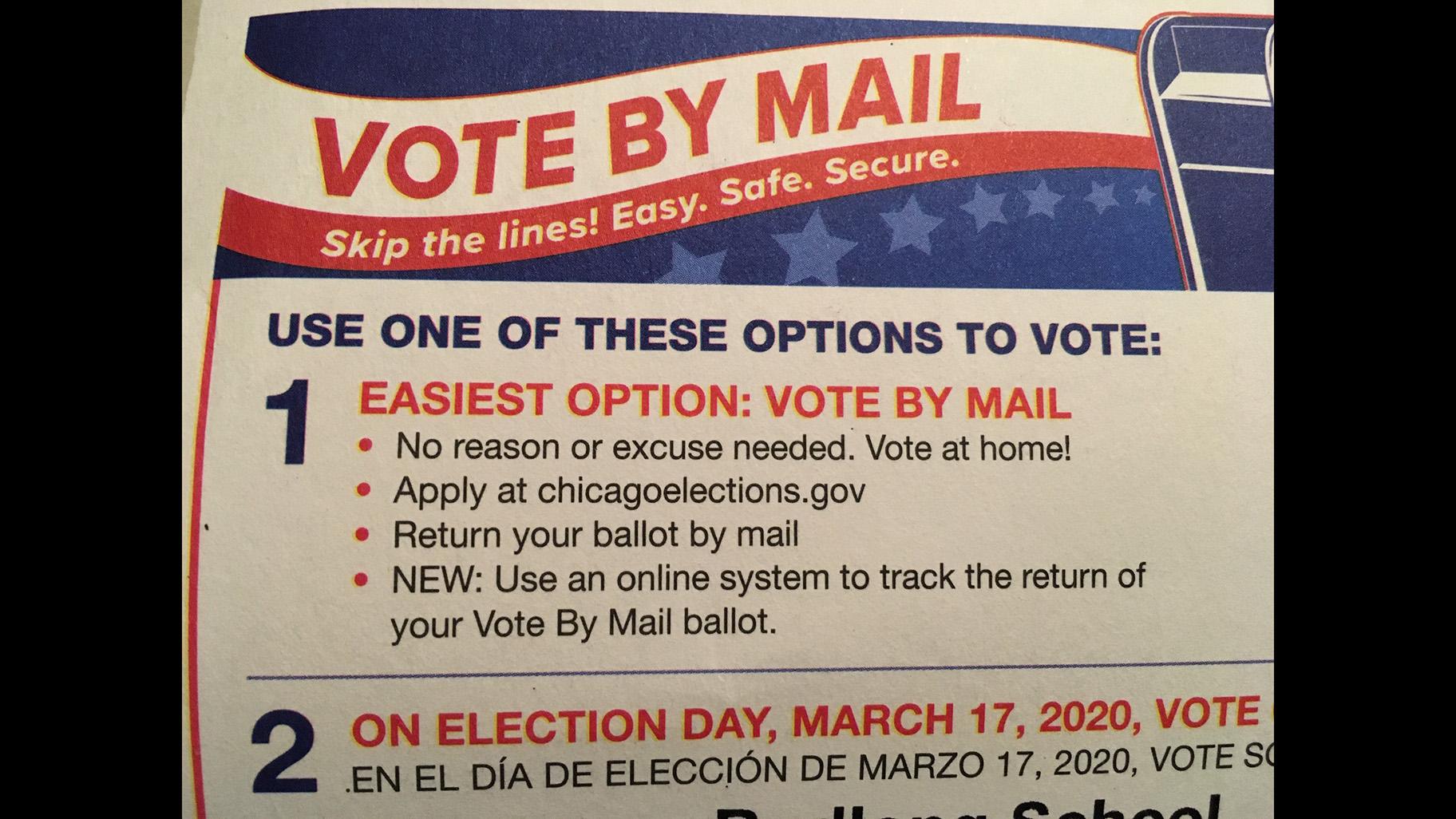 A mailer sent from the Chicago Board of Elections for the March 2020 primary. (WTTW News)
It wasn't long ago that Illinois voters needed to provide election authorities with justification for mailing in a ballot rather than handing one over in person.
Not anymore.
The Chicago Board of Election Commissioners encourages it – prefers it, even – thanks to a new vote-by-mail system debuting for the 2020 election season.
"You don't need a reason or an excuse": That's the message from a narrator in the new "how to vote by mail" video posted on YouTube.
Not only is the by-mail method convenient for voters, it's more convenient for the Chicago Board of Election Commissioners. And it's cheaper, too.
Elections board spokesman Jim Allen said a new tracking system will allow voters to follow their ballot every step of the way: once the board processes their application requesting a mail-in ballot, once that ballot is mailed out, once it's dropped back in the mail and sent back, and once the ballot has actually been counted.
And there's no need for a stamp; the postage is already paid.
The board worked with the U.S. Postal Service to redesign the vote-by-mail system, Allen said. A smaller, 6-by-9 inch envelope and accompanying "intelligent mini bar codes" purchased through a third-party vendor should makes it easier for the USPS to automatically track the ballots.
"We've already gotten rave reviews," Allen said. "(Voters) are going to be able to track this like an Amazon package to their house and then back to us."
Keeping costs down isn't the primary objective – running a fair election is – but Allen said voting by mail is less expensive, given that in-person voting requires paying for election judges and couriers, and renting space. But now it'll be even more so: The downsized envelope also drops the postage cost from $1.44 to 90 cents.
---
Illinois voters have been able to cast ballots for the March 17 primary since Feb. 6, though a relatively few have, be it by mail or at a physical site. (Get a list of all early voting locations here.)
As of mid-last week, Allen said roughly 1,200 people had voted so far in Chicago, which is roughly on par with the last presidential primary election in 2016. The last statewide numbers, updated Thursday, show roughly 33,000 voters had so far cast ballots, either via mail or voting early in-person.
Allen expects that number will soon jump. For one reason, it'll be even easier to vote.
Until now, early voters could only cast ballots in person at the city's "super site" in the Loop; starting Monday, that expands to 50 more locations throughout the city.
But it's still relatively early in the cycle, particularly considering that the Democratic presidential nomination remains a toss-up.
"People are waiting to see what happens," Allen said.
While the new ballots allow for voters to correct a mistake (check out the board's instruction video for a tutorial on how to fix a flub), there is no way to retract a mail-in ballot once it's actually been mailed … even if the candidate you chose drops out before election day.
Mailed ballots have to be postmarked and mailed on or before March 17 – something else that the new system will make it easier to track, Allen said.
There's a clear signal that the convenience of voting from the comfort of one's one home is appealing.
As of last Wednesday, more than 58,000 voters had requested mail-in ballots, compared with a total of around 32,000 four years ago.
Meanwhile, on Friday, a coalition of advocacy groups known as Just Democracy Illinois filed a federal lawsuit against Secretary of State Jesse White's office and the Illinois Board of Elections for "failing to properly implement Automatic Voter Registration (AVR) and violating federal and state voting rights laws."
Automatic Voter Registration was supposed to have been implemented in July 2018, but after three elections, it's still not fully in place, the coalition alleges.
A spokesman for White didn't immediately respond Friday evening to a request for comment, but White has previously said AVR has been implemented and is working.
Follow Amanda Vinicky on Twitter: @AmandaVinicky
---