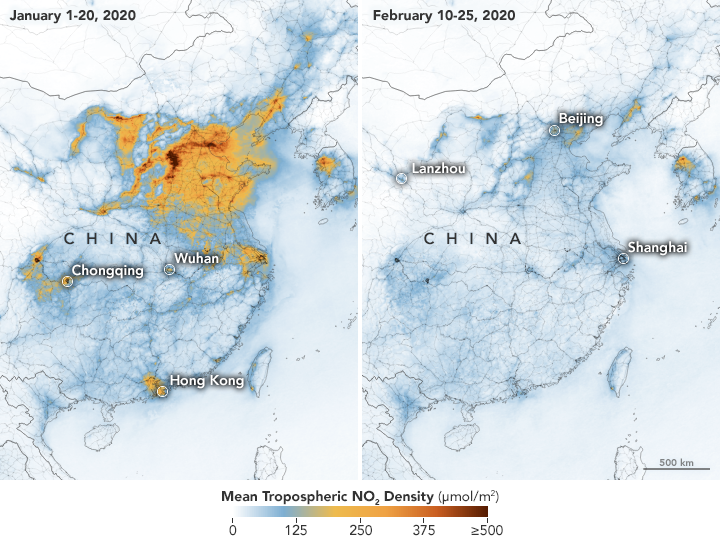 Pollution density over China in January 2020, left, and dramatically less in February. (NASA Earth Observatory)
NASA has released satellite imagery that demonstrates the dramatic drop-off in pollution over China since the coronavirus outbreak.
Pollution-monitoring devices that measure concentrations of nitrogen dioxide (NO2) — a noxious gas emitted by motor vehicles, power plants and industrial facilities — show significant decreases since quarantines went into effect, as businesses and factories have shut down, and auto and air travel have been curtailed. The impact initially was observed surrounding Wuhan, the epicenter of the coronavirus outbreak, but eventually has been seen across all of China. 
"This is the first time I have seen such a dramatic drop-off over such a wide area for a specific event," Fei Liu, an air quality researcher at NASA's Goddard Space Flight Center, said in a statement released by the agency. Liu noted that a similar reduction in pollution occurred in China during the 2008 Olympics, but was localized to Beijing, and levels rose shortly after the games ended.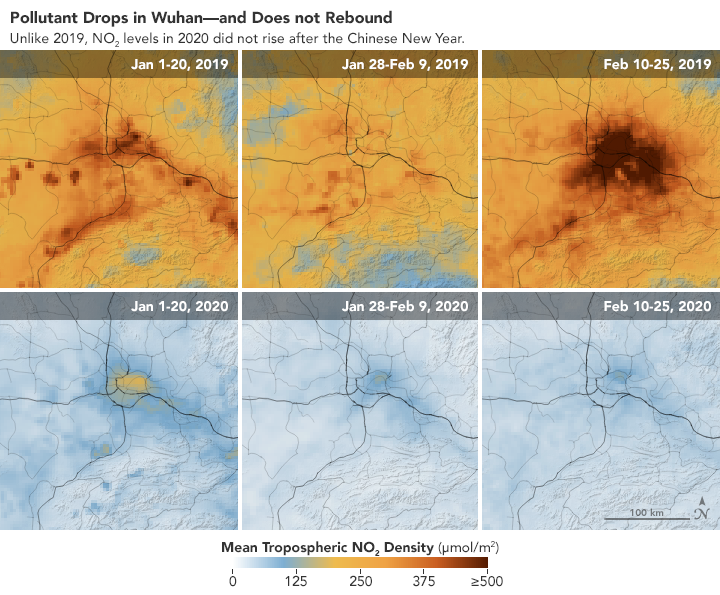 Typical pollution drop and rebound in Wuhan during 2019 Lunar New Year (above) and as measured in 2020. (NASA Earth Observatory)
Scientists pointed out that while decreases in pollution are common during China's Lunar New Year celebrations, NO2 values in 2020 were even lower than typical during the holiday, and have not rebounded.
"This year, the reduction rate is more significant than in past years and it has lasted longer," said Liu.
Contact Patty Wetli: @pattywetli | (773) 509-5623 |  [email protected] 
---