The international art fair Art Basel Hong Kong was canceled this month due to the global outbreak of coronavirus. Chicago, too, was affected when a host of Chinese artists could not attend the local opening of a massive art show due to related travel bans.
But their wild and spectacular artwork didn't have to travel far. It came in from a Los Angeles museum to the Chicago museum that organized the exhibition "The Allure of Matter" – a show so big it's in two locations.
---
TRANSCRIPT
Jay Shefsky: At the Smart Museum of Art on the campus of the University of Chicago, what looks like a giant animal-hide carpet reveals itself to be half a million cigarettes.
There is an interactive piece made of heated steel and water.
And a tent made of human hair. (More on that later.)
At Wrightwood 659 in Lincoln Park, giant works of art fill the atrium.
Inside the galleries, a wave of paper and bamboo appears ready to crash.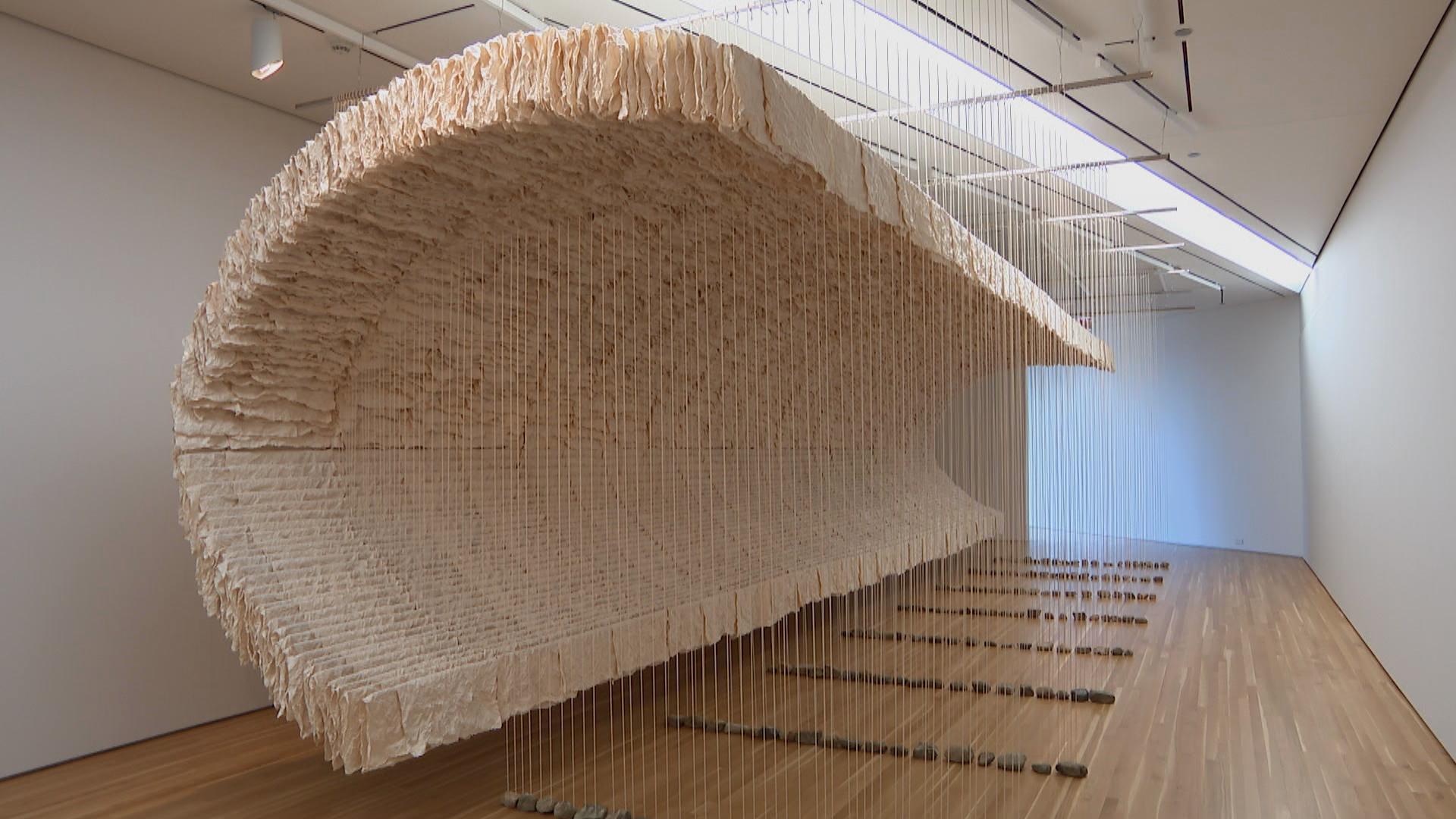 (WTTW News)
The artworks at both locations have in common size, spectacle, and a thoughtful approach to uncommon materials.
Orianna Cacchione, curator of global contemporary art, Smart Museum of Art: It's very much about artists who are using unconventional or, perhaps more importantly, non-traditional materials for art-making. So there's no painting in this exhibition.
Shefsky: At the Smart Museum, this might look like a painting, but it's really pantyhose stretched over cement. Look closely and you can see runs in the stockings.
This canvas (below) was made with exploding fireworks.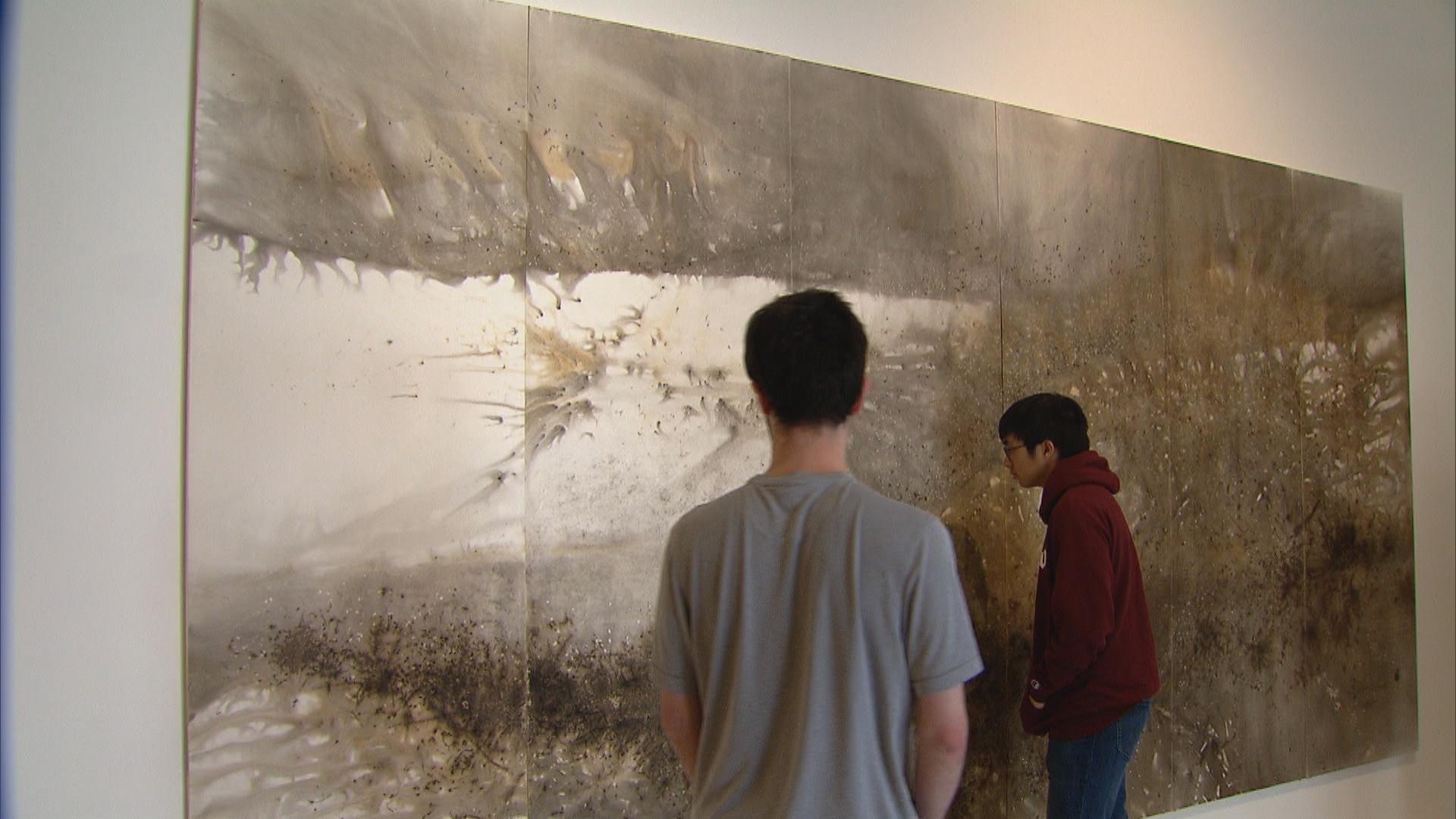 And at Wrightwood 659, chains made of silkworm cocoons and polyurethane hang from the gallery ceiling.
But many of the artists have not seen their works in these new locations.
Cacchione: We were hoping that most of the artists in the exhibition would be able to join us to celebrate the exhibition's opening but unfortunately because of the travel bans related to the Covid-19 virus, they weren't able to join us in Chicago. 31
Shefsky: The artwork and installations came in from LACMA, the Los Angeles County Museum of Art.
The exhibition is called "The Allure of Matter." It was conceived at the University of Chicago by professor Wu Hung, who's on sabbatical at Princeton.
He told us via email that many works are "negotiating with the concept of monumentality by creating visual spectacles with fragile materials."
(More from our conversation with Hung.)
Now about that hairy house ...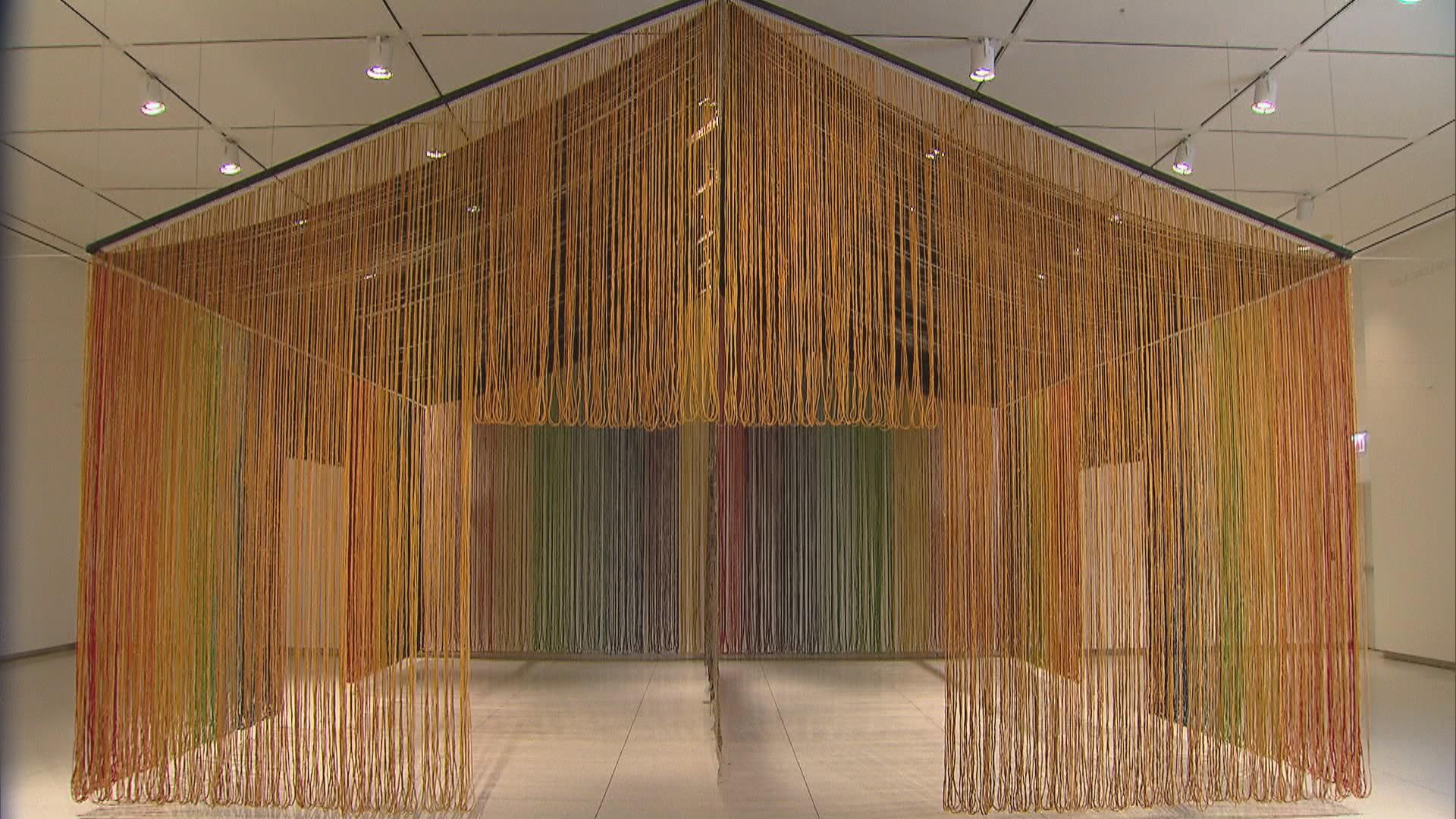 (WTTW News)
Cacchione: This piece behind me is actually a work that's made by Gu Wenda. He's been making works as part of what he calls "The United Nations" series with human hair. It's a work that talks about the history of the US as a country of immigrants. So it thinks about immigration, it thinks about multiple people coming together, and it thinks about America as a melting pot, which feels important at this moment.
Shefsky: At the museum in Hyde Park, there's also a work by the famous Chinese artist and activist Ai Weiwei.
And at the exhibition space in Lincoln Park, artist Yin Xiuzhen documents the transformation of a neighborhood in Beijing with photographs and building tiles.
The curators strongly recommend that you visit both halves of the exhibition of work they call "material art."
Cacchione: We think of it as one inclusive whole, so you won't get the full idea or understanding of what we mean by "material art" if you don't go to both spaces.
---
More on this story
"The Allure of Matter" is on view at both locations through May 2, 2020. Below are several questions we asked professor Wu Hung, who curated the show, via email.
What do you think is behind contemporary Chinese artists' fascination with unconventional materials?
Older artists from the '80s and '90s are rebelling against academic training and the realistic tradition, directly responding to social changes around them (the transformation of the city, commercialization, etc.) For younger artists, they are reacting to the "immaterial" trends in contemporary art (digital, new media, etc.), returning to the real.
Talk about the importance of scale and 3D in the work.
Many works derive energy from collectivism – hair of different peoples, incense ashes left by worshipers to Buddhist temples, etc. Others are negotiating with the concept of monumentality by creating visual spectacles with fragile materials (papers, water, etc.)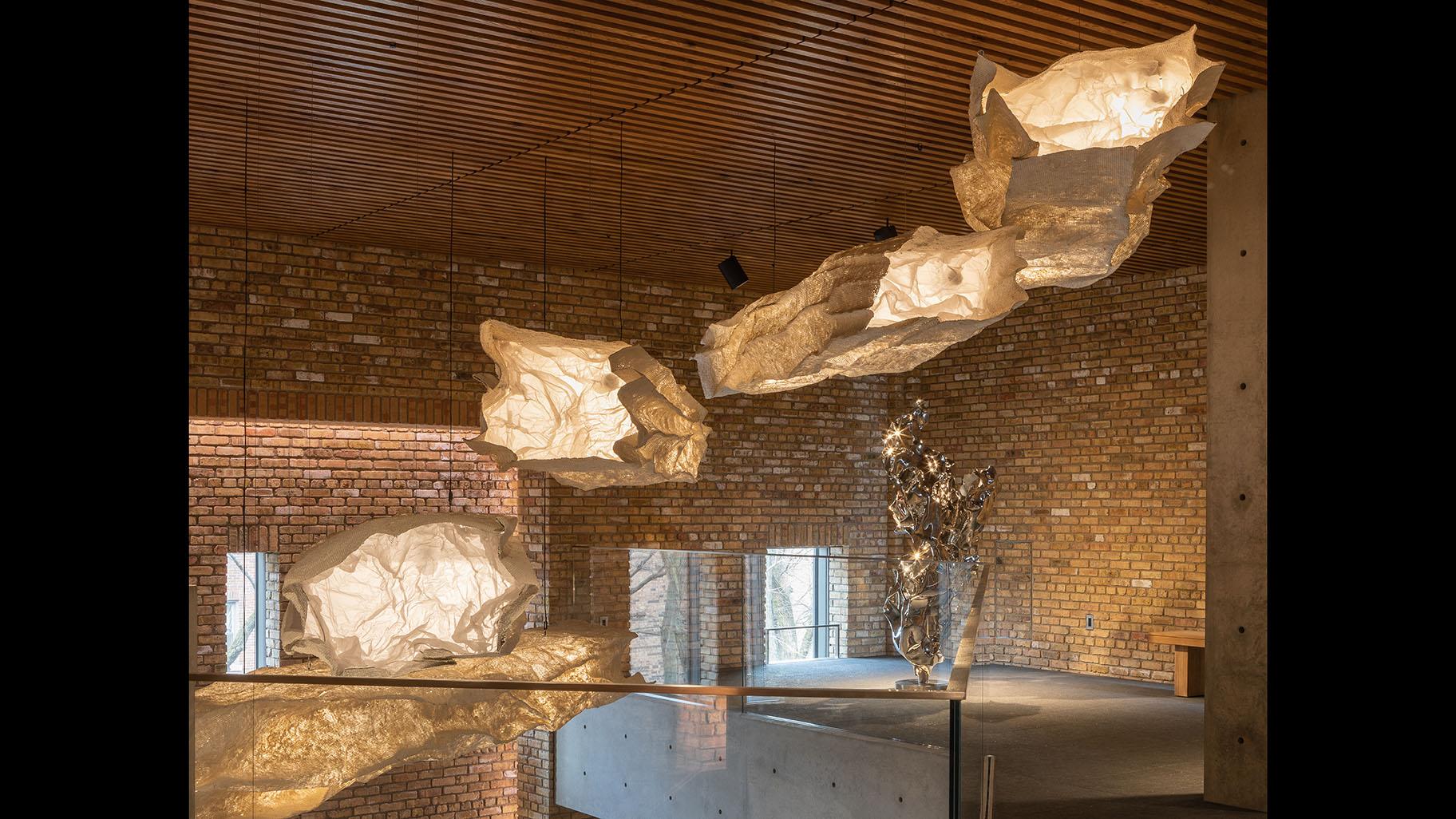 Installation view of "The Allure of Matter: Material Art from China" at Wrightwood 659, featuring works by Shi Hui and Zhan Wang.
Give us your definition of "material art."
In my formulation "material art" always entails artists' consistent use of unconventional materials to produce works, in which material, rather than image or style, is paramount in manifesting the artist's aesthetic judgement or social critique. Certain special materials, either intimate or generic, natural or artificial, are selected and "adopted" by artists and given agency to become their private means of making art over a significant period of time. These artists use these materials to make painting, sculpture, and installation, and to conduct performances. As a result, such material substances transcend these codified art genres to become a "super-agent" in their works.
---