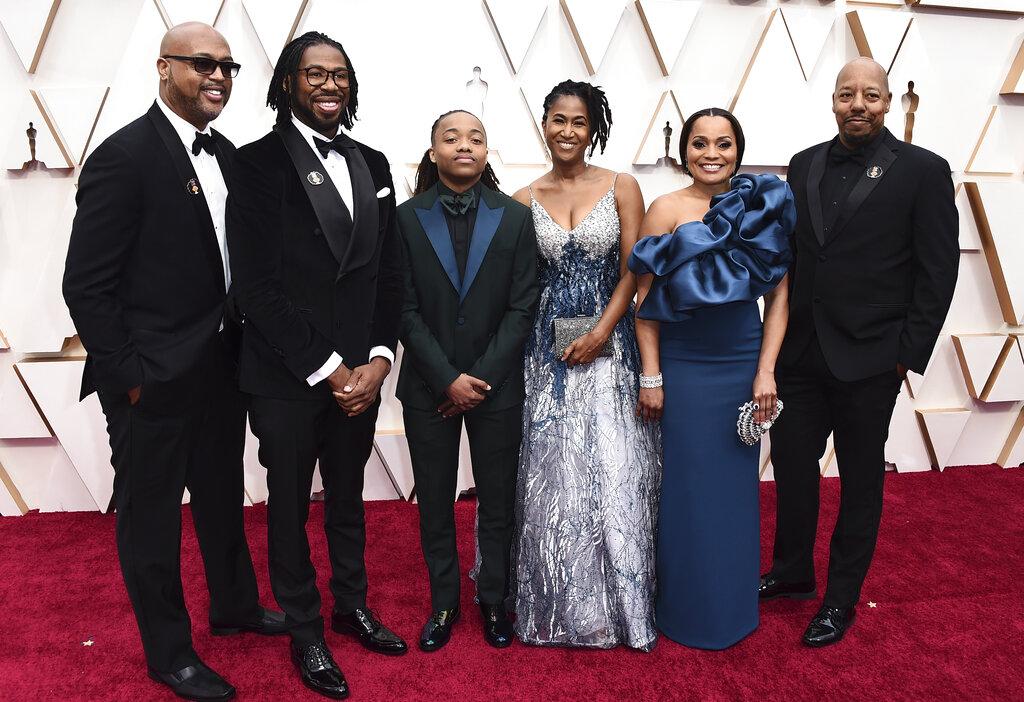 Matthew A. Cherry, from second left, Deandre Arnold, his mother Sandy Arnold, second right, and the cast and the crew of "Hair Love" arrive at the Oscars on Sunday, Feb. 9, 2020, at the Dolby Theatre in Los Angeles. (Photo by Jordan Strauss / Invision / AP)
Onetime NFL hopeful Matthew Cherry may never win a Super Bowl, but on Sunday night, the Chicago native, who made the pivot from sports to entertainment, basked instead in the global spotlight of the Academy Awards, picking up an Oscar for best animated short film.
Cherry and his co-producer Karen Rupert Toliver were honored for "Hair Love," a seven-minute film about an African American dad struggling to style his young daughter's hair. Cherry also wrote and directed the film.
"'Hair Love' was done because we wanted to see more representation in animation, we wanted to normalize black hair,'" Cherry said in his acceptance speech. He dedicated the award to the late NBA star Kobe Bryant, also an athlete-turned-Oscar winner, saying: "May we all have a second act as great as his was."
Cherry grew up in Chicago and was a football standout at Loyola Academy before moving on to play college ball at the University of Akron (Ohio), where he graduated as the school's all-time leading receiver. 
After retiring from football in 2007, Cherry headed to Hollywood. His producing credits include "BlacKkKlansman"; Cherry has also directed episodes of "Black-ish," "Whiskey Cavalier" and "The Red Line."
Following his win, a tweet resurfaced from 2012 in which Cherry predicted:
I'm gonna be nominated for an Oscar one day. Already claiming it

— Matthew A. Cherry (@MatthewACherry) June 2, 2012
---
Cherry's alma mater chimed in with congratulations.
Congratulations @MatthewACherry — @LAAlumniNetwork Class of 1999, @LAGoRamblers & @LAFootballAC Hall of Famer, and now @TheAcademy award winner! Cherry wrote and directed the animated short film #HairLove and took home his first #Oscar last night. #goramblers #JesuitEducated https://t.co/7oNeADTsED

— Loyola Academy (@LoyolaAcademy) February 10, 2020
Congratulations to Chicago native and @LoyolaAcademy graduate @MatthewACherry on his Oscar from @TheAcademy. Go Ramblers! @WGNNews #AcademyAwards #academyawards2020 pic.twitter.com/zApZc9UVB3

— Mike Lowe (@MikeLoweReports) February 10, 2020
---
Cherry turned to social media to post his complete acceptance speech, which was cut on the telecast due to time.
What would have been my full speech. #Oscars pic.twitter.com/qeL43gqK0k

— Matthew A. Cherry (@MatthewACherry) February 10, 2020
---