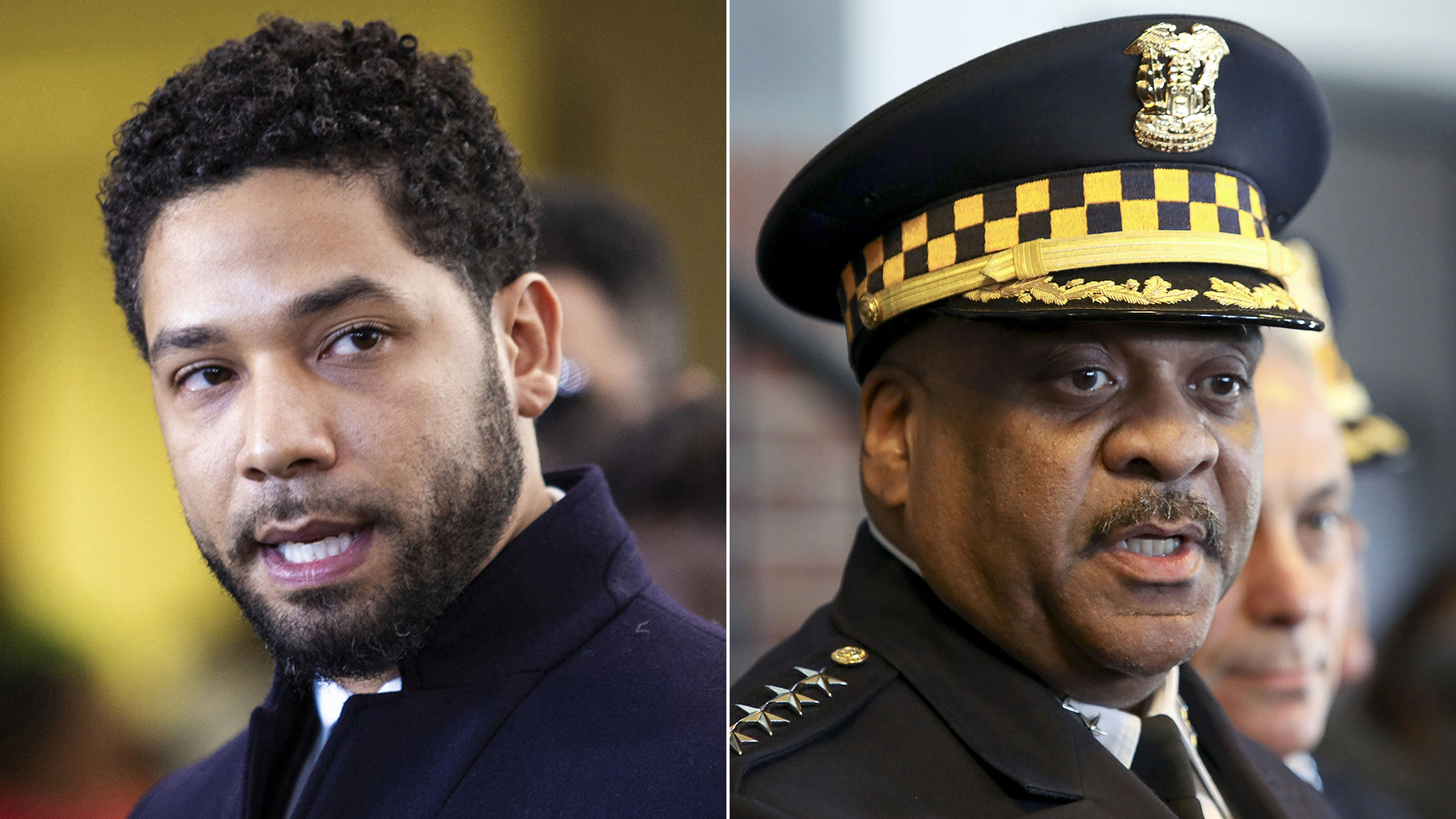 Jussie Smollett, left, and former Police Superintendent Eddie Johnson speak to the press, separately, on Tuesday, March 26, 2019, the day prosecutors dropped all charges against the "Empire" actor. (Credit: Ashlee Rezin / Chicago Sun-Times via AP; and Teresa Crawford / AP Photo)
As part of an ongoing countersuit against the city of Chicago, Jussie Smollett's legal team wants access to documents tied to an investigation into former top cop Eddie Johnson.
Johnson was fired as police superintendent after he allegedly "repeatedly lied" to Mayor Lori Lightfoot and the public about an October 2019 incident in which he was found asleep behind the wheel of his car.
Attorneys for Smollett earlier this month subpoenaed the Chicago Office of Inspector General (OIG), which is behind the investigation, requesting documents related to that incident, according to a legal filing made public Wednesday by city attorneys who are seeking to quash the subpoena.
Johnson initially blamed the incident on a medication mishap, but later acknowledged to Lightfoot that he'd had a couple of drinks with dinner earlier that evening. He had planned to retire at the end of 2019, but the mayor abruptly fired him on Dec. 2, saying he "engaged in a series of ethical lapses that are intolerable" and "misled the people of Chicago."
The mayor's statements were based on findings from Inspector General Joseph Ferguson, who is investigating the October incident. Ferguson's report has not yet been finalized or made public, but Smollett wants more details from the OIG relating to Johnson's conduct and truthfulness.
Specifically, Smollett's attorneys are seeking evidence related to:
• Johnson's conduct in connection with the October 2019 incident.
• Any untruthful or misleading statements Johnson may have made to the public, OIG or the city.
• The possible destruction or alteration of evidence related to Johnson's investigation either by Johnson or other Chicago Police Department employees.
• The costs incurred by the city related to the Johnson investigation, as well as what's been done to recover those costs.
They've also sought phone records, recordings, interview transcriptions and any other subpoenas related to the Johnson investigation. Attorneys for the city in a nine-page motion claim Smollett's subpoena was "improper," and should have instead taken the form of a discovery request.
The city last year filed a lawsuit against Smollett seeking to recoup $130,000 in overtime expenses it says were spent investigating his claims of a bigoted attack that police detectives later determined he orchestrated against himself.
Smollett has since filed a countersuit against the city and others, including Johnson and former Mayor Rahm Emanuel, claiming he was the victim of a malicious prosecution.
Johnson was one of the loudest critics of Smollett following the actor's arrest last February for filing a false police report, calling his alleged hoax attack a "slap in the face" to Chicago and demanding an apology from the "Empire" star.
"Why would anyone, especially an African-American man, use the symbolism of a noose to make false accusations?" Johnson said during a Feb. 21 press conference following Smollett's arrest. "How could someone look at the hatred and suffering associated with that symbol and see an opportunity to manipulate that symbol to further his own public profile?"
"This publicity stunt was a scar that Chicago didn't earn and certainly didn't deserve," Johnson added.
Smollett claimed he was attacked by two men who shouted racist and homophobic slurs as they beat him and wrapped a rope around his neck one year ago Wednesday. While felony disorderly conduct charges against him were dropped last March, the incident remains under investigation by a special prosecutor, who could re-open the case.
Timeline: Highlights from the Jussie Smollett case following his initial police report on Jan. 29, 2019.
---
Contact Matt Masterson: @ByMattMasterson | [email protected] | (773) 509-5431
---