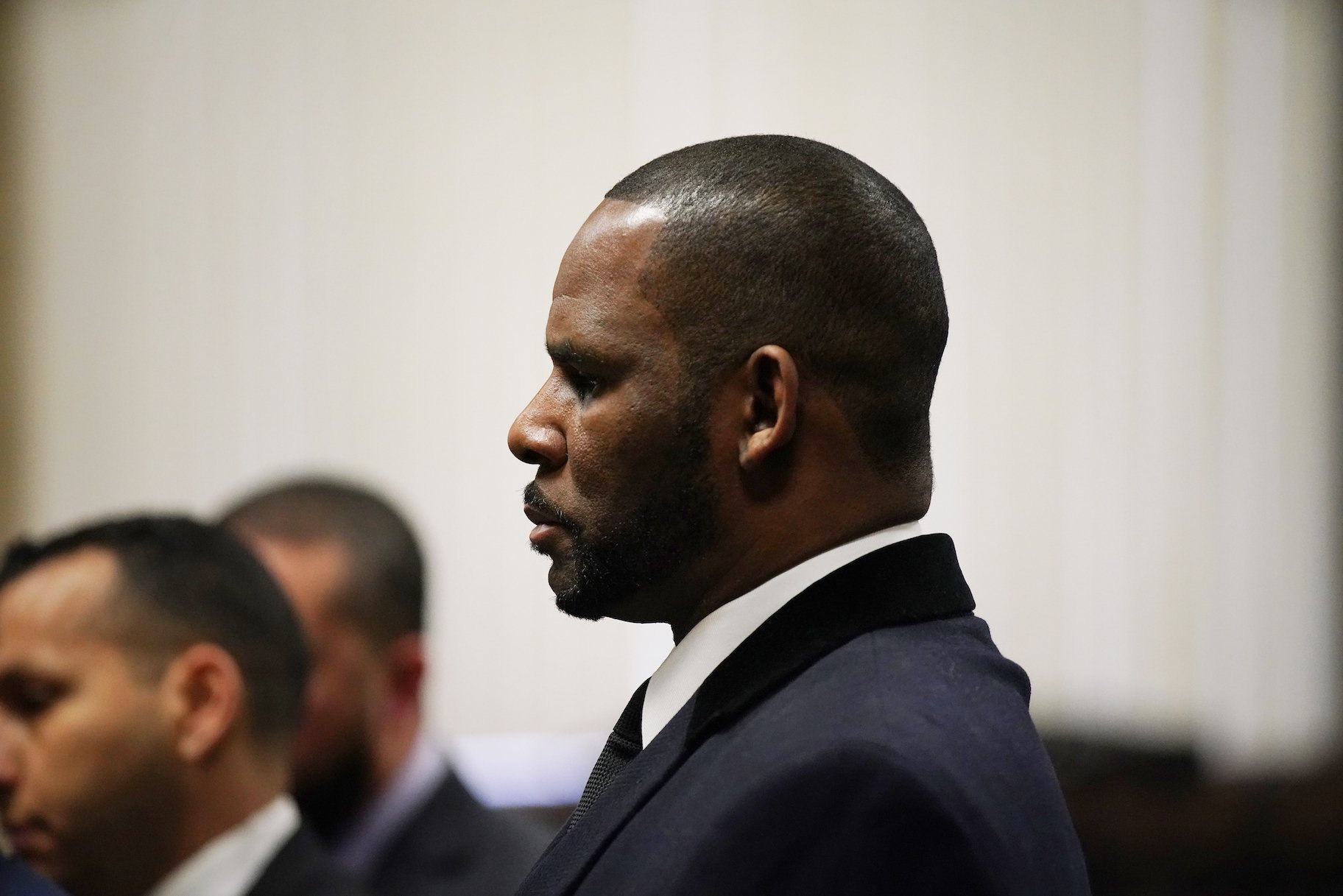 R. Kelly appears at a hearing Tuesday, May 7, 2019 before Judge Lawrence Flood at the Leighton Criminal Court Building in Chicago. (E. Jason Wambsgans / Chicago Tribune / Pool)
Nearly a year after R. Kelly was charged, Cook County prosecutors announced they will proceed to trial first with the case of the R&B singer's former hairdresser, who alleged Kelly attempted to force her to perform oral sex on him in 2003.
During a brief hearing Wednesday morning, Assistant State's Attorney Jennifer Gonzalez said her office will move ahead to trial with the case of "L.C.," one of four people the embattled superstar is accused of sexually assaulting within Cook County over the past two decades. Kelly faces the possibility of three trials across three separate jurisdictions, all scheduled this year.
"L.C.," who has since come forward as Lanita Carter, said she was 24 years old and working for Kelly when he allegedly tried to make her perform oral sex on him. When she refused, he spit on her and masturbated onto her, prosecutors alleged.
"If I could change that day, I wouldn't have been there," Carter told "CBS This Morning" in an interview last year.
CBS said Carter accepted a $650,000 settlement with Kelly less than a year after the alleged abuse that included a non-disclosure agreement, and she also accepted a $100,000 settlement after Kelly in 2009 released a song about having sex with a woman who braids hair.
Carter said she decided to contact authorities again with her allegations after the Lifetime documentary series "Surviving R. Kelly" aired last January. Before the alleged abuse, she said, she told others Kelly had been a "perfect gentleman" with her.
Defense attorney Steve Greenberg said he has seen some of Carter's interviews and noted the state's attorney's office previously declined to prosecute Carter's case when Kelly went to trial in 2008 and was acquitted on child pornography charges in Cook County. 
"It hasn't gotten any better," he told reporters following the hearing. "It's not like wine, it doesn't get better with age. We expect that we're gonna prevail on the case."
Kelly did not appear in court Wednesday due to what Greenberg said was a minor medical procedure.
Kelly was charged in the Cook County case last February with 10 counts of aggravated criminal sexual abuse against Carter and three other victims, who were each minors when the alleged crimes were committed.
The alleged abuse in the cases occurred between 1998 and 2010 and involved four separate people. Prosecutors alleged Kelly can be seen having sex with a 14-year-old girl on a videotape recorded in the late 1990s. Also involved in the cases: a 16-year-old girl Kelly met outside his child pornography trial and another teen he met while she was celebrating her 16th birthday.
In the months since his arrest, the singer has faced dozens of new criminal charges filed in state and federal courts throughout the country, including new counts of aggravated criminal sexual assault, criminal sexual assault and aggravated criminal sexual abuse filed in Cook County last May.
Kelly is currently scheduled for two federal trials this spring – one in Chicago, the other in New York – on charges of conspiracy to rig his 2008 trial and racketeering, respectively. He's also been charged with solicitation in Minnesota.
"We'll try and be ready for the trials," Greenberg said. "If we can be ready, we'll be ready, if we need more time then we'll cross that bridge when we get there."
The singer has pleaded not guilty in each case. He remains held without bond at the federal Metropolitan Correctional Center in downtown Chicago.
The Associated Press contributed to this report.
Contact Matt Masterson: @ByMattMasterson | (773) 509-5431 | [email protected]
---