Lily Tomlin plays an artist on the popular Netflix series "Grace and Frankie," but she isn't creating the art. It's actually made in Chicago.
Meet Nancy Rosen. She's the real creative force behind the works that appear on screen. Not only is Rosen an artist, she's also a collector. Rosen's studio in Rogers Park is home to hundreds, if not thousands of pieces she's created over the decades.
"I could fill up this whole block, no problem," Rosen said. "I could sell 500 paintings and you would not know that one is missing."
Rosen's studio has been her home away from home for over 20 years. Every corner of the space is filled with remnants of completed projects: the Jewish men of her community, a multi-panel piece with hues of oranges, reds and yellows inspired by a recent trip to India for her son's wedding. On the opposite wall sits a color panel with a swatch of every color from magenta to maroon, like the color section at a paint store.
While all of Rosen's pieces tell different stories, they're all inspired by what she sees around her.
"I draw you. Everything in here is from life," she said. "It starts from an actual person. I take great liberty with that, but I don't make it up. If I'm drawing you, I'm using the oil bars, they're in stick form. I'm using conte crayons and charcoal and graphite."
So when Rosen was tapped to create artwork for "Grace and Frankie," creating specific pieces was a challenge.
(WTTW News)
"With 'Grace and Frankie,' they call me up and they say … I see the phone number and I'm like, 'OK, here we go, click, click. I know this painting is going to be needed in like three-four days.' And they say to me, 'OK, so, we need a pig.' And I just say yes, I'm like 'OK.' I've never painted a pig in my life, I've never thought about a pig. So then I Google 'pigs.' Then what I do over here is I paint several pigs, 'cause they don't know what they want, really, and I don't know," she said. "So we meet. I start drawing the pigs, send pictures and we figure out what the pigs going to be. So I clean off my wall, put up a bunch of paper and have at it."
Rosen's work can be seen most prominently in Season 3, Episode 1 when Frankie has her art show; Rosen was also an extra.
"I was an extra in my own show with 50 other people and we were all paid to look at my art and it was just so funny and weird," she said. "Lily gave me the compliment of my life. We had been working on this for a few months, and Lily walks in and walks around and looks and goes, 'I'm good'. I'm like, 'Yes!'"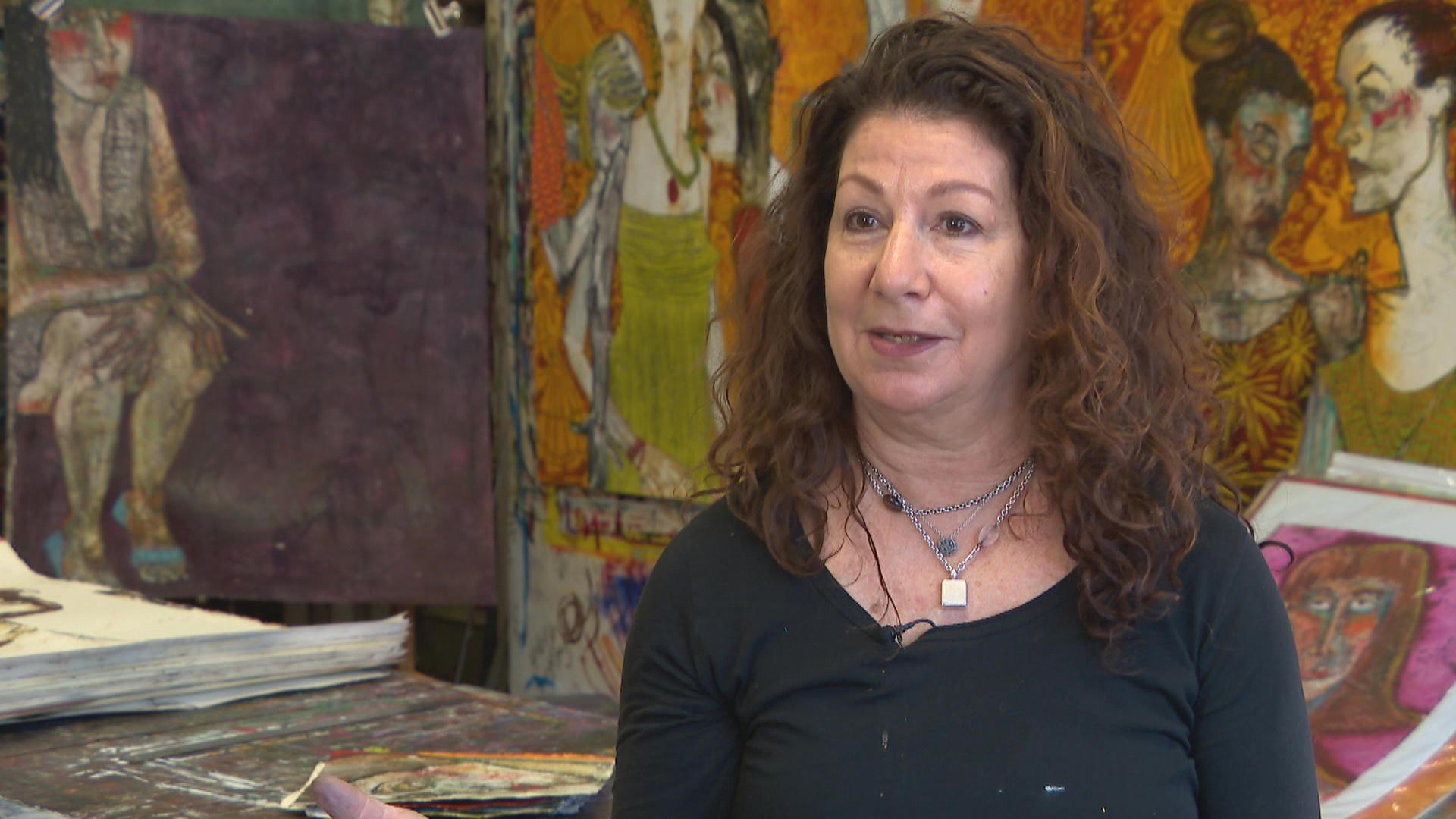 Nancy Rosen (WTTW News)
Rosen says creating work for the show has changed her as an artist, but it has changed her.
"Now if people like Frankie's art, they can find me," Rosen said. "I've talked to people from all over the world and young kids call me. This young woman, 14 years old, calls me up. To inspire young people is my biggest thrill. And people who say, 'I haven't painted in 30 years and now I'm painting again' because they're inspired by the artwork. Which is a thrill, which I never would've been able to touch without this. My piles would just be a little bigger. That's been life-altering."
---
Note: This story was first published Jan. 14, 2020.
Follow Angel Idowu on Twitter: @angelidowu3
Angel Idowu is the JCS Fund of the DuPage Foundation Arts Correspondent.
---