A Boeing 737 jet that crashed minutes after takeoff from Tehran early Wednesday may have been accidentally shot down by Iran.
Intelligences sources in Canada, the U.S. and Britain reportedly believe the crash, which killed all 176 people on board – including 63 Canadians – was downed by an Iranian missile amid heightened tensions with the U.S.
Iranian aviation authorities have disputed that claim.
The crash came just hours after Iran launched a missile attack on Iraqi military bases housing U.S. forces in retaliation for the assassination of Iranian Gen. Qassem Soleimani, who was killed last week in a U.S drone strike.
"We have intelligence from multiple sources, including our allies and our own intelligence. The evidence indicates that the plane was shot down by an Iranian surface-to-air missile. This may well have been unintentional," Canadian Prime Minister Justin Trudeau said Thursday at a news conference.
This latest crash comes as Boeing tries to get back on its feet following two crashes of its 737 Max jetliner and the subsequent grounding of the plane amid fears that faulty software may have played a major role in both crashes.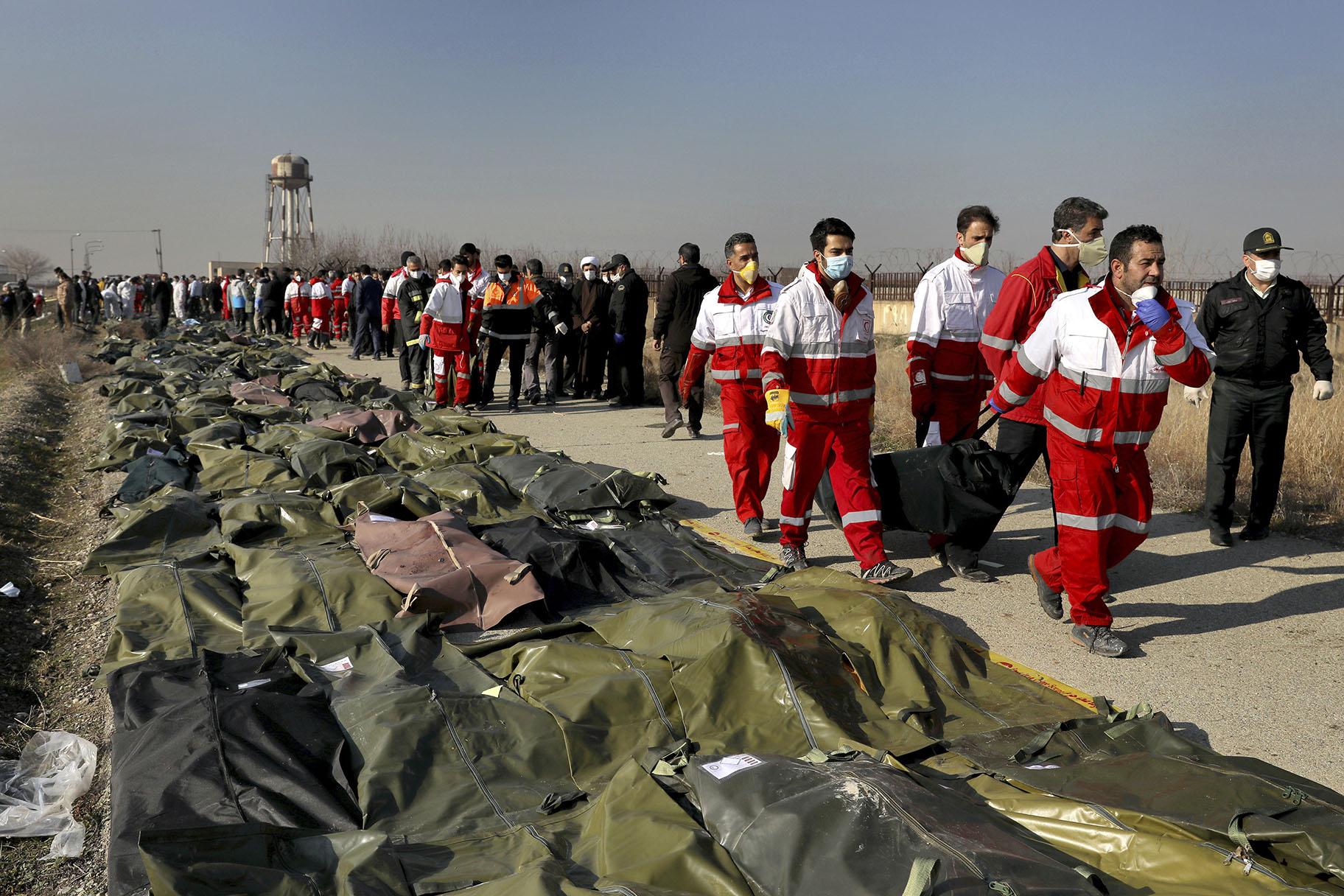 Rescue workers carry the body of a victim of a Ukrainian plane crash in Shahedshahr, southwest of the capital Tehran, Iran, Wednesday, Jan. 8, 2020. (AP Photo / Ebrahim Noroozi)
Iranian investigators have reportedly recovered both the flight data and cockpit voice recorders but are apparently reluctant to allow Chicago-based Boeing to be part of the crash investigation, given the poor state of relations between the U.S. and Iran.
"The big doubt right now is who is going to participate in that investigation," said Tracy Rucinski, U.S. aviation correspondent for Reuters. "Given the political tensions we don't know yet how that is going to play out."
The crash could not have come at a worse time for Boeing as the cost of the 737 Max grounding weighs heavily on the company's balance sheet. The jetliner is the company's most popular aircraft – Boeing has orders on the books for more than 5,000 planes.
"It is the company's biggest cash cow," said Rucinski. "And as deliveries remain halted (Boeing's) not receiving any cash."
Already the grounding has cost the company billions of dollars.
"Boeing announced last year an $8 billion charge that was largely due to slowing down their production line," said Rucinski.
But since then, Boeing has suspended production in a move that impacts hundreds of suppliers and subcontractors.
"Given the way this is playing out I wouldn't be surprised if they announced an additional (charge). And then of course they have to compensate all of their airline customers who were relying on the aircraft for their growth plans and to service the routes they have now," said Rucinski. "The longer the planes are grounded the more they will have to compensate airlines. And then of course there is the victim compensation as well."
Regulators continue to investigate what caused the Lion Air and Ethiopian Airlines 737 Max aircraft to crash in 2018 and 2019, respectively – including the role of software that repeatedly forced the nose of the aircraft down.
And after criticism of both Boeing and the Federal Aviation Authority for what some have said was a too-cozy working relationship, neither can afford any more mistakes.
"I think that is part of the reason that this process is taking so long," said Rucinski. "They need to be absolutely sure. There is zero margin for error. If there is anything else that happens with this plane and if there were another fatal crash it would be catastrophic for Boeing and for the U.S. economy."
And even when the 737 Max is cleared to fly again, Boeing and its customer airlines need to convince would-be passengers and aircrew that the plane is safe.
"Boeing's reputation has taken a big hit and airlines are working with Boeing to convince passengers that the aircraft is safe," said Rucinski. "Southwest, American and United airlines have all said that if anybody feels uncomfortable getting on the Max they will rebook them. As of now, Southwest and American are scheduling Max flights in April and United in June. And if you go to book a flight you can see if it is a Max or not and they haven't so far seen a large number of customers trying to stay away from it. But of course nobody knows what will happen when the planes do actually start to fly again."
---