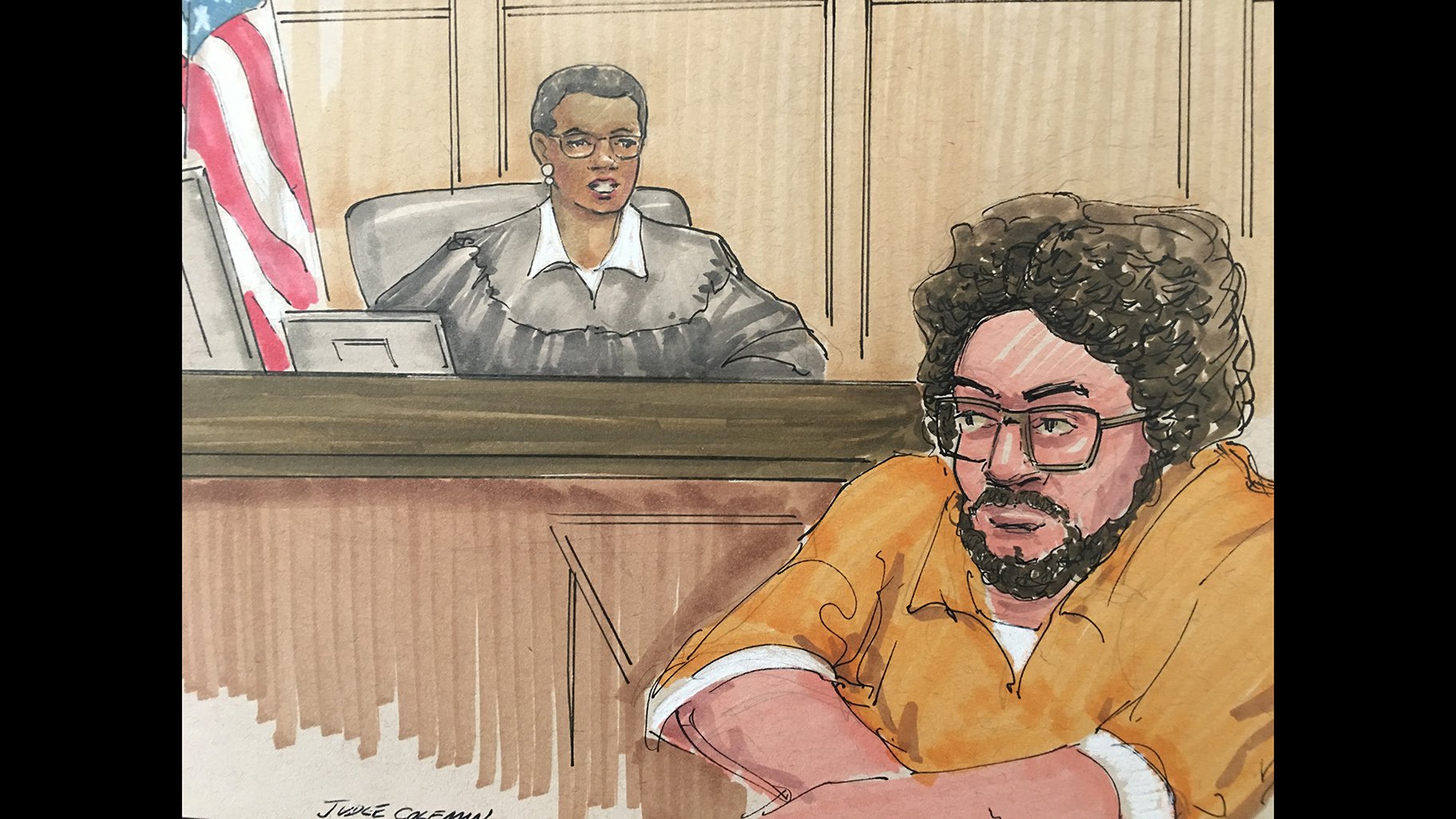 Adel Daoud, 25, appears before Judge Sharon Johnson Coleman on Monday, May 6, 2019 in Chicago. (Courtroom sketch by Thomas Gianni)
When U.S. District Court Judge Sharon Johnson Coleman last year sentenced Adel Daoud to 16 years in prison for attempting to detonate what he thought was a bomb outside a bar in downtown Chicago, she cited mental health issues and a belief Daoud was simply trying to impress an undercover FBI agent who was posing as a terrorist.
"He continued to do what teenage boys do ... talk big," she said.
But federal prosecutors this week claimed that sentence is "substantively unreasonable" and failed to account for Daoud's "commitment to violence … and the risk that commitment posed." They're now asking the 7th Circuit Court of Appeals to toss out the sentence and send the case back to Coleman for a redo.
"Plotting to kill hundreds of innocent people is not 'what teenage boys do,'" Assistant U.S. Attorney Georgia Alexakis wrote in a 66-page brief filed Wednesday. "People of any age can appreciate the seriousness of a plan to detonate a 1,000-pound bomb capable of killing hundreds, and the criminal justice system cannot countenance otherwise."
The sentence – which, with time served, could mean the now 26-year-old would be free in about six years – includes prison time for attempting to have an FBI agent killed and for slashing a fellow inmate with a shiv for taunting him with a drawing of the Prophet Muhammad.
Prosecutors last year signaled their intent to appeal Daoud's sentence, which they said "fell well below the lowest sentence imposed in comparable cases." They also criticized Coleman's finding that Daoud's "improved mental health" undermined his "future dangerousness."
"This conclusion was not supported by the facts, including the court's own findings," Alexakis wrote. "Specifically, the court found that defendant was not mentally ill in 2012, when he committed two of his three offenses."
A hidden camera captured a gleeful Daoud, then 18, driving with an agent posing as a terrorist to the Cactus Bar on Sept. 14, 2012. He cups his hands in over his face, praying that God ensure the attack made worldwide news and that it strike fear into nonbelievers. He prays this would be the first of many attacks, the video showed.
He was arrested after parking a Jeep outside the downtown bar that Friday night, walking to an alley a block away and pushing a button he believed would set off a 1,000-pound bomb inside the vehicle. Daoud pushed the button a second time when it didn't go off.
Agents supplied the fake device, which was made to smell like diesel fuel and had wiring contacted to bags of fertilizer to convince Daoud it was real. He was told it would destroy much of the block and kill hundreds of people out on the town.
He was charged in September 2012 with attempting to use a weapon of mass destruction. While in custody two months later, Daoud offered his cellmate $20,000 to facilitate the murder of the undercover FBI agent to prevent him from testifying, according to prosecutors. The cellmate instead went to the feds and agreed to record their subsequent conversations, and Daoud was charged with soliciting a crime of violence.
Daoud entered an Alford plea in November 2018, saying at the time that he accepted the "factual basis" of the charges against him but denied culpability and maintained his innocence.
Prosecutors claim the "vast majority" of Daoud's plans for a terrorist attack – which also included driving a truck into a crowd, bombing a concert or carrying out a mass shooting inside a theater – were "serious, plausible and life-threatening."
And although the FBI provided the "tools" for the fake bomb, the ideas and planning came from Daoud, prosecutors say.
"It was defendant who proposed Cactus as the site of an attack, identifying the location by name and address and outlining its advantages as a target," Alexakis wrote. "It was defendant who drove the Jeep containing an inert bomb that he believed would cause massive death and destruction. It was defendant who pressed what he believed was the bomb's detonation button."
Prosecutors had originally recommended Daoud be sentenced to 40 years in prison. He is currently serving his sentence at a high security federal penitentiary in Kentucky with a scheduled release date in May 2026.
The Associated Press contributed to this report.
Contact Matt Masterson: @ByMattMasterson | [email protected] | (773) 509-5431
---