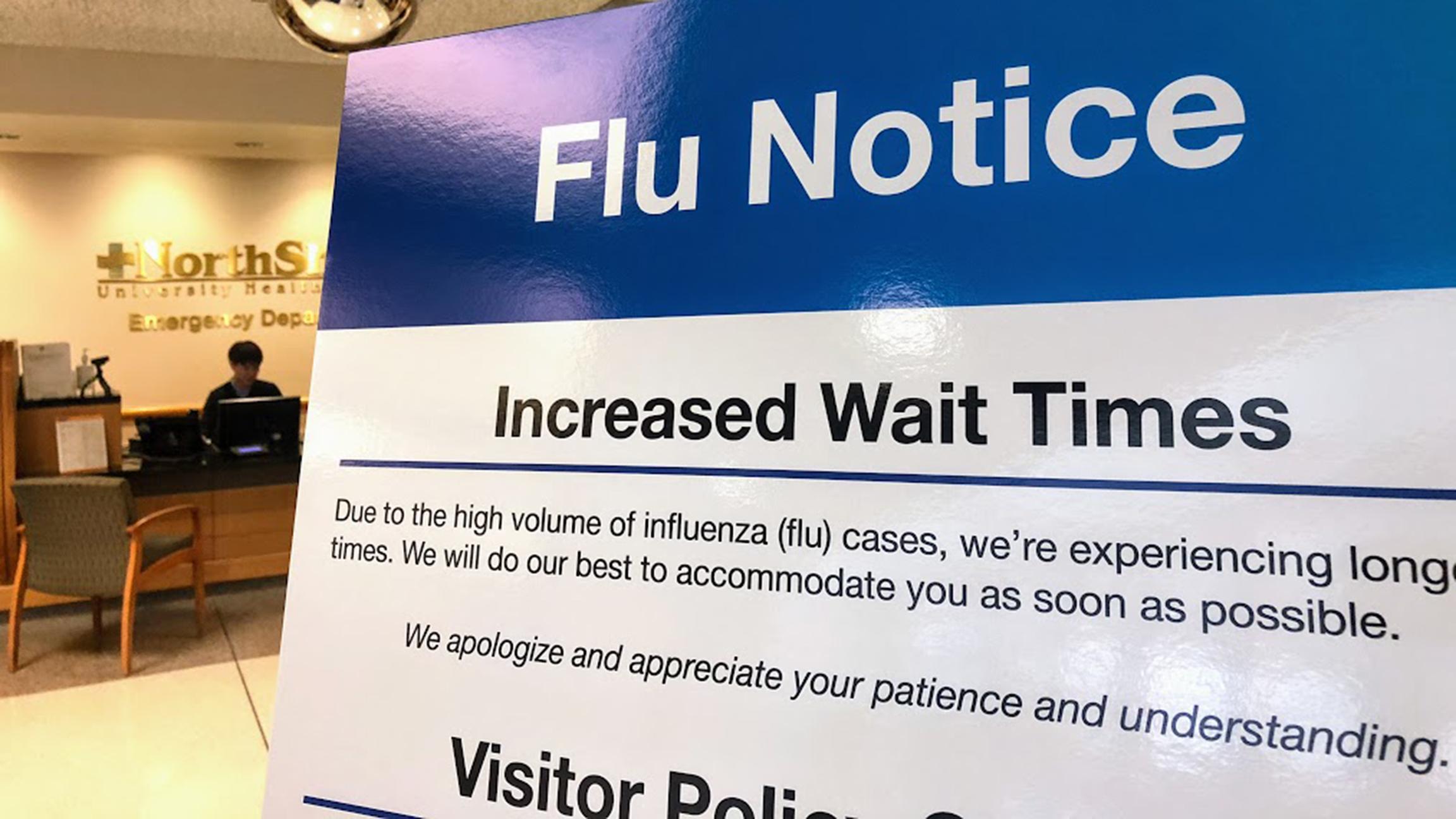 An early flu season in 2018 led to an increased volume of patients at many Chicago-area hospitals. (Brandis Friedman / WTTW News)
A Chicago child is one of 2,900 people across the U.S. who have died from the flu so far this season, and the first pediatric death in Illinois, according to the Centers for Disease Control and Prevention.
According to the Chicago Department of Public Health, the child died sometime last week, but officials declined to provide additional details in order to protect the family's privacy. This year's flu has resulted in more pediatric deaths – there have been 27 so far – earlier in the season compared to previous years. Children continue to have a high risk of developing serious flu-related complications, according to CDPH.
Health officials say flu activity is at its peak. Nationally, there have been 6.4 million flu illnesses, of which 55,000 required hospitalizations, according to the CDC. 
Last flu season, there were 35.5 million flu illnesses nationally, of which 490,600 required hospitalizations, according to the CDC. More than 34,000 people died in the U.S. that year from the flu, including at least 17 Chicagoans, according to CDPH. Pediatric deaths numbered 480 nationally, with at least one fatality of a child in Chicago, officials said.
"The single best way to protect yourself and your family against the flu is to get vaccinated," said CDPH acting Commissioner Dr. Allison Arwady in a statement. "People should know that it is not too late to get the flu vaccine; it is safe, effective, and universally available."
Officials recommend that everyone over the age of 6 months get a flu shot, which protects against several strains of the illness and can lessen the severity of the flu should you get sick. Getting vaccinated also helps protect others who can't get vaccinated, such as infants younger than 6 months and people with weakened immune systems.
To reduce the risk of spreading viruses like the flu, officials advise regularly washing your hands with soap and water (or using an alcohol-based antibacterial hand sanitizer), avoiding touching your eyes, nose or mouth, and covering your nose and mouth with a tissue when you cough or sneeze. They also advise avoiding close contact with people who are sick, and cleaning and disinfecting surfaces and objects that may be contaminated with germs.
If you become sick, don't leave the house – except to seek medical care or obtain other necessities – until your fever has been gone at least 24 hours, according officials.
This story has been updated to include figures from last year's flu season.
Contact Kristen Thometz: @kristenthometz | (773) 509-5452 |  [email protected]
---