These days, we know that eating foods high in saturated fats, salt and cholesterol is unhealthy, and that it can increase our chances of having a heart attack or stroke.
But that wasn't always the accepted wisdom. The doctor whose research lead to many of those discoveries celebrated his 100th birthday on Oct. 27. And he is still conducting research.
Dr. Jeremiah Stamler is considered the father of preventive cardiology. He's been a professor at Northwestern Medicine since 1959.
"The current policy of the American Heart Association talks about achieving healthy lifestyle across the board," said Dr. Philip Greenland, a longtime colleague of Stamler's. "Healthy exercise, healthy weight, healthy diet, nonsmoking and prevention of diabetes." And all of those recommendations, says Greenland, stem from Stamler's research.
"If they gave a Nobel Prize for epidemiology, he would get the Nobel Prize in epidemiology," Greenland said.
But as recently as 1969, there was still debate about the importance of diet in preventing heart disease, and Stamler argued from his own research that diet played a critical role.
Stamler says that when he started his research, heart disease was considered a normal part of aging. He didn't buy it.
"There were people who were young that got this long before 'normal aging' and there were people who were old and didn't get it. So it just didn't make sense to attribute it to normal aging," he said.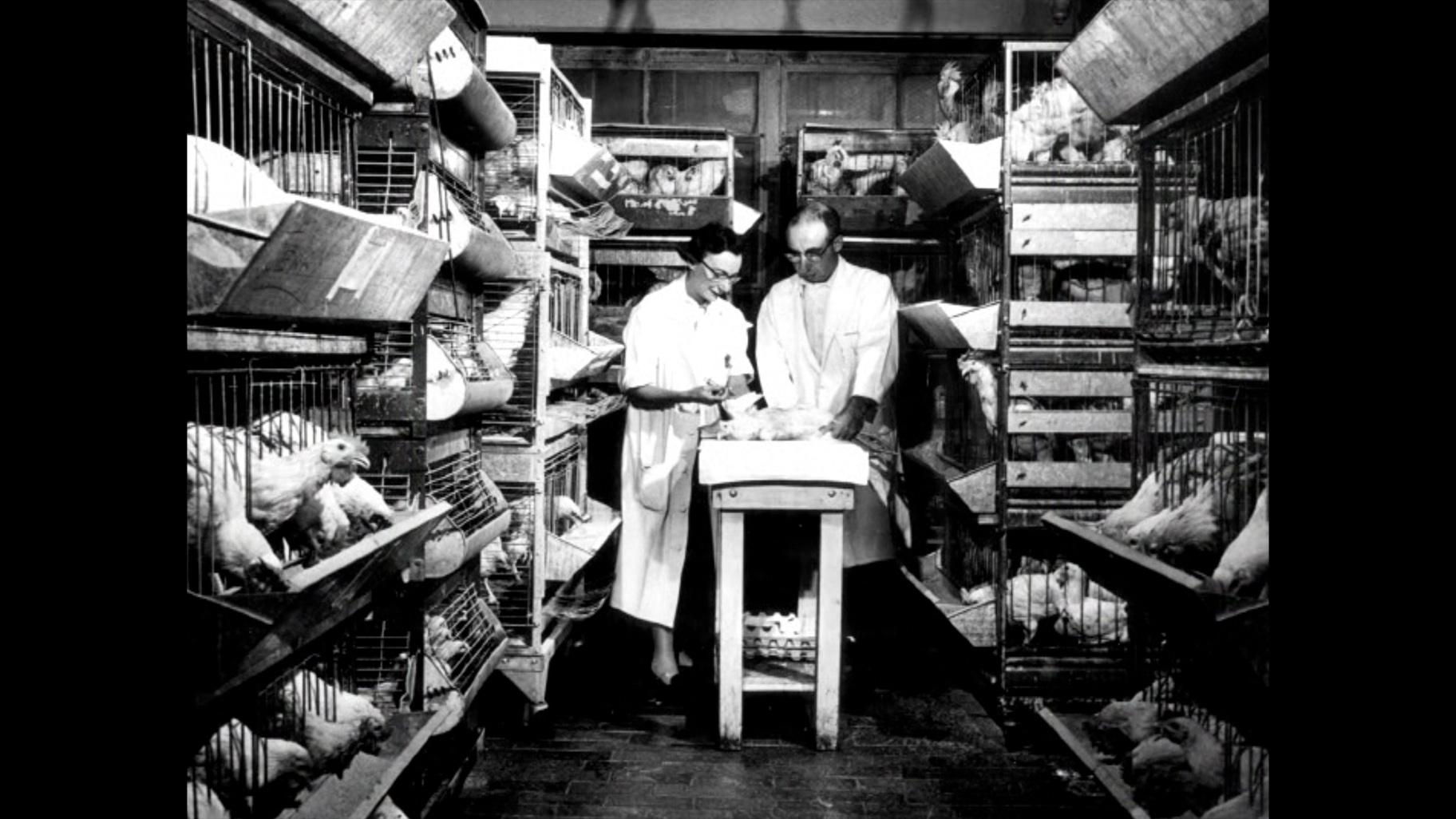 Dr. Jeremiah Stamler's early studies used chickens. (Courtesy Northwestern University)
Stamler came to Chicago in 1947 for a research job at Michael Reese Hospital. His early animal studies pointed to the role of diet. "If you put chickens on a high-fat, high-cholesterol diet, they get blockages in their arteries just like humans do," said Greenland.
It's tempting to attribute Stamler's longevity to the fact that he has followed his own diet and exercise advice for years. But he's not willing to make that leap. 
"What we would say as scientists is that that's a good working hypothesis. Except it's not testable," he said with a smile.
At Northwestern, one of Stamler's longtime research collaborators was his wife, Rose. She died in 1998.
Then he married a childhood friend, Gloria Beckerman, who, at age 96, is still by his side.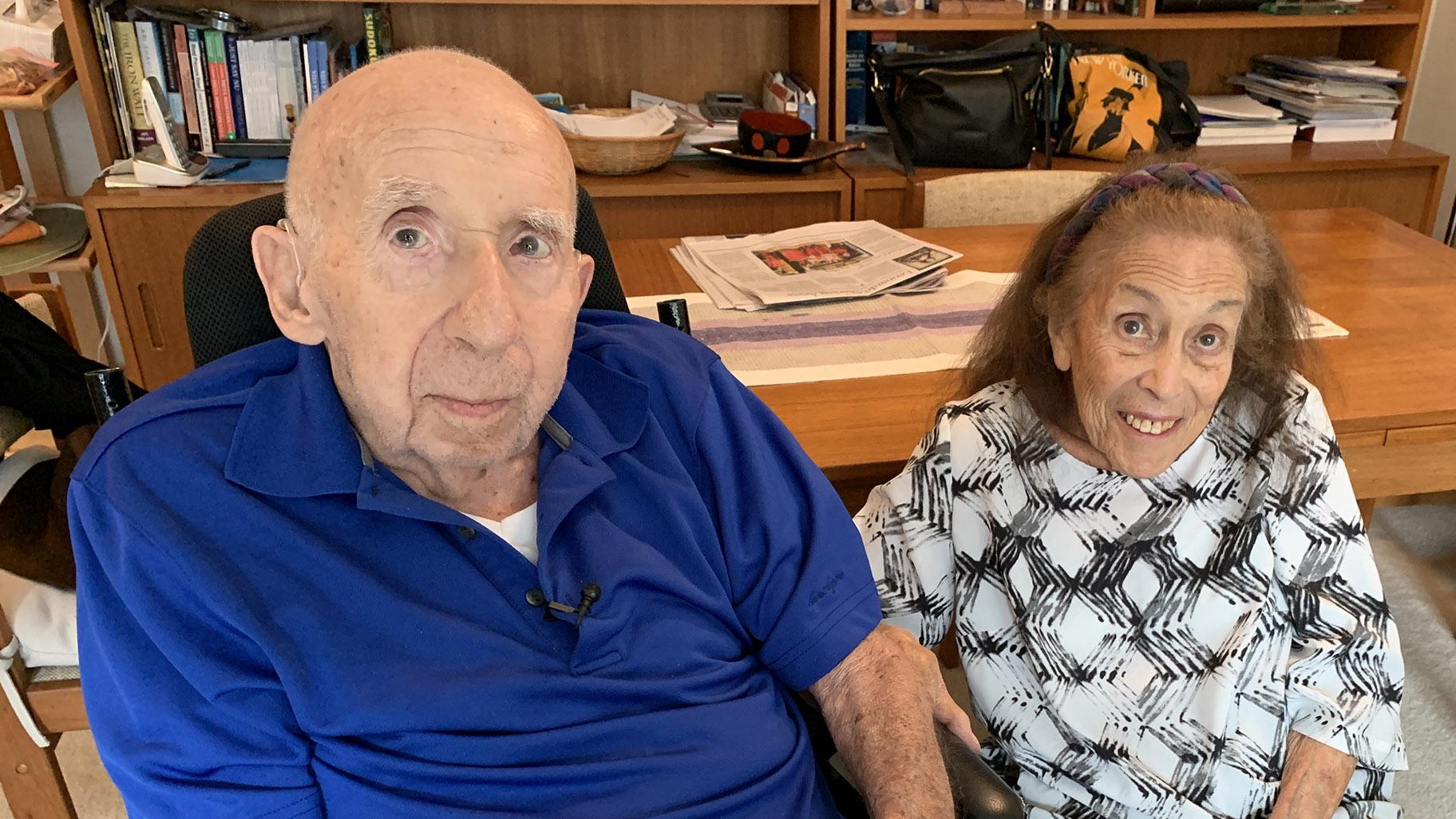 Dr. Jeremiah Stamler and Gloria Stamler. (Jay Shefsky / WTTW News)
Stamler was also influential in another area: politics. In 1965, he was called to testify before the House Un-American Activities Committee, which went after Americans suspected of communist ties. Stamler refused. Then he filed a lawsuit, seeking to have the committee's mandate declared unconstitutional. That legal fight, which lasted 10 years, is widely credited with spurring Congress to disband the controversial committee.
At 100, Stamler is still actively supervising research, these days into the factors that lead to high blood pressure.
"I haven't retired because I enjoy what I'm doing and have fun," he said. "It's productive, it's worthwhile for other people. It keeps me intellectually reasonably intact and so at age 100 retirement is still ahead of me."
Note: This story was first published on Nov. 14, 2019. It has been updated.
---
Related stories:
At 102, This Longtime Chicago Pianist Has Still Got the Chops
As We Live Longer, Can We Also Live Well?
'Nice Ink, Granny!': Local Senior Brings Color to Chicago
---