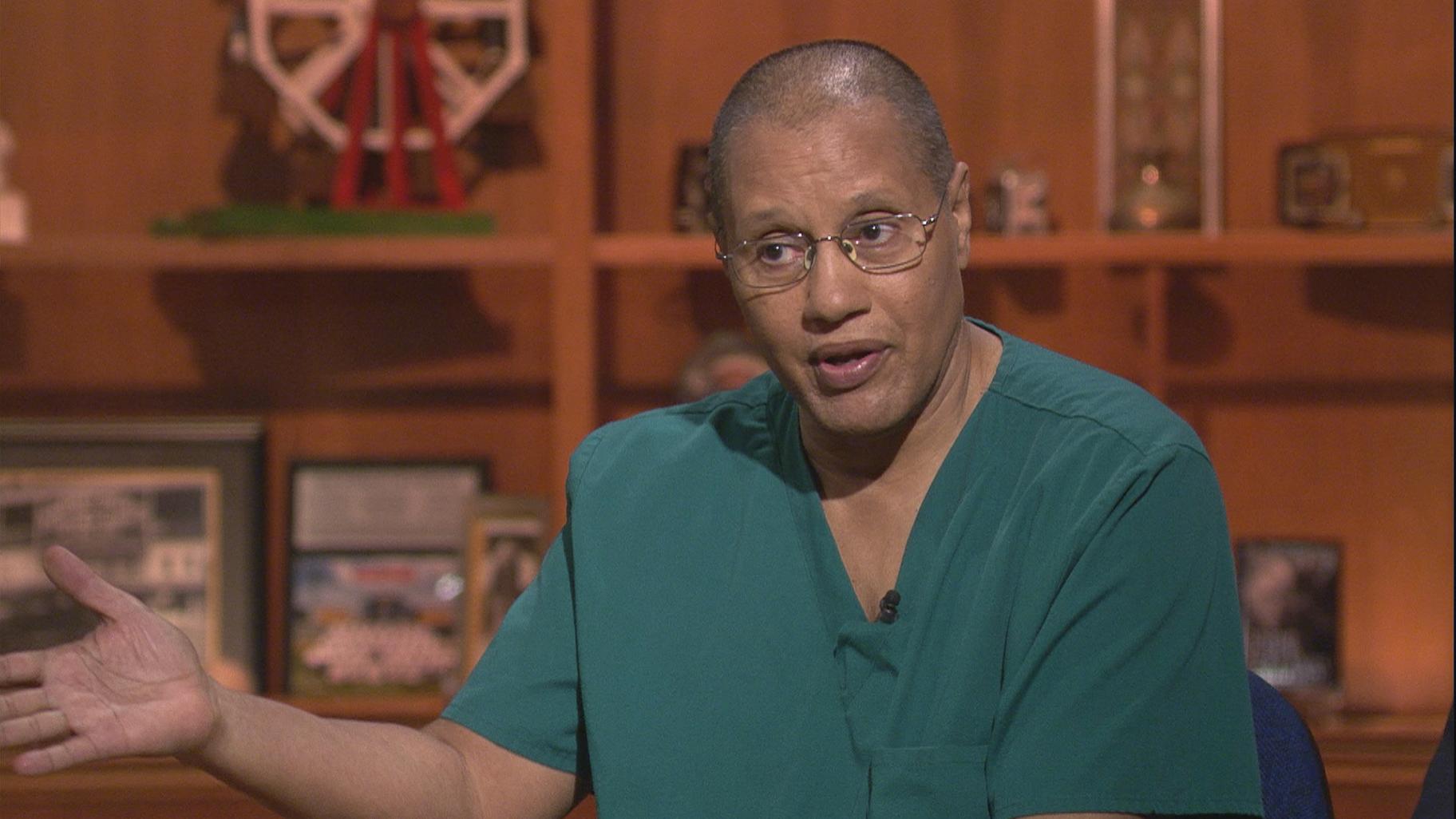 Dr. Carl Bell appears on "Chicago Tonight" on July 17, 2019.
WTTW News has confirmed that psychiatrist Dr. Carl Bell, a national leader in treating childhood trauma resulting from violence, died Thursday evening. He was 71 years old. The cause of death has not yet been determined.
A researcher with the National Institute of Mental Health and the author of more than 400 books, chapters and scientific publications, Bell spent his career addressing issues of childhood exposure to violence. He worked on violence prevention programs as well as HIV prevention.  
Tyra Taylor-Bell, Bell's ex-wife, said he had a deep passion to help people.
"He was dedicated," Taylor-Bell told WTTW News. "He was successful in what he set out to do.
"He was well-respected and was loved," she said. "He will be sorely missed."
Bell grew up on Chicago's South Side and graduated from Hyde Park High School in 1965. He went on to attend the University of Illinois at Chicago, where he received his bachelor's degree, and the Meharry Medical College in Nashville, Tennessee, where he was awarded his doctoral degree in psychiatry. He was also a veteran of the U.S. Navy.
Bell worked as a psychiatrist at several institutions but most recently served as a consultation liaison psychiatrist at Jackson Park Hospital. He was also professor emeritus of psychiatry at the University of Illinois at Chicago.
"I saw my first child who witnessed her mother getting stabbed to death in 1976," Bell told WTTW News last month. "And so I was horrified and wondering and went to the literature to figure out what I should do with this child and there was nothing there."
That experience led Bell to conduct a study in the 1980s that included 536 children from second to eighth grade on Chicago's South Side. He learned that one-third of the children had witnessed a shooting or stabbing, and a good portion of those children had seen a homicide.
"Of course in an interpersonal altercation like that, children are going to be present and they're going to see this stuff," Bell said. "Everybody needs protective factors: they need social fabric, connectedness, self-esteem, activities, social and emotional skills, adult protective shields and they need to figure out how to minimize trauma when they're exposed to it."
Bell appeared on "Chicago Tonight" last month to discuss a new analysis of Chicago homicide data by the Erikson Institute, which underscored the effect violent crime can have on young children.
When asked why he's remained optimistic on the topic, he told Carol Marin: "Because I've seen progress. It's like you're on a 100-mile football field, but as long as you keep getting first down, sooner or later you're going to win."
Bell passed away at his home with his ex-wife and son, William, at his side, Taylor-Bell said.
Bell also leaves behind daughters Briatta Bell and Cristin Carole.
Taylor-Bell said the family is planning a memorial service.
Evan Garcia contributed to this report.
Note: An earlier version of this story incorrectly identified the number of books Bell wrote.
---
Related stories:
How Exposure to Violence Impacts Young Children in Chicago
Police: Chicago Shootings Hit 4-Year Low Through First Half of 2019
Mayor Lori Lightfoot on Violence, a Chicago Casino and Ald. Ed Burke
Mayor Lightfoot Tries to Chart a New Course on Public Safety
---