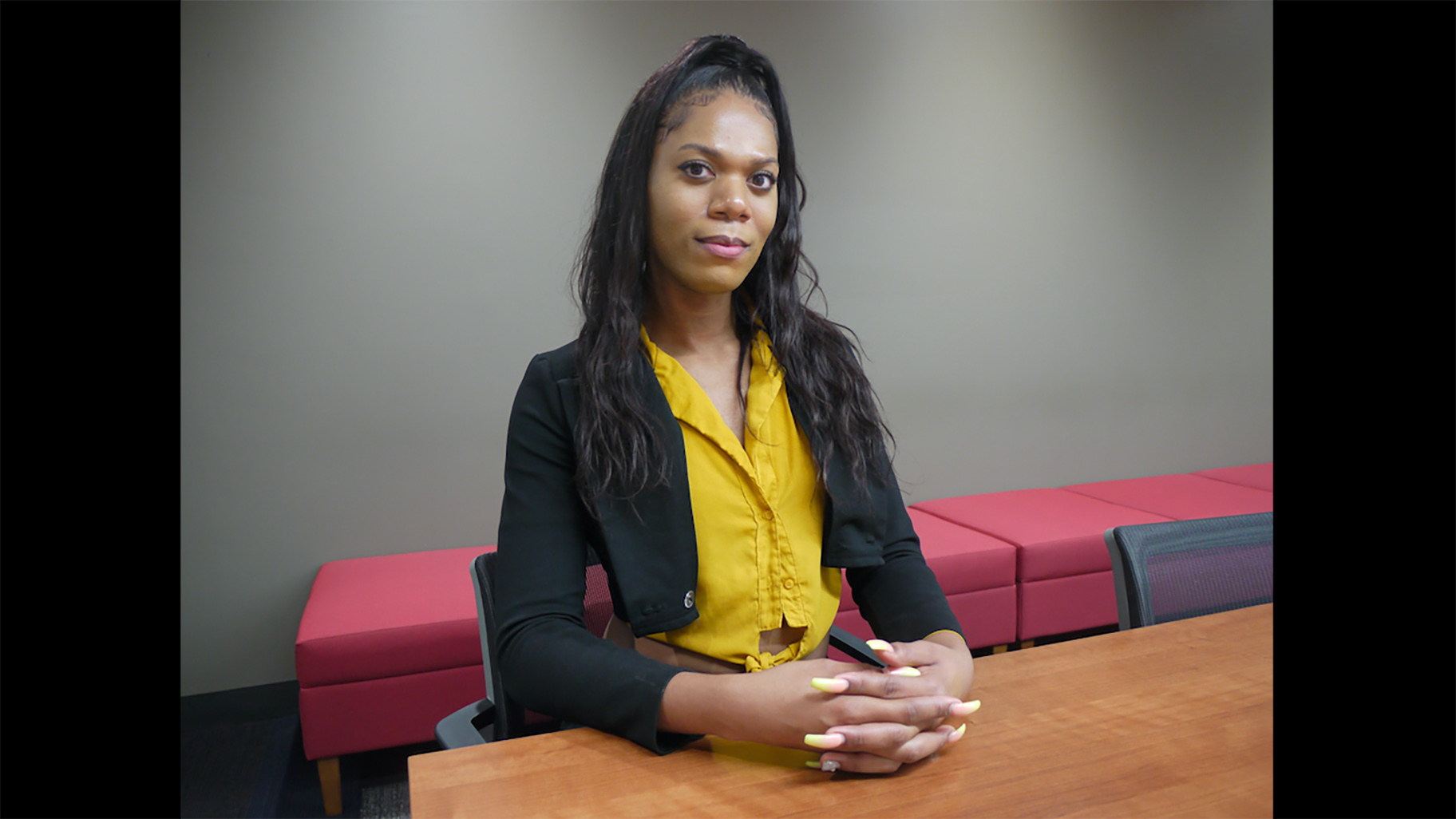 Judi Brown (ACLU of Illinois)
A black, transgender cashier who worked at a Circle K in Bolingbrook claims she was fired after complaining about ongoing harassment from her colleagues and superiors during her yearlong employment at the convenience store.
Judi Brown filed a federal lawsuit this week in conjunction with the ACLU of Illinois, claiming she was discriminated and retaliated against by her employer because of both her race and gender identity.
In a 20-page civil complaint, she claims her colleagues referred to her as a "man in a dress" and a "stupid f***ing n****r." After reporting the harassment, Brown claims she was retaliated against and ultimately fired.
"I was terminated because I am an African-American transgender woman and because I refused to stay quiet about the discrimination I was going through," Brown said in a statement. "The discrimination and harassment were traumatizing and needed to be called out. It was not fair."
Brown was hired to work as a cashier at the Bolingbrook Circle K in May 2016. She claims the harassment began almost immediately as a store manager would pepper her with "invasive" questions about her reproductive organs, romantic relationships and sexual orientation, sometimes doing so in front of customers.
After complaining, Brown was regularly scheduled to work long shifts by herself during peak hours that usually required multiple employees, the complaint states.
BREAKING: @ACLUofIL just sued Circle K for workplace discrimination.

Judi Brown, a Black trans woman, was subjected to harassment and abuse by her coworkers at Circle K.

Not only did Circle K not intervene — they retaliated against Judi for complaining.

— ACLU (@ACLU) August 22, 2019
---
In early 2017, Brown claims she was denied a promotion to assistant manager after complaining about a racist remark made to her by a Circle K market manager. That position was instead given to a white man who had just started working at the store, according to the complaint.
Around this time, Brown said she learned from her superiors that Circle K "wanted to get rid of her" because of her discrimination complaints.
The harassment continued and escalated, the complaint states, in February 2017 when a new employee began repeatedly referring to Brown as a man and calling her derogatory racist names.
Despite reporting these and other incidents to her store manager and company management, the harassment was allowed to continue, according to the complaint.
Brown typically worked Monday to Friday shifts, but in June 2017 she was scheduled to work Saturday and Sunday shifts which overlapped with her planned performances at the Pride Parade in Chicago. She claimed she notified her manager that she would not be coming in on those days, and was promptly fired the following week.
"I was in absolute shock after being fired," Brown said. "I followed all the rules for taking off on that day so I could celebrate with my community – and they picked that day to terminate me. I felt so humiliated."
The lawsuit – filed Wednesday in the Northern District of Illinois – includes three separate counts: discrimination and retaliation on the basis of sex, on the basis of gender-related identity and on the basis of race.
"An employee cannot be fired simply because they are transgender, and they cannot be fired for speaking out about racist and transphobic harassment in the workplace," Carolyn Wald, the ACLU of Illinois' LGBTQ Project Staff attorney, said in a statement.
"Circle K's actions were unacceptable and illegal. Employers should never advance the bigotry of some employees over the safety, wellbeing, and success of others. Employers must do better to support transgender employees, particularly transgender employees of color."
A Circle K spokesperson responded to the suit Thursday afternoon stating: "Please know Circle K is an equal-opportunity employer with a diverse workforce including transgender employees and fully cooperated with agency authorities during the previous investigation into this claim."
Contact Matt Masterson: @ByMattMasterson | [email protected] | (773) 509-5431
---
Related stories:
IDOC Transfers Another Transgender Inmate to Women's Prison
Another Transgender Inmate Seeking Transfer from IDOC Prison
Veterans, Lawmakers Push to Overturn Transgender Service Ban
---