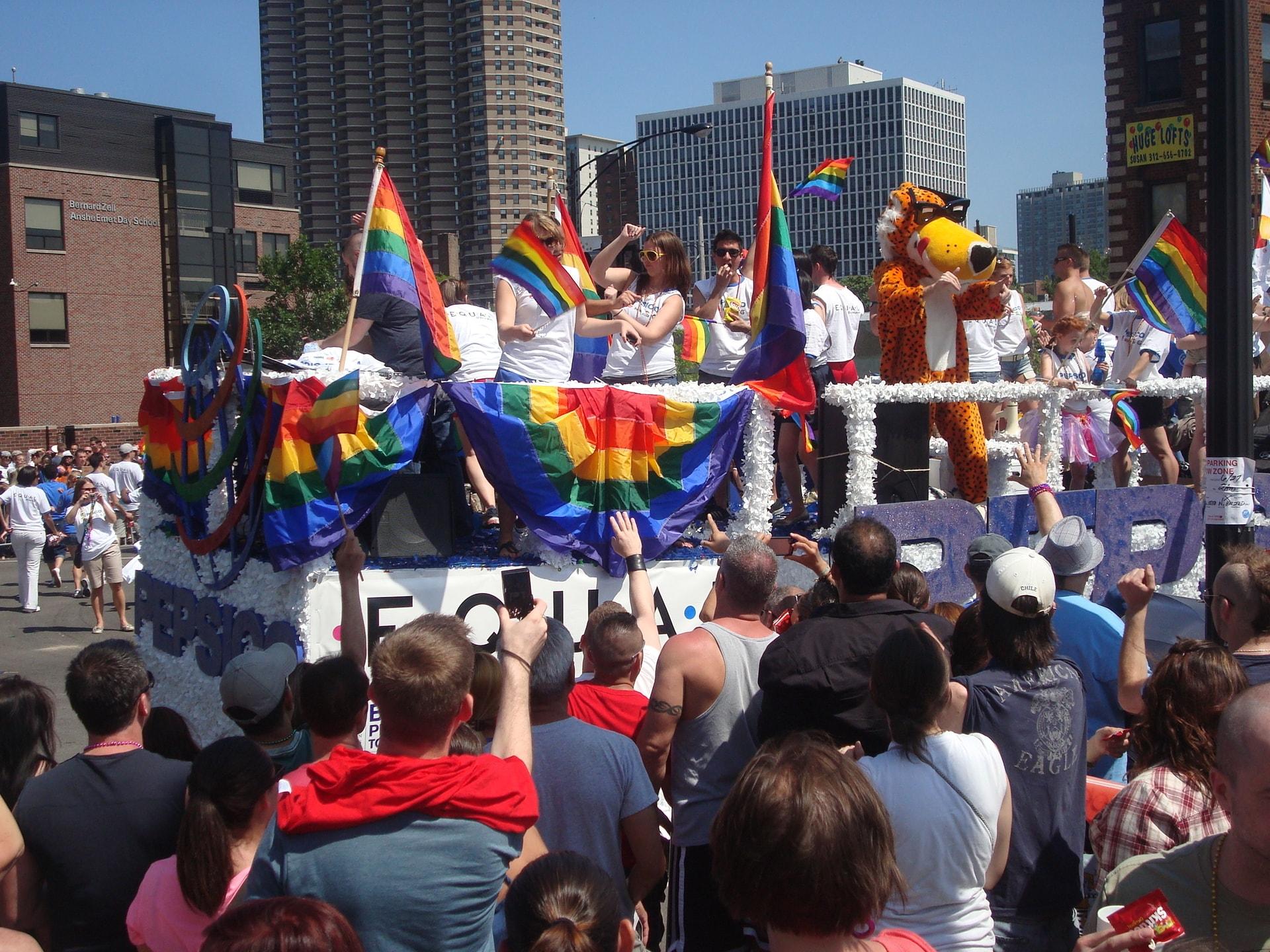 Chicago Pride Parade in 2011 (Keith Hinkle / Flickr)
1. Celebrate
Fifty years ago, the modern day LGBTQ rights movement was born with the Stonewall riots in New York. This year's 50th annual Chicago Pride Parade commemorates that moment with its theme: Stonewall 50: "Millions of Moments of Pride." Multiple grand marshals, including Mayor Lori Lightfoot, will join the chorus of rainbow flags, elaborate floats and marching bands as they wind their way through several North Side neighborhoods.
Route: Parade steps off at noon Sunday at the corner of Broadway and Montrose Avenue, south along Broadway to Halsted Street, south along Halsted to Belmont Avenue, east on Belmont to Broadway, south on Broadway to Diversey Avenue, east on Diversey to Cannon Drive. Free / MAP
---
Find more fests: 2019 Summer Festival Guide
---
2. Ponder
The exhibit, "About Face: Stonewall, Revolt and New Queer Art," challenges how we think about the Stonewall riots' place in history – and offers a comprehensive survey of 50 years of queer art. Described as an exhibit about metamorphosis, it focuses on art in which boundaries blur, forms mutate, the natural is denaturalized and the transgressive and transcendent are linked. "Chicago Tonight" toured the gallery and spoke with the show's curator, Jonathan David Katz.
Details: Hours vary Wednesday-Saturday through Aug. 3 at Wrightwood 659, 659  W. Wrightwood Ave. $20; reservations required / MAP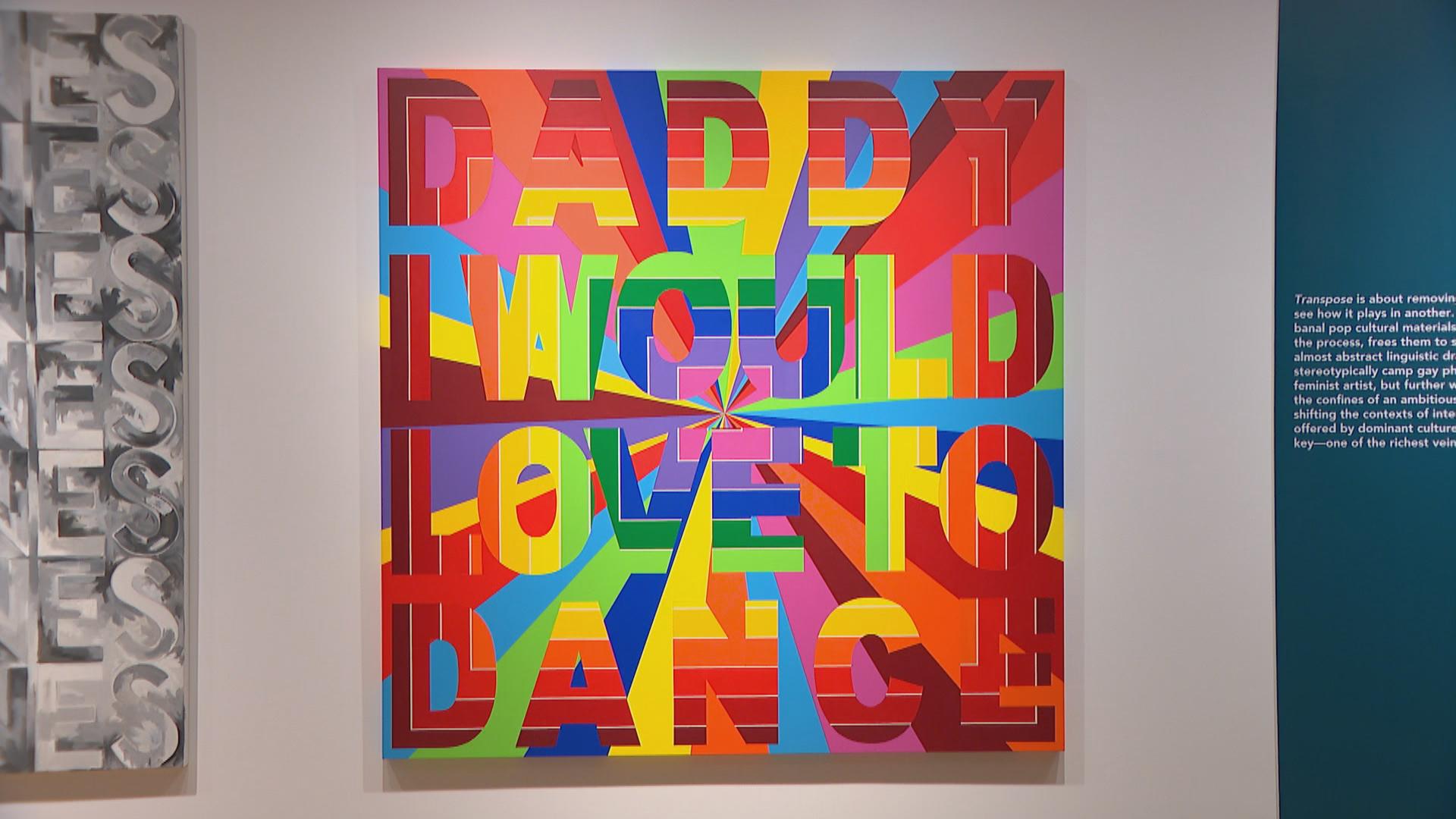 3. Shake it
Break out those dancin' shoes and get ready to move at Chicago SummerDance. Don't know how to dance? No problem! This annual series is the perfect place to learn. Lessons this week include contra and square dancing (Wednesday), swing and jitterbug (Thursday), house (Friday), salsa (Saturday) and Indian folk dances (Sunday).
Theater on the Lake: 6-9:30 p.m. Wednesday at 2401 N. Lake Shore Drive. Free / MAP
Grant Park: 6:30-9:30 p.m. Thursday and Saturday; 6-9 p.m. Friday and 4-7 p.m. Sunday at Grant Park, 601 S. Michigan Ave. Free / MAP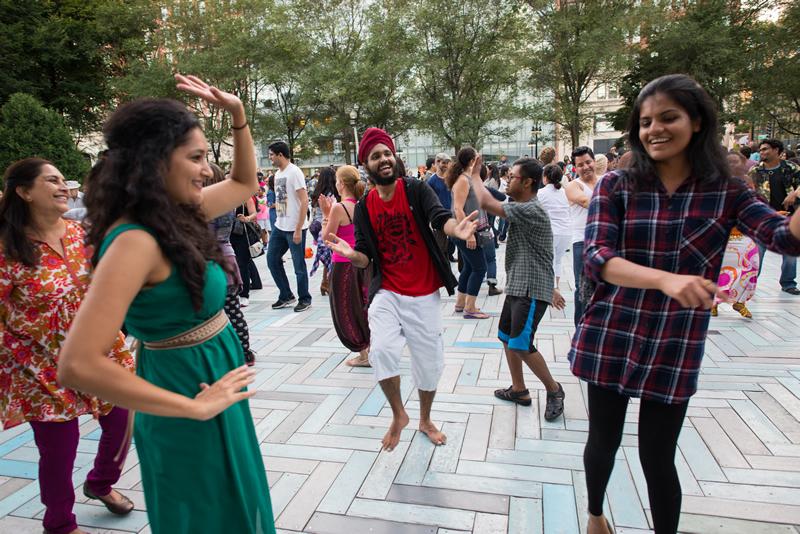 (Courtesy city of Chicago, DCASE)
4. Flock
Performance art, live music and art installations are among the highlights of the annual Logan Square Arts Festival. Watch street artists decorate columns over the course of the weekend and participate in a community mural project. Local restaurants and vendors provide food and drinks to keep you satiated.
Details: 5-10 p.m. Friday; noon-10 p.m. Saturday and Sunday at the Illinois Centennial Monument, W. Logan Boulevard and Milwaukee Avenue. $5 suggested donation / MAP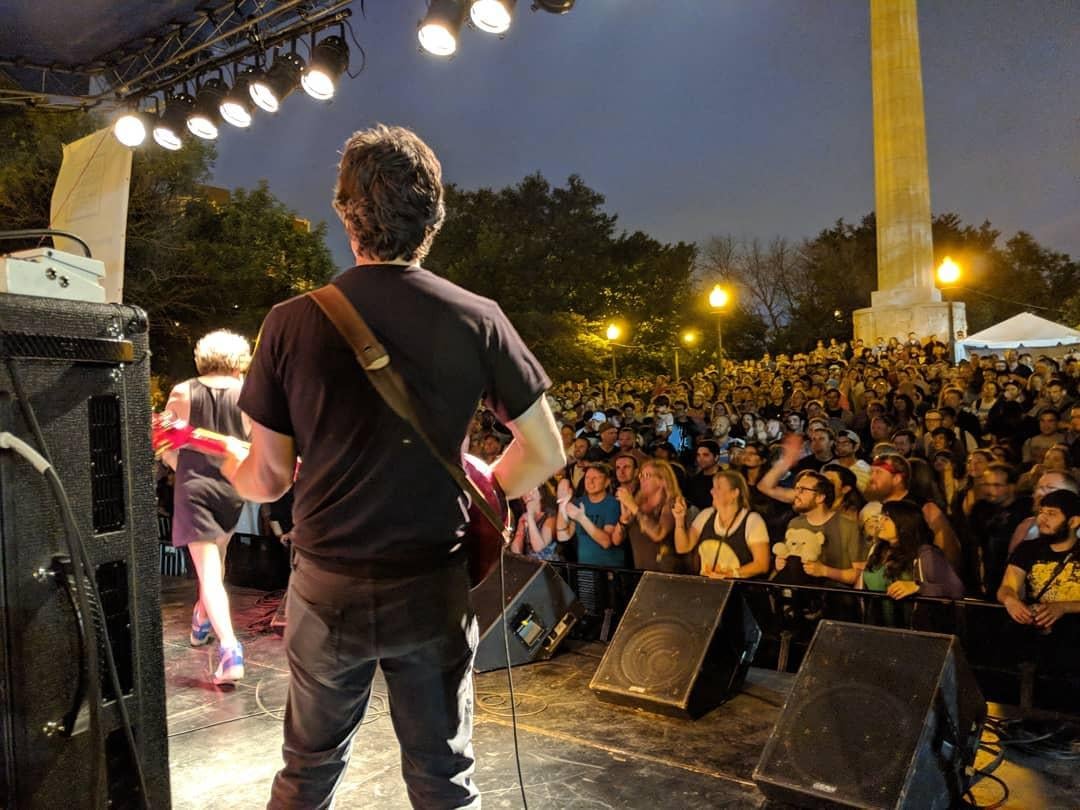 (Logan Square Arts Festival / Facebook)
5. Get saucy
Spice things up this weekend with a trip to the Chi-Town Hot Sauce Expo, where you can sample sauces from more than 30 hot sauce makers from the U.S. and England. Watch or participate in eating contests, such as the Spicy Taco of Hell Challenge (1 p.m. Saturday) or the Death Wing Eating Challenge (2 p.m. Sunday). Live wrestling matches and music are also on tap.
Details: 10 a.m.-6 p.m. Saturday and Sunday at SeatGeek Stadium, 7000 Harlem Ave., Bridgeview. $7 / MAP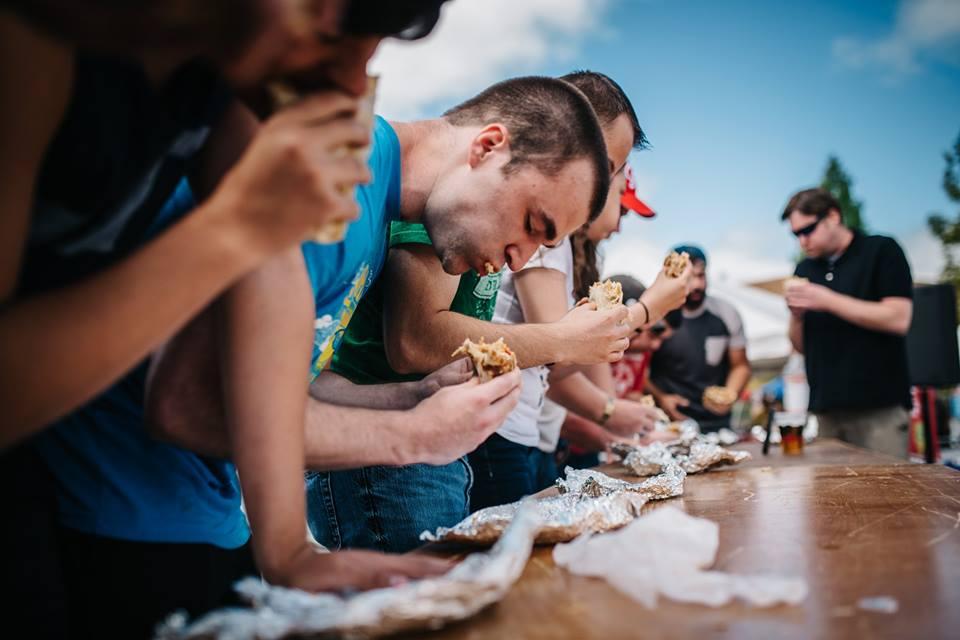 (Chi-Town Hot Sauce Expo / Facebook)
6. Discover
Started 15 years ago as a response to a perceived lack of women's events and limited presence of female artists in the Chicago LGBTQ community, Back Lot Bash showcases local and emerging musicians of different genres in addition to established performers. Headliners include The Veronicas (Saturday) and Jackie Cruz (Sunday). A free Pride Kids and Family Fest (11 a.m.-2 p.m. Saturday) is also on tap. 
Bonus: Festivities kick off Friday (4-11 p.m., $25) with the Chicago is a Drag Festival, which organizers say represents drag from across generations, neighborhoods and performance styles. 
Details: 5-11 p.m. Saturday and 4-11 p.m. Sunday behind Cheetah Gym, 5238 N. Clark St. $20; $35 two-day general admission / MAP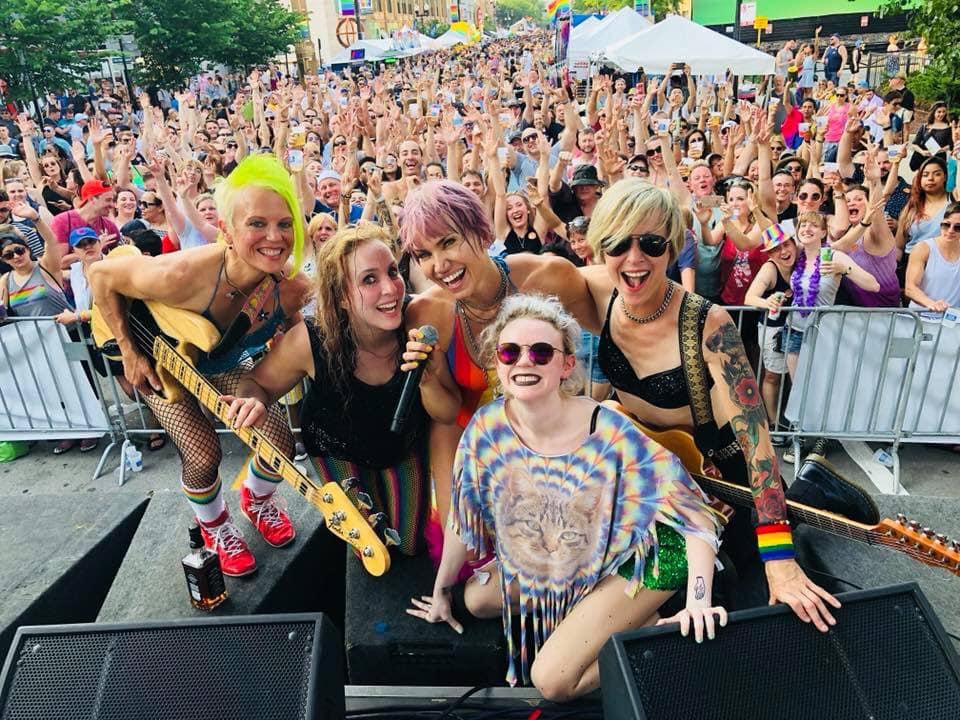 (Back Lot Bash / Facebook)
7. Rock out
Hip-hop artists perform on a trio of stages at The Lyrical Lemonade Summer Smash, including Playboi Carti and Lil Yachty (Saturday), and Juice Wrld and Kodak Black (Sunday). Leave hula hoops, skateboards, stuffed animals, umbrellas, inflatables and metal water bottles at home. (Check out the FAQs for a list of prohibited items.)
Details: Noon-9:45 p.m. Saturday and Sunday at Douglas Park, 1401 S. Sacramento Ave. $149 two-day pass / MAP
---
8. Pause
On Sept. 15, 1963, the 16th Street Baptist Church in Birmingham, Alabama, was bombed by white supremacists, killing six black children. The exhibit "Birmingham, Alabama, 1963: Dawoud Bey/Black Star" reflects on that event. Prints from the Black Star archive provide historical context for the bombing alongside Dawoud Bey's "The Birmingham Project," which pairs a portrait of a child at the age of one killed in 1963 with a portrait of an adult at the age the child would've been in 2013. 
Learn more about Dawoud Bey in this "Chicago Tonight" story.
Details: 10 a.m.-5 p.m. Monday-Saturday except Thursday when it's open till 8 p.m.; noon-5 p.m. Sunday through July 7 at Columbia College Chicago's Museum of Contemporary Photography, 600 S. Michigan Ave. Free / MAP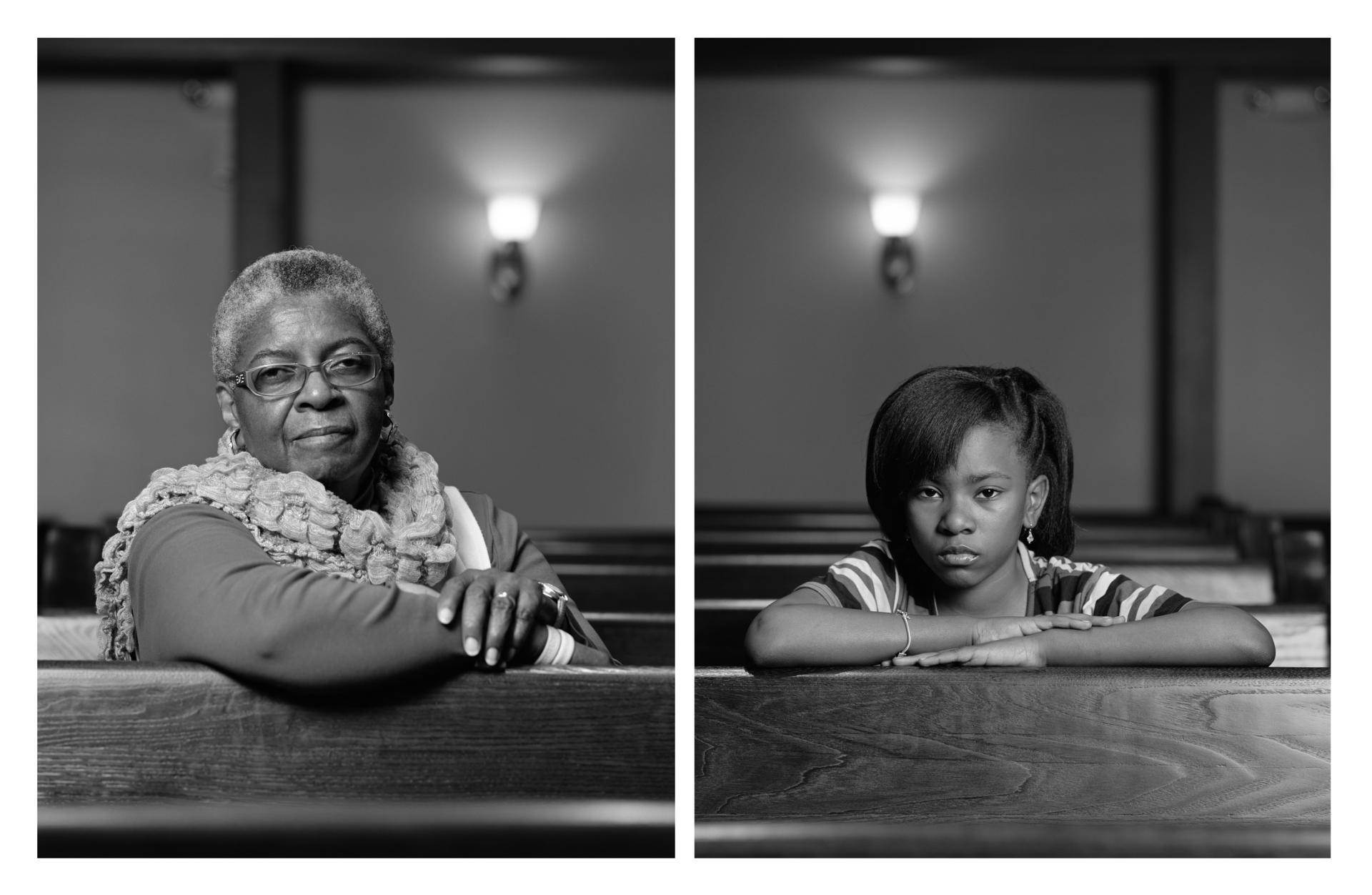 (Dawoud Bey, Mary Parker and Caela Cowan, 2012. Private collection.)
9. Splash
Will cardboard vessels sink or float? Find out at the Lake Ellyn Cardboard Regatta as teams test their own handmade boats. Awards will be presented for fastest race times, most creative, team spirit and best sink. Want to build your own? Registration for the event ($50) is required by noon Friday. 
Details: Races begin at noon Saturday at Glen Ellyn Park, 645 Lenox Road, Glen Ellyn. Free / MAP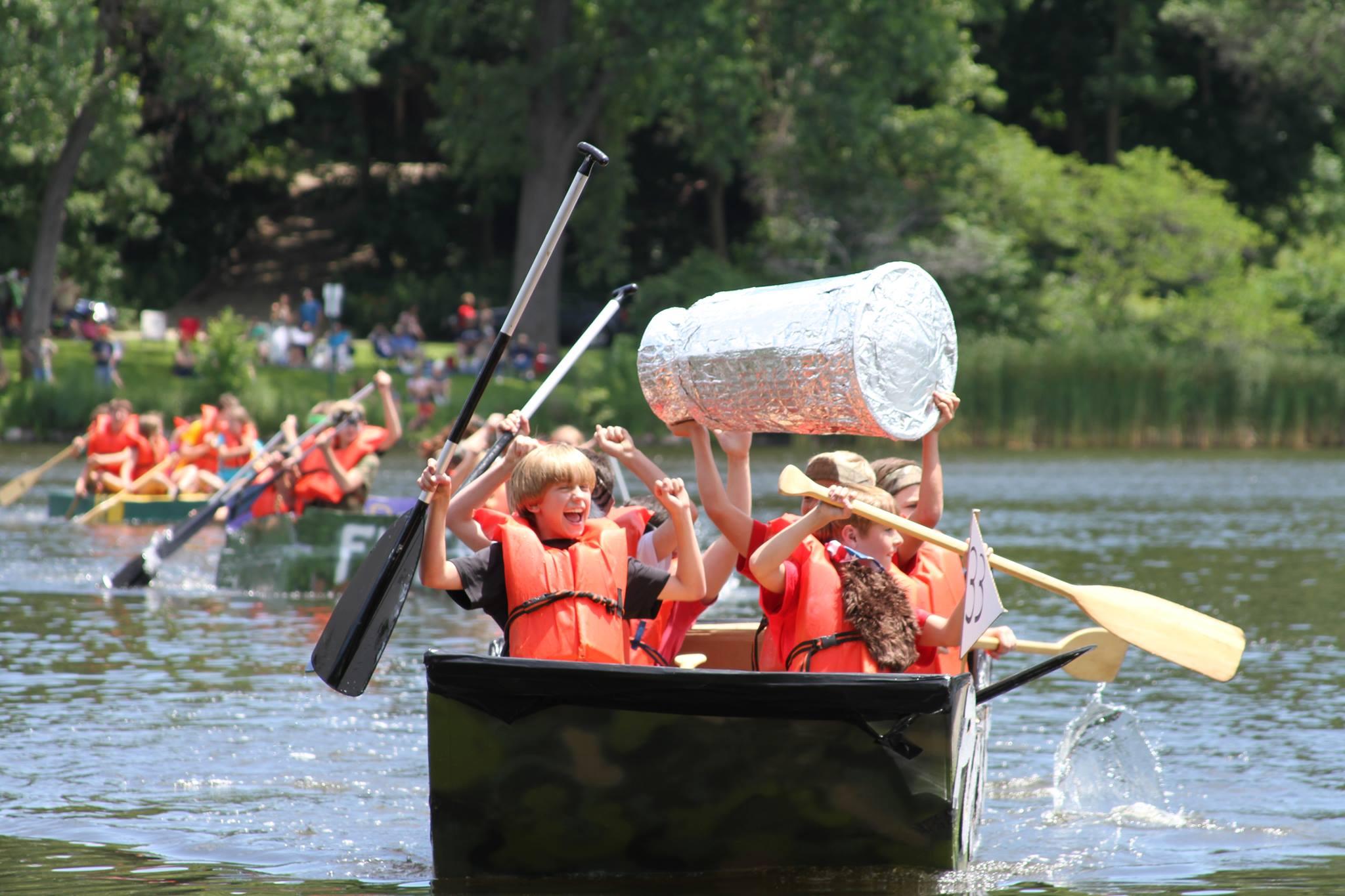 (Glen Ellyn Park District / Facebook)
10. Hark
A quartet of mariachi ensembles performs at the Chicago Mariachi Festival, including the city's own Mariachi Herencia de México. The youth ensemble is composed of musicians from Chicago's immigrant communities and the group's debut 2017 album, "Nuestra Herencia," was nominated that same year for a Latin Grammy in the "Best Ranchero/Mariachi Album" category. Organizers advise arriving early as the venue will be closed once it reaches capacity. 
Details: 4-8:30 p.m. Sunday at Millennium Park, 201 E. Randolph St. Free / MAP
(Mariachi Herencia de México / Facebook)
Events listed are subject to change. We recommend double-checking times and locations before you head out the door. Want to share your upcoming events with us for consideration in a future roundup? Send us an email.
---