Just four years ago this month, the Chicago Blackhawks won their third Stanley Cup in six seasons. It was a dramatic turnaround after years of poor results and fan disappointment.
But the past few seasons haven't been as fruitful. The team hasn't won a playoff game since 2016, and hasn't even made the postseason in the last two years. The hockey club hopes a new addition will help change that.
The Blackhawks used their third overall pick in last week's NHL Draft to select 18-year-old Kirby Dach, who's played with the Western Hockey League's Saskatoon Blades since 2017.
General Manager Stan Bowman says the team has high hopes for Dach over the next few years.
"He's got such a high ceiling, how good of a player he can be, and that's a critical position, your center ice position. He's a big kid with the great skillset," Bowman says. "He's got really quick hands, he's a great playmaker, he scores goals too, but he's more of a pass first kinda guy. He's the type of center that makes the players around him better, because he's got really good vision [and] creativity."
The 2019-2020 season will also be head coach Jeremy Colliton's first full season with the team. He replaced longtime coach Joel Quenneville last November.
Bowman says Colliton is playing a key role in developing the team's younger talent, which now includes Dach.
"He gives a lot of feedback to our young players, so if they're not on top of their game I think he meets them and gives them a clear idea of how he can help them get better and then he follows through on that."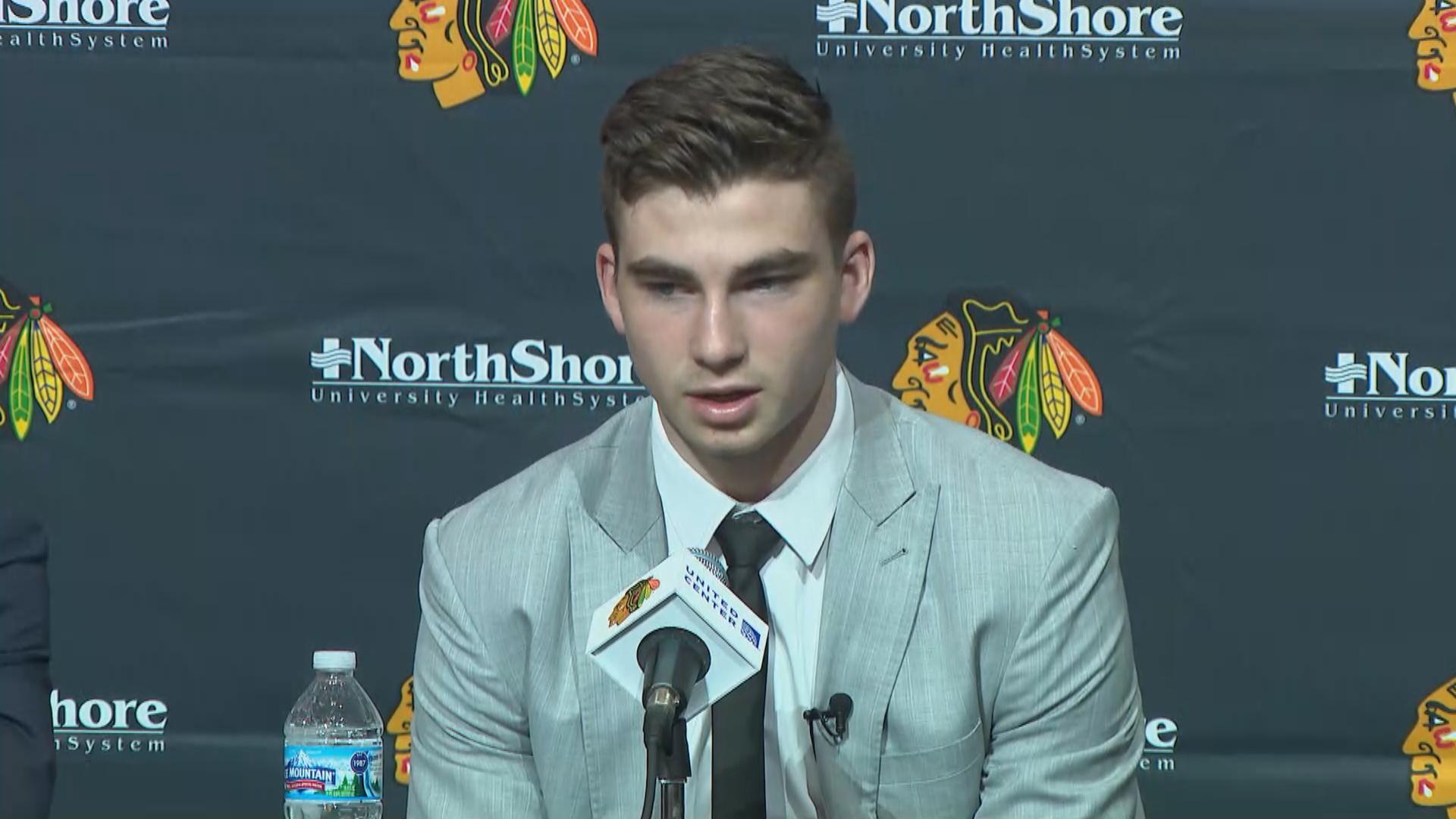 Blackhawks top draft pick Kirby Dock.
Echoing that sentiment, Blackhawks President John McDonough says the team will likely be active in trades and picking up free agents over the next several months, but that "the foundation and the pillar of our franchise is going to be on drafting and developing."
As for the possibility of bringing the Stanley Cup back to Chicago, Bowman says his first goal is getting back to the postseason.
"We're focused on making the playoffs and then it's almost like you start from scratch, whether you squeaked your way in or you were leading all year, the slate is wiped clean," Bowman says. "You got to be able to compete at that level, on that stage, night in, night out, for a couple months, so that's why we're focused on getting our team prepared to make the playoffs, and then we'll see what happens from there."
"This really was a cultural phenomenon. It was a complete explosion, no one saw this coming," McDonough says about the Blackhawks three Stanley Cup wins since 2009. "We don't want to be this comet that came and went, 'Remember when the Blackhawks were good', so, we have an obligation to sustain this for a very long time." 
---
Related stories:
Blackhawks Fire 3-Time Stanley Cup Winning Coach Quenneville
Stan Mikita, Chicago Blackhawks Legend, Dies at 78
Celebrating the Stanley Cup Champions
---