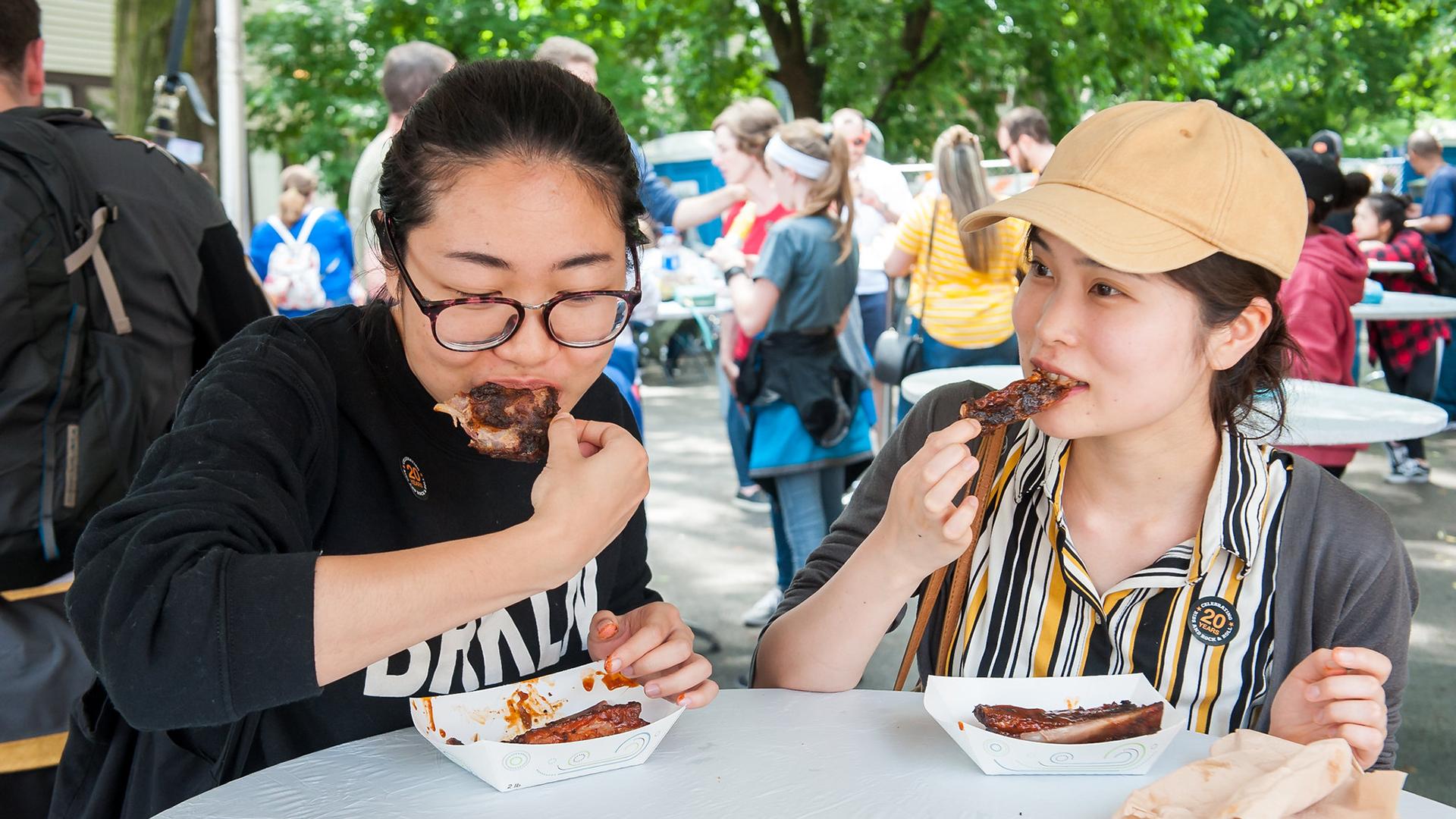 (Photo by Steven E. Gross)
1. Slurp
Get your fill of barbecue at Ribfest Chicago, where more than two dozen restaurants serve up ribs and other fare, including rib tips, pulled pork and beef brisket. (Drool.) Bonus: Rib vendors offer "3-bone samplers" for eight tickets ($8) so you can taste ribs from all 14 vendors competing for the People's Choice Award. Musical performances, games and crafts round things out.
Details: 5-10 p.m. Friday; noon-10 p.m. Saturday-Sunday along Lincoln Avenue between Irving Park Road and Berteau Avenue. $10; $20 per family / MAP
---
Find more fests: 2019 Summer Festival Guide
---
2. Ride
Now you can zip around the city thanks to Chicago's Electric Shared Scooter Pilot Program. Up to 2,500 electric scooters will be available in neighborhoods on the city's West, Northwest and Southwest sides. Some tips before you speed away: Ride scooters in bike lanes, not on sidewalks; park scooters away from sidewalk paths; and don't ride intoxicated. (Get more tips from the Chicago Department of Transportation.)
Details: 5 a.m.-10 p.m. daily, starting Saturday. Various locations and prices.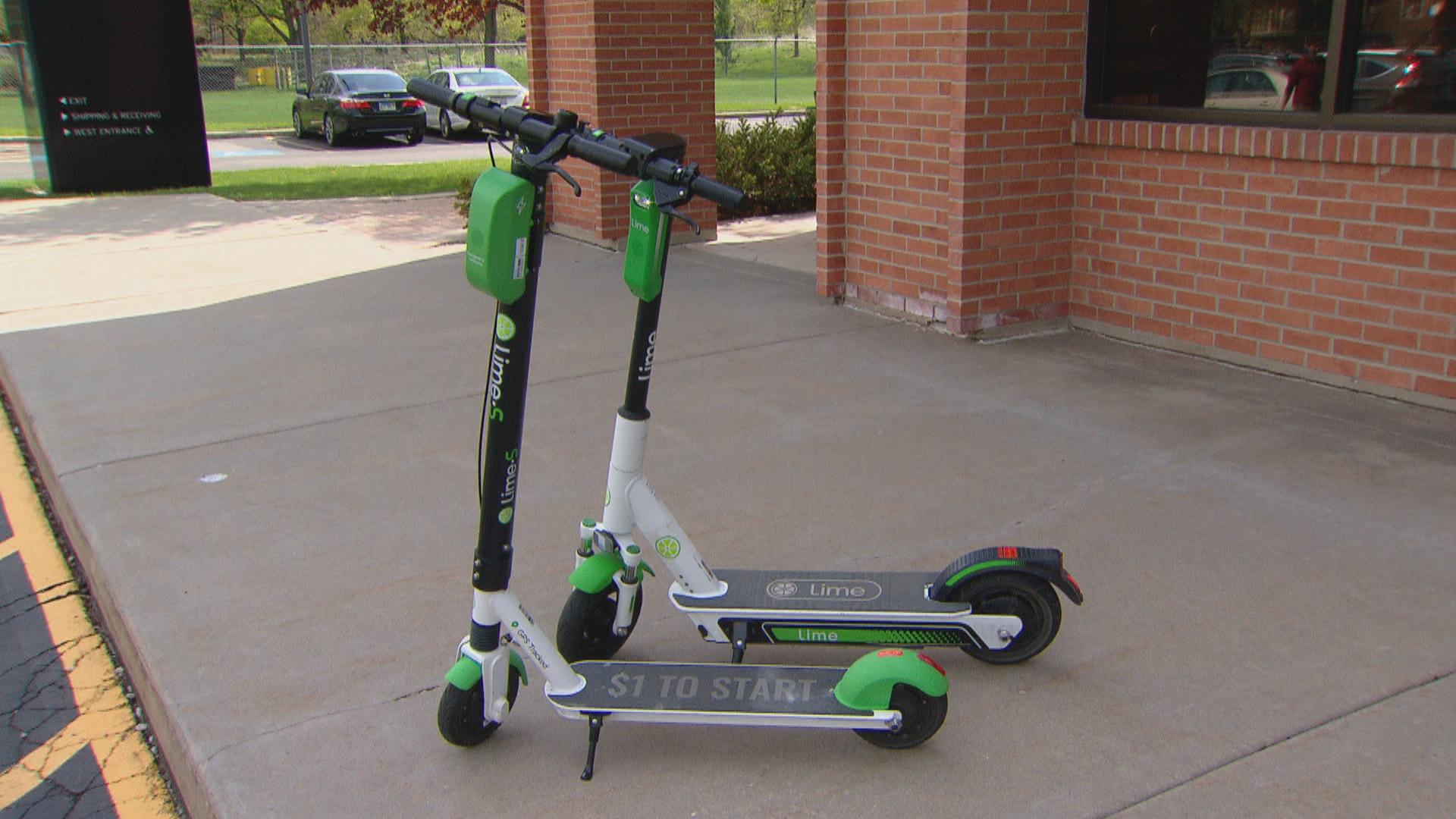 WTTW News takes a test ride on a pair of electric scooters by the company Lime.
3. Sample
Restaurant row establishments Bar Siena, Forno Rosso and The Front Room, among others, dish out their specialties at the Taste of Randolph Street. DJs and musicians perform on a trio of stages throughout the fest. Headliners include Dennis Lloyd and Holy Ghost! (Friday); Anderson East and Cory Wong (Saturday); and Real Estate and Billy Strings (Sunday).
Details: 5-10 p.m. Friday; noon-10 p.m. Saturday-Sunday at 900 W. Randolph St. $10 / MAP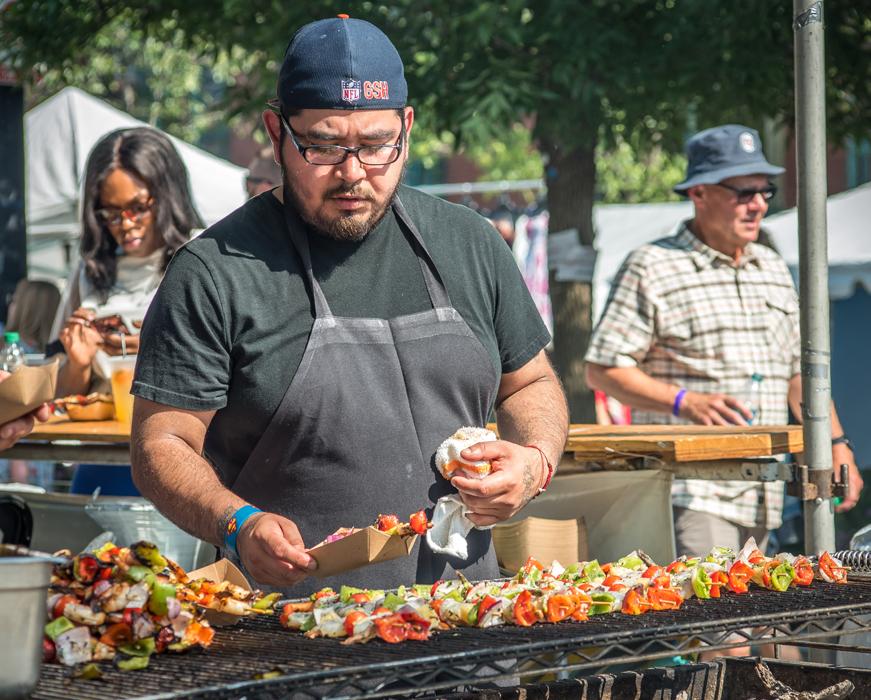 (Credit: Star Events)
4. Celebrate
Floats, marching bands, dancers and vejigantes march along Paseo Boricua during the 41st annual Puerto Rican People's Parade. This year's parade honors the centennial of Lolita Lebron, a member of the Puerto Rican nationalist group that stormed the U.S. Capitol in 1954. After the parade, head to Humboldt Park for the annual Fiestas Patronales Puertorriquenas.
Details: 2-5 p.m. Saturday starting at Division Street and Western Avenue. Free / MAP
(Puerto Rican Cultural Center / Facebook)
5. Dance
Feel the rhythm of Latin music at LatiNxt as artists from across the world perform, including Bianca Oblivion, Dos Santos, Nina Dioz and Quitapenas. A Latinx arts and crafts market (Saturday), zine fest, record fair and panel discussions are also on tap. 
Details: 5:30-11:30 p.m. Friday; noon-11:30 p.m. Saturday at Navy Pier, Polk Bros. Park, 600 E. Grand Ave. Free / MAP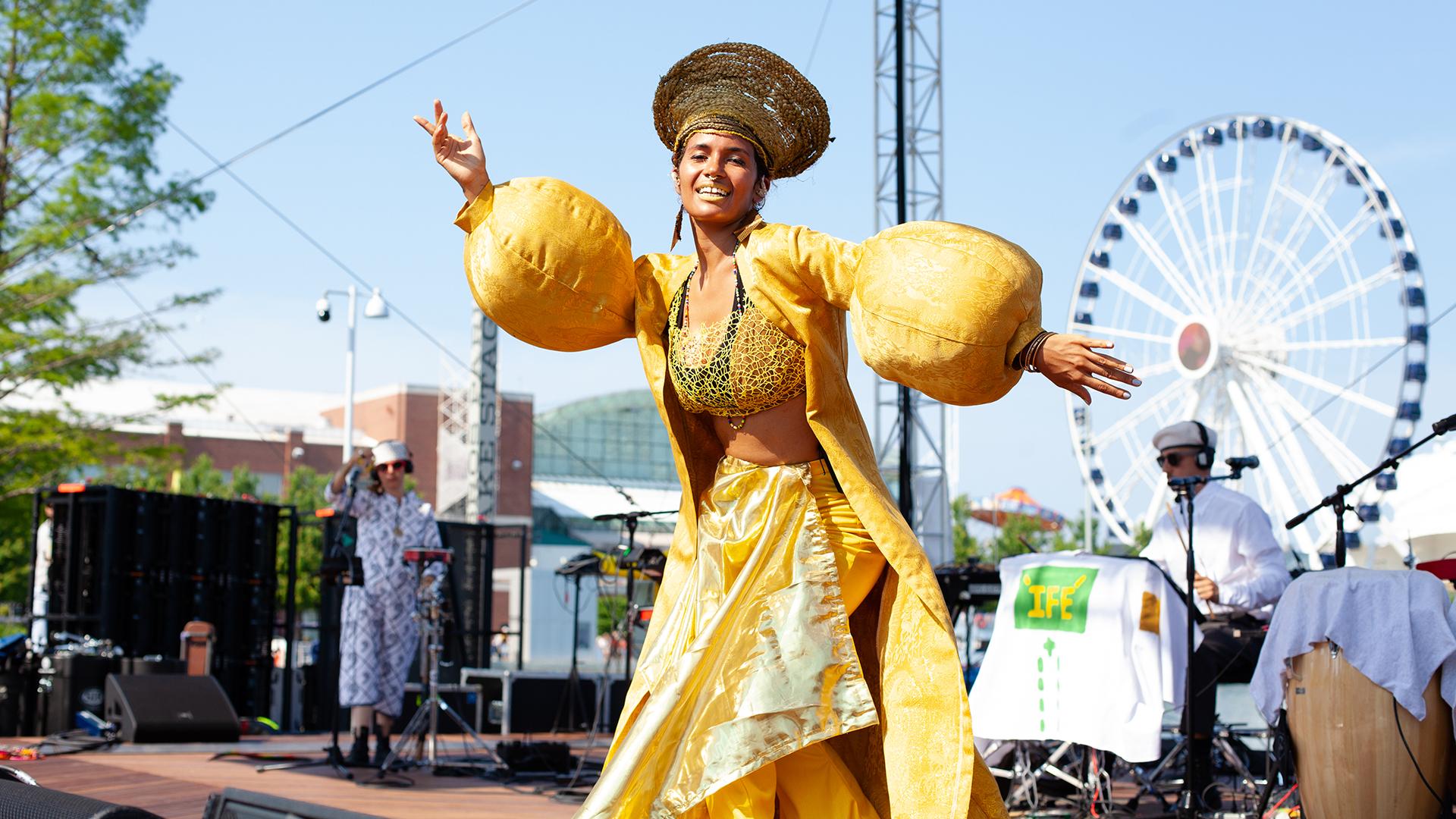 (Photo by Mario Ruben)
6. Ponder
In "Saving the World," Chicago Tap Theatre tells the story of a "near future" characterized by ever-increasing natural disasters, such as tornadoes and tsunamis. The performacne also features live music and video projections.
Details: 7:30 p.m. Fridays and Saturdays; 3 p.m. Sundays through June 30 at Stage 773, 1225 W. Belmont Ave. $40; $30 for students and seniors / MAP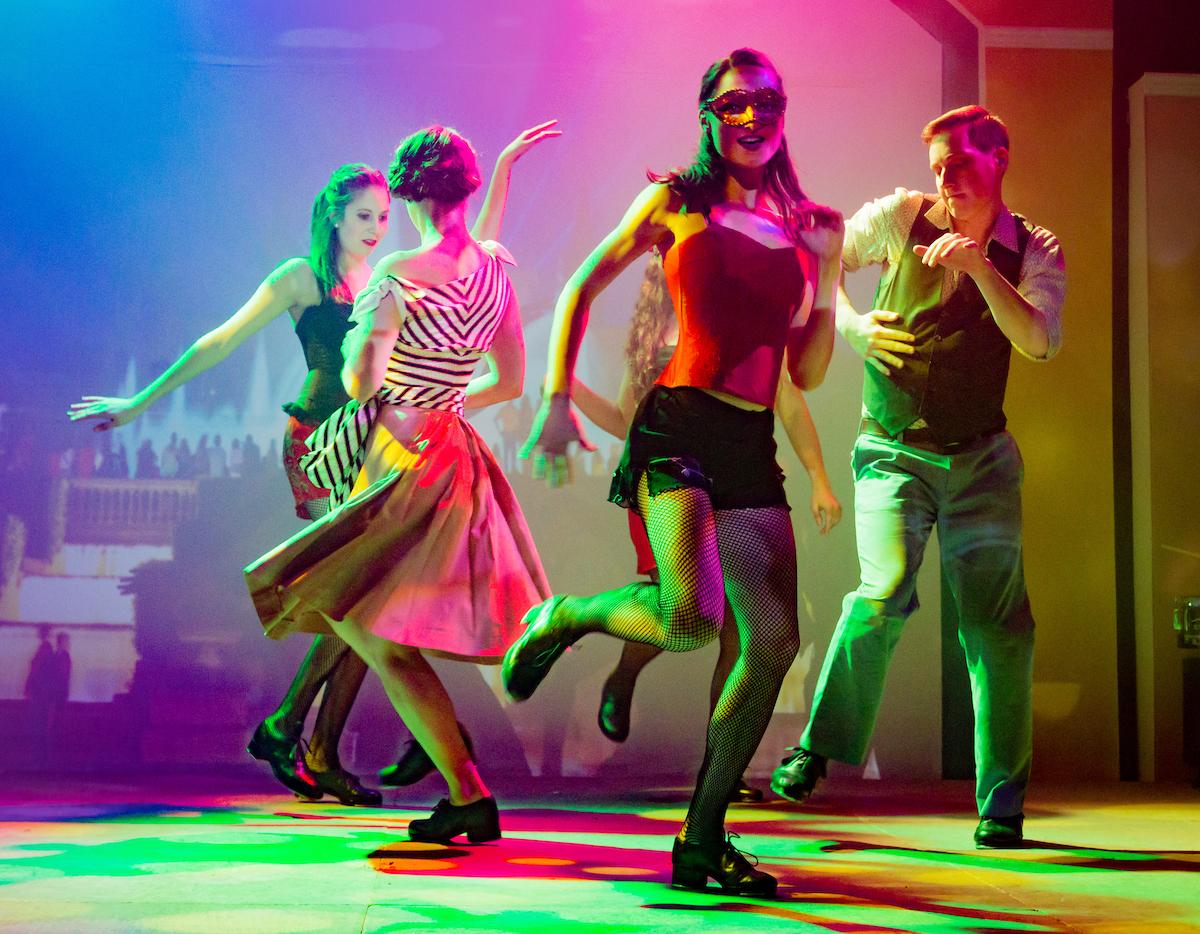 (Photo by Josh Hawkins)
7. Roam
The block party Oakley Avenue Festa Pasta Vino features Italian food, wine and merchandise in a Florentine market setting. Watch Venetian-costumed performers, and enjoy entertainment on multiple stages, from musicians to magicians and comedians.
Details: 5-11 p.m. Friday; noon-11 p.m. Saturday; noon-9 p.m. Sunday at Oakley Avenue and 25th Street. $7 suggested donation / MAP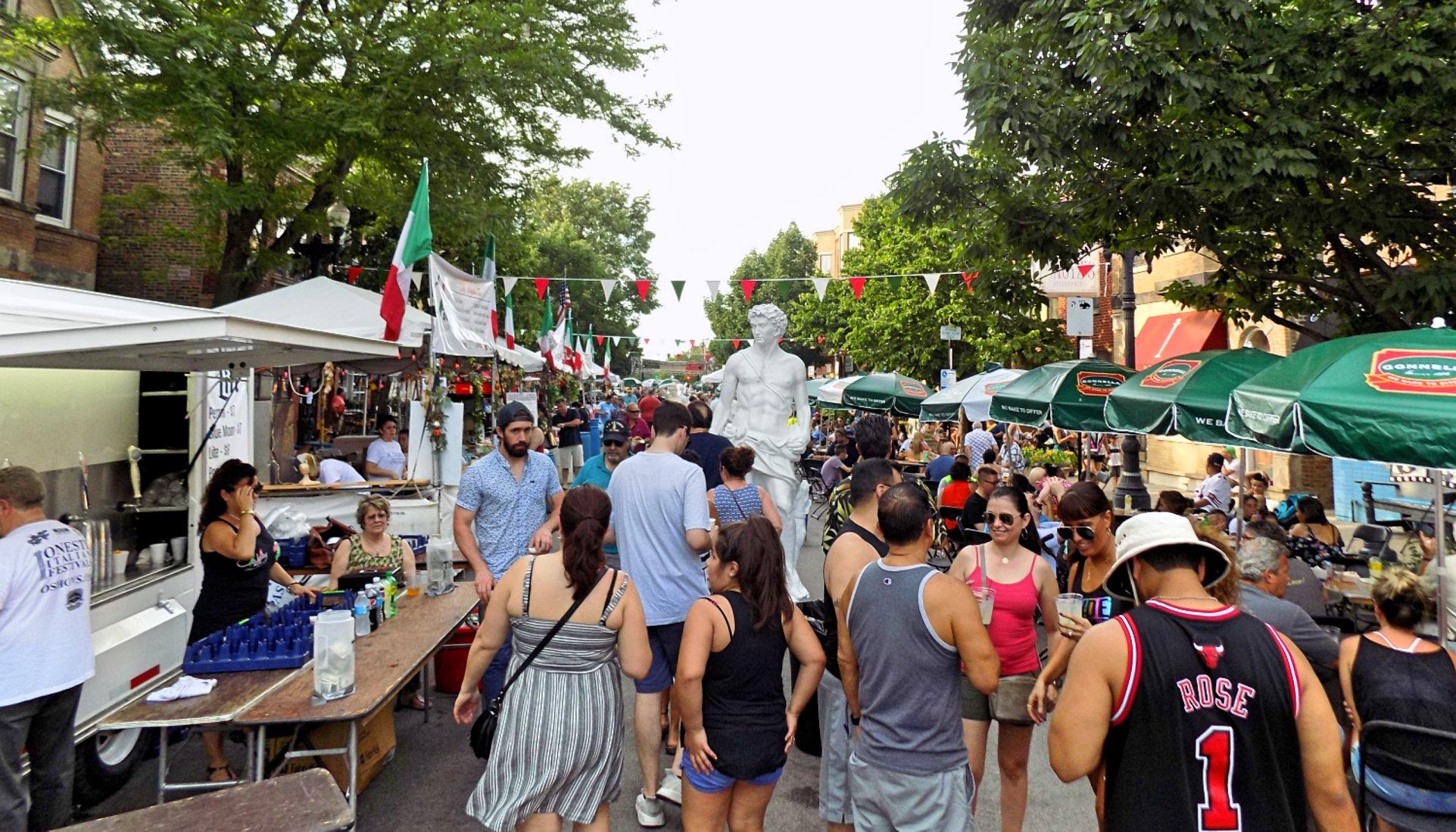 (Oakley Avenue Festa Pasta Vino / Facebook)
8. Browse
Booksellers offering rare, antique and collectible first editions of books, maps and prints set up shop at the 58th Chicago Book & Paper Fair. Genres include Americana, poetry, children's books, cookbooks, Chicago history and Civil War.
Details: 10 a.m.-5 p.m. Saturday at Chicago Journeyman Plumbers Union Hall, 1340 W. Washington Blvd. $6; $4 for seniors and students / MAP
---
9. Immerse
Men in kilts, contests of strength, haggis and bagpipes are among the highlights of The Scottish Festival & Highland Games. Catch a rugby or soccer tournament, enter a haggis-eating contest (or observe from the sidelines), and watch participants in the Highland Dance competition.  
Details: 1-10 p.m. Friday; 8 a.m.-9 p.m. Saturday at Hamilton Lakes, Park Boulevard and Pierce Road, Itasca. $15-$25; $10-$20 for seniors and active military; $35 for two-day pass; $27 two-day pass for seniors and active military / MAP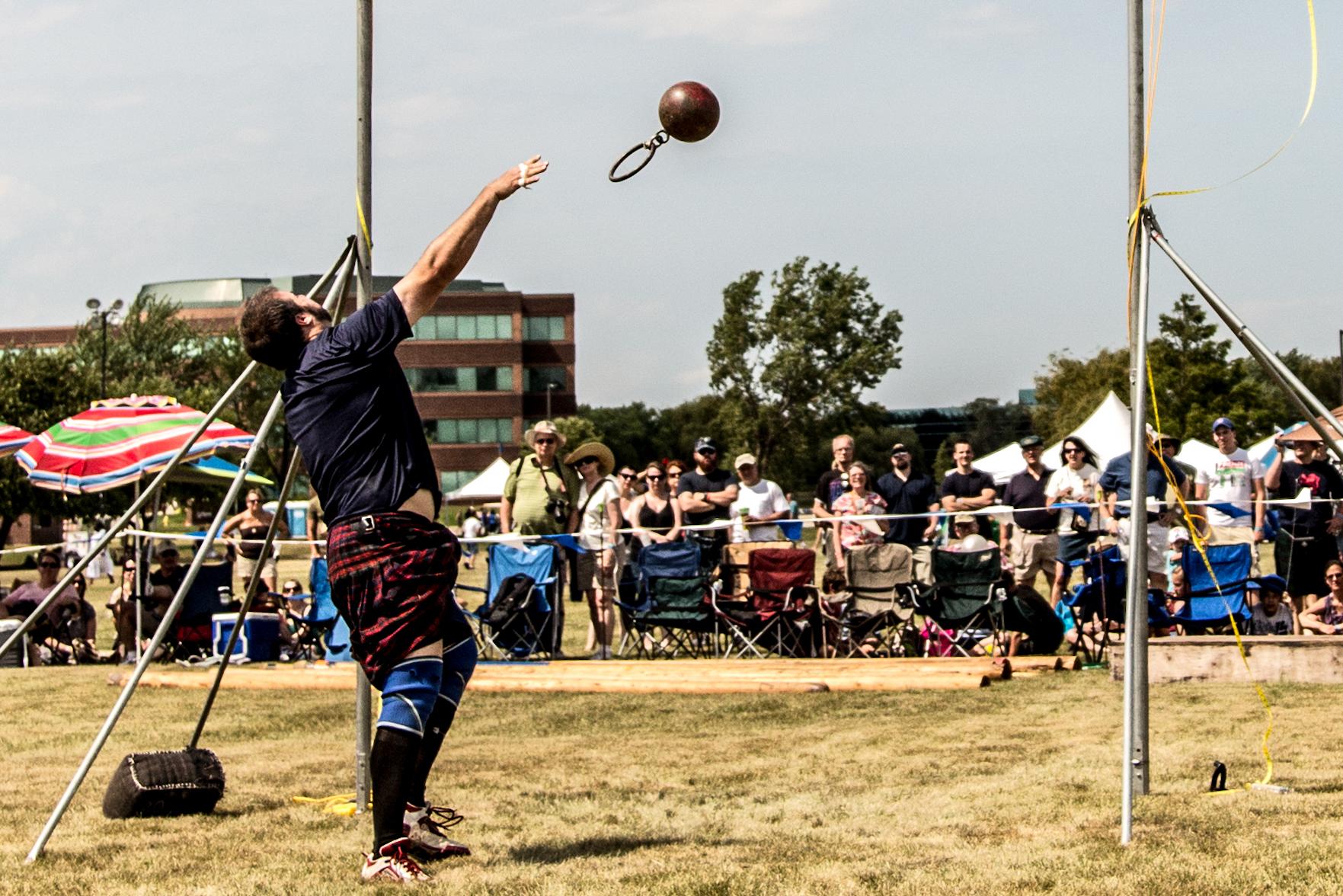 (The Scottish Festival & Highland Games)
10. Marvel
Cirque do Soleil's "Volta" blends extreme sports and acrobatics with eye-catching costumes and visual spectacle. Acts include BMX riders, aerial artists and shape divers – or artists that tumble and jump through shapes. For the first time, the internationally minded "Circus of the Sun" includes a performer with local roots. "Chicago Tonight" met him when he returned to his old high school.
Details:  Performance times vary through July 6 at Soldier Field, South Parking Lot, 1410 Museum Campus Drive.  $49 and up / MAP
Cirque du Soleil's "Volta" (Credit: Matt Beard)
Events listed are subject to change. We recommend double-checking times and locations before you head out the door. Want to share your upcoming events with us for consideration in a future roundup? Send us an email.
---