Plans for a South Suburban Airport have been in the works for decades, but now there appears to be growing support in Springfield for a third northeastern Illinois airport near Monee.
Former Republican Gov. Bruce Rauner didn't support the proposed airport, but earlier this month state lawmakers, including House Speaker Michael Madigan, and a host of suburban mayors signed a letter calling on Democratic Gov. J.B. Pritzker to back the plan.
The state has already spent close to $100 million since 2002 to acquire about 4,500 acres of land that could be used for the airport. That includes buying Bult Field, a one-runway airstrip in Monee, for $34 million in 2014.
To its supporters, an airport in the south suburbs would be an economic engine and bring development and jobs to an area in dire need of both.
But opponents say it is a politically-driven project for which there is no demand, and one that could leave taxpayers holding the bag if the project fails.
Delmarie Cobb, who owns the political consulting firm Publicity Works and who worked for presidential candidates Jesse Jackson and Hillary Clinton, is a supporter of the proposed airport.
"We are the only major metropolitan city in the nation that doesn't have three airports, and yet we consider ourselves the transportation hub of the nation," Cobb said. "More traffic comes through Illinois than through any other state in the nation, and yet we only have two major airports.
"There is a need for an airport," Cobb continued. "There has always been a need for a third airport. And the [Federal Aviation Administration] in 1985 said that if O'Hare was to expand, it needed to make plans for a third regional airport because otherwise they would lose capacity. And that's what we've seen."
But George Ochsenfeld, leader of the citizens group Shut This Airport Nightmare Down, or STAND, questions whether there is real demand for another airport. Ochsenfeld owns and lives on land that would be impacted by the proposed airport.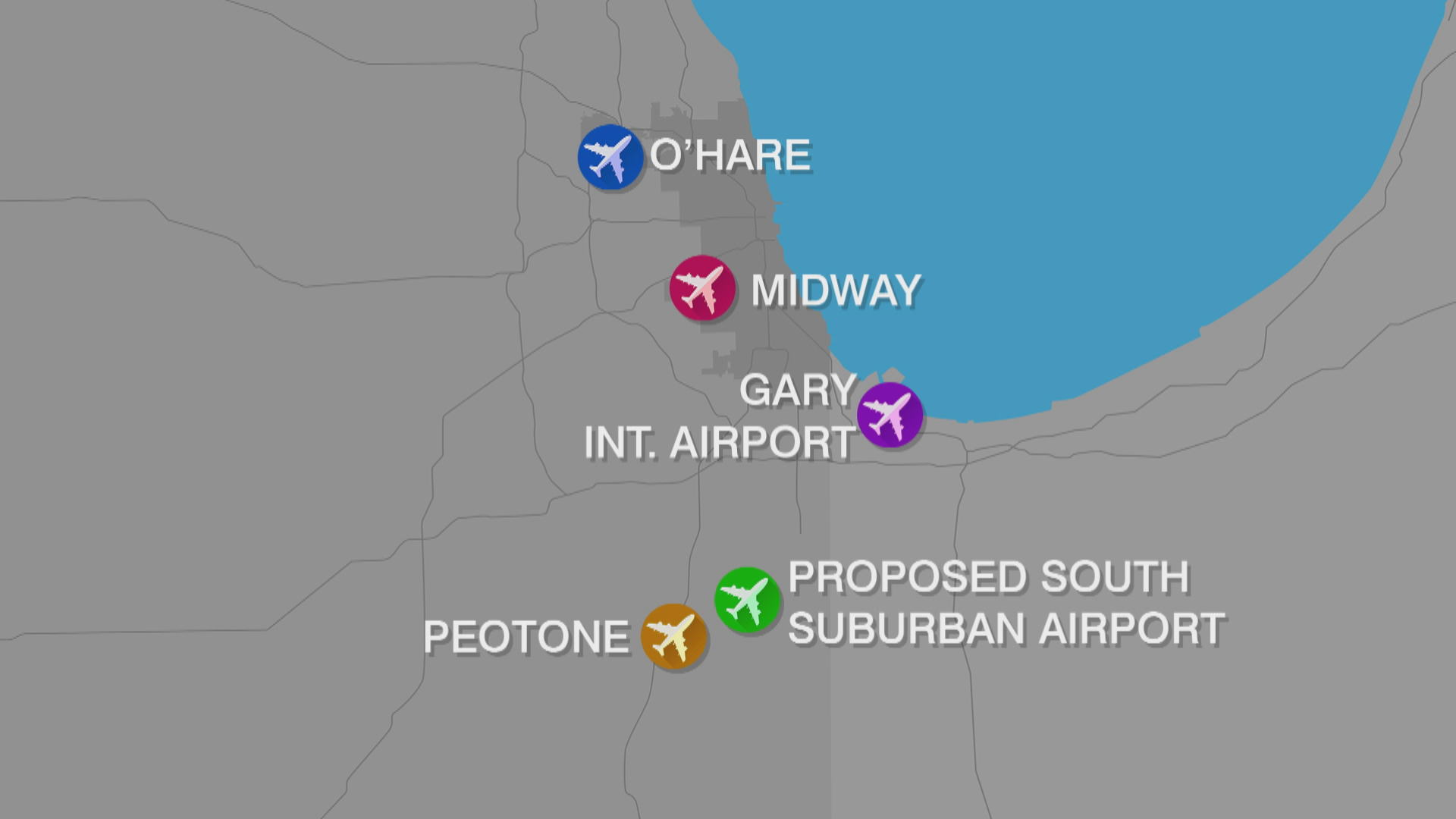 "The airport is simply not needed," he said. "It would be destructive. It's a politically-driven project rather than a market-driven project."
Ochsenfeld said he accepts that some of the airport's proponents genuinely think that it would spur economic development for the south suburbs. But he said that the driving force behind the plan has been the Illinois Department of Transportation.
"IDOT's agenda is to pave over the whole state," he said. "Their biggest dilemma is whether to give the contracts to the asphalt people or the concrete people."
But Cobb says the airport could potentially serve millions of passengers to the south of Chicago and in the south suburbs.
"What you have right now are 2.5 million people who take 3.1 million air trips who live 45 minutes from the South Suburban Airport site who have to drive to either O'Hare or Midway before they can even get on a plane," Cobb said. "You've got leaders in Chicago wringing their hands saying, 'How do we stop the violence? How do we pay for the schools? How do we do all these things?'"
"Well, you build a South Suburban Airport so that you can create jobs at every skill level," she continued. "We're talking 15,000 jobs just for the inaugural phase."
Cobb said she thinks Gov. Pritzker is open to the proposal. She said the fact that Speaker Madigan is on board is also "very promising."
"If in fact Gov. Pritzker wants to be transformational and wants to do something that would transform the South Side of Chicago and create jobs and stop the population loss that we are seeing, then this is the only project on the drawing board that has the capability of doing that," she said.
However, Ochsenfeld notes that while the airport has its supporters, a succession of Chicago mayors has opposed the project.
"What [supporters] failed to calculate was that the city of Chicago was not going to roll over and let them replace O'Hare out here in the cornfields," he said. "I think the majority of people [in Will County] feel that this project will never happen because it is not economically driven."
Ochsenfeld, who bought 10 acres in Will County 34 years ago, has now been fighting the proposed airport for almost half his life. He said the battle has taken its toll.
"It's had a very negative impact on many, many people including myself," he said. "It's a cloud over everyone that lives out here because of the depressed property values, because of the uncertainty."
---
Related stories:
Hometown Architect Jeanne Gang Lands O'Hare Project