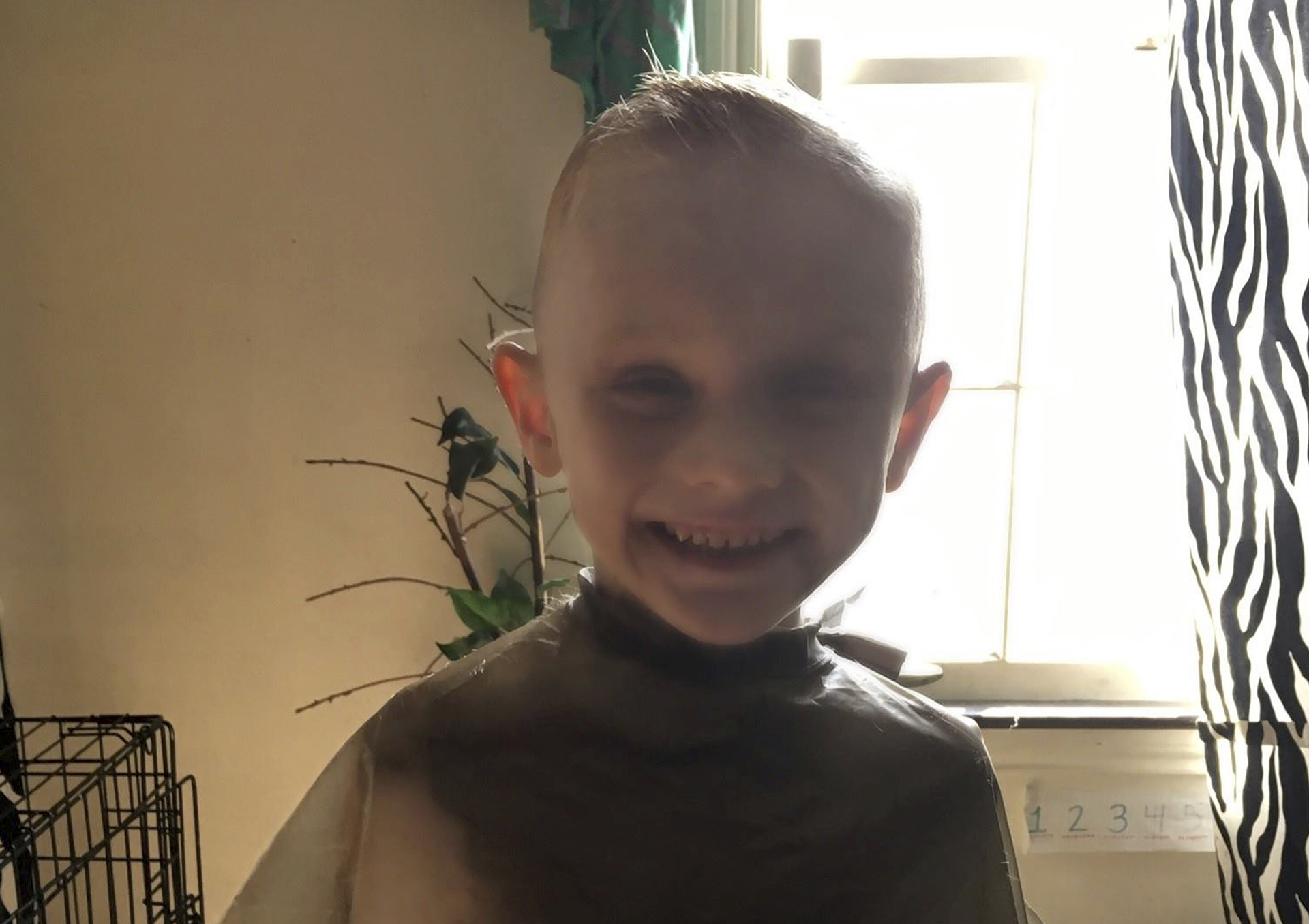 This undated photo provided by the Crystal Lake, Illinois Police Department shows Andrew "AJ" Freund. (Crystal Lake Police Department via AP)
The Illinois Department of Children and Family Services' first contact with Andrew "AJ" Freund's family came in June 2012 – more than a year before the boy was even born – when his mother JoAnn Cunningham was investigated for abusing drugs and neglecting her foster child.
That report was deemed unfounded. But in October 2013, only two days after AJ was born, both he and Cunningham tested positive for opiates and benzodiazepines and the boy was temporarily removed from his mother's care.
In the years that followed, DCFS made several contacts with Freund's parents, who were arrested this week and charged with first-degree murder after the 5-year-old boy's body was found in a shallow grave miles away from his Crystal Lake home.
Those contacts, detailed in a timeline the department distributed Friday, include multiple reports of neglect and abuse filed against AJ and his siblings after the boy was returned to the custody of his parents in 2015.
"DCFS is currently conducting a comprehensive review of our work with AJ's family," the department said in a statement. "DCFS will also be reviewing all cases that have been handled by these two employees. As we move forward, we will be fully transparent with the public as we seek to address any possible shortcomings in this incident and understand how we can better serve the state's vulnerable children and families."
Both the caseworker and the supervisor responsible for Freund's case have been placed on administrative duty, according to the department, and will have no casework responsibilities as DCFS conducts its review.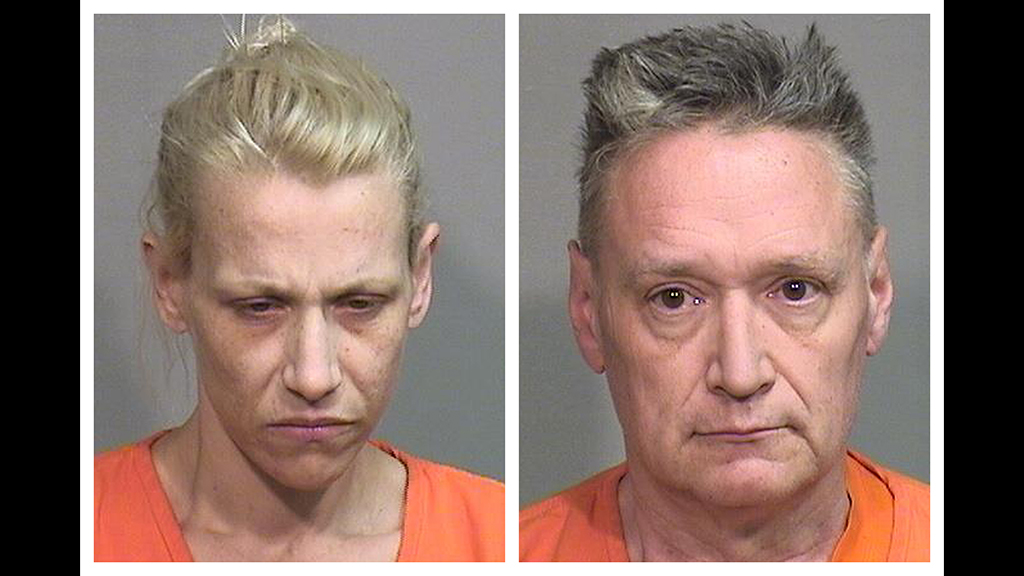 JoAnn Cunningham, left, and Andrew Freund Sr. have each been charged in the murder of their 5-year-old son, Andrew "AJ" Freund. A criminal complaint filed Thursday, April 25, 2019, outlines first-degree murder, aggravated battery and several other charges against the couple. A judge set bail at $5 million for each parent. (McHenry County Sheriff's Department via AP)
The timeline shows more than two dozen scheduled and unannounced visits to the home of Cunningham and AJ's father, Andrew Freund Sr., between 2015 and 2016 in which no signs of abuse or neglect were reported. In April 2016, the department closed AJ's juvenile case.
In March 2018, almost two years later, DCFS was again contacted after Cunningham was found unresponsive in a vehicle with AJ, who had "odd bruising" on his face. DCFS staff made multiple unsuccessful attempts to interview AJ and his younger brother in the ensuing weeks, finally making contact more than a month later. No signs of mistreatment were found, the department said.
That report was later deemed "unfounded" after a DCFS investigator completed a home inspection in May 2018 and found AJ and his brother to be "clean and dressed appropriately."
But the department was contacted again in December after "cuts, welts and bruises" were found on AJ's body.
"After being called to the home by the mother, police observed a large bruise on Andrew's hip," the DCFS timeline states. "Police observed the ceiling falling down, the floor torn up, and the kids' bedroom smelled of dog urine."
Cunningham was arrested for driving with a suspended license and DCFS took custody of both children. AJ initially said the bruise was caused by the family's dog. But an ER doctor who examined him relayed to the department a statement AJ had made during the exam.
"(M)aybe someone hit me with a belt," AJ told the doctor. "Maybe mommy didn't mean to hurt me."
A DCFS investigator followed up with a home visit and spoke with the investigator who handled AJ's previous case. But the report of abuse was eventually deemed unfounded "due to a lack of evidence."
The next time DCFS was contacted about AJ was when the boy went missing earlier this month. Court documents allege AJ's parents killed him by beating him and subjecting him to long, cold showers.
An autopsy determined the boy died from blunt force trauma to his head and had been struck multiple times.
Cunningham, 36, and Freund Sr., 60, appeared in court Thursday and were each held on $5 million bond. AJ's brother has been placed in the care of his cousin.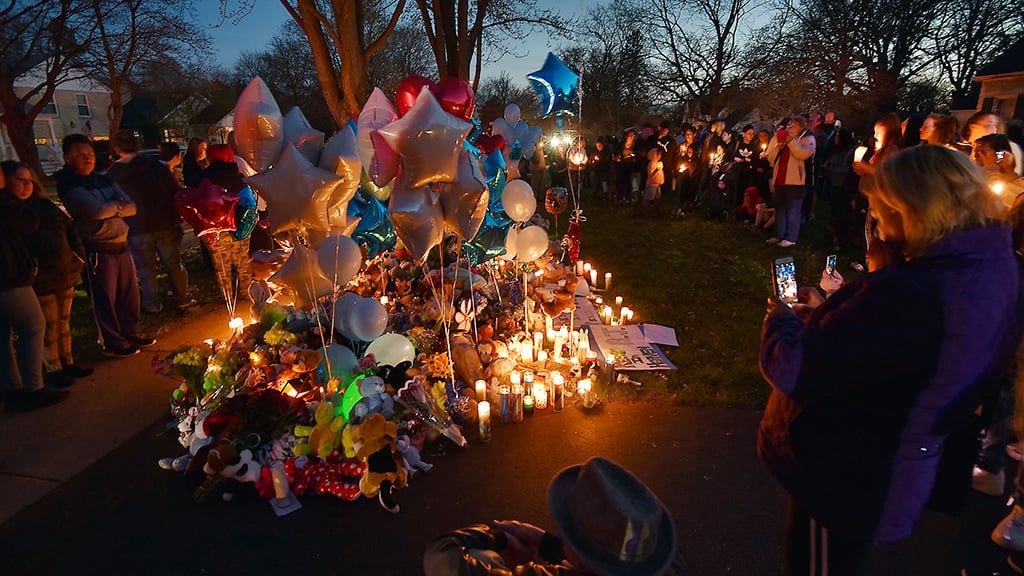 In this Wednesday, April 24, 2019 photo, community members in Crystal lake, Illinois hold a vigil in memory of 5-year-old Andrew "AJ" Freund. Authorities searching for the missing boy who had lived in deplorable conditions dug up his body Wednesday and charged his parents with murder, sadly declaring that the youngster would "no longer have to suffer." (John Starks/Daily Herald via AP)
Crystal Lake police had repeatedly been called to the family's house. Officers in police reports described finding filthy living conditions, broken windows, evidence of drug use and the overpowering smell of dog feces.
Since AJ's death, DCFS has been hit with questions over why the boy and his brother were allowed to stay with their parents despite the multiple signs of abuse and neglect.
"I got the sense from what I read that the cops were essentially begging (DCFS) to take the child," said state Rep. Sara Feigenholtz told the Associated Press. "There were so many calls made, so many signs of trouble and still nothing was done."
New DCFS Director Marc Smith is scheduled to appear before lawmakers for questioning Friday.
Feigenholtz said lawmakers have to answer the question of whether the threshold for child removal is too high or whether the workers are "not aware of them or are poorly trained."
"I think we all have a great deal of questions, but I will tell you this that this has to end," she said. "It has to be fixed."
The Associated Press contributed to this report.
Contact Matt Masterson: @ByMattMasterson | [email protected] | (773) 509-5431
---
Related stories:
Missing Crystal Lake Boy's Buried Body Found, Parents Charged
Mother of Missing Crystal Lake 5-Year-Old Not Talking to Police
Trial Date Set for Man in Missing Timmothy Pitzen Hoax
More Charges for Man Accused of Claiming to be Missing Timmothy Pitzen
Man Accused of Claiming to Be Timmothy Pitzen to Remain Jailed
---