He is a Harvard graduate, Rhodes scholar, Navy veteran and two-term mayor of South Bend, Indiana. But these days, 37-year-old Pete Buttigieg is probably most well-known for joined the growing list of Democrats looking at a run for president in 2020.
"We're still putting a number of steps in place, just from a legal perspective and a finance perspective," said Buttigieg, who launched an exploratory committee last month. "But based on our recent trip to Iowa, and everything else we've seen in terms of a response both at the public level and from supporters, all indications are pointing to all systems go." 
Should he win that election, Buttigieg would be the first openly gay U.S. president – and also the country's first millennial president – but in a growing field of Democratic hopefuls, how else does he think he can stand out?
"It comes down to what you have to say," Buttigieg said. "I'm definitely the only left-handed Maltese-American-Episcopalian-gay-millennial-war veteran in the race, but I think profile is just what gets you that first look."
Buttigieg said his message encompasses three points: freedom, democracy and security.
"Each one of those is a word that nobody could be against but when you unpack those, in my view, they lead to specific commitments that progressives are doing a better job of meeting than conservatives," he said.
Elements of his message appear in Buttigieg's recently published memoir, "Shortest Way Home: One Mayor's Challenge and a Model for America's Future."
"My real objective [in writing a memoir] was not to just tell my own story, but the story of South Bend," said Buttigieg, who grew up in the northern Indiana town that saw economic hardships after automobile manufacturer Studebaker left the area in 1963.
"I think the story of how South Bend, especially in recent years, has come back from being proclaimed in Newsweek as a 'dying city' at the beginning of the decade … to now being one that's really resurgent, I think it's a powerful response to others, including the White House, who would suggest that the only formula for the industrial Midwest is nostalgia," he said.
Below, an excerpt from "Shortest Way Home."
---
Richard Mourdock was up for reelection in 2010, and when I investigated who was looking to run against him from the Democratic side, the answer was no one. I was surprised. I knew down-ticket races, especially for Democrats in Indiana, were thankless, difficult, and hard to recruit for. But a candidate as extreme as Mourdock seemed beatable—at least if there were a favorable national atmosphere, a flawless campaign, and a little bit of luck. Surely someone would take him on, in the name of the people and communities who could have been devastated by his adventure. And if no one else was going to step up, why not me?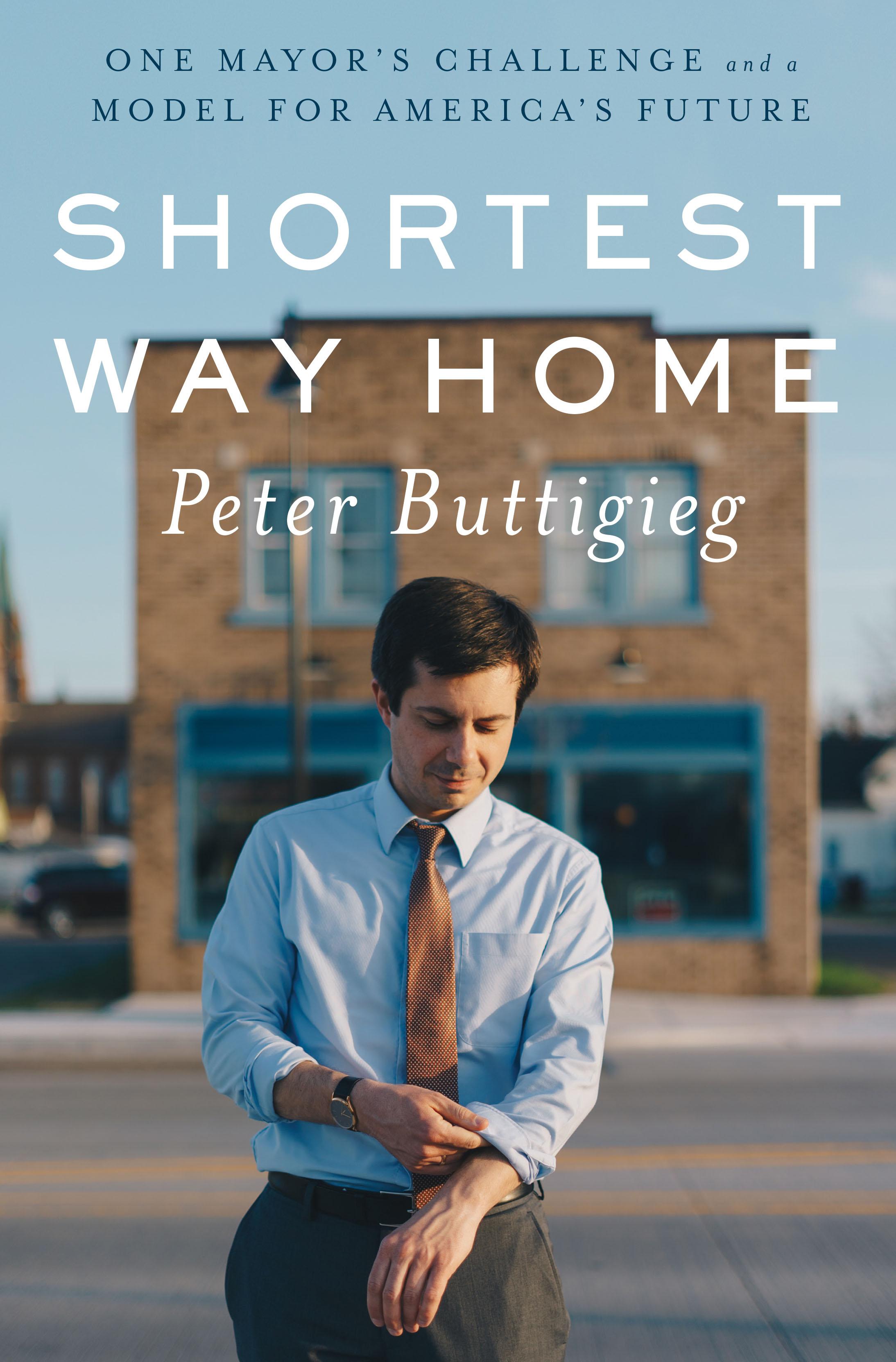 In American political culture, you are not supposed to admit you have any interest in running for office until the moment you declare. I didn't even realize this was a particularly American quality until studying in England, where I would often meet students who made it clear they would stand for Parliament at the earliest opportunity, and then did exactly that. It's hard to say where this norm of ours comes from; I'd like to think it has something to do with the premium we place on humility. There is something jarring about the idea that anyone thinks himself truly fit to perform the tremendously difficult and sensitive tasks of public office, and so putting yourself forward to do so seems immodest. 
Partly for this reason, a politician's account of how he or she first came to run for office is supposed to begin with a ritual mention of having been urged to do so by others, being flattered, demurring, and eventually feeling called to step forward. Later, for other offices, something like this really would happen to me. But not this time. No one was pleading with a twenty-seven-year-old management consultant to run for statewide office in Indiana as a Democrat. I just started to think about it and felt like it could make sense.
Of course, I knew that this might or might not be a good idea, and that I would need to consult people who knew this world better than I. I needed to figure out how to explore the waters, before giving up my job and income in order to run for statewide office. What would I have to consider? How would I gauge the odds? What steps do you even take to get prepared and under way? I contacted Jeff Harris, whom I had gotten to know while helping our nominee for governor in 2008, to get his advice. Jeff had worked for years in and around campaigns and the labor movement, and understood the state's press corps, legislature, and Democratic Party as well as anyone. I thought he might be put off by the idea that I, in my mid-twenties, wanted him to help me pursue something you would normally work your way up to for years. Still, over soup at a favorite diner, I worked up the nerve to tell him what I had in mind. "After watching what went on in that office, I was thinking that maybe someone like me could—"
"Do it," he interrupted. "You should do it. I'll help you." He offered not only to help me think about it but also to bring me to events where I would meet the kind of party and community leaders I would need to know in order to mount a serious campaign.
Campaigning for office is enormously difficult, but in a way, it's not very complicated. You have to persuade voters to vote for you, raise money so you can reach more voters, and get other people to help you do those two things. Half the battle is name recognition, and my biggest problem was that no one had any idea who I was. My name was unfamiliar and unpronounceable. (Jeff and I spent half a day just figuring out how to render it phonetically, settling on the breakdown "Budda-judge," which was close enough and easier to remember than any other way we could think to write down.) Plus I was twenty-seven years old, and baby- faced enough to pass for a college student. In a campaign office, I would be more likely to be taken for an intern or perhaps a young organizer than an actual candidate. My family had no Indiana political connections, and neither did my employer—McKinsey didn't even have an office in the state.
Jeff quickly devised a way to deal with the name recognition problem, at least among party regulars. He spotted a perfect opportunity at a traditional statewide gathering of Democratic activists at the old French Lick Resort in southern Indiana, held every year in late August. Party faithful from every corner of the state, from longtime county committee officers to young volunteers, would come together for a little bit of party business and a lot of socializing. It was a captive audience; with the right strategy, we could become known to the entire party base over the course of a single weekend.
Jeff prepared by printing hundreds of stickers and spray-painting dozens of old yard signs from other campaigns with a simple, stenciled, two-word message: MEET PETE. The first day of the gathering, he arrived early. Leaning on old friendships, he convinced anyone he could to wear one of the stickers. And he installed a lawn sign every few hundred feet along all the country roads, winding through rolling hills and cornfields, that led to the tiny town and the big hotel. It was impossible for anyone attending the event to miss the low-budget advertising.
By the time I stepped across the porch of the old restored hotel and into the bright, big lobby with its old-fashioned chandeliers and mosaic floors, there was a buzz about the signs. Enough people were asking, "Who the hell is Pete?" that I had an instant conversation-starter when I introduced myself to the various county party chairs, labor leaders, students, state legislators, and assorted other characters who milled about the lobby and corridors. And while I may have been an unfamiliar figure, I convinced people that my business background and education could qualify me to challenge an opponent who had just made a name for himself in the worst way.
Buoyed by the response at French Lick and encouragement from the state party chairman, Dan Parker (who was probably relieved that a somewhat qualified candidate was willing to try this at all), I took my message to the chicken dinners of as many county parties as we could find. If a dozen Ball State College Democrats were willing to meet, so was I. If a friend of my parents was willing to organize a house party in South Bend, I was there. A church basement in Sullivan or a one-room Farm Bureau office among the mint fields of Starke County would do fine—anyplace that would let me introduce myself and talk about how important the office was. I also went around union halls, hearing firsthand what was happening to communities that had relied on auto jobs, and sensing the anger and frustration of workers who felt that their own elected officials could not be trusted to support their livelihoods. Over rubber chicken, ham and beans, chili, or sweet potato pie, I listened to stories in one town after another coming to terms with the kind of devastation that had ripped through my own city a generation before.
Technically I was still "just thinking about it," but the reception at these events made me feel that I could hold my own as a candidate, and that there was a path to victory, however uphill. True, no Democrat had held this office since the 1970s, but an underfunded candidate in 2006 had come remarkably close, and Mourdock's track record meant it might be the hottest-ever race for treasurer, if there was such a thing. All I had to do was quit my job.
Reprinted from Shortest Way Home by Pete Buttigieg. Copyright © 2019 by Pete Buttigieg. Used with permission of the publisher, Liveright Publishing Corporation, a division of W.W. Norton & Company, Inc. All rights reserved.
---
Related stories:
Authors Look to Other Cities to Chart a 'New Chicago Way'
Author Says Populist Leaders Are Undermining Democracy
Doris Kearns Goodwin on What Makes for Great Presidential Leadership
---