Newly released documents shed light on recent FBI raids of Ald. Ed Burke's City Hall office and the broader investigation surrounding the longtime 14th Ward alderman.
Under a federal search warrant signed by a judge on Nov. 21, agents spelled out their interest in "Any and all documents and communications concerning Edward M. Burke's efforts to obtain private gain for himself and others, including business for the law firm, Klafter and Burke, in exchange of him taking or refraining from taking official action as an alderman or chairman of the finance committee," according to documents released late Wednesday by the City Council Finance Committee.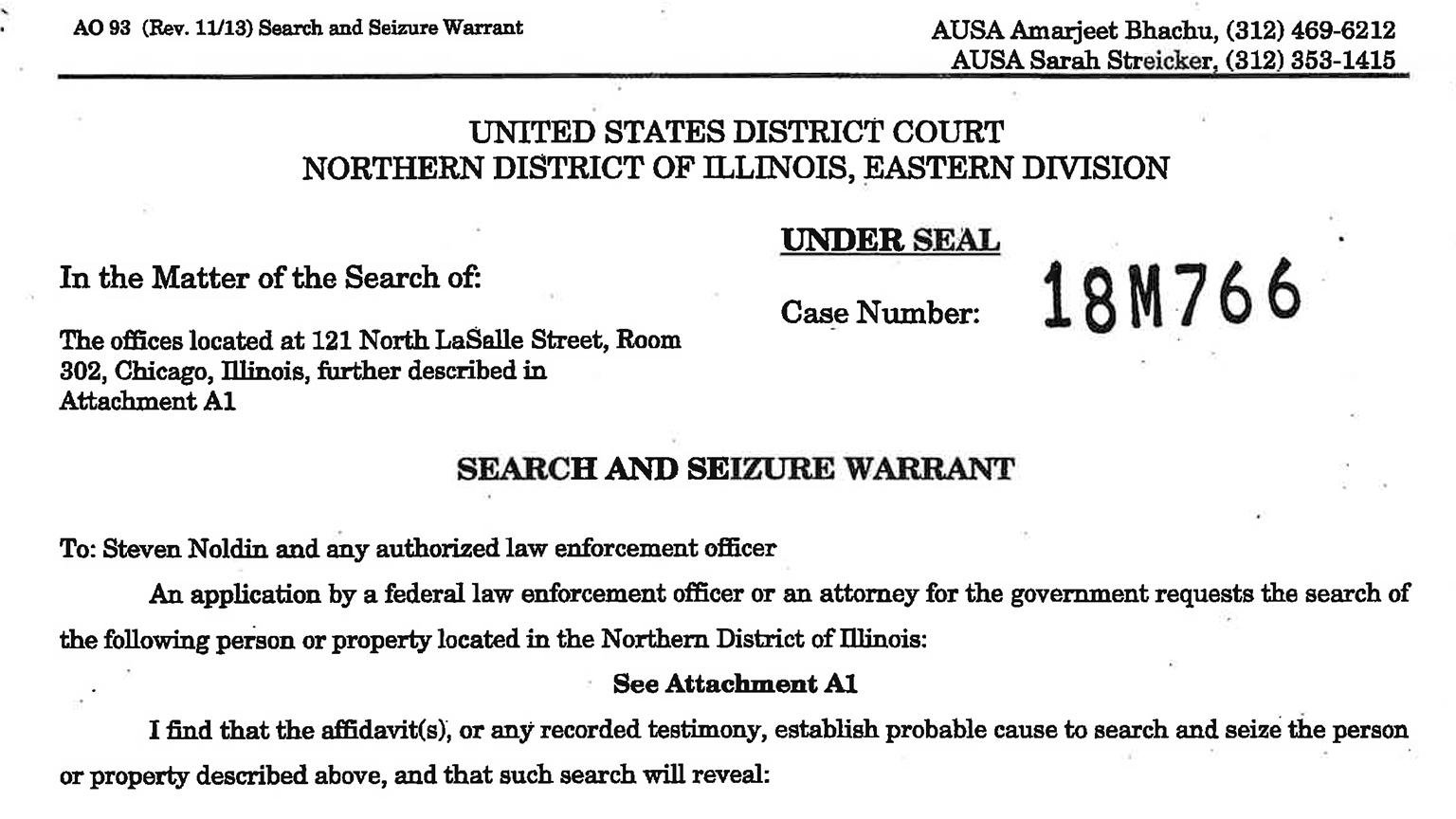 Document: Read the search warrant The warrant also asked for "Any and all documents and communications concerning Burke's efforts to obtain employment, patronage jobs, or other benefits for his personal associates in exchange for or as a result of Burke taking or refraining from taking official action as an Alderman or Chairman of the Chicago City Council's Committee on Finance."
Agents were also apparently looking for documents and communications showing agreements to compensate any party for business or income realized by Klafter and Burke, including agreements like fee splitting or consulting agreements, as well as any evidence that he used property of the city of Chicago to conduct his private legal business.
The warrant also sought evidence related to several unnamed individuals and entities, labeled with initials from Individual A all the way to Individual I, and Entity A to Entity M.
Agents took computers, thumb drives, and other physical evidence like phonebooks and Rolodexes from Burke's City Hall office during raids in November and December. They were seeking TIF documents, information related to the old main post office development and a folder labeled "Hynes, Bryan," a longtime ally of House Speaker Michael Madigan and Ald. Danny Solis. Hynes runs a company with Solis' sister that loans money to state vendors who have yet to receive their payment from state government. That company has given thousands to mayoral candidate Susana Mendoza, who on Thursday announced she would donate to charity $141,000 in campaign money linked to that company and Danny Solis.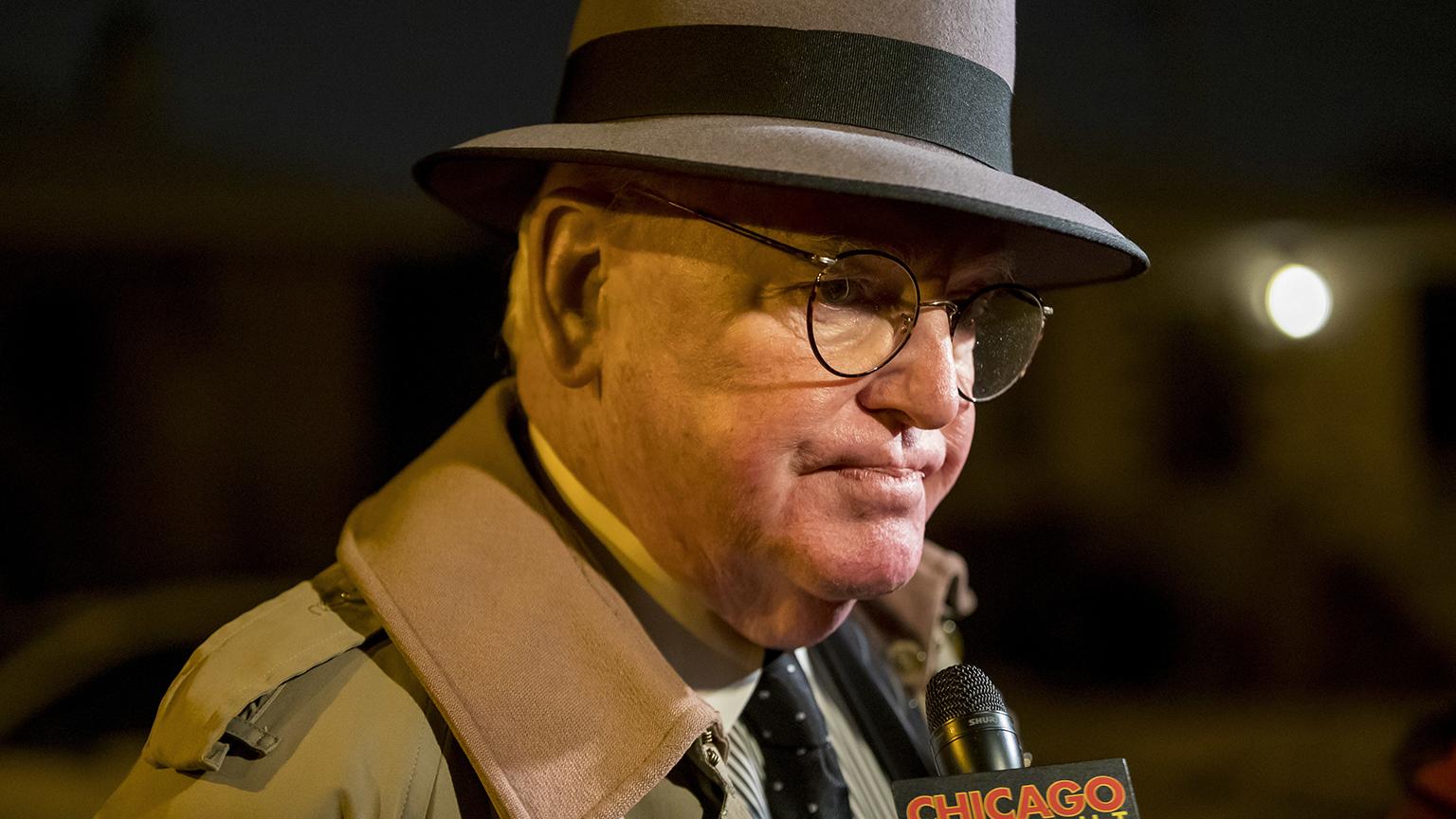 Ald. Ed Burke speaks to "Chicago Tonight" and other media after returning to his home on the Southwest Side on Thursday, Nov. 29, 2018. Earlier in the day, federal agents conducted a raid on his offices. (Brian Cassella / Chicago Tribune via AP)
Burke has maintained he hasn't done anything wrong. On Wednesday, he appeared at his first City Council meeting since being charged with attempted extortion and stripped of his coveted Finance Committee chairmanship. Burke, who mostly sat alone, said he doesn't believe Solis' reported secret recordings of their conversations spell trouble.
"I haven't done anything wrong, and anything that Ald. Solis recorded, if he did, isn't going to make a difference," Burke said.
The search warrant for Burke's 14th Ward aldermanic office has not been released.
Follow Paris Schutz on Twitter: @paschutz
---
Related stories:
Ald. Ed Burke Faces Challenges in First 14th Ward Forum
Spotlight Politics: Solis, Burke Shock Waves Reverberate in Mayor's Race
Former Federal Prosecutors Expect More Charges in Burke Probe
Some Aldermen Angered by Report Solis Wore Wire
Report: Ald. Danny Solis Secretly Recorded Ald. Ed Burke
---