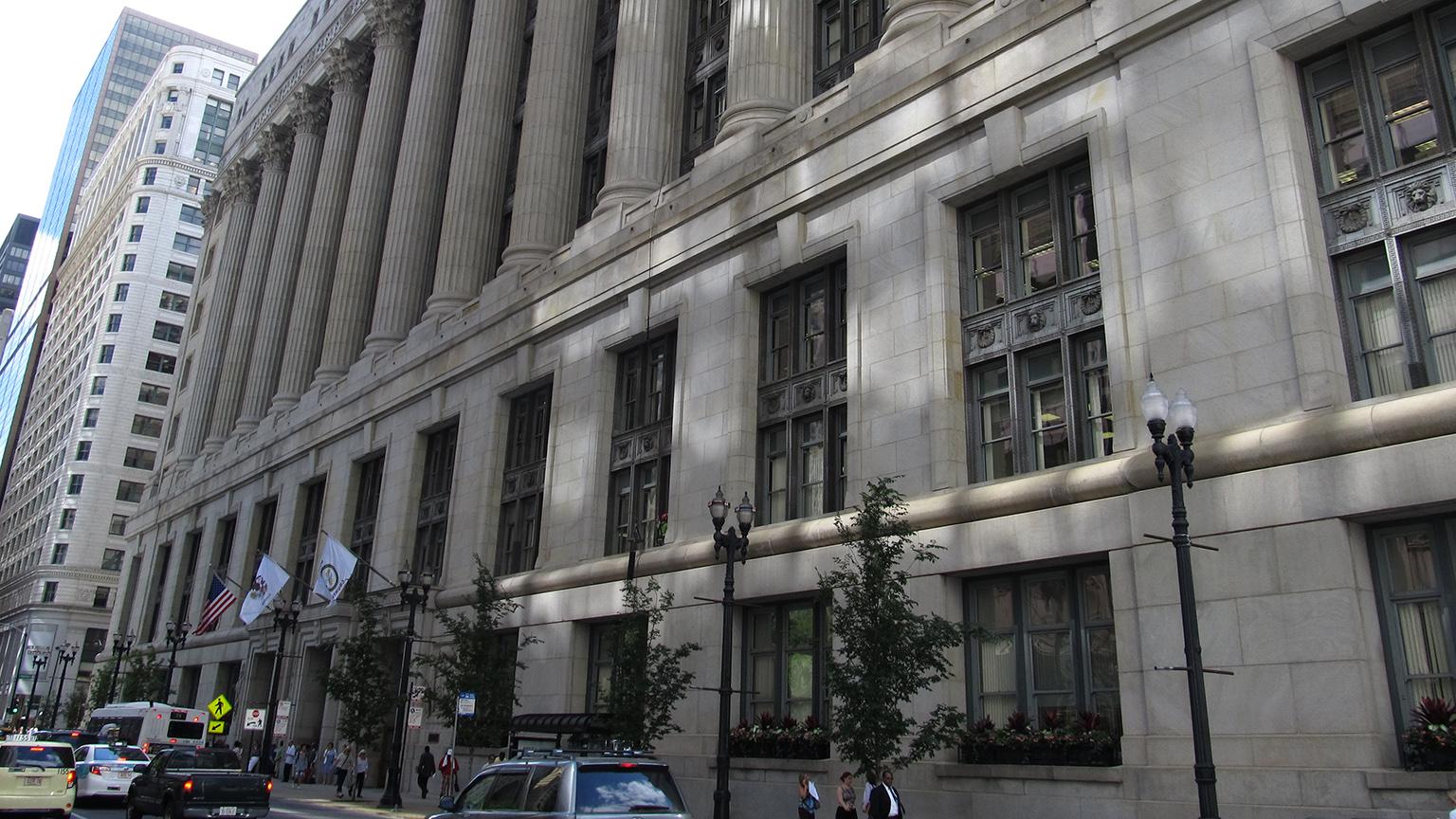 Chicago City Hall (Ken Lund / Flickr)
Several Chicago political players have called for ethics reforms in City Council in the wake of federal charges of attempted extortion against longtime Ald. Ed Burke last week.
Burke is accused of misusing his role as alderman to solicit business for his private tax law firm.
Days after he was charged, some mayoral and aldermanic candidates running in the city's Feb. 26 election publicly pushed for ethics reforms in City Council. Among them, a proposed ban on aldermen obtaining outside employment put forth Monday by 49th Ward Ald. Joe Moore.
By law, the office of alderman is a part-time job, although the majority of them work full-time. In 2014, salary data published by the Chicago Tribune listed 2015 salaries for aldermen ranging from nearly $106,000 to more than $117,000.
We reached out to all 50 aldermen Wednesday to find out whether they would support a ban on aldermen working outside of City Council. As 7 p.m. Wednesday, we had heard back from about half of them (or their staff), with the majority voicing their favor of such a ban. We will update the survey as additional responses come in.
---
What aldermen are saying
16th Ward Ald. Toni Foulkes supports the proposed ban and said she works full-time, spending about 50 to 55 hours per week on aldermanic duties.
"They told me it's a part-time job, but I know it's not," Foulkes said. "You're constantly working and your constituents need you. I literally didn't even have time to go Christmas shopping – I bought one gift and that was for my mother."
38th Ward Ald. Nicholas Sposato is against banning aldermen from outside employment, and questions the legality of such a measure.
"I don't think we should legislate the people about what they should do in their free time," Sposato said.
Your turn: Do you support a ban on outside employment for aldermen?
Two aldermen we contacted declined to provide a yes or no answer.
"I would support a ban if there was a way in which alderman could be compensated that would ensure we could support our families and a middle-class lifestyle," said 9th Ward Ald. Anthony Beale.
Staff for 39th Ward Ald. Margaret Laurino said that while she "supports the concept and doesn't have an outside job herself," she is not ready to "blindly support a measure on hearsay" rather than details.
Following Burke's resignation as City Council's Finance Committee chairman, Mayor Rahm Emanuel moved the committee's vice-chair, 40th Ward Ald. Pat O'Connor, to fill Burke's leadership role. Whether the mayor or City Council should appoint these committee chairs is among the many recently proposed reforms.
During a conversation Wednesday with Carol Marin on "Chicago Tonight," O'Connor said he does not support the proposal to ban outside employment for aldermen.
"I think that the council is well-served by having a mix," O'Connor said. "If you are good at your job and you bring a professionalism to it, and you can do both without being conflicted or having an issue, I don't think that really should be an impediment."
---
Follow Evan Garcia on Twitter: @EvanRGarcia
---
Related stories:
Ald. Pat O'Connor on New Finance Committee Role, Burke Scandal
Burke Scandal Spurs Flurry of Reform Proposals
Burke's City Council Colleagues Discuss Extortion Charge, Ethics Reform
---