Cold and snow sends many of us indoors this time of year, but some adventurous souls welcome nasty weather so they can hit the waves of Lake Michigan.
"People would normally just stay inside and not even go get the mail today – and we want to go jump in the lake," said surfer Mike Killion. "We're not going to let the weather stop us."
Killion, a photographer from Chicago, has surfed at Whiting Lakefront Park in Northwest Indiana for the past 15 years.
"Whiting in particular has a good structure for a lot of different scenarios," Killion said. "So if the wind's coming from a lot of different areas, it'll take in the swell in a good way."
Unlike ocean waves driven by the gravitational pull of the moon and sun, Lake Michigan's waves are caused by the wind. So in the winter, when there's a strong wind from the north traveling the 300-mile length of Lake Michigan, the waves hitting Whiting, at the south end of the lake, can get quite large.
"The waves are a lot different than the waves on the ocean, as you can tell, but it's still just the same effect," said surfer Clay Hatch of Valparaiso, Indiana. "Getting the feeling of riding a wave is unlike anything else, so a lot of guys like to do it just because of that feeling."
To prepare for optimal conditions, surfers often use tools like a wave height forecaster published by the National Oceanic and Atmospheric Administration.
On a recent day, waves on Lake Michigan reached more than 7 feet high. The choppy, churning force of the water is similar to that of a washing machine.
"The waves are not in consistent lines," said surfer Ian Jacobson, who owns a stand-up paddleboard shop on North Avenue Beach. "Trying to find the right spot to take off will probably be a challenge on a day like today."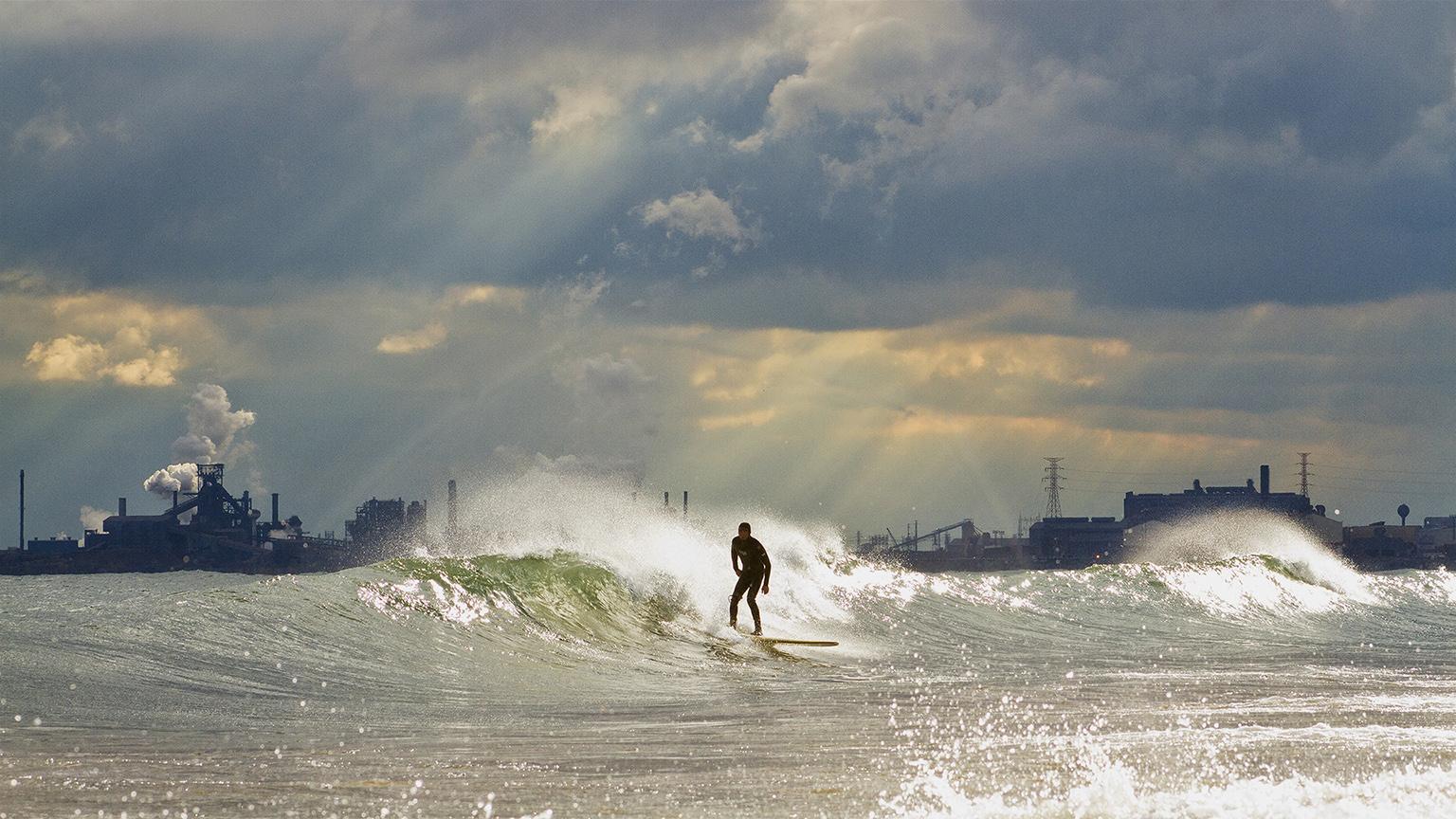 A surfer rides the waves on the south end of Lake Michigan. (Credit: Mike Killion)
Regardless of the weather or season, there is one constant for surfers in Whiting: the industrial backdrop. Surfers have taken legal action against nearby U.S. Steel for toxic spills that ended up in Lake Michigan through a waterway in Portage, Indiana.
Pollution is also noticeable along the shores.
"It's sad when you come on the beach and you see the plastic and trash that's pushed in here," Killion said. "And there's really nowhere for it to go cause all the industry has taken up the shoreline."
Despite environmental concerns, the surfers are committed to Lake Michigan and their sport – even in the dead of winter.
"They call us the crazy ones," Jacobson said. "Crazy is what you make of it – when you're passionate about something you've got to overcome the odds and the conditions."
Follow Evan Garcia on Twitter: @EvanRGarcia
---
Related stories:
A Controversial Fishing Style: Snagging for Salmon in Chicago Harbors
What Global Warming Could Mean for Lake Michigan
Chicago Sues U.S. Steel Over Lake Michigan Pollution
---