Cannabidiol, more commonly known as CBD oil, is a cannabis-derived oil that has become the hottest thing in the health care aisle. It has none of the high-inducing THC, or tetrahydrocannabinol, of its parent plant, but people are reporting success in using it to treat a wide range of ailments – from simple pain management to rheumatoid arthritis to, in one Schaumburg child's case, epilepsy.
In 2008, 2-year-old Ashley Surin was diagnosed with childhood acute lymphoblastic leukemia. Her team of doctors successfully treated the condition with rounds of chemotherapy, but while the cancer was gone, little Ashley was left with frequent epileptic seizures.
For years, her parents struggled to manage near-daily seizures with medication. But it wasn't until a seizure-caused concussion required brain surgery and even more medications that her parents, Maureen and Jim, sought out alternatives to anti-seizure medication.
When a new doctor prescribed a diet overhaul coupled with CBD oil treatments, Maureen says she was fearful.
"My [neurologist] wasn't open to it at all," she said. "And I never thought we would be using it. My parents both passed away in 2016 and they were very conservative Catholics – they'd roll over in their graves if they knew."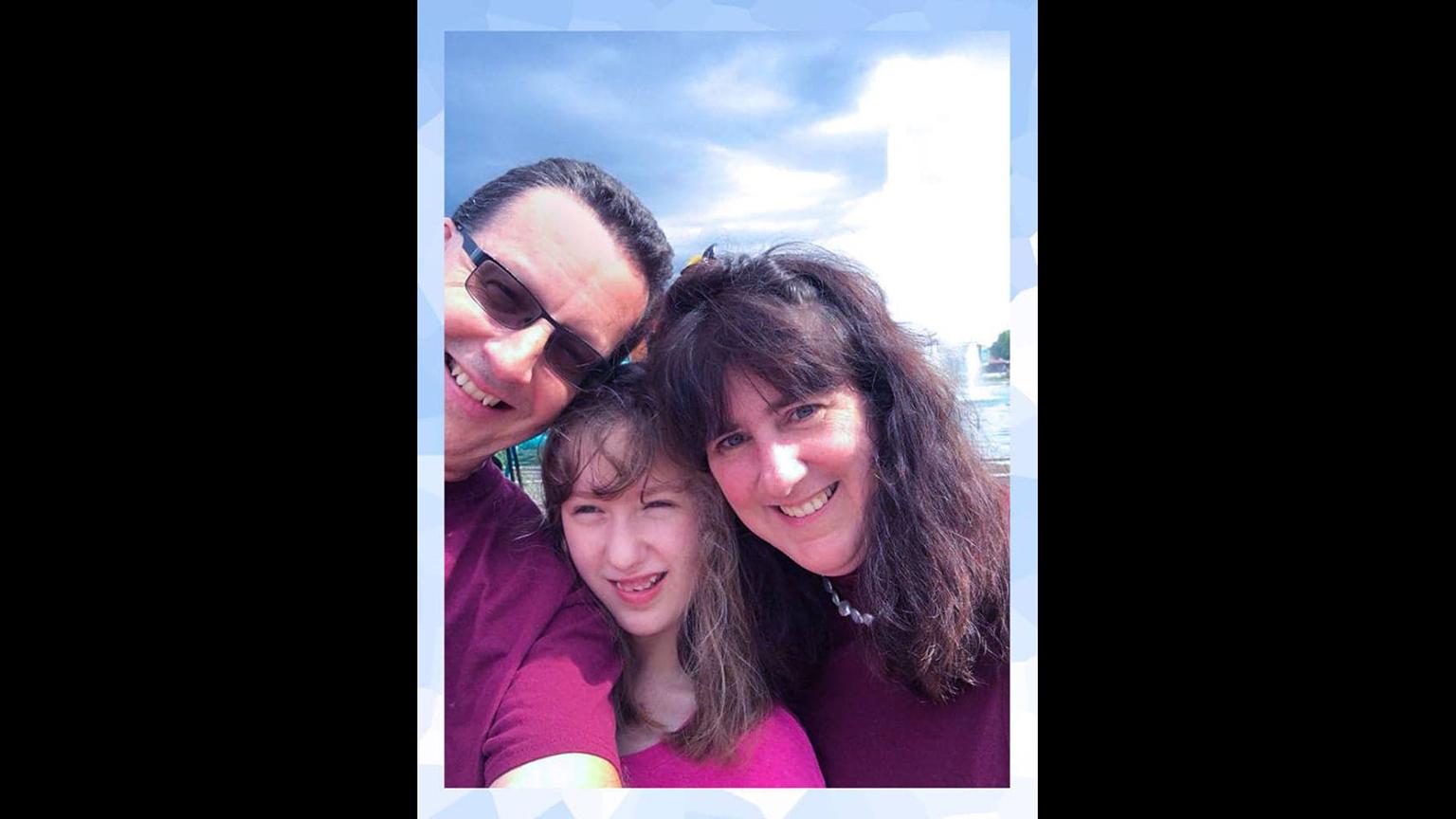 Jim and Maureen Surin with their daughter Ashley. (Courtesy Jim and Maureen Surin)
But she and Jim were desperate to help their daughter, and once she was reassured the oil would not intoxicate Ashley, they began treatment. And it worked.
"Watching my daughter, it was like watching a miracle," Maureen said. "She's speaking more. She's more coordinated, more creative. Her vocabulary just burst open. The teachers are seeing improvement in all areas. She blew through her goals because her attention span increased. And for us, it's been wonderful not being in 24-hour emergency mode – we haven't been in the ER once this year."
The Surins applied for and received a medical cannabis license for Ashley through the state. License in hand, they sought permission for Ashley to administer CBD oil via a patch and lotion while at school, but they were met with opposition.
"We went to the superintendent and they basically said, 'Sorry, we can't help you. There's a federal law,'" Maureen said. "Cannabis is still a schedule 1 drug, so the staff is afraid they'll get arrested if they were to participate in giving a child a schedule 1 drug."
Surin says the school superintendent wanted to help but felt his hands were tied by law.
After consulting with an attorney and with the blessing of the school district, the Surins sued to allow Ashley to bring her medication to school. After an emergency ruling by a federal judge allowed Ashley, now 12, to return to school, the family went to work in Springfield to change the law in order to allow children with medical cannabis licenses to bring their cannabis-derived products to school. In August, Gov. Bruce Rauner signed "Ashley's Law" into effect.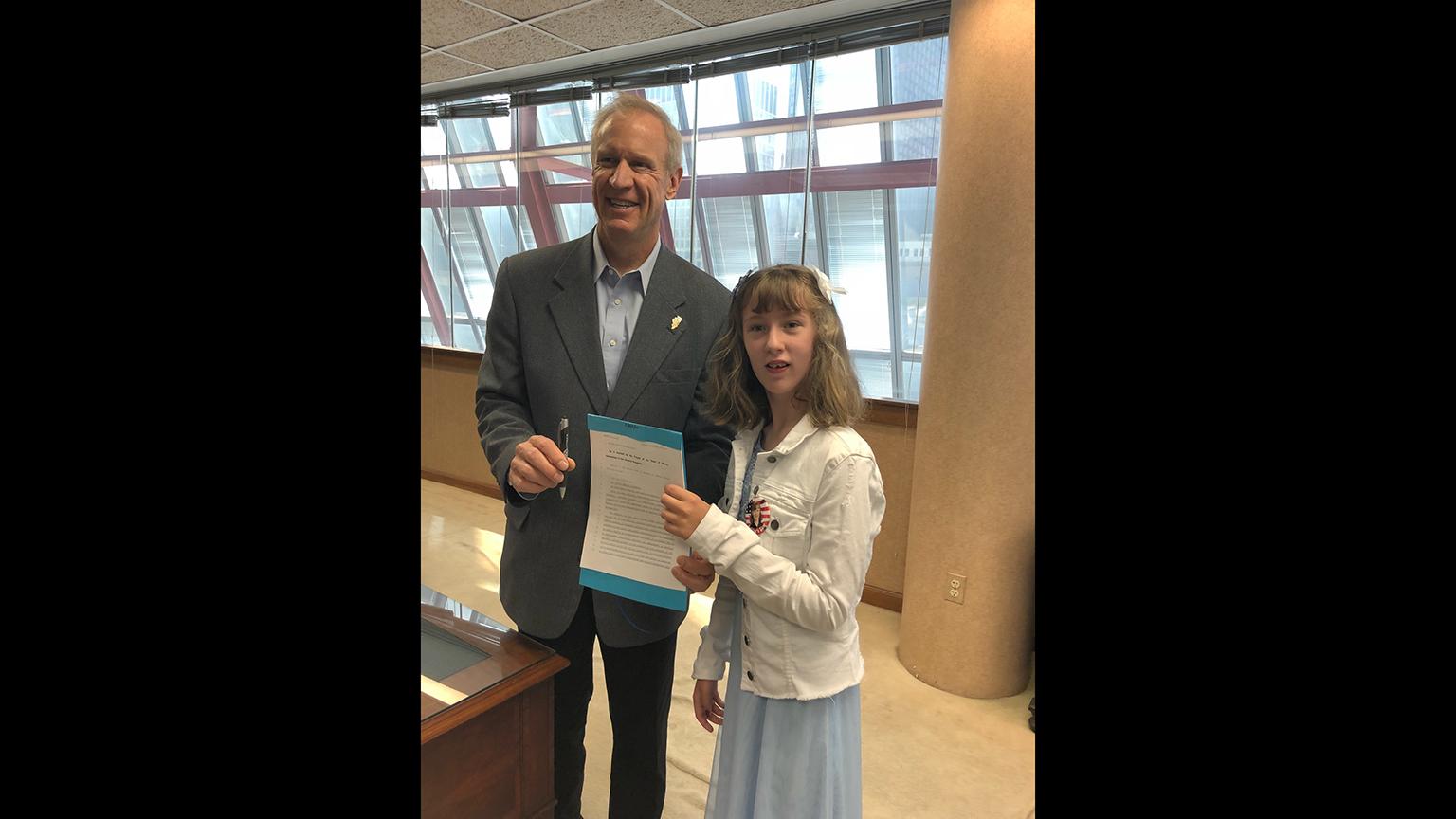 Ashley Surin with Gov. Bruce Rauner after the signing of "Ashley's Law," which allows children with medical cannabis licenses to bring their cannabis-derived products to school (Courtesy Jim and Maureen Surin)
Maureen Surin says that now, she's frequently contacted by parents outside of Illinois seeking advice on treatment for their own children – and she's excited to share her experience with them in hopes of effecting more change across the country. 
"I wish the federal law could go away," she said. "I think we need to open the floodgates for research. The law hasn't caught up with the reality of medicine, and we need to call it medicine since that's what it is.
"It's been an experience for me that this plant is very valuable," she continued. "It's done miraculous things for our daughter, and I feel like it's a calling from God to be advocates for it."
In her suburban integrative medicine practice, Dr. Leslie Mendoza Temple recommends CBD oil to treat seizures, as well as insomnia and pain. But she cautions that finding the right dosage is not yet an exact science.
"It's currently a trial-and-error process for patients," said Temple, a board-certified family medicine physician. 
Temple also stresses that it's important to get the terminology right.
"There is a difference between hemp oil and medical or recreational cannabis, in that hemp oil has only trace to no THC," she said. "The term 'CBD oil' needs to be clarified because if it's from a dispensary, there can still [be] higher than expected levels of THC in the product, even if the dispensary worker says it's a 'CBD oil.'"
Maureen Surin and Temple join us tonight to talk about the promise and pitfalls of CBD oil.
---
Related stories:
Pot as a Painkiller: New Law Aims to Curb Opioid-Related Deaths