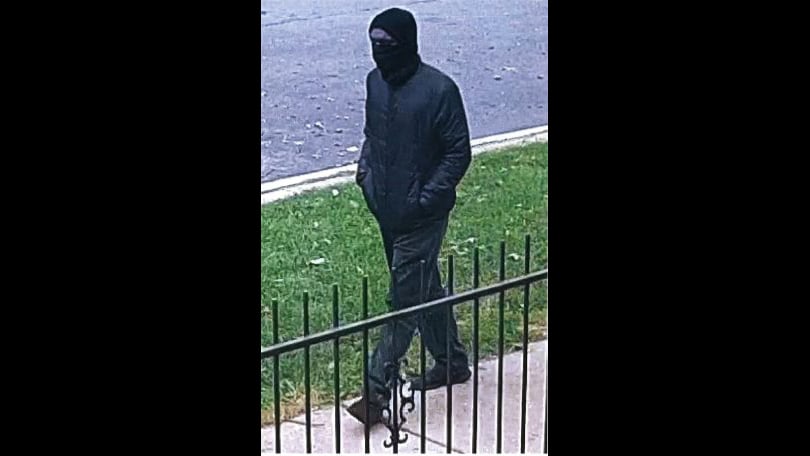 A photo of the suspected Rogers Park gunman. (Chicago Police Department)
Residents and community leaders in Rogers Park have collectively raised what they say is the largest reward in Chicago's history for information leading to the arrest of a gunman who brazenly killed two men in separate shootings in the Far North Side community earlier this fall.
Chicago Police Department Superintendent Eddie Johnson joined with Area North detectives, officers and associates of those killed to announce a $150,000 reward for information to identify and arrest the suspect. He hopes that money will encourage anyone with information about the suspect to come forward.
"Someone out there listening or watching right now knows who this person is," Johnson said Thursday afternoon, "whether it be an acquaintance, a friend, loved one or relative.
"Somebody out there knows who this guy is. They do … we just need those individuals to come forward and help us with this. We need to take this individual off the streets."
Community activists and other groups – including the Bureau of Alcohol, Tobacco, Firearms and Explosives's local division, the Jewish Federation of Chicago and CrimeStoppers of Cook County, among others – had previously pooled together funds for a reward that topped $20,000. The new total marks the highest reward collected exclusively by community members.
The shootings rocked the neighborhood and the city, Johnson said.
Douglass Watts, 73, was shot in the head and killed while walking his dogs on the morning of Sept. 30 in the 1400 block of West Sherwin Avenue. A day later, police say 24-year-old Eliyahu Moscowitz was found shot on the Loyola Park path near Lunt Avenue. He too had been shot in the head and died at the scene. Police have received more than 430 tips, but have yet to make any arrests.
The two men didn't know each other, police say, but the same weapon was used to kill both of them. No motive has been identified. The CPD later released surveillance footage of the suspected gunman taken around the time Watts was shot.
That video shows a masked man wearing all black as he calmly walks down West Sherwin Avenue. A second clip shows the same man jogging down an alleyway with his hands inside his pockets.
---
Johnson last month promised a heavy police presence in Rogers Park – blanketing the lakefront and surrounding neighborhoods – to help put residents' minds at ease. Little new information was shared Thursday, but Johnson said the department is using every resource at its disposal to find the suspect.
"These were heinous actions," he said, "We will find that person that committed these actions in our community and we'll not stop until we have a suspect in custody."
Police have warned people not to approach the suspect if they see him, saying he should be considered armed and dangerous. Anyone with information about the shootings is asked to contact Area North detectives at 312-744-8261. Anonymous tips may also be submitted at www.CPDTIP.com.
Contact Matt Masterson: @ByMattMasterson | [email protected] | (773) 509-5431
---
Related:
Chicago Aldermen Weigh In on City's Unrelenting Gun Violence
Physician: 'We Can All Do Something' to Address Gun Violence
What's at the Root of Chicago's Violence? A State Lawmaker, Pastor Weigh In
Shootings, Protests and 'Bait Trucks' Inflame Police-Community Tensions
---